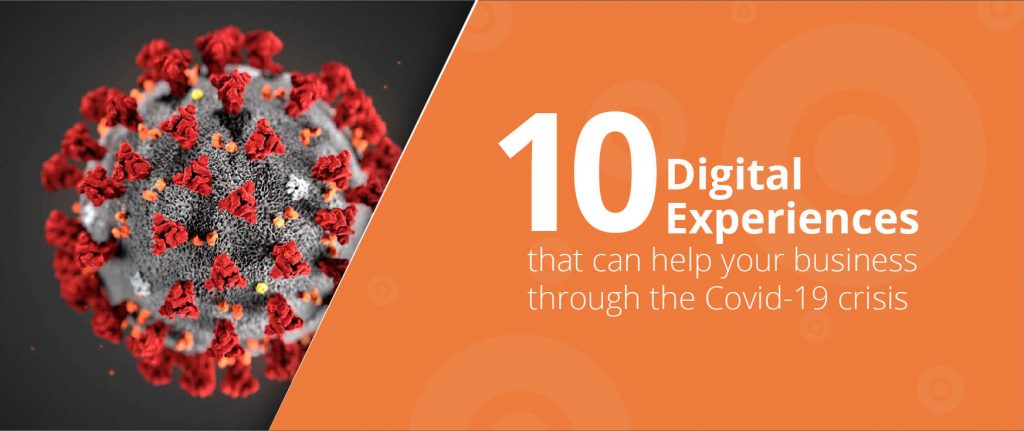 As you know, many companies are struggling right now. The Covid-19 crisis has affected us all and will continue to do so for the time to come. Important events have been canceled, new initiatives delayed, and opportunities lost. However, during these tumultuous times, it's important to stay optimistic and be ready and willing to adapt! This is why we thought it was important to write about digital experiences that can help you adjust through Covid-19.
People always find new avenues to explore and alternative ways to connect. The same is true for businesses – or at least it should be. As "real world" activities are shutting down, activities in the digital space are on the rise, with an increase in customer touchpoints and attention. Trends such as investment in e-commerce, gamification, and live-streaming have accelerated during the outbreak, which indicates that businesses are laying the foundation for customers to start spending again. These are positive signs and important digital Covid-19 initiatives to follow.
These digital experiences are guided by the presumption that bringing value to your customers in times of uncertainty will win over their loyalty and secure customer spend once things normalize.
So, ask yourself, is your company doing enough online? Are you maintaining a positive attitude that connects with your customers? Is your digital presence strong enough to live up to customers' demands? Also, during a crisis like this?
10 Digital Experiences
Now more than ever is the time to focus on your digital sales and online marketing activities. To help you with that, and to offer some fresh perspectives on your current activities, here is a list of 10 different digital experiences that can work across industries and areas of business.
1. Make your PDFs Digital and Interactive
This is one of the most important digital experiences because you probably have a lot of existing content that you could repurpose into interactive experiences – why not convert your PDFs into Digital Leaflets that you can share with your customers? And while you're at it, why not make those digital PDFs interactive. This will increase their effectiveness and provide you with measurable data on how they are performing. For example, you could find out how many people are actually reading them, what sections they are reading, and where they might be dropping off.
Try our interactive leaflet example right here for some inspiration on what's possible!
2. Virtual Sales Consultations (interactive video)
With conferences canceled and events thrown out the window, it's time to act online instead. One way of doing this could be through an interactive video that will take prospects through a branching video experience that changes based on the individual and their choices.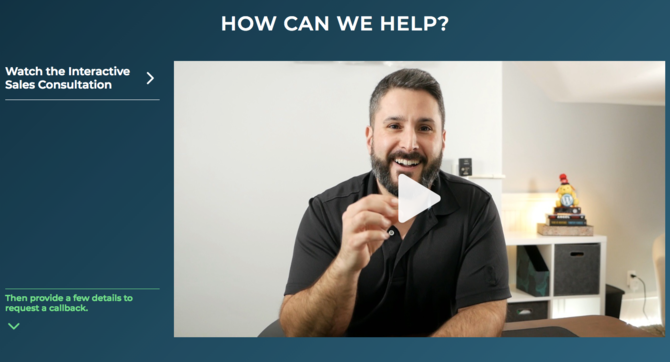 Let visitors answer questions that take them down a tailored path in order to always communicate the right thing and bring them more value. This is a great way of guiding potential customers and helping them find the right information whenever they need it. Check out how Pagely uses this strategy to automate their sales process and generate more leads.
3. Activate Customers with Gamification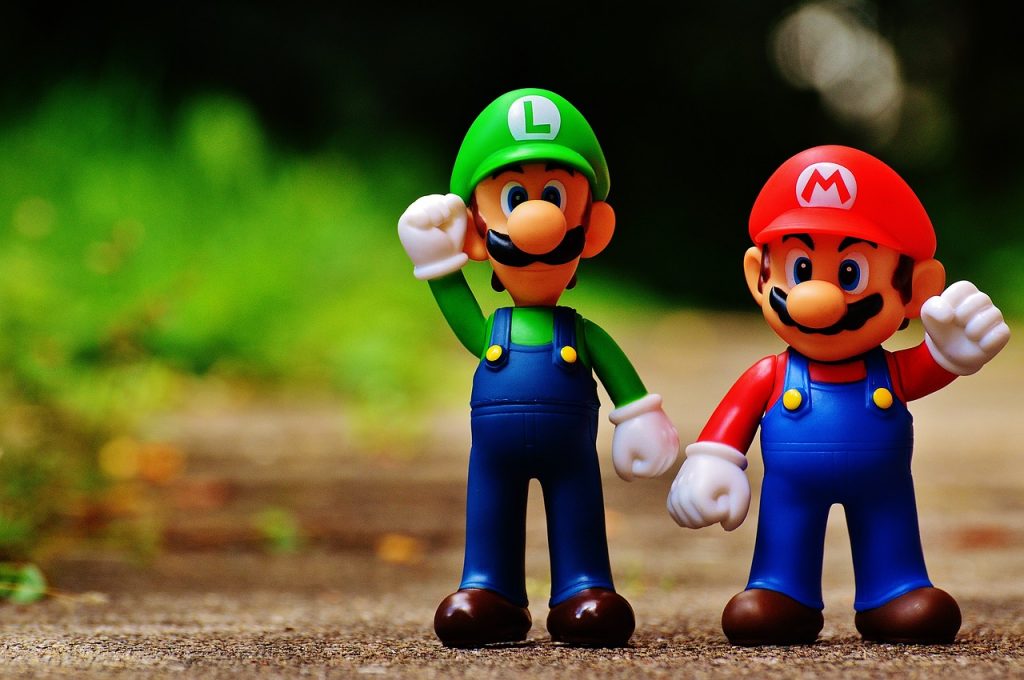 Being stuck at home is not the greatest. So why not experiment with some gamification in marketing to delight your customers? At Dot, we particularly like this digital Covid-19 initiative.
If you've never tried this before, then now is a great time, as we could all do with a small virtual escape from what's happening around us anyways. Use marketing games to get your customers to engage with your company in new ways with a twist of fun. There are many types of games to choose from – explore some here.
4. Deploy Self-Service Tools
Today's consumers are already going online to do their own research, on their own time and without talking to a sales rep or customer support. Do you already have self-service tools on your digital channels that support this behavior? If not, then now would be the time to figure out how to better guide new prospects the moment they land on your site. These tools help customers get to the right information/products faster, which of course makes the buying decision much easier – we call it guided selling. Guided selling is one of the digital Covid-19 initiatives you shouldn't pass on.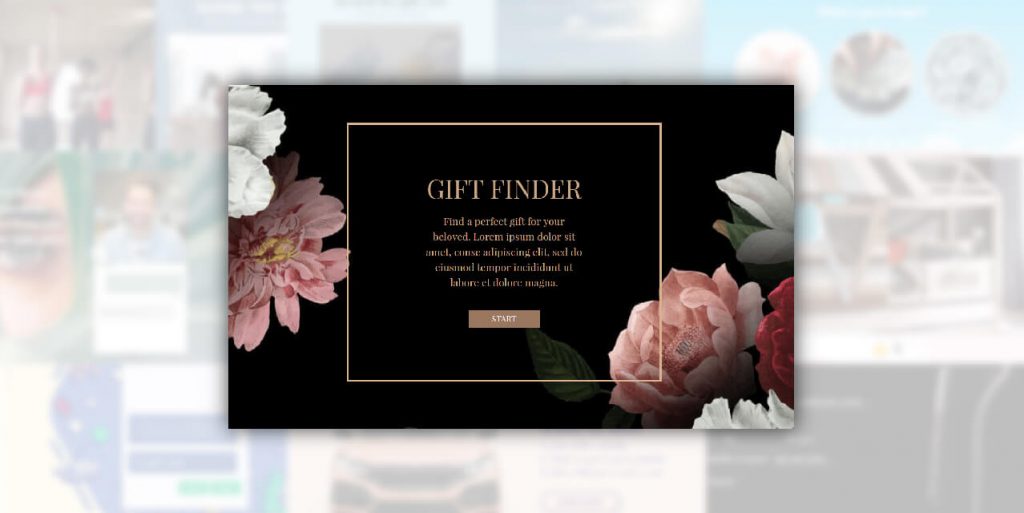 So, ask yourself, what questions are people having and how can you better serve their needs? A few common tools could be online calculators, product finders, interactive demo videos, product comparison, and tests. It's a question of finding out what works for your business and how to quickly create value for customers online.
5. Reassure Customers
It's important to keep your customers up to date and in the loop about important changes. Create a landing page dedicated to this and incorporate various interactive components to communicate and engage more effectively.
6. Show you care. Make it personal!
You likely already understand the value of personalization from email marketing and how it can help increase open rates, lower unsubscribe rates, and improve deliverability.
Another important digital Covid-19 initiative is to re-apply these same principles in video format and combine it with your email marketing efforts. Send out a video greeting that includes a few data points such as name, favorite store, top products, etc. You could even include rewards in the form of discounts or other things. By doing so, you show your customers that you care about them!
7. Involve Customers Through User-Driven Content
Make social waves and facilitate peer-to-peer experiences by leveraging social interactive content.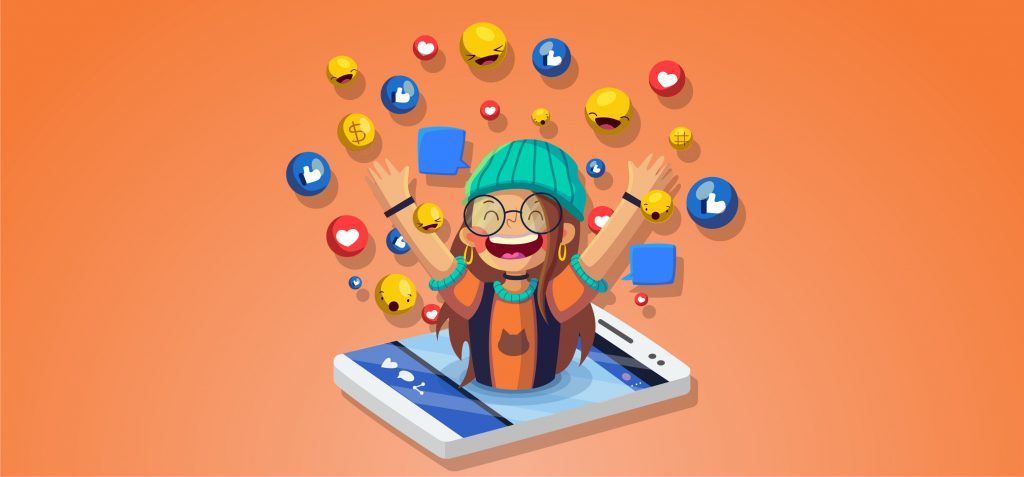 These types of experiences are all about user-generated content. A few examples of this could be a selfie contest, personalized story, picture voting contest, greeting cards and much more – the key thing being a way for your customers to create content with a personal twist, which can then be shared among their own circle of friends.
8. Give away some free stuff!
People love free stuff – that will never change. So why not show some good-will and delight your customers with an online contest? There are many ways of doing this, but it's, of course, important to give away something that people are interested in winning. Also, you can choose to make it an instant-win contest to further incentivize participation. Read about how to run up a successful online contest here.
9. Make it Competitive
Humans are competitive by nature – some more than others. We like to compare ourselves to others and see how we stack up. Tap into this by adding a Leaderboard to an online challenge e.g. in the form of a game or a quiz.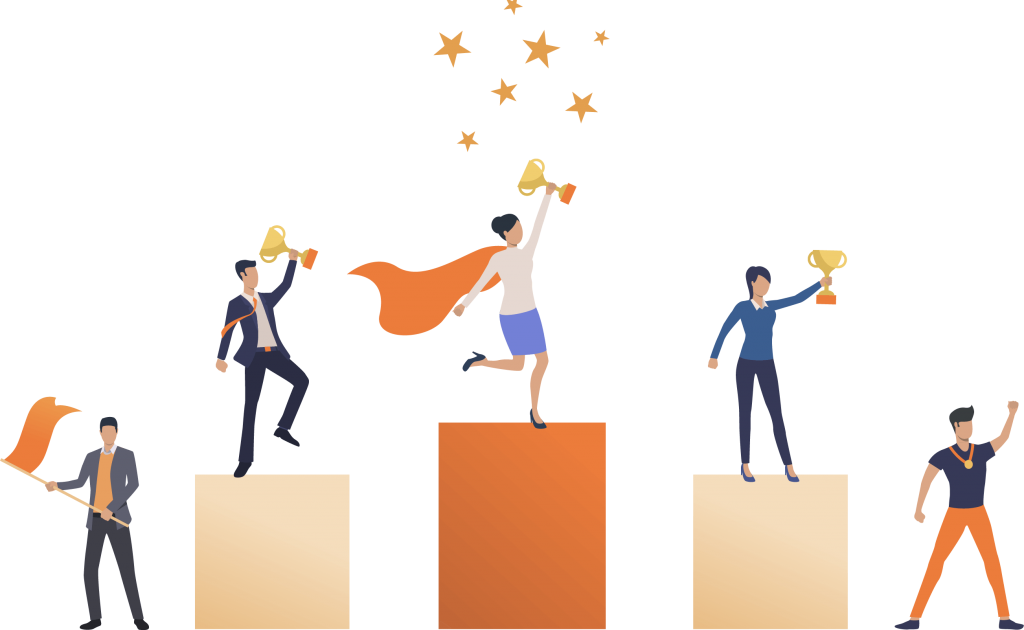 This can both be for a broad public audience or for internal purposes within your company to boost morale. Try an example of one of our easy-to-configure templates here.
10. Educational Quiz
You might have some super important or useful information to share. However, getting people's attention can be challenging – so why not make it into a fun challenging quiz that is sure to get people engaged. Besides, active participation is far more effective when it comes to memory retention!
To conclude this blog post,
Investing in improving your digital presence makes perfect sense in these crazy times and can help you maintain a state of normality. It's also the type of investment that you can profit and grow from once things settle down. In fact, it can even give you a competitive edge over competitors who are slow to react – so what are you waiting for?
Subscribe to our blog!
---