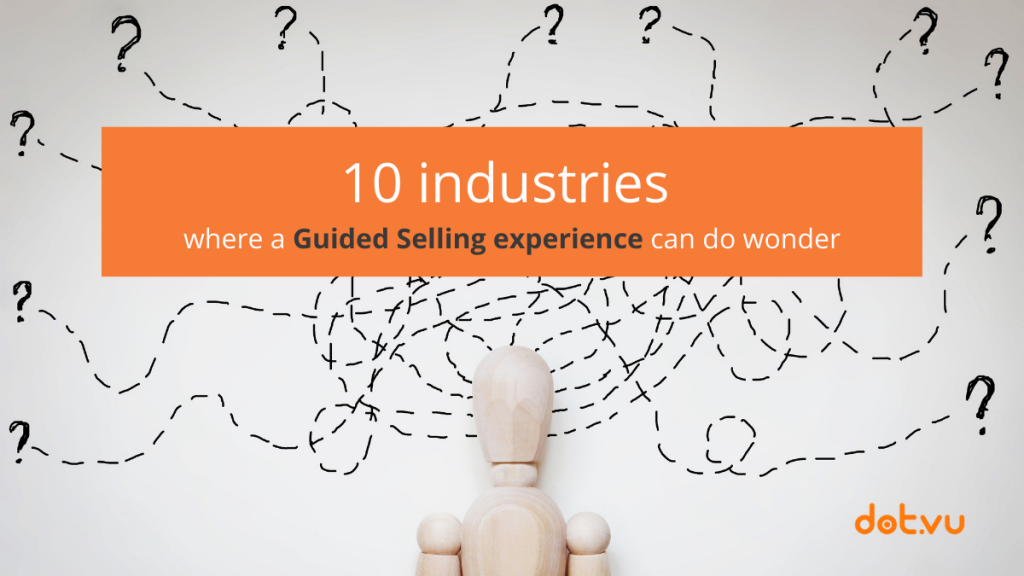 In this blog post, I would like to give you some insights into the different industries where a Guided Selling experience can help you stand out from the crowd and win the absolute liking of your customers.
Therefore, I have collected 10 different industries to show you how a Guided Selling experience can be used in various environments. Also, I added some real examples just to help visualizing the benefits of this experience. Stay with me for the next couple of minutes, it'll be fun!
10 Industries Where a Guided Selling Experience can do Wonders
1. Agriculture
From cultivating vegetables to animal farming, the agriculture industry is vast and very diverse. There are small local farms, medium sized-one, but also incredibly huge ones. This means that big pieces of equipment, such as tractors and fertilizer spreaders, need to be adapted to the farm's reality.
That's why a Guided Selling experience – in the form of suggesting products with a Product Recommender – would be perfect for a farming equipment manufacturer. On the manufacturer's website, a farmer could easily find which tractors or fertilizer spreaders are adapted to his/her reality by answering a couple of questions. Then, only the equipment that fits their needs will be presented to them.
2. Insurance
Buying insurance is never easy. Most of the time, you'll need to talk to a broker, as there are many options for all insurances. For example, if you want to buy house insurance, how much should it cover? Should it cover fire damage, theft & vandalism, pest control, and installation malfunctions? Can you get a discount if you get all of your insurance (car, pets, salary, etc.) from the same place?
There are many things to consider, and unfortunately, the trust between customers and insurance brokers is not always the highest. That's why a Guided Selling experience in the form of Solution Builder can be great for your insurance marketing. With a Solution Builder, customers would simply calculate the price's estimation of their personalized insurance, depending on what they choose to have covered or not. This Guided Selling experience is also very transparent, which is great to increase trust.
3. Retail
Again, as I have mentioned earlier, retail might be the most apparent industry for the different Guided Selling experiences. Having a Guided Selling experience on a Retail Website is similar to having a person that welcomes customers in a physical shop. The goal is to uncover your customer's needs and try to fulfill them with the products that fit best.
There are many different Retail Guided Selling examples but two different Guided Selling experiences come to mind when talking about the Retail Industry: Product Finder & Gift Finder. Both of them follow the same principle; you ask questions like their budget and what they are looking for to present the best items you have in stock. The difference is that, for the Gift Finder, your customers will be looking for ideas to buy something for their spouse, children, parents, friends, etc. So, they might need more guidance. You can also have themed Gift Finder, like Christmas Gift Finder or Mother's Day Gift Finder.
4. Telecommunication
The telecommunication industry keeps changing. Not more than 20 years ago, most households would probably have only a TV membership and a phone line. Depending on which channels they would want to have included, they would pay a specific amount per month. While this is still true, today we also need to consider our Internet and Mobile Phone services.
Again, if you get everything from the same company, you will probably get a discount. You can also get a discount if you have more family members under the same contract, and so on. Therefore, most individuals have a very custom contract with their provider(s) depending on their needs. So, very similar to the insurance companies, telecommunication providers would benefit from having a Solution Builder experience on their websites to help clients calculate a price and a contract based on their needs.
5. Publishing
While we print less and less, publishing companies are still very much alive. Nowadays, they do projects such as banners, business cards, flyers, menus for restaurants, and so on. These projects are really specific to each client, and they are lots of things that can vary, such as the quantity, production method, and whether an in-house designer should help with layout to ensure the quality of the printed media.
Again, publishing companies would benefit a lot from having a Solution Builder experience, or in this case, we should probably say a Project Builder experience. So, by filling in a few questions regarding their project, they could get an estimation of the price directly on their website.
6. Advertising
The advertising industry is a multibillion-dollar business that serves as a channel between manufacturers and consumers. Whether we talk about B2B or B2C, so no wonder why it got on our list as well. Advertising has a lot of potential, and it is also time that advertising companies engaging highly visual interactive content.
And guess what? Guided Selling as an interactive experience has the biggest potential to be used in the advertising industry. It provides an excellent opportunity to get to know more about your potential customers. Thus, being able to offer a set a product that suits them the best. This is a dazzling opportunity for you to make your offerings way more attractive and incentivize purchasing decisions by making it shorter and more effective for your customer.
7. Hospitality
Guided Selling is also perfect for your hospitality marketing.
The hospitality industry is huge. It regroups restaurants, hotels, motels, Airbnb's, etc. In the past few years, many of these companies have started to expand their services to offer what they call complete experiences. For example, you'll often see big hotels with different restaurants, a spa, a conference center, and so on. Moreover, Airbnb also started to offer experiences. If you book a trip, let's say to London, they will also propose to you some local experiences you could participate in during your trip.
These companies that offer different services could benefit from having a Guided Selling experience on their website. That way, they can easily promote their additional experiences while also making it easy for the client to create a reservation that includes everything, he might need from his hotel room to wine testing to finish with a couple's massage.
8. Health Care
Health Care must be on this list too. It is an essential industry where there are dozens of opportunities. You can simply think about how time-consuming and difficult it is to get an appointment and be checked by your doctor in case you have a need to do so.
Guided Selling could be a great solution as it is based on a series of questions about the patient's needs in this case. So, there could be questions related to the symptoms and problems the patient is facing with. Hence, the doctors could make more effective decisions whether it is something worth giving an appointment for or is enough if they simply recommend some products that can treat the problem.
It could come in handy when doctors are overwhelmed like, during the Covid-19 pandemic. In such a situation, a Guided Selling experience could be used to find out more about their symptoms and let them know whether they need to get tested or not.
9. Education
The education industry has excellent potential too. It is starting to realize the importance of interactivity and visual experiences. Hence, they are working towards sharing more videos, for instance, about the schools and what the student life is like in their institution. The goal is to promote themselves and try to motivate students to apply. Besides, some universities, for instance, have already started implementing Guided Selling experiences where future students can go and answer a couple of questions if they are unsure what they would like to study like this client example that you can find on our website.
Consequently, for instance, when we talk about higher education, universities could highly benefit from having a Guided Selling experience. That way, they could effectively promote their degrees and help students find what they are truly passionate about. Guided Selling is all about figuring out the needs and characteristics of potential customers, in this case, students, and recommend a couple of choices that best suits their expectations.
10. SaaS
Wildly popular SaaS solutions aren't going away any time soon. Thanks to their ease and affordability. SaaS businesses most often offer flat-rate pricing methods. There is a single rate charged over a period of time regardless of usage and time spent on the platform. However, this might put businesses in an uncomfortable situation when they only need services for a one-time project, but it's impossible to do so because of the pricing methods. Not many SaaS businesses offer solutions for these scenarios.
In such situations, a Guided Selling experience like the one our Pricing Page can be very beneficial. It can capture the needs and expectations of potential customers, and based on their answers, quote a price for a one-time project. Plus, it can help you gain customers who are not yet ready to commit for a long period of time.
To conclude this blog post,
I am sure there are many more industries that could have been included in this blog post. But I think this should be enough to get you going and feel the versatility of this interactive experience.
Now it's up to you if you want to engage with it and include it in your marketing strategy. I strongly recommend doing so as they are getting more and more popular. Guided Selling is one of our most used interactive experiences here at Dot.vu.
Find more inspiration on the Dot.vu marketplace. Or create a free account and try a template!
---