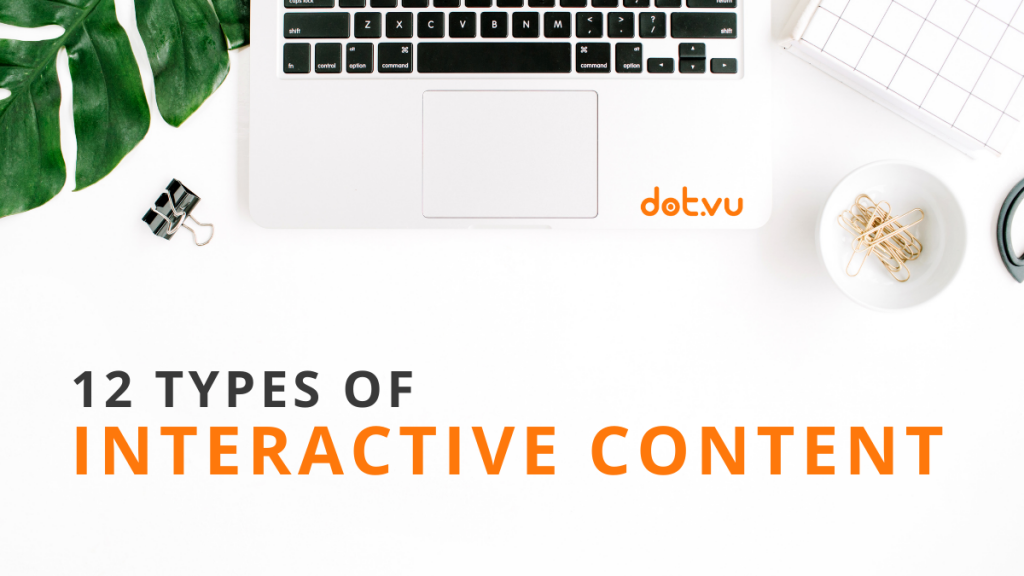 You start your day procrastinating on Buzzfeed, taking their new quiz about what type of salad you would be (yes, that actually exists). You eventually start working, researching, and reading interactive graphs for the proposal you have to present later in the day. Finally, you see a flight offer popping up on your Facebook to China, your dream destination. The price is not in your currency, and you quickly lookup a currency converter to see how affordable the offer is. Your day has one thing in common; besides grave procrastination, the content you consumed was interactive content.
What is Interactive Content exactly?
Interactive content allows the customer to engage with the content instead of passively observing. In other words, with interactive content, your customer enters the story and influences the results. So, it creates an experience for the viewer, and the content automatically becomes more memorable to him.
Interactive content can be anything that requires the viewers to take action. Through technology, they become a part of the story.
Interactive content solves several problems digital marketers face:
People's attention spans are short in a hyperactive online world. Interactive content captivates users' attention better than regular content and keeps people's attention for longer.
It's harder to stand out now on the Internet than it was before. Interactive content is still relatively new and makes you stand out with memorable, engaging, and more personalized experiences.
It's harder to attain people's contact information with an opt-in form

.

Interactive content plays with people's curiosity

. When you offer personalized results,

people are more likely to signup to as they get an interactive experience out of it.
The Different Types of Interactive Content
There are different types of interactive content; here's an overview of 12 of them.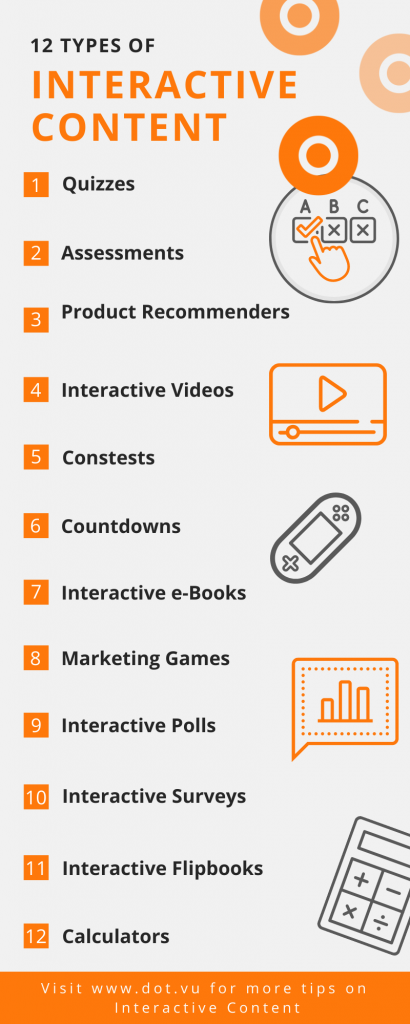 1. Quizzes
A quiz is an interactive content experience that is usually short and easy to take. It challenges, entertains, and engages participants, and in the end, it provides results based on their replies. An example of a quiz could be 'What Game of Thrones character are you.' Quizzes tend to be shareable and taggable on social media due to its light and often humorous content. Quizzes are excellent for gaining new leads and growing your email list.
There are different types of quizzes, such as knowledge quizzes, personality quizzes, trivia quizzes, etc. You can also add a contest to your quiz to make it even more interactive. Read about the different types here.
Try making your own quiz at Dot.vu. Click here to get started.
2. Assessments
Test your emotional intelligence with Orion HR's assessment here.
Assessments are great interactive content experiences that provide personalized feedback to the user. They can suggest how to improve specific skills, or even show how people stack up against peers.
Assessment includes questions about a specific topic, like how people work, spend their time, or test their knowledge in a field. They are also optimal for gaining new leads and grow your email list.
All the questions answered are customer data you can use to market further with. It helps you get to know your client's preferences, interests, strengths, and weaknesses.
There are different types of assessments, such as a knowledge assessment, a personality assessment, a skill assessment, an educational assessment, and a best-practices assessment. Read about 9 assessment ideas for your B2B marketing here.

Try making your own assessment at Dot.vu. Click here to get started.
3. Product Recommenders
This interactive content experience is the future of online shopping. With a product recommender, you can ask users questions about their needs and preferences. Based on the replies, it will suggest the best suitable product(s) for his needs. Product recommenders work for many different purposes, such as retailers, webshops, or even SaaS solutions. Product Recommenders will help you engage with your clients and boost your sales.
Take a look at how Signature Scents by Hand helped their customers discover the right perfume and encouraged them to order it from their webshop.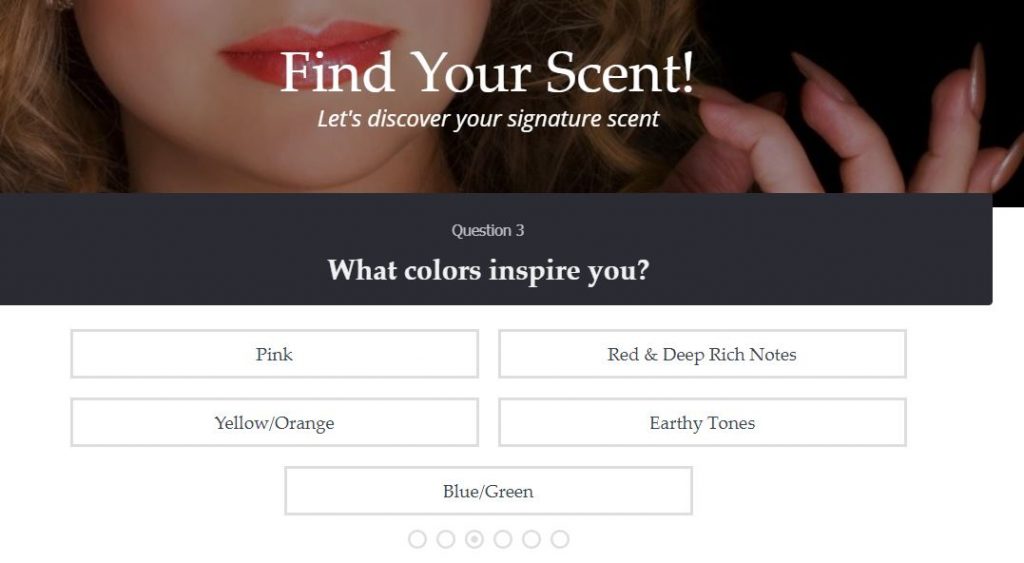 Try making your own Product Recommender on Dot.vu. Click here to get started!
4. Interactive Videos
Interactive videos usually involve engaging people in the video, either with questions that determine how the video ends, polls, or clickable 'tags' or 'hotspots'.
They are beneficial for understanding your audience better, segmenting and personalizing the customer experience. You can also use them to present multiple call-to-action options without overwhelming your viewers. Don't forget to gate certain parts of the video to grow your email list and generate more leads.
According to Cisco Visual Networking Index: Forecast and Methodology, 2016–202, video traffic is estimated to count for 82 % of all consumer Internet traffic in 2021.
With an increase in video usage and better technology, it is only rational for the product to evolve, and interactive videos are a part of that evolution. Because Interactive Video generates drastically higher engagement, ROI, and more personalized information about clients, it will be hard not to adopt this interactive content experience into your marketing strategy in the years ahead. In a recent Wyzowl report on 'The State of Video Marketing in 2017', 92% of marketers said that Interactive video is an efficient marketing tool.
Read about 5 ways brands are winning with interactive videos
Try making your own interactive video on Dot.vu. Click here to get started.
5. Contest
A prize-driven interactive contest is a go-to tactic for many marketers. The chance of winning a prize gives people the incentive to participate, thereby accelerating brand awareness, social engagement, and email-list growth for companies.
There are different types of contests such as video contests, refer a friend contest, vote to win contests, quiz contests, etc. Contests can be amazing by themselves by they can also be powerful interactive elements to add to your other interactive experiences. For example, you could design a branded marketing game or an interactive video and add a contest to it.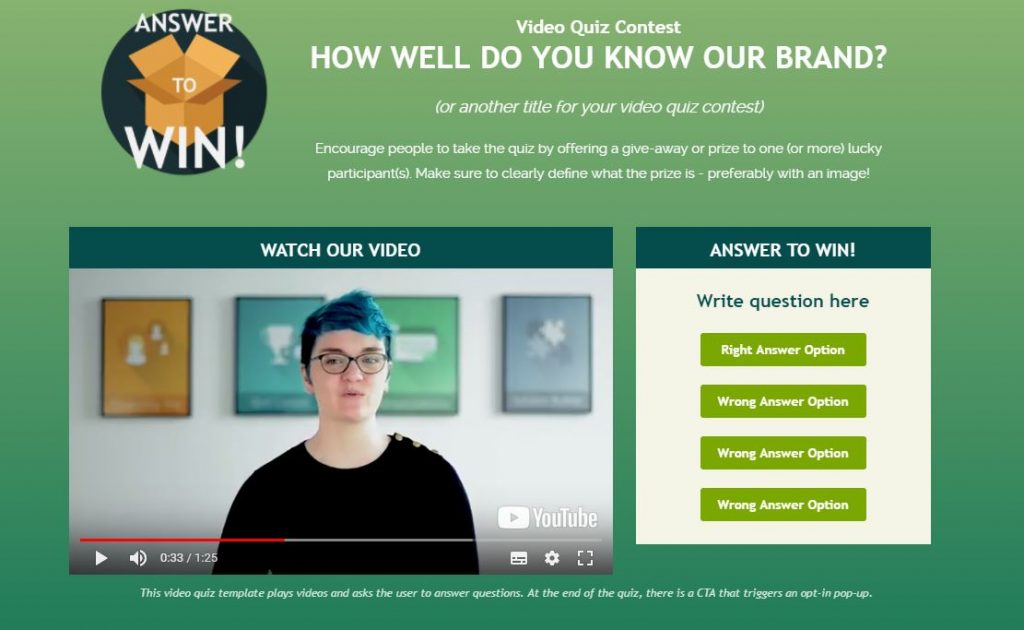 6. Countdown
Interactive countdowns can create a buzz for your next event or special day. It is often used to promote holiday discounts or to highlight your Black Friday event. Go beyond what your competitors are doing, and also use countdowns for your company anniversaries, special events, seasonal sales, or any other special days.
Did you know that Advent Calendars are excellent to boost your holiday sales? Yes, an Advent Calendar, just like the ones you remember from your childhood, only digital! A company can design an online advent calendar where participants can discover new interactive experiences with contests, discounts, quizzes, games, etc. each day in December? Of course, you'll also use your Advent Calendar to highlight specific products or promotions. This is a great way to make the most of the holiday spirit, create a buzz, and generate traffic by ensuring your clients come back every day for 24-days. Holiday Calendars like these are great for informing and improving brand awareness, generating more leads, getting more subscribers, and capturing key marketing insights.
Try making your Advent Calendar on Dot.vu. Click here to get started.
An hourly surprise can be used as a countdown for anniversaries, sales, Black Friday, or Cyber Monday. It is very similar to an Advent Calendar, but instead of having new interactive experiences available each day, you have one every hour. It builds excitement, and it is especially good for webshops and retail industry to boost online sales and also get people to come to your store.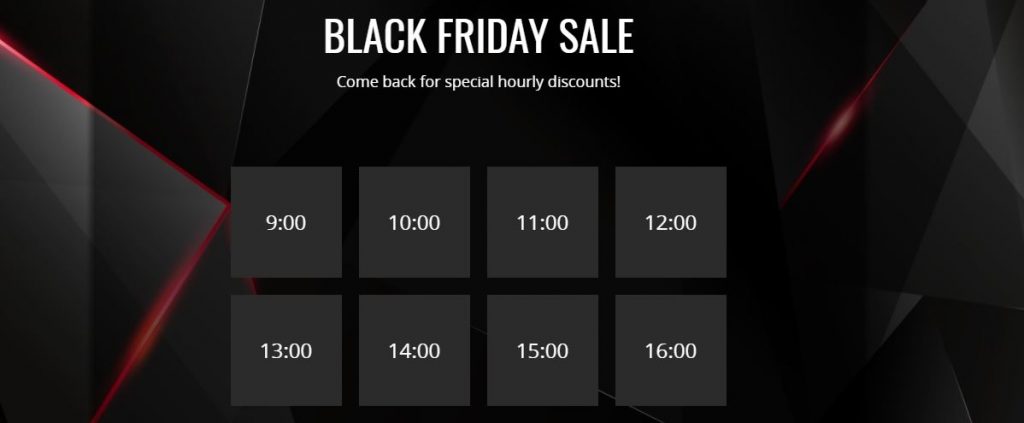 7. Interactive E-book
Interactive E-books bring content to life. It is useful when communicating more complicated or dry content because it will help the reader get through it.
Interactive E-books are multi-device-friendly, and you can enrich e-books by embedding assessments, interactive charts, videos, and more. You don't even have to download the interactive e-book, you can read them directly online.
As with any interactive content experience, it rewards you with information about how your reader digested your material. With the added interactivity, you receive information about which parts people read, what interactive infographics, charts, or videos readers engage with, and what forms they completed. A conventional e-book, on the other hand, only shows you statistics about whether the e-book was downloaded or not.
Moreover, with personalized e-books, you can shrink a 100-page e-book into a 20-page one and tailored to a specific individual.
You can also fully or partly gate chapters with an opt-in to successfully grow your email list.
Try making your interactive E-book on Dot.vu. Click here to get started.
8. Marketing Games
What's the best way to gain people's attention? Games. We all love to play a game to relax our minds. That's why marketing games are so successful, you should implement them in your marketing strategy today.
There are many different types of marketing games. You can have simple games like puzzles, scratch cards, memory games, etc. They are excellent to entertain your audience on social media or on your website, cut the clutter, and differentiate yourself.
If your goal is to grow your email list, an excellent idea would be to add a contest with a gated lead form to your marketing game. If you want to see unbelievable results, you can also incentivize participation with instant gratification. By making an instant-win contest, you'll create an even stronger incentive.
See how Callebaut created a flip card game for their marketing here or how Lifetime Kids Room turned an old video into a video game.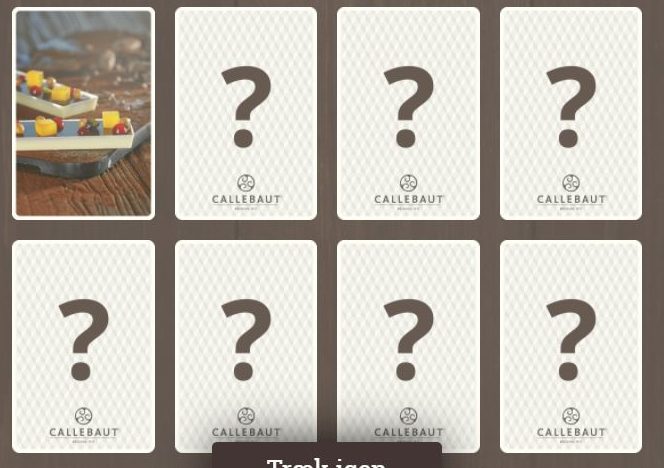 Try making your first marketing game on Dot.vu here.
9. Interactive Polls
Interactive polls are online questionnaires, where you see what others people reply, once you submit your answers. It can be very useful to see what others do, how they work differently from you, or what programs they prefer. Interactive polls are also visually attractive and a great way to shake up your marketing.
Try making your own Interactive Poll on Dot.vu here.
10. Interactive Surveys
Interactive Surveys are great to gain feedback about your products in a visual and fun way. You can do a survey on a new product to get customer feedback and gain valuable insight before launching. It also works well for events or conferences – or customer service feedback. The interactivity makes the experience more user-friendly and fun for your clients, so you will get a higher participation rate.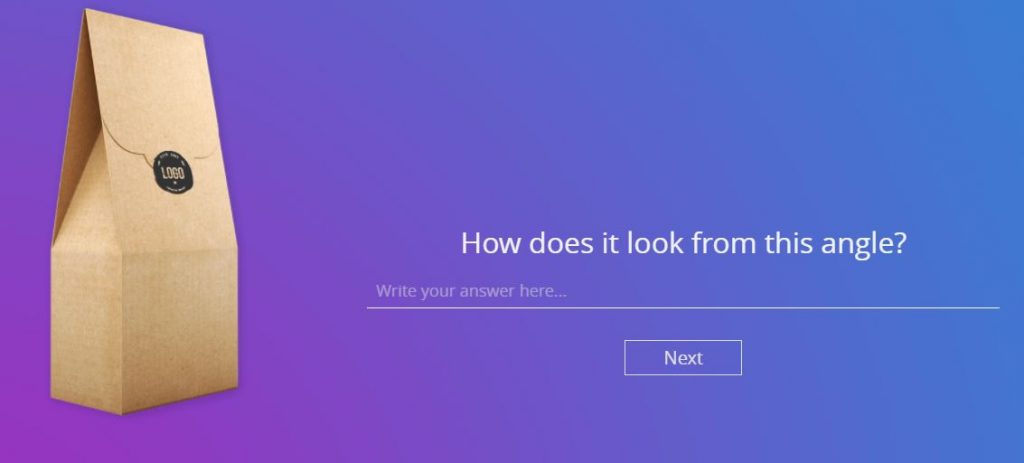 11. Interactive Flipbooks
Interactive Flipbooks are simply amazing. With this interactive content experience, you can re-use your old and boring PDFs and turn them into a stunning flipbook where you can add any interactive elements.
Adding interactive elements like animations, quizzes, videos, calculators, games, product recommenders, etc., will enhance your website visitors' experience. They'll be way more inclined to read your PDFs now.
Yet, the best feature of an interactive flipbook is the analytical properties. You'll be able to learn what sections people read and what interactive elements they engage with. You can also gate specific sections with a lead form to grow your email list.
Learn how to make your own Interactive Flipbook on Dot.vu here.
12. Calculator
Calculators are amazing interactive content experiences to embed to your website. Visitors can use them to calculate a price or the ROI of a product. They can also use it to know how much money they'll save by using your product or software. The possibilities are endless.
See how Hubspot used an ROI calculator to help their audience see the return on investment they'd get by doing inbound marketing with HubSpot.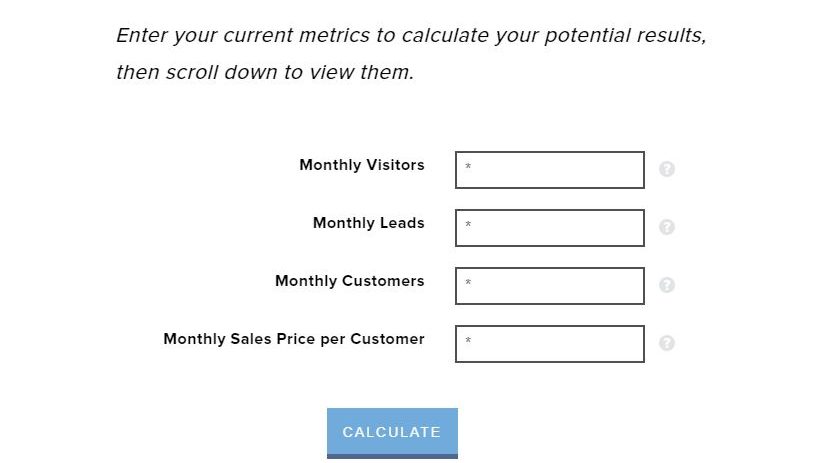 Interactive content is the future of marketing. We are sure of that at Dot.vu. That's why we are working really hard to build an Interactive Content Platform with which anyone can create interactive experiences. No coding. No magic.
These 12 types of interactive content are examples, but there are so many more interactive content types you can create on Dot.vu. Try to build one now!
Subscribe to our blog!
---