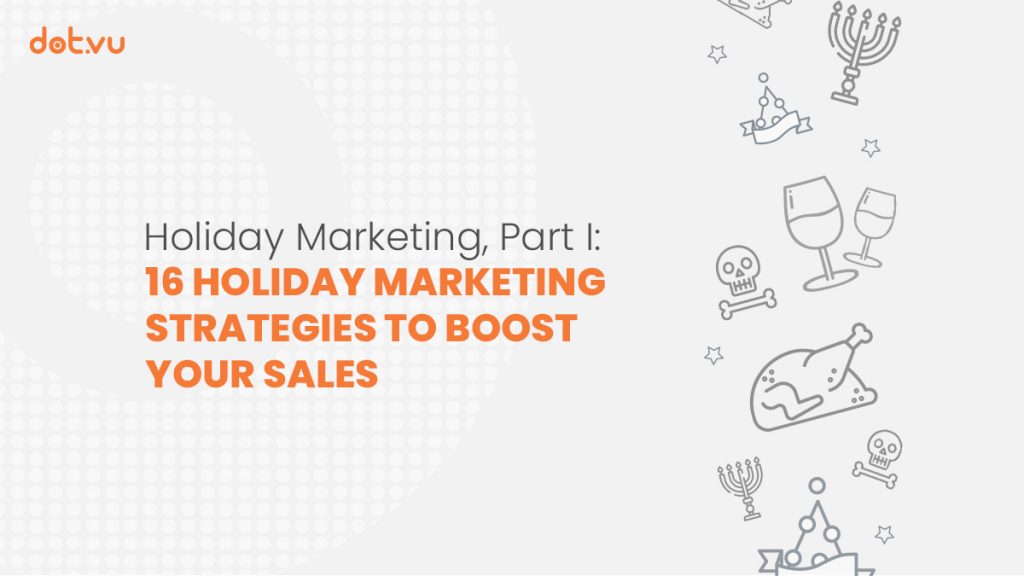 Did you enjoy the summer? Good! Because with the end of summer, it is time to prepare for the holiday season. Do you need to get inspired by some holiday marketing strategies? We have got you covered!
The retail strength of the holiday shopping season can be observed around the globe. The season formally begins with Black Friday and Cyber Monday — also known as "Cyber Week" — and leads up to the Winter holidays. Although both Black Friday and Cyber Monday began in the United States, shoppers all over the world have come to embrace the two months of holiday shopping. And it is not a secret that most people all around the world are looking for discounted offers.
Thus, with consumers starting at the beginning of the last quarter of the year, early planning is essential. Thinking about how to leverage holiday sales and much higher search volume and traffic to maximize their campaigns' impact can never come too soon. Businesses need to start thinking about, plan and finalize:
Purchasing product packaging
Sourcing products
Updating the inventory
Organizing shipping
Planning marketing campaign(s)
… and all this needs to be done latest in September. Wondering why?

As the saying goes "There is no better time than now" to start your holiday marketing campaign. A study from RCS UK shows that 38.1% of people start their Christmas shopping before November. This is one of the reasons to prepare and finalize your holiday marketing plan by the end of September to get your products seen by early shoppers. Also, preparing early will give you some buffer for mistakes, decreases the likelihood of rushing at the end, and ultimately, will set you up for success.
Let's unveil some of the most successful holiday marketing strategies to boost your sales this season.
16 Holiday Marketing Strategies to Boost Your Sales
Sell a Solution, not a Product
Help your Customers with a Gift Finder
For the majority, finding perfect gifts for the whole family and friends can turn out as one of the toughest tasks of the year. Some might panic and buy products, which have no value or purpose for the receiver. To avoid this, creating a simple Gift Finder can be a great way to promote your products as a solution to improve the quality of life of the user. Moreover, it will draw people to your products and will guide them through their buying journey. For instance, your business is selling cosmetics, which are one of the most popular gifts during the holiday season. However, the offer of different types of cosmetics can be quite overwhelming for your customers. Thus, an Interactive Gift Finder can help you to break the barrier and lets your customers easily find the perfect gift for their loved ones.
Offer Gift Cards
To expand on the previous thought, some of your customers who are buying a gift for someone else still might be indecisive if they should make the purchase. In these cases, a gift card might be the best option. Thus, if you do offer gift cards, ensure that your customers know about them when they enter your shop. This note might be a simple text, a graphic, or a link to a landing page, specifically developed for this type of product. To offer more personalization, give your customers the option to customize an Interactive Gift Card with a personal message.
Use Upselling Ideas to Reward your Customers
Free Gifts
Level up your sales by offering free gifts with each purchase for a limited period during the holiday season. It shows your holiday spirit, and more importantly that you value your customers and want to reward their loyalty. In turn, they will feel more special and motivate their buying decision. Offer something inexpensive along with every purchase from a certain amount. Even though the gift is free, you will be able to increase its value by making it this season's limited edition. Even better: As the free gift comes only with a certain purchase amount, it will increase your sales and boost your conversion.
Discounts
Another simple, yet effective way to boost your sales is to offer your customers a discount code to redeem in your shop. Discounts are ideal to reward your loyal customers and motivate them to add more to their shopping carts. Moreover, this holiday marketing strategy leads to better brand perception, boosts sales, and increases conversion rates.
Bundle Items
"Get 2 for 1" ever heard of a commercial like this? Especially around the holiday season, businesses like to use this strategy to boost sales. Consider bundling some of your best-selling items together into a gift box. However, it is important that these items then also match together. A popular example for such a bundle item are perfumes, sold together with the matching body lotion, packed in a pretty gift box.
Customers tend to perceive the value of bundled items higher and in turn, look at it as a "bargain". If you want to multiply your chances to sell more, consider discounting the bundled items, as also the "bargain" perception increases. In turn, also the average cart spending and your conversion rate with significantly increase.
Free Shipping
One of the expectations customers have today is that their online purchase includes free shipping. No matter the size or value of the product, free shipping is an incentive the majority of customers expect, especially during the holiday season. However, free shipping can be expensive for your business. Therefore, one solution could be to simply adjust your pricing to absorb the increased costs. And no worries, a slight increase in pricing is often overlooked by customers when they notice the banner "free worldwide shipping".
Another advantage of this is the chance that sales increase, as shoppers tend to shop more when they are provided with free shipping.
Place your Holiday Marketing Campaign Strategically
Go for Omnichannel
To place your products the right way, use an omnichannel approach, covering online (e.g. your website, social media, ads, email, etc.) and offline (e.g. billboards, appointment shopping, etc). With an omnichannel approach, you can create more brand awareness. Considering that your customers might come across the same product on every channel they are on. Additionally, you can increase your chances of standing out from your competitors. Your competitors might not have the ability to promote their products through every platform that they are represented on.
Overall, use all your channels to place your holiday marketing promotions and manifest your sales offers clearly to attract and invite your visitors to make a conversion.
Find a Spot to Place Stocking Fillers and Impulse Buys
Most of your sales in the holiday season will be from someone, who is buying a gift for another person. Probably not only one other person, but many others. Buying so many gifts can get expensive and thus, most people might have a budget for each gift. Thus, use this knowledge and consider placing some cheaper products strategically on your website. For instance, place a "others also bought" or "you may also like" call-to-action elements at the footer of the page. If you are selling t-shirts, you might want to suggest some jeans or jackets. That way, your customers can quickly and easily add the product to their shopping cart and increase the average cart spend.
Follow the Calendar
The holiday season does not only entail Christmas but also smaller, more niche holidays like "Singles Day" in China or Hanukkah. Catering to a demographic, you reach more audiences, engage a smaller niche of followers, and keep them loyal.
Also, before the actual holidays, there are many dates throughout October, November, and December, which you can leverage to boost your sales at the end of the year. Thus, there is a wide range of dates in the last quarter of the year that e-commerce owners can leverage.
Get an overview of the holiday season dates: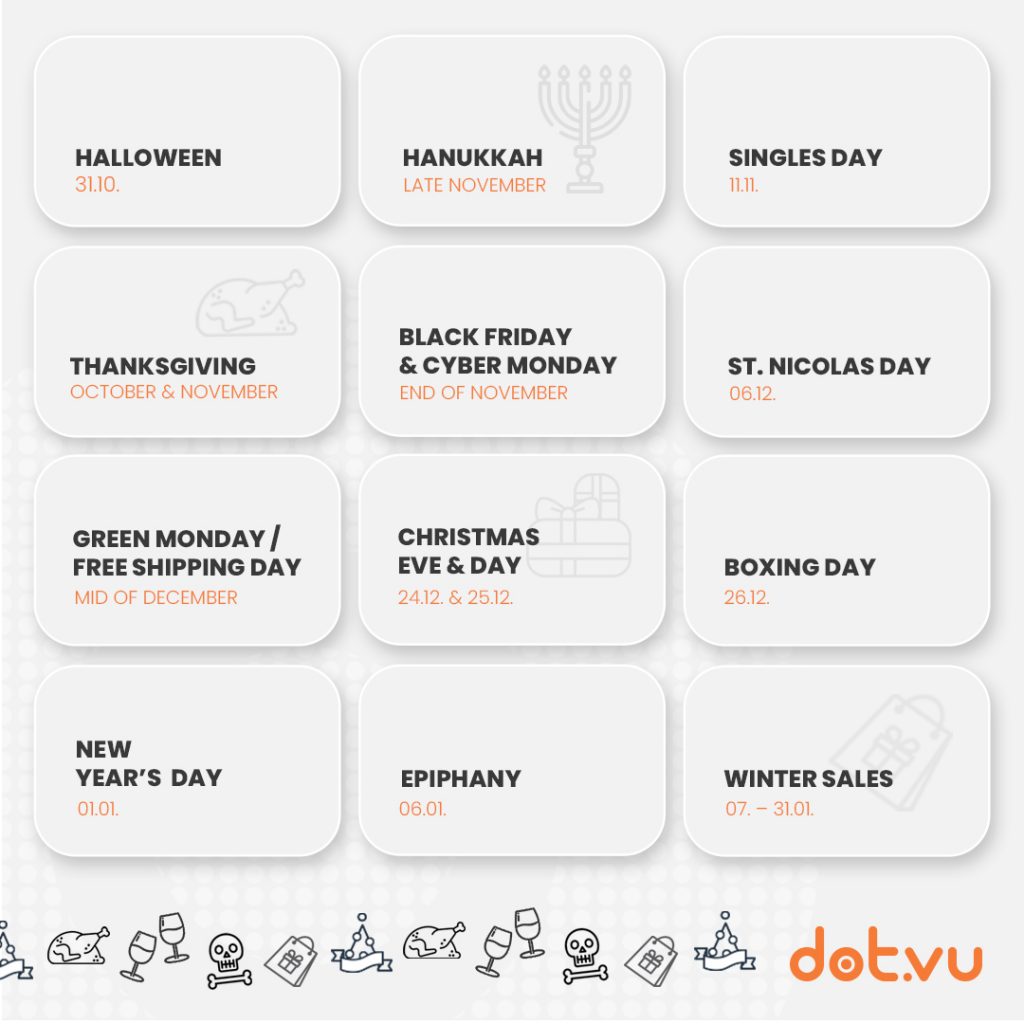 Consider these holidays
Promote your Holiday Marketing Campaign
Everyone who visits your website sees your social media, reads your newsletters, should know that you have got a special holiday promotion running.
Make your Brand Identity reflect the Holiday Spirit
Your visual identity is one of the main contacts that customers connect with your brand. Therefore, make your visual identity reflect the holiday spirit and adapt your pages and social networks with holiday-related details.
Also, make sure to update your imagery on all channels. The holiday spirit should be felt by all your visitors, who see your ads, visit your website, read one of your newsletters, or participate in a contest on your social media. The essence of the holidays can be added by using festive graphics, a video, or animations. For instance, adapt your logo, create special holiday icons, introduce an AI character that helps your customers with finding gifts, etc. Also, a holiday slogan such as "Carry on and keep Jingling" can help to communicate your current promotion. The key is to make it eye-catching and appealing to buyers. In other words, create a festive, appealing, and engaging visual identity during your holiday marketing campaign.
Give a Feeling of Exclusiveness
Another one of these holiday marketing strategies is to create a feeling of exclusiveness to increase your sales this season. Rewarding your customers with early VIP access before the holiday rush, helps you attract them to purchase before the holidays. In addition, your customers will feel extraordinarily special, because they can get good discount codes and exclusive access to your shop before everyone else. Moreover, use this strategy to grow your email list via an invitation pop-up on your website. Send out the invitations for early access, discounts, and exclusive offers before the holiday season officially starts.
Create Urgency
It is common knowledge that people are led by their emotions, often without realizing it. Especially, when seeing that an offer is not permanent and only limited, consumers tend to react more impulsive and quickly. Special sales days, such as Black Friday, Cyber Monday, or Christmas are the ideal times to leverage the effect of urgency. For instance, use countdowns for your campaigns by offering a limited period offer, or discount. Use a countdown on your website as a popup or banner, in your email marketing, or on social media.
Collaborate with Influencers
Social media, especially Instagram and YouTube, have made it possible to find new ways to target customers through influencers. Partnering with influencers is one of the most common holiday marketing strategies for global brands. Particularly in December, influencers tend to post a lot about the holiday season and often organize their own contests, such as an advent calendar. How about collaborating with an influencer by sponsoring one of your products for the advent calendar giveaway. In return, you will increase exposure, and reach new audiences. Collaborating with influencers, especially before and during the holiday season will help you increase your website traffic, boost your sales and drive your holiday marketing ROI.
Use User-Generated Content
Creating valuable content for your customers is extremely important because if they had a positive experience with your brand, they are more likely to share it with their family and friends. Statistics show that 85% of consumers find user-generated content more authentic than content promoted by a brand. Thus, using user-generated content as a holiday marketing strategy should be a no-brainer. For instance, create holiday-specific hashtags and encourage your customers to share their stories with your brand. To incentivize participation, reward your customers, and reach new audiences, use Interactive Contests.
Leverage your PR-Skills
Next to its high spirits, the holiday season is also popular for businesses to launch new products. Part of launching a new product is obviously to get it out into the world. To do that, a traditional PR outreach can be key. Create a basic press release and send it to relevant online magazines. The reason for this approach is simple: The closer the Holidays, the closer these online magazines want to create content that is relevant for their customers. That content can, for instance, be a gift guide for your loved ones. Particularly gift guides can be the perfect place to promote your products!
Are you ready to plan your Holiday Marketing Strategy?
The earlier your holiday marketing strategy is planned and finalized the better. To enhance the performance of your holiday marketing strategy this year, consider including Interactive Experiences. Use Interactive Experiences, such as an Advent Calendar, Flipbooks, a Countdown, or any other. As your brand perception can improve with Interactive Experiences, also your customer engagement will increase, and you can generate more leads and sales.
In the next part of our Holiday Marketing blog series, you can learn about what makes a great holiday marketing campaign.
Request a demo today and let us show you how Dot.vu can help you create unique Interactive Experiences for your holiday marketing strategy this season.
---
Subscribe to our blog!
---