A video can teach a client more about your product in 30-second than a well-crafted social media post. It stands out on social media and performs better than image or text posts. It all sounds good, but what can you do to differentiate your brand when everyone else knows this and are promoting videos too? How do you stand out in video marketing in 2017?
There are luckily a couple of tricks, tips and techniques you can do that do not require a lot of work on your behalf to help you stand out.
Videos are no longer a one-way communication. Instead, an interaction between a company and a customer, providing personal information about the client.
Video methods have developed, and today you can create anything from a shoppable video to a video quiz contest online to engage your audience even further on different platforms.
What is Interactive Video (IV)
An interactive video is a digital video that offers the viewer to interact while watching. It includes clickable points, often named 'hotspots' that act when clicked on. The 'action' can be to jump to a different part of the video, open another file or view information. The interactive video changed the one-way monologue, characterising the traditional video into a two-way dialogue. It enables the viewer to make their own story, answer questions and share their own opinion while watching.
Shoppable video
A shoppable video is also referred to as a 'touchable video' or a 'clickable video'. With a shoppable video, you can turn your video into a sales engine and offer people to learn about your product before buying it. You engage with your client in a whole new way.
You can turn almost any video into an interactive experience using the so-called 'action points' or 'hotspots' to showcase your product and relevant information such as price, size or type. In a shoppable video, you use the trigger points to add a link to your webshop where your client can buy the product showcased in the video.  You can showcase as many products as you like in one video and add as many trigger points as you like. All you need is a Youtube or Vimeo link to your video, and you can get started. Take a look at Lyngby's shoppable video here.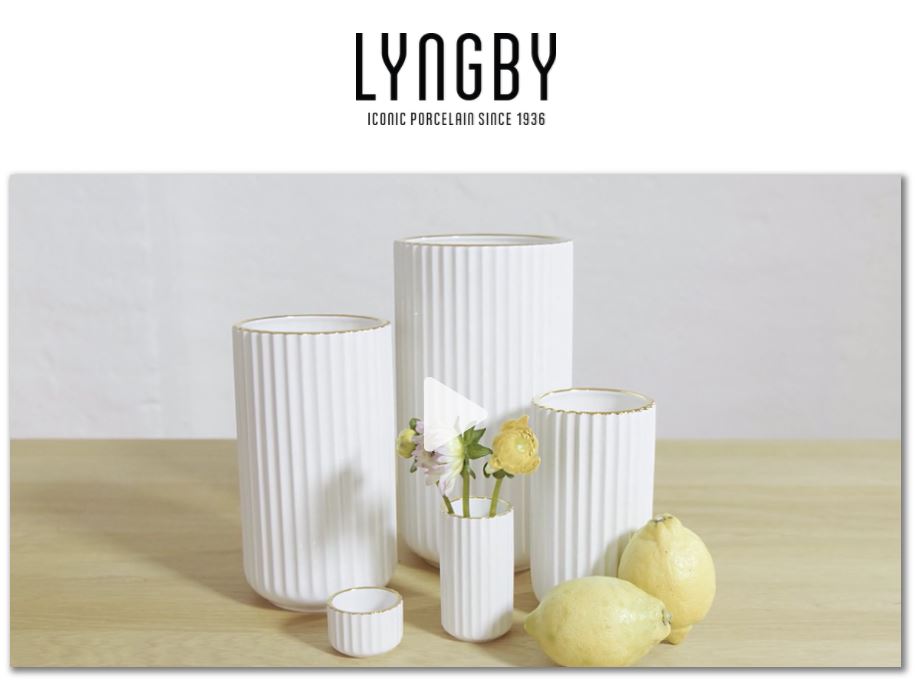 You can try to create a shoppable video on Dot.vu here.
Video Branching
Interactive storytelling is the main objective within video branching. Here, the hotspots are used to ask the viewer questions and based on the reply; the viewer is sent to another video. Video branching combines different video clips together to make an interactive story for the viewer.
See how Callebaut managed this beautifully in their cooking video here. They recorded different scenarios and asked the viewer what kind of cake they fancied. With dark or white chocolate; it was their choice. After answering, the viewer was guided through how to bake a cake based on the decision.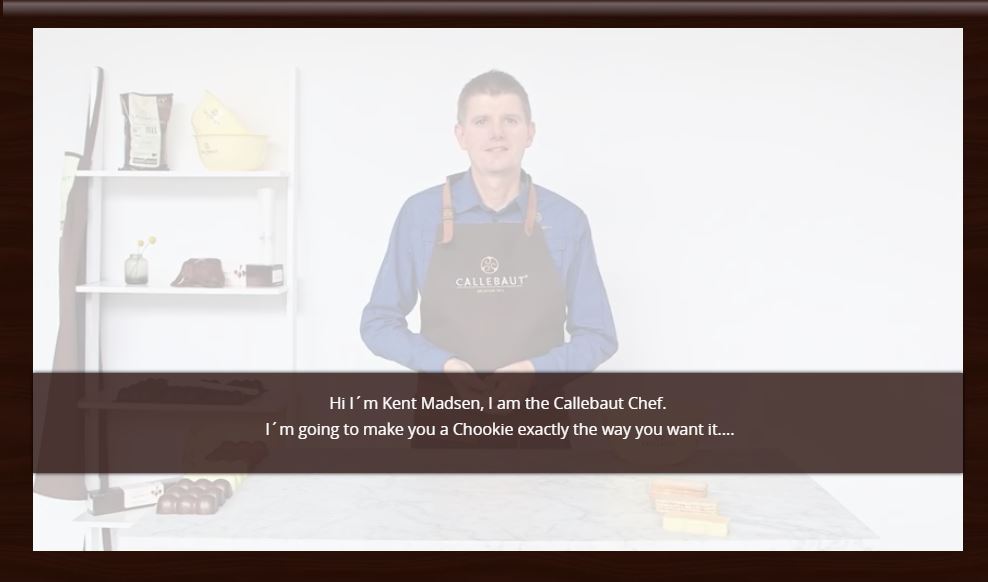 Video Quiz Contest
A Video Quiz Contest can get more people to watch your video and pay closer attention to the message delivered. People tend to stay focused when there is a chance to win a prize. In a video quiz contest, you can offer a prize at the end, and while your clients watch, questions will appear to be answered
To create a quiz it, you can use different platforms where you reuse old videos. All you need to do is to place a link to it from Vimeo or Youtube and start creating questions.
What do you get out of this? You gain people's attention, and an opportunity to inform your clients about the benefits of your product. Your product also becomes more memorable this way because people engage with it instead of being passive viewers. Finally, you get more contact leads to growing your email marketing list. Want to find out more? Click here.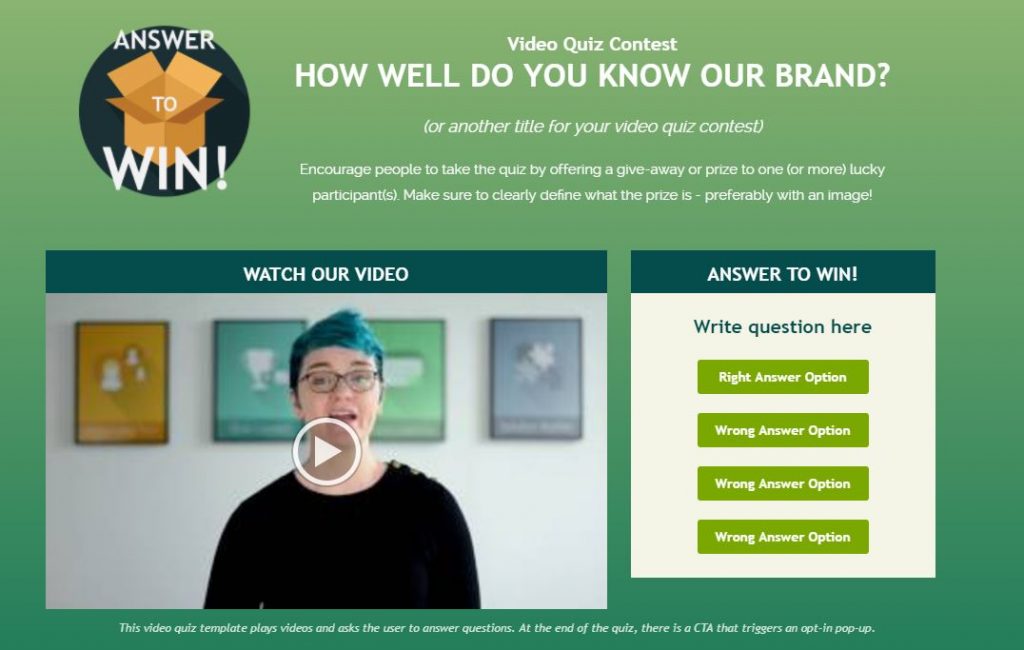 You can try creating a Video Quiz Contest on our platform here.
Another example of a Video Quiz Contest is the 'What Happens Next' video. In the video, the viewer can tailor the storyline by answering questions about what happens next. For every question, a few options with possible scenarios are provided. This way, the viewer becomes a part of creating the story. It's a fun experience and engaging experience.
See how Benefit Cosmetics re-used one of their short videos into a 'what happens next' quiz here.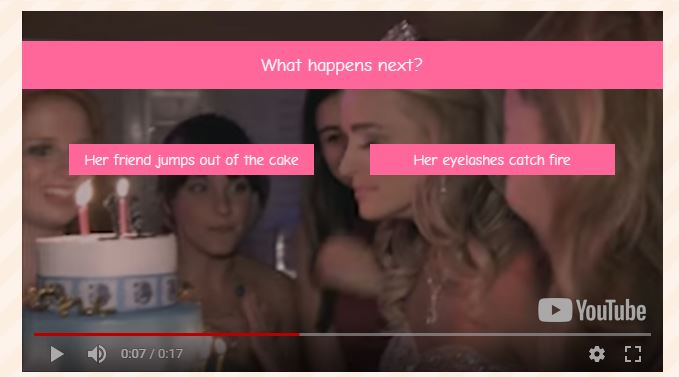 Video "Games"
One of the neat thing about interactive videos is that you can repurpose your current content and transform it into engaging interactive content. It is surprisingly easy to make a video into a game to engage with your audience. See how Lifetime Kidsroom created a video game here.
Interactive navigation
For longer or more complicated videos you have the option to add a menu bar to make it easier to navigate through. It is an option often used for tutorials to split the video into chapters. It improves the audience's video experience and enables people to watch at their own speed. Below you can see how Callebaut used a navigation menu to help viewers quickly jump back and forth in the video.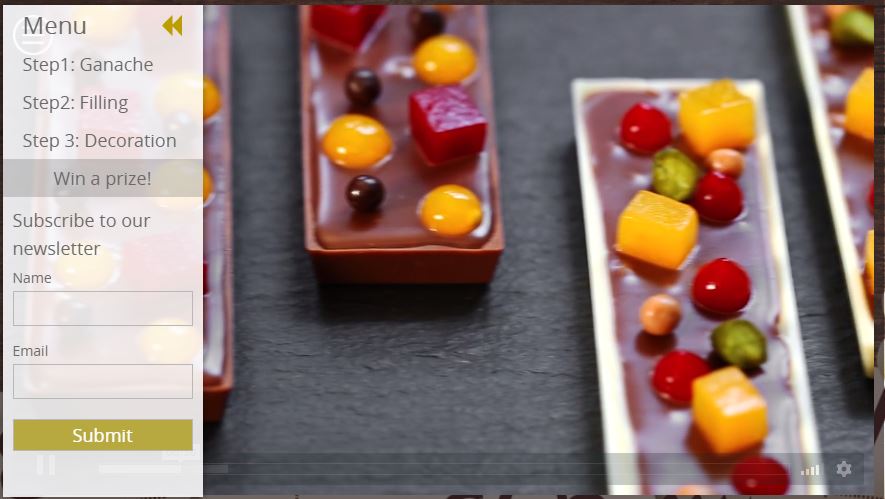 Videos are good, but interactive videos are even better
Besides the little effort needed to create an interactive product that makes your brand stand out, there are many clear-cut benefits.
An interactive video has more engagement, longer viewing time on average and you can track and understand your audience better than when with a standard video.
With an interactive video, you turn your passive viewer into an engaged participant. The watcher can influence the content based on their preferences and choices.
This has numerous benefits for you. You can design your content to serve a specific segment and offer call-to-action based on the person's preferences. It enables you to magnify your conversion rate and engagement.
You also gain insight into your viewer's mind: their preferences are registered and used in future segmented marketing. Your email list will grow too when people opt-in with their email address.
Combining this, you obtain a new email list and personalised information about potential clients. With this, you can design a new email marketing campaign based on the new knowledge and catch those customers in your net.
In a recent Wyzowl report on 'The State of Video Marketing in 2017' 92% of marketers said that Interactive video was an effective marketing tool.
Despite that, a Demand Metric report released by Brightcove on interactive videos informed that 30% of marketers said they did not use interactive video because they did not have the skill or expertise to use it. Another 30% stated that they did not understand how it works and 19% said they didn't have the technology.
That means 78% of marketers are missing out on a rare opportunity to stand out and improve engagement, secure longer attention span with clients and obtain information for segmented marketing. Let's not forget the email sign-ups delivered on a silver platter.