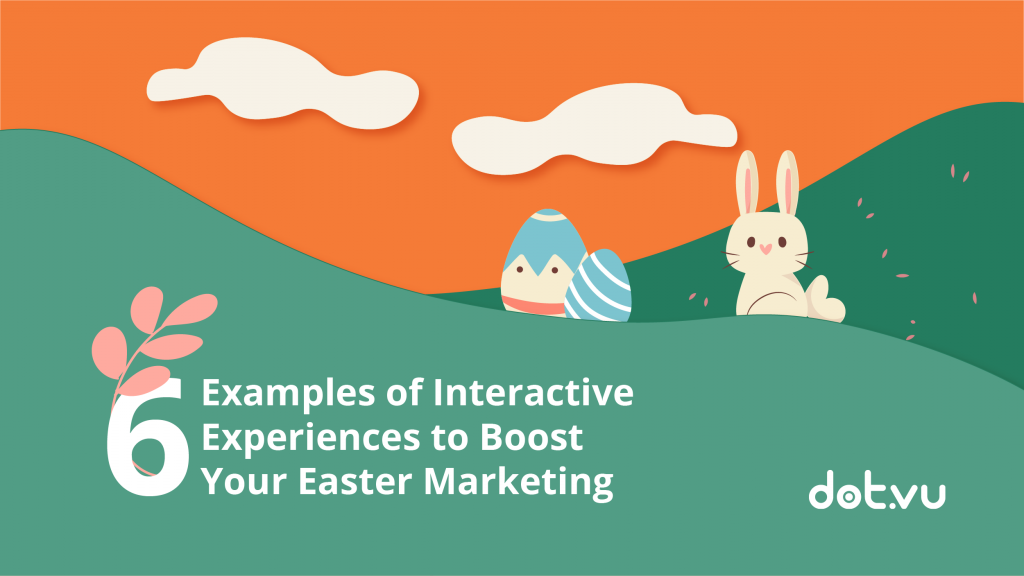 Are you ready with your Easter marketing campaign? Easter is just around the corner so I figured it would be great to share some ideas to get the ideas flowing.
According to National Retail Federation, 8 out of 10 adults in the US plan to celebrate Easter, spending an average of $150. Besides, even consumers who don't want to celebrate the holiday find the seasonal sales and goodies hard to resist. About half of those not celebrating still plan to take advantage of Easter-related sales to pick up items, expecting to spend an average of $19.
Holidays are always incentivizing customers to spend more as they are special occasions throughout the year. Therefore, to maximize your opportunities I will give you 7 examples of interactive experiences you can implement in your strategy. So, stay tuned and stay with me for the next couple of minutes. It won't take long, I promise!
6 Examples of Easter Marketing Ideas
1. Marketing Games
Why not add a fun interactive game to your easter marketing campaign? Most of your audience would likely enjoy engaging in a fun experience. What's more, this is a fantastic opportunity for you to create some buzz around your brand and increase awareness amongst your existing and potential customers.
It's not needed, but it's always a good idea to include a lead form in your interactive experience. You can place it at the beginning or end of your game, depending on your needs. You could rightfully doubt the efficiency of a lead form as people don't always like to engage with them. To ensure success, you need to incentivize participation by offering a worthy prize or reward, so they won't hesitate whether to fill out your lead form or not. It's as easy as it sounds. Eventually, you'll also benefit from collecting data and grow your email list that you can later use for remarketing purposes.
Various marketing games can come in handy, but let's look at one of the examples we already have here at Dot.vu.
Easter Calendar
Your customers get to open a lock each day doing the Easter holiday and participate in a daily contest. To participate, visitors need to fill out a lead form to enter the contest and get a chance to be the lucky winner each day through the campaign. With our interactive content platform, you can fully customize the design of your calendar, locks, and content under each lock, set up custom KPIs to track the performance of your game, and much more.
2. Product Recommenders
Next up, include a product recommender in your easter marketing strategy to help your customers find the products they are looking for. All you need to do is design your template that you can do with our interactive content platform and set up your questions that guide them through the experience and offer personalized products at the end.
This is an excellent opportunity for you to learn about the needs of your customers. Thus, better increase sales and buyer satisfaction. Another benefit of this great interactive experience is that it helps speed up the decision-making process by directly offering products that suit your buyers' needs. As a result, they will more likely remember your brand and want to return in the future.
3. Social Interactive Content
Social Interactive Content provides an opportunity to reach a broader audience during your easter marketing campaign by asking your participants to share the experience with their friends, family, and loved ones. With this interactive content type, you can practice referral-based marketing, which we all know how beneficial it is.
Not only it helps you to promote your brand to your existing audience, but it also incentivizes them to share it with others. The goal here is to design an experience to motivate visitors to share, cooperate, or challenge their friends to participate. Let's see an example that can help you get your way around the concept. If you want to find more examples feel free to read our blog post on it here.
Crack the Easter egg social game
With this game, visitors will need to customize a gift card by adding their name, configuring the egg, and choosing between different prizes. Once it's done, it is ready to be shared through social media as a link. When the recipient receives the card, by clicking, it'll directly take them to the landing page, where they can play right away by tapping the egg to reveal the surprise. They'll, of course, need to share their contact information to get the prize which is the kind of opportunity you are looking for to grow your email list. When they are done with it, they get the option to create a new gift card and share it with someone else generate more engagement for you. This tool is truly amazing to create a memorable experience, hence boost awareness around your brand.
4. Hourly Surprises
Design an Easter-themed hourly surprise experience to provide a chance to win multiple rewards throughout your Easter marketing campaign. You can use this experience to showcase your discounted products during Easter to incentivize your customers to buy your special items. It's going to be a landing page where you release special deals, offers, and/or discounts every hour.
Let's see some of the benefits you can enjoy by having this interactive experience in your easter marketing campaign. It creates a sense of urgency since all your discounted offerings are only available for an hour. If your deal is good enough, buyers won't want to risk missing out on it! Another great benefit is the mere exposure effect, as buyers will be engaging with your brand all day long due to returning to see your offers throughout the campaign.
5. Interactive Flipbook
What about having an Interactive Flipbook in your easter marketing campaign? Another great idea is to create an interactive catalog and integrate a product catalog to share your discounted products during Easter. You can add clickable buttons, hotspots, videos, marketing games, and so much more to enrich the experience. Customers can learn more about the products they are interested in and add the products to the basket they intend to purchase without having to redirect them to a different e-commerce page of yours.
Having these in mind, you'll be able to speed up the decision-making process and boost your sales during your Easter campaign. An Interactive Flipbook also allows you to collect data about your customers that you can later use to better personalize your offerings. All you need to do is find a place in your flipbook that is high in value, and you can gate that with a lead form to ensure your email list is growing. Interactive Flipbooks are becoming extremely popular here at Dot.vu, so make sure to consider them when it comes to choosing the most suitable solution for your business.
Check out the example below. It's not Easter themed but it should serve you as an inspiration to get a better idea of the concept.
6. Quiz
People love to test themselves and get immediate feedback on their results. Why not create a fun, entertaining easter themed quiz to educate your visitors about a specific topic? The point here is to generate engagement and collect data by offering to participate in a short quiz and win a small reward, discount upon completion. You can gate the results page, so participants will need to share their contact information in exchange for finding out their score and whether they are the lucky winners or not.
The attractive benefits of this experience are that they help you to improve brand image and increase brand loyalty while you are also generating more sales as an effect of those.
Are you ready for Easter?
That was all about it! I hope it didn't take too much of your time but helped you come up with great ideas for your Easter marketing campaign. Opportunities are endless, you just need to be a little bit creative, and success will be guaranteed. Your customers will love it!
If you want to know more, or have another project in mind that you want to discuss, don't hesitate to request a demo where my professional colleagues will take good care of you and ensure your ideas come to life!
---
Subscribe to our blog!
---