How do you guide, advise, and support your customers through their online shopping journey? Webshops are not any longer only about beautiful product pictures and a coherent user flow. These days, personalization for all customer needs is required to satisfy them and increase sales. Thus, Guided Selling in retail can be a great tool for that purpose.
Although it is not a new concept, Guided Selling is getting increasingly more recognition. Due to the increment in online sales, people are demanding more store-like experiences and services also online. Currently, nearly 51% of organizations have already established or plan to develop more content towards Guided Selling in the next five years. Hence, it controls the sales process, guides the consumer through the sales funnel, and can help boost product sales.
Therefore, Guided Selling is crucial to the retail industry, and it is time to adjust to the shift in customer behavior from physical to online selling. Guided Selling in the retail sector can offer plenty of different options to provide the best possible shopping experience for your customers.
Get inspired by the following 6 Guided Selling in retail examples, which will help your online store become more interactive and personalized.
If you want to know more about Guided Selling, we have a detailed blog post about the concept: What is Guided Selling?
6 Guided Selling Examples in Retail
1. Personalization
Companies thrive on providing what their customers want. Personalized Guided Selling helps you achieves this by letting the customer choose their individual preferences of color, design, and size or customize the product if they want. Thus, your customers pay for what and how they want the product to be. In turn, as a result of personalizing your Guided Selling experience, your customers are more loyal, and your sales can increase. Deloitte found out that 48% of consumers are willing to wait longer for their customized product or service. Even global brands like Nike or Coca-Cola are implementing personalization features in their marketing campaigns.
2. Product Recommender
Help your customers in their decision-making process and minimize the product quantity to the most relevant ones. Most of the time, customers feel overwhelmed by the number of products and end up not buying anything. Be there for your customers and suggests products with a Product Recommender based on their needs. In turn, your customer satisfaction rates and conversions will rise, and you will gain more insights into your customers' behavior, which you can use to optimize future marketing campaigns.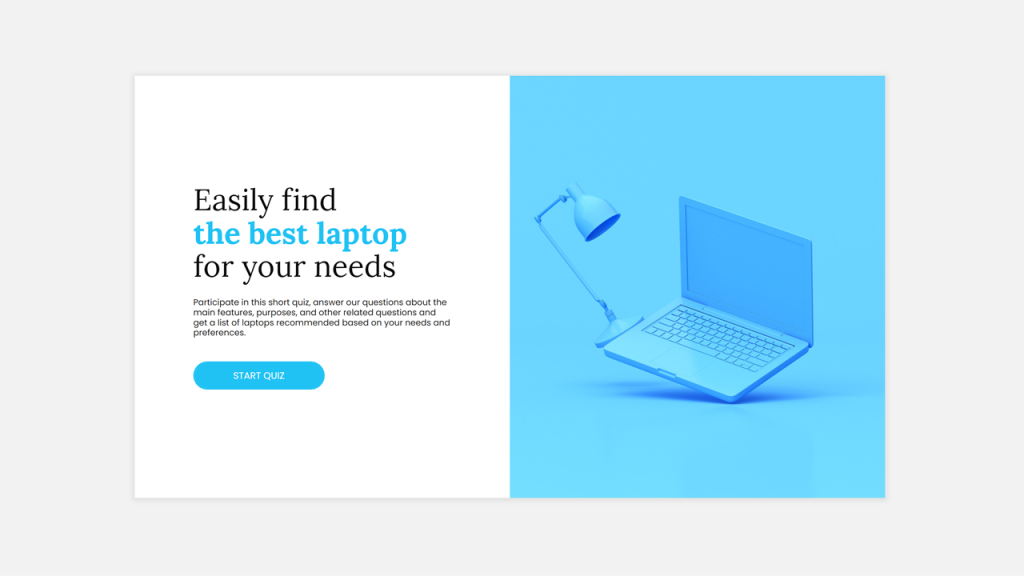 3. Personalized Product Recommender
Every customer is unique, so why should you follow a one fits all approach? Bring this feeling of a one-on-one dialogue into the online world. For example, advise your consumer based on their level of expertise for additionally needed equipment for snowboarding. Thus, you educate your customers and can offer a unique bundle set for a special price. In addition, consider creating a size guide based on your customers' information, removing customer confusion, and ensuring their decision.
4. Gift Finder
The holiday season is, assumably, a stressful time for most of your customers, as they have to find the perfect gift for their loved ones. This experience can be frustrating, and eventually, the purchased gift needs to be returned after the holidays. Thus, consider making the lives of your customers easier by providing them with a Gift Recommender. A Gift Recommender helps you navigate your customers through the decision-making process of finding the right products much easier. Another advantage of using a Gift Finder is that you can use it to promote products, which sales you want to boost.
5. Chatbot Gift Finder
A chatbot is a great way to stimulate the exact interaction between a customer and a salesperson. Consider bringing communication and a personalized feel to your website with a chatbot. Give your chatbot a personality that your customers can relate to and help them make the right decision. It gives the customers confidence that they are buying the right gift and can result in a higher average order value and more sales.
6. Product Swiper
One of the reasons Tinder, a geosocial networking and online dating application, is very successful is its applied swipe system. A swipe system easily allows the user's mind to separate the given selection into a "yes" and "no" category. How about trying to apply a simple swipe system to your Interactive Content? Based on the customers' choices, you can offer them the best options for their needs. In return, you can easily track your customers' likes and dislikes, which can help you understand their behavior, needs, and preferences.
Apply these Guided Selling Examples in Retail!
Guided Selling in retail offers you endless possibilities to bring your creative ideas to life and design unique experiences for your customers. Get started to boos your online sales!
It is time to create a more interactive and personalized customer journey online, so get started to create your own Guided Selling experience in the retail industry.
For more inspiration, visit the Dot.vu marketplace, create a free account, and we will show you how to get started! 
---