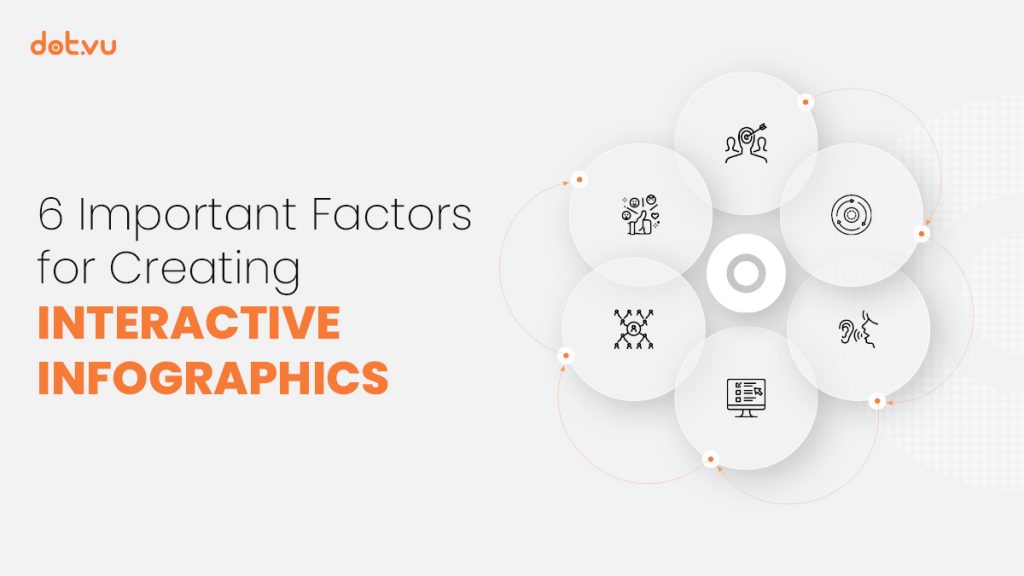 Content marketing, particularly visual content, continues to rise in popularity. More and more businesses are starting to create unique and interactive content to engage and educate their customers. In fact, according to Venngage.com around 65% of businesses spend at least 10% of their budget on visual content. Interactive content can, for instance, be in form of Interactive Flipbooks, Interactive Virtual Tours, Interactive Infographics, and many more forms.
Particularly, Interactive Infographics are visual content that is easy to understand and includes information about a certain topic. Moreover, Interactive Infographics can help you to make your content memorable and engaging, empowering your customers to be more productive. In turn, by creating Interactive Infographics, you can maximize your chances to make your content both seen, valued, and shared.
So, if you want to stand out from the crowd and offer your customers engaging and valuable content, there is no question that Interactive Infographics should be a part of your marketing efforts. However, that is easier said than done, because there goes a lot into creating an Interactive Infographic. Therefore, this guide shows you 6 important factors to consider when creating an Interactive Infographic.
6 Important Factors for Creating Interactive Infographics
Before you dive right into creating an Interactive Infographic, consider these 6 important factors:
1. Target the Right Audience
The first key step you need to take to create Interactive Infographics is to figure out who your target audience is and what they want. Consider the people that make up your target audience. Especially, pay attention to the major characteristics of their identity as your customers. Insights into your customers' demographics are defining factors that shape their purchasing behavior and, therefore, also your marketing activities. Thus, it is key that you understand your customers, their needs, and behavior to create successful Interactive Infographics. The Interactive Infographics with the most attention, most traffic, and most virality, are the ones that meet your target audience right where they want it most.
And always remember your goal is to create an Interactive Infographic for your specific target audience, not necessarily for everyone. Keep it targeted, specific, and relevant.
2. Consistency is Key
No matter the audience, story, or design, your Interactive Infographic should follow a logical timeline. Your customers should be able to process the presented information in a way that makes sense.
The best way to do this is by following an easy step-by-step process, sorting your information chronologically, ranking your information. Starting with the initial steps of your strategy, to finishing with ongoing tasks, giving it a more narrative framework. Thus, your Interactive Infographic should have a consistent flow that takes your customers through an understandable journey.
3. Tell a Story – Visually
Just like visual content, also stories engage people and make it easier to remember the presented information. Thus, even though you are using a graphic that will catch the attention, you still need to fill that Interactive Infographic with content that will be relevant and valuable to your customers.
Imagine that you are reading a book. While reading you can almost feel how your brain is encouraged by your imagination and rich descriptions are translated from words into pictures. Now imagine that your favorite book is made into a movie. And all your imagined scenes become visually alive in front of your eyes. In this case, your experience changes and so can the narrative.
Visual storytelling is a bit like merging one single story narrated by two different versions – one of a book and a movie. The result will be a cohesive and concise experience.
4. Choose the Right Layout and Design
Have you thought of the story you want to tell and know which data you want to use? Great! When you are done with creating your textual content, let your creativity flourish. Think of a layout, design, and your brand's colors, which make the most sense for the Interactive Infographic. There are 8 different types of Interactive Infographics that are most common and which you can use, depending on your needs and objectives. Use for instance statistical infographics to present a company report. Comparison infographics are great to compare different products. List-based Infographics are another type of Interactive Infographic, which are great for guidance, tips, and tricks, or any other type of list.
Moreover, to make your content stand out in a sea of available information, optimize your Interactive Infographics for search engines. For more visibility, optimize the page your Interactive Infographic lives on. Optimize your Interactive Infographics by using alt tags and an image filename and make your content shine.
More insights and tips on the importance of your Interactive Infographic's design are summarized in a great blog article by SproutSocial, a leading social media management platform.
5. Bring Data to Life
To measure value, numbers are the way to show it the easiest. Interactive Infographics are a powerful tool to showcase the strength behind these numbers for your visual customers. However, do not include too much information, but rather present the most powerful insights. To make numbers and data even easier to digest, bring the data to life, for instance with animated visuals like pie charts, line graphs, and bar graphs. In addition, use interactivity in form of marketing games, quizzes, or others to transform boring data into a fun experience.
6. Promote your Efforts
The world needs to see your great design, so share it! If you want to educate and inform as many people as possible with your Interactive Infographic, you need a consistent promotion strategy. This means, share your Interactive Infographics everywhere, particularly through your owned media. Publish your Interactive Infographic on your website, blog, social media, and email marketing. If you want optimal reach, consider publishing your Interactive Infographic on SlideShare.
When promoting your efforts, make sure that your Interactive Infographics are shareable on all platforms without having to sacrifice design and quality. For instance, if your Interactive Infographic becomes too long, you might need to crop it into multiple pages that meet the design specifications of every platform. As a conclusion, in the Interactive Infographic below, you find a summary of the 6 important factors for creating an Interactive Infographic.
Go ahead and create an Interactive Infographic!
Visual content, such as Interactive Infographics, is incredibly effective for every brand's marketing activities and will continue to grow in the next years. The opportunities to use an Interactive Infographic as a marketing tool are endless. However, the key to creating Interactive Infographics is that it has a precise messaging and a clean, intriguing look. Also, do not make an Interactive Infographic just to have one, but rather put the energy and effort into creating a piece that is meaningful, easy to understand, and valuable. Finally, if your Interactive Infographic maybe even goes viral depends on how well it can catch the attention of your target audience.
Creating Interactive Infographics is easy with Dot.vu. From our marketplace, you can use templates and adapt them to create an Interactive Infographic, or you choose to design your own. Whatever you decide, at Dot.vu you also get the needed support to bring your creative ideas to life.
Request a demo today, and let us show what Dot.vu can do for you!
---
Subscribe to our blog!
---
---