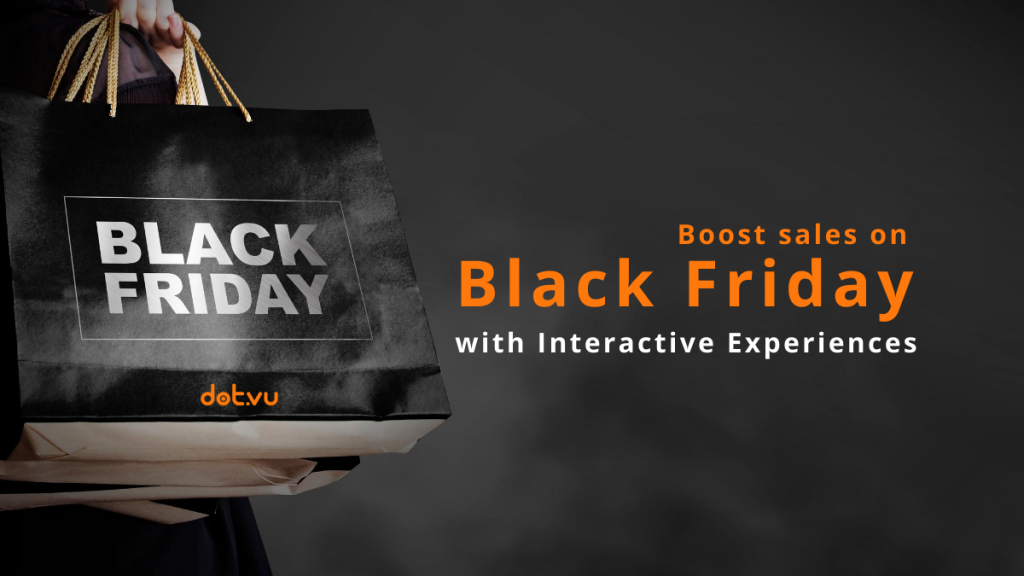 Black Friday is most definitely one of the busiest shopping days of the year. In fact, it's crucial for companies to craft innovative seasonal marketing strategies and use Interactive Experiences to boost sales on events like Black Friday.
While most people associate Black Friday with a crazy day at the shopping mall, numerous companies and consumers have started to switch to online shopping rather than in-store shopping. Last year, in 2019, over 93.2 million buyers were shopping online.
That's about 40% of all Black Friday shoppers. In fact, the in-store purchases even dropped by 6,2% and the online sales got as high as $7.4 billion. That's why it's really important to adapt your online strategy for this crazy day.
In this article, we're going discuss the importance of using Interactive Experiences to boost sales on Black Friday. But, mainly we will give you concrete examples on how to do it.
Why is it important to use Interactive Experiences on Black Friday?
Black Friday is a SUPER important element of any B2C marketing strategy. Most marketers know that. But, did you know that B2B companies started to create Black Friday campaigns as well? For example, many SaaS companies have begun to offer discounts on their annual memberships and special offers during Black Friday. That's why the importance of using Interactive Experience to boost your sales on Black Friday is very generalized across industries and markets. Of course, for B2C companies, it is a necessity, a must. While for B2B companies, it is more like an opportunity.
On Black Friday, consumers are looking for deals everywhere, and the competition is fierce. Creating a general marketing campaign is not enough and, for this reason, using Interactive Experiences to boost sales on Black Friday is becoming crucial. You must succeed in cutting the clutter and letting your audience know you are there, offering them fantastic deals on a silver platter. If your audience doesn't know about your Black Friday deals, it doesn't matter how good they are; you won't succeed in promoting your sales.
Interactive Experiences are not only a great way to cut the clutter, but they are also very beneficial to distinguish yourself from your competitors. Most companies are investing a lot in their Black Friday Campaigns, and they are always trying to be more innovative than the others. Using Interactive Experiences is a great way to achieve that at a generally low cost.
8 Examples of Interactive Experiences to boost sales on Black Friday
There are many different types of Interactive Experiences you can use to generate engagement both before and during Black Friday. Take a look at the following ideas and note the experiences that would be interesting for you!
1. Hourly Surprises Campaign
An Hourly Surprises campaign, also called "A deal an hour" campaign, is a landing page where you release special deals, offers, and/or discounts every hour. It is often used on Black Friday and Cyber Monday because it encourages consumers to engage with your brand all day to unlock surprises.
There are many reasons why Hourly Surprises campaigns are exceptional for Black Friday. Discounts and offers are only available for one hour and that creates a sense of urgency. Potential buyers won't have that much time to browse around for a better solution or price, rethink their choice, and forget about your deals; they'll have to decide in only an hour. If your deal is good enough, most buyers won't want to risk missing it. They'll buy straight away!
Another great reason to use Hourly Surprises is that it encourages customers to engage with your brand all day. Indeed, consumers will be curious about each of your new hourly deal and they will come back to see what you have to offer. This will play on the mere exposure effect. Finally, you can also gate your hourly surprises with a lead form. That way, you can grow your email list and send remarketing emails later on.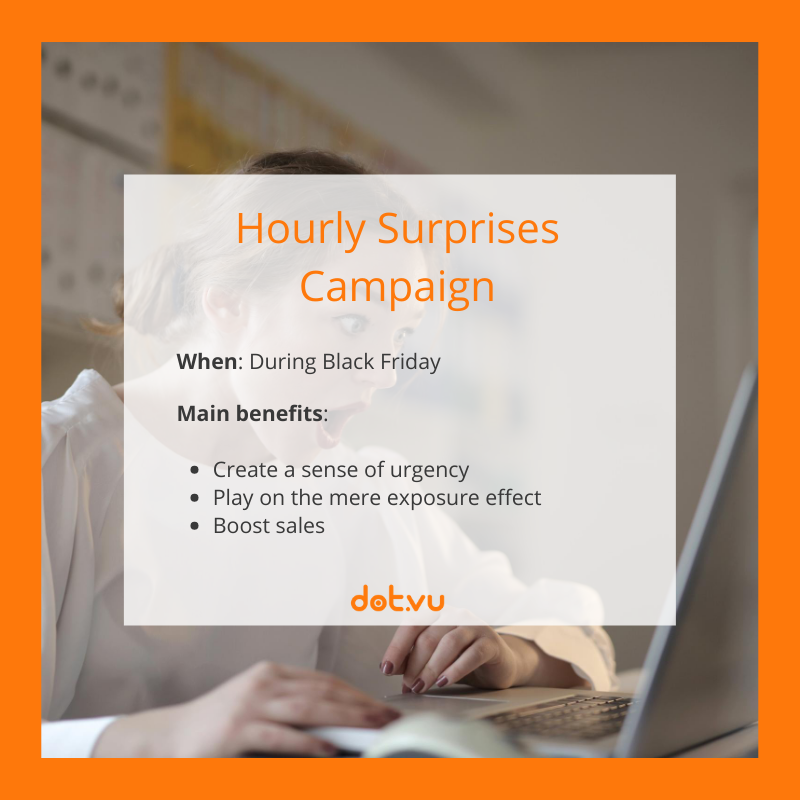 2. Product Recommender
A special Black Friday Product Recommender is an absolute must to have for eCommerce companies. Why? Because lots of people are buying their Christmas Gift during that day. Using a Product Recommender to suggest different discounted products to your website visitors is super beneficial for you and your customers. It accelerates the decision-making process and it's one of the best interactive experiences to boosts sales on Black Friday.
For example, you could ask your visitors whom they would like to buy a gift for (ex. mom, dad, wife, husband, siblings, etc.). As the next step, try to figure out their budget for the gift. You can also take this opportunity and guide your potential customers further by helping them to decide the product categories they are interested in depending on what you are selling. Lastly, as a result of the answers, the Product Recommender would show different Black Friday deals based on their preferences.
A Black Friday Product Recommender is great because it combines two important things. It enhances the customer experience by helping visitors choosing a gift for their loved ones. Plus, it highlights your discounted items.
3. Social Interactive Content
If you want to make sure you get loads of visitors on your website during this year's Black Friday, you can use Social Interactive Content. Social Interactive Content is a mix of two different concepts: Interactive Content and Referral-Based Marketing. The goal of this type of campaign is to design an Interactive Experience where visitors need to share, cooperate, or challenge their friends to participate. That way, you'll make sure your interactive experience is being seen by lots of people.
On a Black Friday, you can use this concept in many ways, but here's one idea. You could create Shareable Mystery Boxes. In the mystery boxes, you would add special Black Friday discounts. But, to open the box, there has to be two participants. So, visitors who would like to have access to the mystery discounts will have to share their box with a friend or a family member. Shareable Mystery Boxes are a great way to boost your visibility during Black Friday or even before.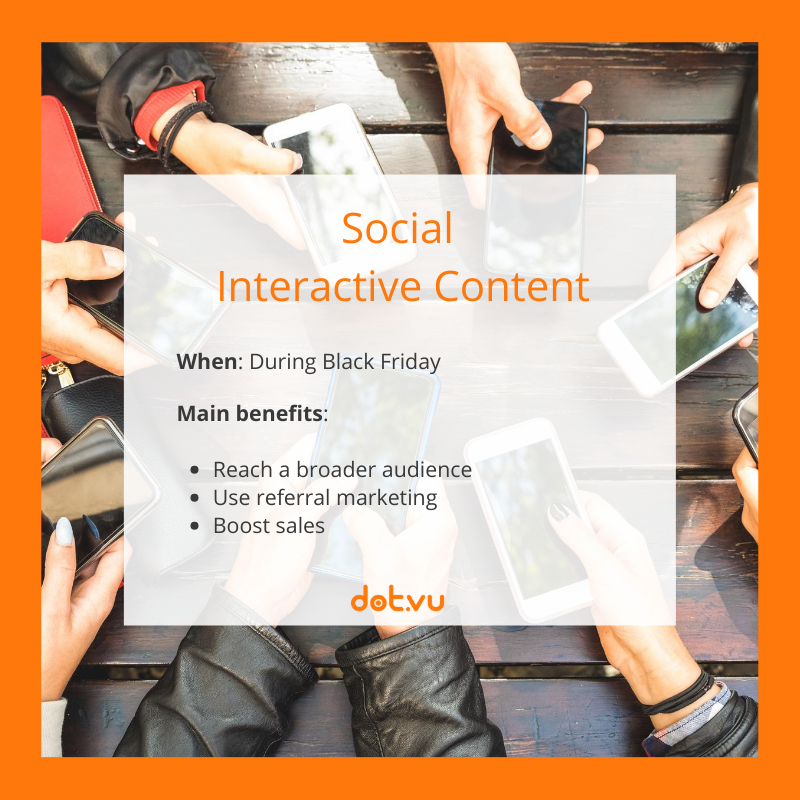 4. Marketing Games
Another great Interactive Experience to promote your sales on Black Friday is called branded marketing games. You can use marketing games to entertain your customer and help them relieve the stress during the day. On top of that, you can reward the winners of the game with additional discount. In other words, once your website visitors have browsed to your site and saw your amazing deals, you can encourage them to decide by giving them an extra discount through a gamified experience. People love to get extra discounts that makes them feel like it's really worth it to choose you over your competitors.
During the game, it is nice if you highlight your Black Friday deals so as a result of that you can really make sure that every visitor is aware of your promotions. You can also always gate the marketing game to grow your email list.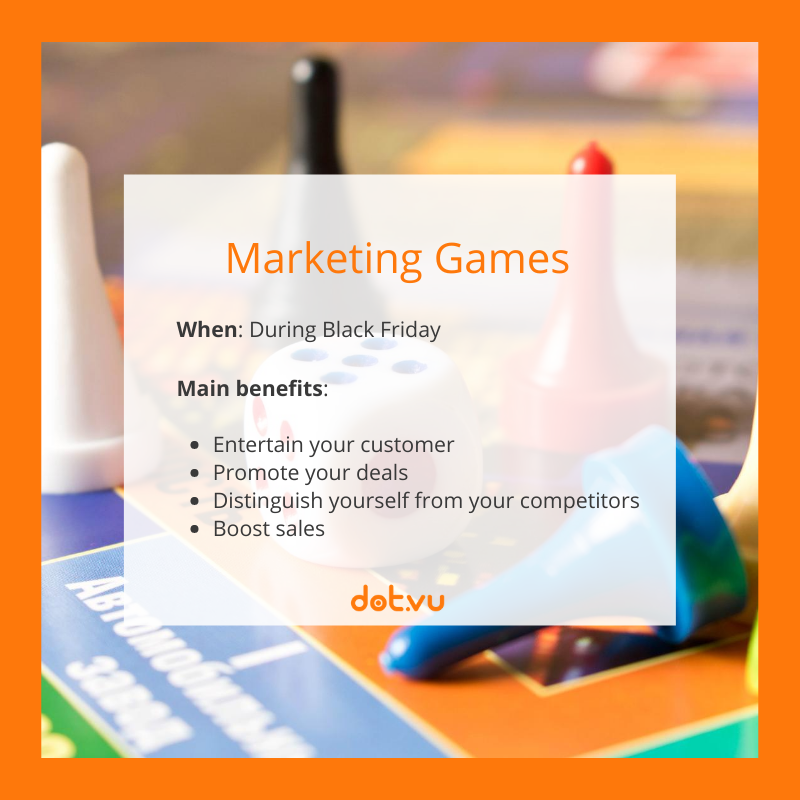 5. Interactive Video
One of my favorite Interactive Experience to boost sales during Black Friday is called Interactive Video. In this short video, you can disclose your deals of the day. For instance, if you have a 25% discount on everything online and in-store. To end your Interactive Video, you can add a small marketing game, like a wheel of fortune, to give participants more discounts or a small gift in exchange for participating. Interactive Videos generate amazing results as they truly catch people's attention. Take a look at the example below to fully understand the power of this interactive experience.
If you want to increase your in-store visit, you can customize your Interactive Video with a small game where participants can win a small gift they need to go to pick up, on the same day, at the nearest physical store. Once they get there, you get to show them all your deals and keep influencing them to stay and purchase other items as well.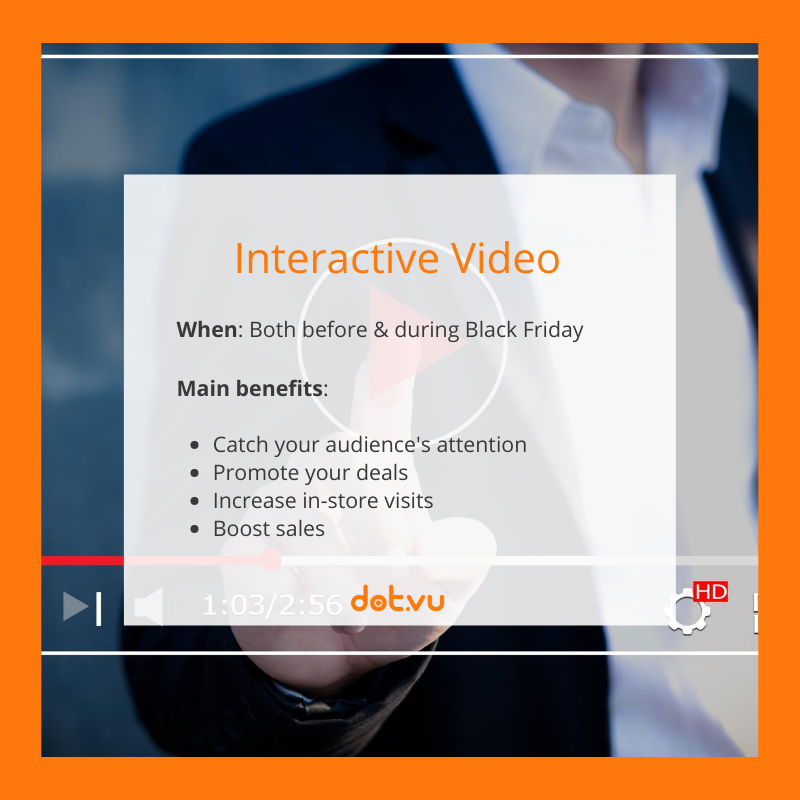 6. Contests
Another experience you might want to take into consideration is to create a fuzz before Black Friday with an online contest. You can achieve that by creating a contest with a big enough prize. What do I mean by big enough? I mean that participants need to fill in a lead form to enter the contest, so the price must be worth it. You can then use this email list to send special deals and Black Friday offers to participants. That way, you'll make sure they will come and visit your webshop or store once the day finally comes.
You can also do an online contest during Black Friday to encourage customers to make a purchase. How can you do this? By creating a special contest that only customers who have bought a discounted Black Friday item can participate in. Again, the prize must be quite significant and desirable for your target audience to create the wanted effect.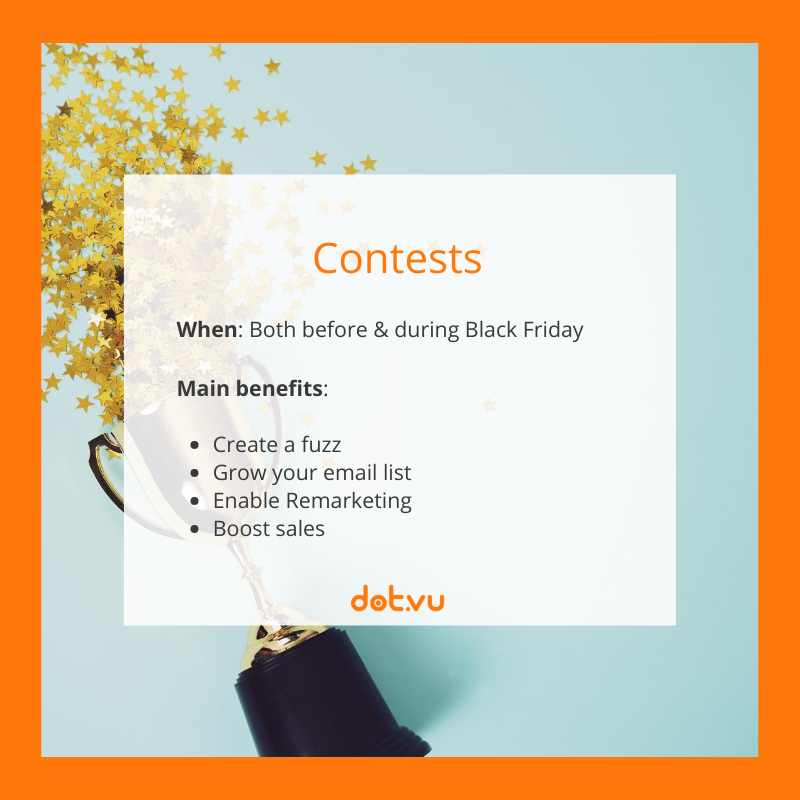 7. Interactive Flipbook
A great way to build anticipation for your Black Friday deals is to promote them through an Interactive Flipbook. Two weeks or a month before Black Friday, you can send an Interactive Flipbook to your email list or your best customers. In that flipbook, you can promote the products that are going to be discounted in a very appealing and informative way. For example, you can highlight the 10 best deals you'll have during Black Friday that people shouldn't miss out. That way, you really play on the FOMO effect.
In your interactive flipbook, you can add informational hotspots, marketing games, contests, gated sections, etc. It's basically an all-in-one tool that can be very powerful to add to your Black Friday campaign.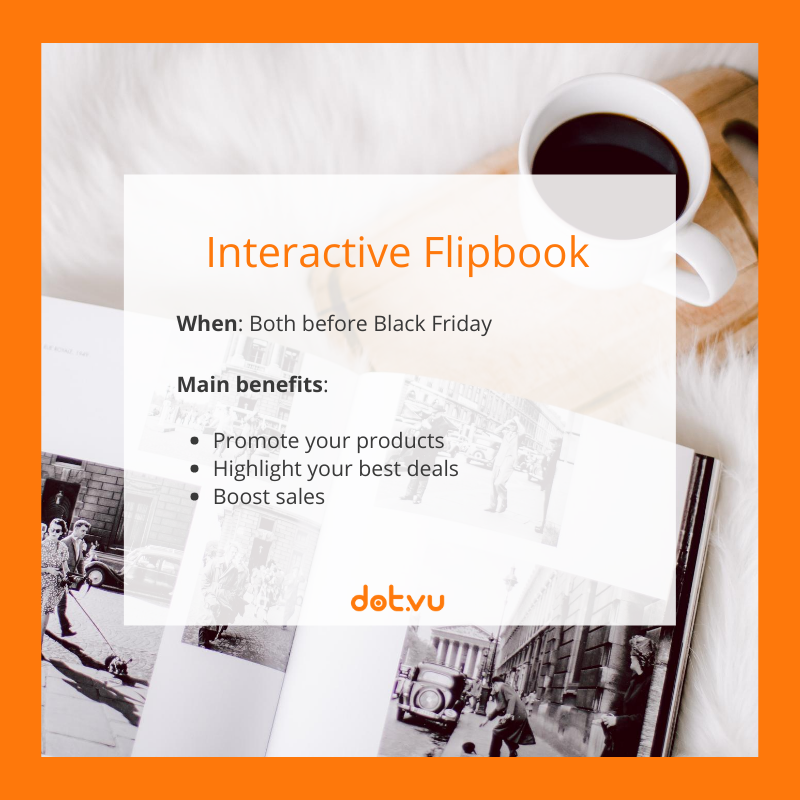 8. Branded Quiz
Finally, if your goal is to boost your sales while also improving your brand image, you could take Black Friday as an opportunity to teach your customers about your brand. A nice way to achieve that is by creating a fun, branded quiz about your company that is only available on Black Friday. It's great because all your visitors will learn more about you.
To incentivize participation and also increase brand loyalty, you can reward your "best customers" by giving gifts and/or extra discounts to participants with very good or perfect scores.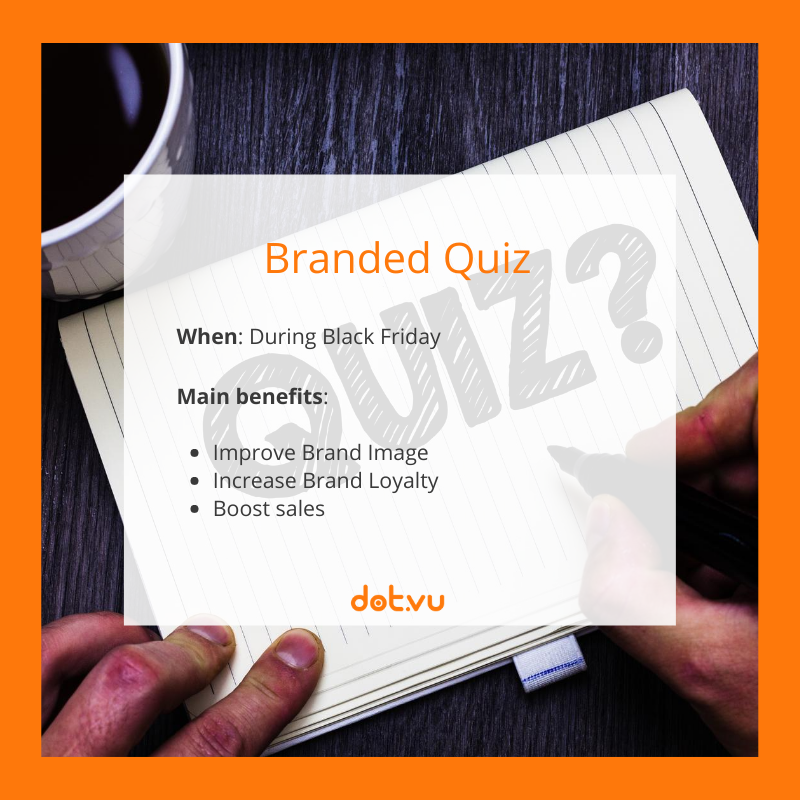 ---
I hope you found these 8 examples of Interactive Experiences to boost sales on Black Friday insightful. Remember, using only one of them is great, but using a couple of them with different goals for each can help you create a more 360-degree strategy.
Dot.vu is an all-in-one interactive content platform with which you can create all of these interactive experiences. Check out our pricing.
Subscribe to our blog!
---