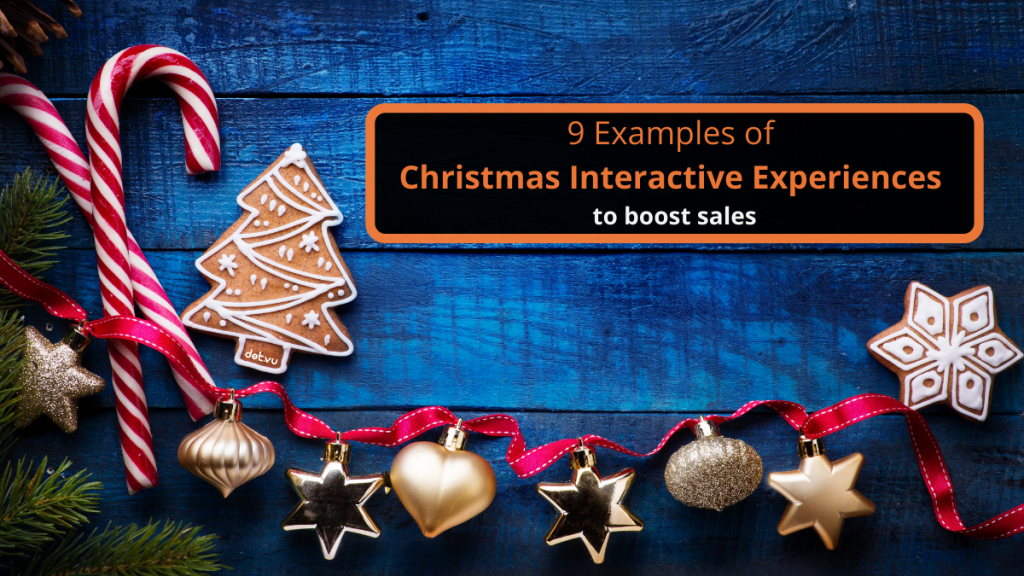 Are you ready for Christmas? Have you included any Interactive Experiences in your Christmas marketing campaigns? If not, stay with me for the next 5-10 minutes and read this blog post to learn about 9 examples of Christmas Interactive Experiences you can implement in your Christmas marketing strategy 2020.
Christmas Marketing Campaigns are significant for you and your business as it's one of the busiest times of the year. People are buying for themselves but mostly for friends & family. It's a great seasonal marketing opportunity for you to build awareness around your brand, boost your sales and enhance your brand image.  
Another important factor is that, due to the global pandemic, numerous companies are experiencing a quite staggeringly weak year. To save what is left on the table, it would be crucial for these companies to come up with something special for the upcoming Christmas holidays, and try to round up those numbers for the end of the year. For this reason, I am going to present 9 examples of Christmas Interactive Experiences to give you inspiration.
Have a look at these 10 Digital Experiences that can help your business through the Covid-19 crisis for inspiration.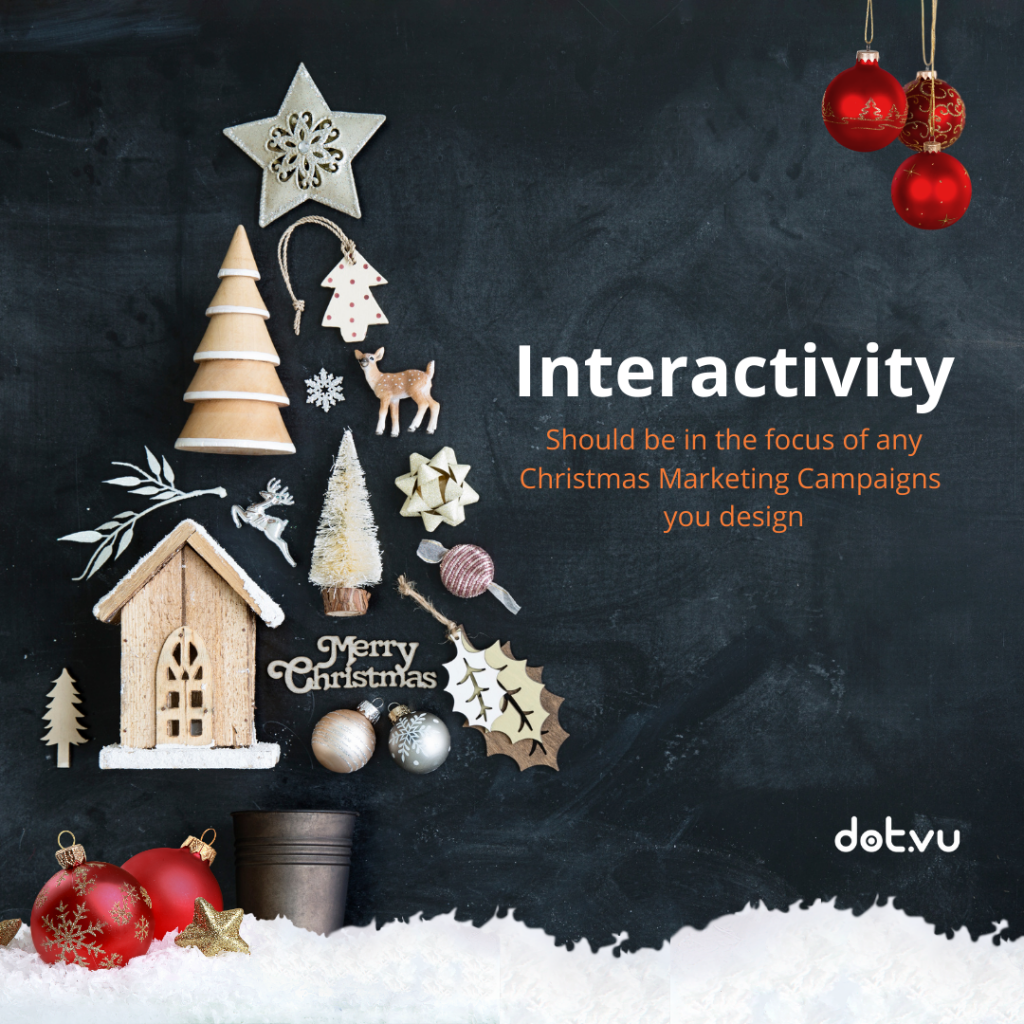 9 Examples of Christmas Interactive Experiences

Below, you'll find 9 examples of Christmas Interactive Experiences that can help you to boost your sales and engage with your customer better than ever before. When you are choosing what type of interactive experiences you should use, keep in mind your goals. Also, keep in mind how that an interactive experience can help you consciously build your brand image.
You might also find interesting: 5 Interactive Experiences for Spring Marketing Campaigns.
1. Online Advent Calendar
It is a type of Christmas Interactive Experiences where your visitors can come back to your website every day during December to unlock new games or surprises. So, instead of having a physical advent calendar, your users will have access to your advent calendar online on your website. Consequently, they'll go on your website to open a new door every day and discover their daily surprises.
To inspire you, I am giving you a couple of insights about what you need to know when using an Online Advent Calendar. Firstly, you will most certainly be driving a lot of traffic with your magical online advent calendar. As a result of that, you need to be smart and find ways of how you can take the most advantage of this interactive experience. For example, take this fantastic opportunity to show the best version of yourself. Also, use your calendar to promote your best products and services during December.
Besides, you must gate your calendar with a lead form so you can send remarketing e-mails later on. For example, you can send more personalized offers to your customers based on their on-site behavior.
Online Advent Calendar is not something you want to miss having from your Christmas Interactive Experiences. Based on our experience here at Dot.vu, you will find incredible success with it. If this has made you interested, you can learn more about the steps of finding success with an Online Advent Calendar here!
2. Interactive Flipbook
An Interactive Flipbook is a new and innovative interactive experience that replaces old and boring PDFs. You can say goodbye to mind-numbing static content and replace it with interactivity. What's more, you can add as many interactive experiences as you want. Viewers can turn the pages as if it was a book and interact with the various experiences. They can do that by clicking on hotspots, collecting points in a game or answering questions in a quiz, etc.
An excellent idea could be to create an interactive magazine as a form of Interactive Flipbook to in which you can share Christmas recipes, decoration ideas, Christmas fashion trends, Gift ideas, etc. Doing it so, you can showcase several products of yours and let the customers to get to know them by interacting with them in your flipbook. Don't forget to gate specific sections or interactive experiences in your Interactive Flipbook to grow your e-mail list. Hence, you can use this email list to send personalized offers later on.
3. Hourly Surprises
This one is a striking interactive experience out of all, and it comes with great benefits. An Hourly Surprise campaign is a fantastic way to boost your sales right before Christmas Eve. One of the most spectacular advantages of this interactive experience is that it creates a sense of urgency. Hence, it adds an extra layer of good pressure on your customers. As a result, potential buyers will feel that they must decide quickly, and there is no time to rethink the offer or browse to find a better one. If your deal is good enough, instead of hesitating, they will simply go through with the purchase. Another benefit is that it can help to build your brand image. Your prospects will be engaging with your brand throughout the entire day and waiting to unlock the different offers.
Let me give you an idea of how this could be used in your Christmas Marketing. With an Hourly Surprises campaign, you can take advantage of the situation of those buyers that could not decide what they should buy. For this reason, setting up a campaign 1-2 days before Christmas Eve can help these prospects to get inspiration. Yet, time is ticking for them, they got to get these last gifts, and the urgency that this interactive experience causes on top of that will push them to make a decision super-fast. In the end, if your offer is good enough, they will not want to hesitate. The end result will be a happy Christmas for everyone, including you and your business!
4. Interactive Video
This type of Interactive Experience can replace the monologue, one-way videos. So instead of watching a standard video, your customers get to interact with it through clickable points. This way, it will be much more enjoyable.
An idea for this year's Christmas marketing is to showcase products for Christmas through an Interactive Video. It will help your customers discover which products are the best match for their needs. Using the clickable points, also known as 'hotspots', your customers can interact with the specifics of the video. In fact, it will help them to get a better perspective on your products. This way, you really take it one step further and help your customers to find what suits their needs.
5. Product Recommender
From year to year, thousands of people struggle with purchasing the right products for their beloved ones. It causes them stress and frustration, running errands last minute and trying to pick the presents that will meet their needs.
By using a Product Recommender, you can say goodbye to frustrated customers. Having this type of Interactive Experience will help you to find the perfect match for your customer's gifts. Your buyer will need to go through a couple questions that will help to narrow down their search. After, you will follow up with a product or multiple products recommendations. If your offers are good enough, this will take so much weight off of your customer's shoulders, believe me! You will save them a lot of time, and eventually, they will get what they came for with your help. Use a Product Recommender for your Christmas marketing, you won't regret it!
6. Interactive Conversation
Another glamorous interactive experience for you is Interactive Conversation. It is a two-way dialog using voice, images, and animations to simulate a conversation with your users. Besides, it is a fun and entertaining interactive experience that is excellent for engaging with your visitors on an entirely different level.
It could be a super beneficial experience for you during Christmas. You can have conversations on a bunch of topics like "How to Build a Gingerbread house?" or "How to decorate your Christmas tree in 2020?". Including recipes and how-to based cooking videos are also a great idea. As a result of the pandemic, people started spending more time at home based on a survey result conducted by Criteo. By helping them to have a good time at home during Christmas with their family and friends in a way that is entertaining and fun, they will remember you because you participated in making their holiday memorable.
7. Marketing Games
The next one I am going to write about is Marketing Games. Creating gamified experiences for your customers will highly pay off. Branded Marketing Games are mini-games used by companies to attract new customers, engage their audience, promote their products, and boost their e-mail list. In other words, they encourage the company's target audience to interact with the brand through gamified interactive experiences.
The way I would suggest you plan this into your Christmas interactive Experiences is to think in advance. You should try to implement your Branded Marketing Games 2-3 months before Christmas so that you start attracting and getting to know your potential customers in time. In the meantime, you can begin preparing your Christmas campaign. With your marketing game(s) you can collect enough data on your audience based on their on-site behavior. When you have enough audience insights, you can start sending them remarketing e-mails. This way, you can effectively boost your sales during your Christmas marketing campaign. In other words, with Marketing Games, you get to offer deals on a silver platter that are matching accurately with your buyer's needs.
8. Shoppable video
Another super exciting interactive experience that you can use during your Christmas interactive experiences strategy is a shoppable video, also known as clickable video or touchable video. A Shoppable Video allows customers to click on a product to learn more about the specifics of it. Also, viewers can add products in their basket directly from your video. This type of interactive experience is outstanding in a way that you can use it for product promotions or store walkthrough videos.
According to the holiday trends of 2020, we are going through lifestyle changes due to the pandemic. Your customers stay home way more than before. Therefore, a good idea could be to display your best products and services in a DIY (Do It Yourself) way, such as assembling decoration elements or different ways of decorating your Christmas tree. Thus, you can promote your products and also help your customers at the same time. It is a win-win experience for everyone.
9. Social Interactive Content
Social Interactive Content is a new way of engaging and entertaining your audience. With Social Interactive Content, your customers become active participants in building and spreading the word about your brand. They do that by customizing and sharing social interactive content experiences with their friends and family. For example, they could invite their friends to join a game or they could create gift cards for their beloved ones. Adding a contest to this type of campaign is often done to reward and incentivize participation.
For inspiration, I am going to pitch you an idea of how you could use this experience in your Christmas marketing. You can create a campaign in which you ask your customers to share a picture/selfie, or a personalized message with the people who they cannot spend Christmas with due to the pandemic. You can even create a customized frame with your logo and some visual elements specifically for this experience. This way you get an opportunity to enhance your brand image right then and there. In exchange, you can reward every participant with a small discount or deal to spice up their Christmas with a memorable experience. So, people who participated will sincerely remember your brand as a company that participated in making their holiday spirit high and happy.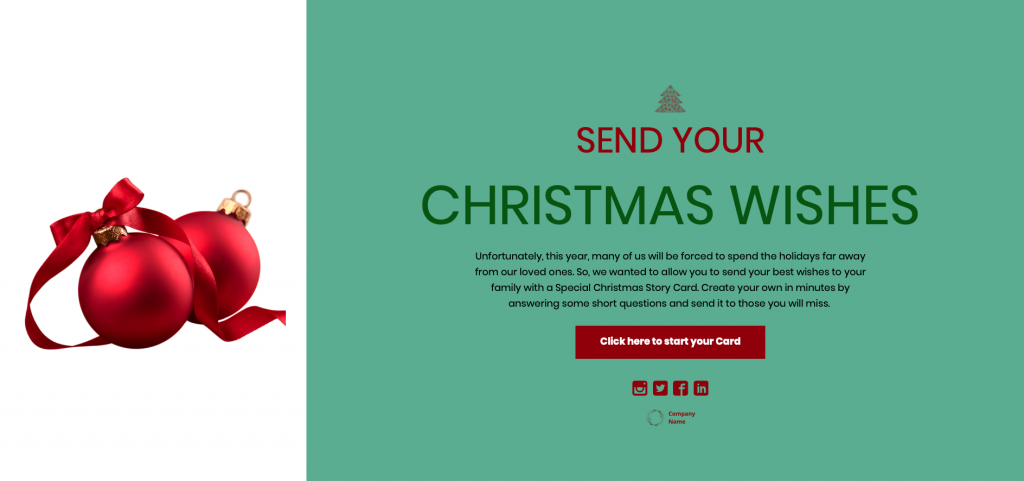 ---
Implement these Christmas Interactive Experiences to spice up your Christmas marketing
I would like to add a last suggestion. You might want to consider focusing on targeting mobile devices with your Interactive Experiences. Particularly because shopping, finance, and lifestyle apps are going through a significant revenue climb since the pandemic started, according to Appsflyer. Also, Criteo's Global App Survey found that 51% of participants in the US downloaded at least one shopping app during the coronavirus outbreak. In addition, 33% said they use one or more of their newly downloaded shopping apps multiple times per week.
Thank you for staying with me till the end of this article. I hope you enjoyed it and found some insightful and inspirational ideas on how to spice up your Christmas Interactive Experiences during these difficult times. And don't forget, be wise with your time! You only have 2-3 months before Christmas, and some of these different types of Interactive Content might be relatively easy, while others are more difficult and time-consuming to implement.
The great thing is that here at Dot.vu, we have lots of ready-to-use templates that you can freely customize in a way it suits you the best. So, don't worry, it is not too late to implement interactive experiences in your Christmas marketing campaigns. If you simply want to get more inspiration, feel free to take a look at our marketplace! And, if you are seriously interested, don't hesitate, go ahead and request a demo with our experts!
---
Subscribe to our blog!
---