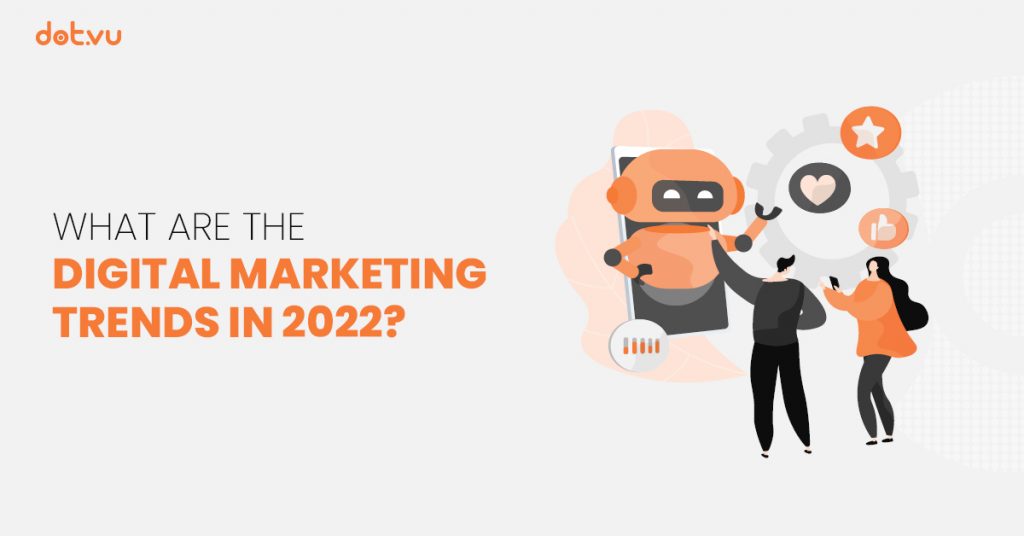 The marketing world moves at the speed of light. While 2020 was about responding to an unprecedented shock in form of a global pandemic, 2021 was about recovering. In 2021, we saw how dynamically and quickly the marketing industry can evolve. Those companies, who have been best positioned even during the global pandemic, had 2021 the chance to thrive in this customer-centric world. These special circumstances in those two years have shown that a lot of things can happen in 12 months, and marketers are constantly evolving with the world around them. That being said, it is crucial to always be on top of the latest digital marketing trends to catch your audiences' attention. With 2022 getting closer, also new digital marketing trends are lining up.
Dot.vu collected and summarized the most important digital marketing trends 2022, which you should consider when developing your strategy and planning your marketing activities for next year.
Top Digital Marketing Trends for 2022
Overall, the top digital marketing trends for 2022 you should consider in your marketing strategy and planning are:
Connecting with Customers in a Cookieless World
Authentically Inclusive Marketing
Embrace Artificial Intelligence & Virtual Reality
Content Marketing to Embrace Personalization
Mobile-First Marketing
Read on as we delve a little further into each trend.
1. Connecting with Customers in a Cookieless World
Latest since Google announced the phasing out of third-party data due to major security and privacy issues, third-party cookies are destined to officially die out in 2022. While reimagining data usage might appear challenging for some businesses, already 61% of high-growth brands have shifted to first-party data strategies. Thus, if you want to be a growth leader, you must prepare for the cookiepocalypse, an environment where less customer information will be available. However, you should see the shift to a cookieless world as an opportunity to experiment with developing relationships with loyal customers.
Whether your business is just starting or preparing to deploy first-party data in more sophisticated ways, consider "pushing the data reset button" as the following:
Determine your reliance on third-party cookies

Develop a clear picture of how you are currently reaching and targeting customers digitally. Assess to what extend you many of the interactions with your customers rely upon third-party cookies.

Creating new data infrastructure

Establish a sufficient infrastructure to accommodate your first-party data collection. A structured and organized infrastructure will help you connect various data sources throughout your customers' journey.

Rethink your data usage for segmentation

Instead of individualization, think in groups of customers with similar interests. Grouping your audience will help you to target ads to groups without requiring details of individual users.

Cultivate unique first-party data through greater customer value

When your customers agree to providing you with their data, in exchange they expect more value from your services. One way to offer value to your customers is for instance through gamification. For instance, Marketing Games can help you and your customers mutually benefit. Particularly, through lead forms, you can collect your customers' data, and they will benefit in form of rewards, such as prizes or discounts.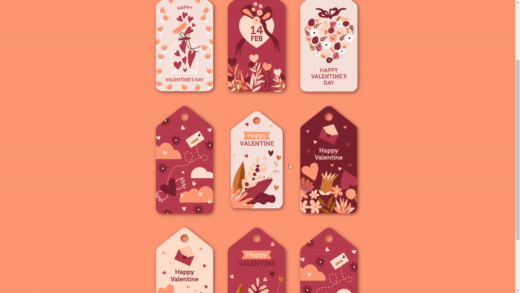 Click the video to try a Marketing Game yourself
2. Authentically Inclusive Marketing
Generally, marketers, and their communications and advertisements, are the face of what a brand stands for beyond maximizing profits. With the era of globalization, and socio-political movements such as Black Lives Matter, populations become more diverse and increasingly prioritize how authentically companies represent their corporate ethos. In turn, customers tend to shop more with brands that show their commitment to supporting more social equality.
Hence, in 2022 it will be significantly more important to get your brand authentically right or you will risk losing your existing and future customers. Gathered data by Deloitte shows that high-growth brands (those with annual revenue growth of 10% or more) are more often establishing KPIs for diversity, equity, and inclusion (DEI) objectives than their lower-growth competitors. Simply put: Diversity, equity, and inclusion will win you your future customers. Moreover, it is important that you truly mean your commitment – both in front and behind the camera.
Essentially, your customers want to support your brand, which represents them and their values. To succeed in making DEI efforts a core priority, consider the following:
Bring diverse voices into your organization
Ensure your teams, suppliers and distributors reflect your authenticity to the market
Make your commitments measurable, for instance with AI
3. Embrace Artificial Intelligence in Your Marketing Planning
Today's marketers are super talents in multitasking. Marketers do not only know how to write copy but must have so many other hard and soft skills, including strategy, analytics, metrics, SEO, social media, research, HTML & CSS, editing, leadership & management, problem-solving, communication, and so much more. Luckily, also in 2022 automation tools, and particularly artificial intelligence (AI) will help marketers to increase their efficiency, automate repetitive tasks and make better predictions. Hence, as a marketer, you should embrace AI in your marketing planning. Currently, 70% of marketing professionals use automation to take some workload off their shoulders. And the trend of using AI in marketing will continue in 2022, as 33% of marketers who do not use automation yet are planning to implement it next year.
Hence, there is real confidence that technologies, such as AI, or also Virtual Reality (VR), will enhance marketing in 2022. However, it is crucial to get the basics right, so you can transform your marketing processes and activities in tandem.
How about automating your marketing and customer service activities by implementing chatbots in your strategy? Even though the idea of chatbots can be a little intimidating at first, they are here to make life easier. Chatbots are programs built to automatically engage with your customers through written conversations. Moreover, chatbots can be programmed to reply to your customers' messages in the same or different tone and style, containing certain keywords, which you define prior.
In order to establish even more personalization, you can program your chatbot to learn more about your customers with each conversation, so the response can fit each individual situation. Overall, with a chatbot, you can leverage chat mediums, such as website chat windows, SMS text, or social messaging services across platforms, such as Facebook and Instagram.
4. Content Marketing to Embrace Personalization
Interactive Content
Reports show that the global COVID-19 pandemic had a significant impact on customer behavior, accelerating the acceptance of immersive technologies, such as Virtual Reality (VR) or Augmented Reality (AR). What these immersive technologies have in common is the fact that they require the user to be interactive. Interactivity can appear in many formats and content types, such as Interactive Quizzes, Polls, Marketing Games, and Interactive Virtual Tours. With customers now wanting to experience and purchase products without having to go into a physical store or interacting personally with a sales-representatives, the trend will become crucial in 2022.
Click here to an Interactive Virtual Tour yourself
Generally, Interactive Content helps you to visualize for your customers the outcomes of a purchase. Moreover, Gamification in marketing drives engagement and product usage. The possibilities with Interactive Content are endless.
As with all content, the main goal of using Interactive Content is to create valuable content for your customers to make informed decisions, or solve specific problems, rather than hard-selling your products. Hence, in 2022 it will be crucial to truly think through what you want to achieve with your Interactive Content. Are you planning to make a change? Or do you rather hope to inspire and engage your customers? Moreover, think about what you want to say to your audience. Your message must be valuable to your customers, otherwise, you can create the prettiest Interactive Content. However, your Interactive Content will not perform if it does not provide your customers with any valuable message, which they can benefit off.
For instance, if you are in the real estate business, adding an Interactive Calculator to your website is a very smart decision. If you are in the food business, you can create an Interactive Flipbook, to see what your customers are primarily interested in ordering. Or you can add quizzes, online assessments, and contests to keep people engaged and thus, get more familiar with your brand.
Click here to try an Interactive Flipbook yourself
Video Marketing
The fact that video is more engaging than static images or posts is no secret. And the trend to produce more video content will continue in 2022. However, what will be particularly important in 2022 is to pay attention to the different video formats now available. In particular, data shows that short content videos are considered the second most effective trend marketers are currently leveraging. According to HubSpot, 89% of global marketers plan to continue investing in short-form video content in 2022.
Hence, if you are not already using video or you have not given it much attention, yet now is a good time to start. If you already have videos as part of your strategy, always keep in mind to stay updated, as new trends can emerge throughout the year. Also, you do not need to hire a production team or marketing agency, all you can use is an iPhone and some affordable or free editing software.
For instance, you could start with social media stories for your first short content videos. In social media stories, such as on Instagram, Facebook, or Twitter, you can showcase your products, events, and behind-the-scenes experiences. But also, Interactive Videos, such as Branching Videos, Gamified Videos, Shoppable Videos, and many more. Particularly, with a Personalized Video, you will hit the mark, as the digital marketing trends 2022 are all about personalization and customization.
Video interactive marketing is one of the most common interactive marketing strategy types.
Click here to try a Personalized Interactive Video yourself
5. Mobile-First Marketing
There is no way to escape mobile marketing. Over 90% of the internet-connected population uses at least one mobile device. And as Generation Y and Z audiences continue to have a growing buying power, mobile-optimized digital experiences will be even more crucial for every business. Thus, in 2022, mobile marketing strategies and mobile-friendly content will play an even more important role. To be at the forefront of this trend, reconsider the designs and layouts of all of your communication channels, such as your website, social media, and particularly your email marketing.
For instance, accelerated mobile pages (AMP) and optimizing your website and other communication designs for all device types are some basic mobile-first marketing strategies. When optimizing your website, make sure that the loading time is low and content quality is high, as those will have a big impact on your customer experience and search engine rankings. In turn, these will lead to higher conversions and increased sales.
Connect the Dots of the top Digital Marketing Trends for 2022
Together, the digital marketing trends for 2022 highlight that marketing is a powerful force for growth by creating customer experiences that build trust and meet individual needs. Every trend presents its own unique opportunities your business can take advantage of which is why it is worth taking note of, but also exploring each of them. Only by fully understanding each trend, its advantages, and disadvantages, you can assess which one suits your marketing strategy best.
For now, you are up to speed. As long as you will keep a thumb on the pulse of marketing trends – and always stay open to change – your business will thrive. The list provided should give enough leverage to differentiate your business from your competitors. However, it all naturally depends on how you can effectively incorporate each of them into your present situation.
Particularly, if you would like to know more about Interactive Content, Dot.vu is here to help. Make sure to book a meeting with us, so we can show you how our platform will help your business stay ahead of current market trends and succeed online.
---
Subscribe to our blog!
---