At Dot.vu we're on a mission to spread the power of interactive content to the world because we believe it's the best way to stand out, engage with people in a memorable way, and improve the user experience.
We believe that interactive content can do so much for marketing – both for marketers and consumers and we really want more people to find out about its great potential. We believe the best way to do so is to hand it over to the most capable people in spreading a message online – the bloggers!
Check out the offer here!
You may wonder why we are doing this?
When you share content created on our platform, it will include a small Dot logo, making you our interactive content ambassador. This is the only thing we ask of you in return for access to our platform at no cost.
Besides that, you'll have full freedom to design your content and embed it directly to your blog. Of course, it would make us very happy if you also share with people where your awesome content was created, but that's up to you.
Wait a minute, what exactly is interactive content?
Interactive content is content that actively involves audience participation with the objective of engaging, entertaining or educating them about a certain topic. Typical forms of interactive content include quizzes, assessments, calculators, interactive videos, personality tests, product-suggesting tests, interactive e-books, interactive story-telling, and marketing games.
"The key power of interactive content is that it provides your clients valuable experiences through its instant and personalised feedback" – Casper Kandelsdorff, CEO at Dot.vu.
The benefits of interactive content
The benefits of interactive content are numerous. Designed to create a personal, immersive experience, interactive content goes beyond simply reading or watching content and requires audiences to choose preferences, answer questions, assess, vote, play or compete. It gives the user valuable personalised feedback, entertains your audience with digestive and clickable content, and is a great tool to generate quality leads.
The real perks of interactive content marketing 
The extensive guide below is meant to help you get familiar with the benefits of interactive content.
Capture attention and engage your audience like never before
The point of interactive content is simple, to engage! It offers people to participate in the digital experience actively instead of passively observing. People interact by answering questions, choosing preferences, guessing, voting, navigating or playing.
Because interactive content is quick and easy to consume and people receive real-time personalised results; people are more likely to engage.
This offers you an advantage, a unique opportunity to differentiate yourself from other bloggers, and from all the noise online, by offering your audience a better way to engage with your message.
Let's say you want to present a long and dry report to your audience cause its content is important. You can boil it down to a quiz or an assessment that will teach and challenge your audience about the content, in a much more fun way.
Generate quality leads 
We all know that growing your email list or building up a group of followers isn't as easy as it used to be. People have become more selective to what they signup for, who they give their contact details to, or who they chose to follow. Don't you worry, interactive content is incredibly helpful to grow leads.
When engaging with interactive content, the user receives instant, real-time result, and to savour their curiosity, they are more likely to give you contact information. Let's exemplify, when people take a personality test they are driven by curiosity about themselves, and if they come across a lead from before the results they're likely to fill it out.
And believe it or not, that's not even the biggest perk of interactive content. That's the personal data you collect. Every question answered is registered on a profile at Dot, leaving you with total oversight of every single action.
This means you don't need long lead-forms anymore. You can keep the lead-gen form short and you gain the rest of the information through the content.  We all know that the shorter opt-in form increases the likelihood the customer will opt-in.
To learn more about lead-gen tactics, click here.
Get to know your readers with rich lead profile
s!
As a blogger you can use rich profiles to your advantage, to understand your audience better. You can ask your audience about anything you want to know through interactive content! Does your audience like coffee or tea? Do they like to send postcards or email? What kind of emails are they more likely to open? You can find out what your heart desires by asking about it.
Every action is registered – aiding to build up rich lead profiles of your readers. While engaging with your content, your readers are giving you information about themselves; their likes and dislikes, dreams, or gaps in knowledge.
By getting to know your audience, you can write more relevant blog posts, send more targeted e-mails, and serve your community better!
Personalisation
Personalisation is all around us. From the suggested article we read on our morning commute, to the series we watch before going to bed. Almost every touch-point on the web is telling us what to read, watch or click on – based on our personal needs and interests.
Consumers expect more personalised content these days. And with all the data you gather through interactive content, it's easy for you to offer more personalised interaction to your audience.
You already get far just by creating interactive content because it offers personalised feedback. However, you can do so much more, using the data you've gathered to better understand your audience and for example, send more targeted and personalised emails.
It's by all accounts better to send fewer but more targeted emails, than blasting out irrelevant content that annoys readers and prompts them to hit the dreaded "unsubscribe" button.
There are many good reasons to start personalising your emails:
Emails with a more personalised subject line are 26% more likely to be opened.  – Campaign Monitor

The number one reason why people unsubscribe from email lists is  when content is irrelevant

96% of organisations believe that email personalisation can improve email marketing performance
With enriched lead profiles you can also start segmenting your emails; sending interest-based emails out to the right groups and use email automation to simplify the whole process.
Let's exemplify again. If we have another look at the personality test: once your audience has taken it, you will have the email address and names linked together with the personality type given at Dot. Each contact will have a profile.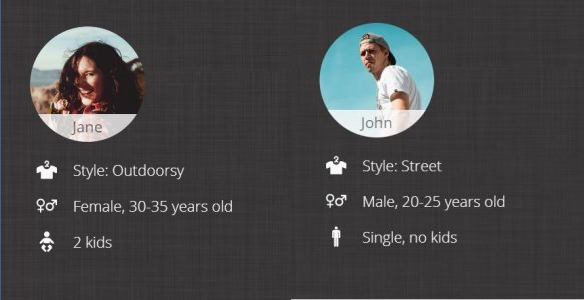 After this, you can send out four different e-mails, tailored to each personalities' characteristics! This way you can super-target your emails to make sure your emails don't go to waste!
Enrich your current leads with URL data
If you have plenty of email contacts for your newsletter on your CRM systems like MailChimp or other platforms but don't know more than a name and the email address of your contacts, playing with URL data is something you should consider. It's a smart feature on Dot.vu, and by using URL data, you can both personalise your audience experience and enrich your leads.
With Dot, you can enrich the leads you already have on your CRM system by using one of our interactive content forms to mine for more data about your leads. It works like this: let's say that you chose to create a personality test to analyse your contacts personality types, likes and dislikes.
When your contacts start to engage with your interactive content, the answers provided will be registered in your database on Dot. Once you have gathered all this data, you can integrate it back to your CRM system, and you will get a more enriched email list!
Personalise further on your CRM system with URL data
According to Forrester Research, over 78% of consumers will only engage offers if they are personalised based on their previous engagements with the brand.
To provide your customers with a comprehensive, personalised experience, you can play around with URL data fields on Dot. It is simple enough; you create data fields on Dot, such as "name" and create text such as "hi, name, so nice you wanted to take my quiz'" on your interactive content.
Then you add the link for your interactive content to your email. Once your contact clicks on the link, the URL will read the name of each contact and greet him/her with a personalised greeting: "Hi Maria, so nice you wanted to take my quiz." This gives your customers a comprehensive, personalised experience.
The Best Interactive Content for bloggers
Below you will find five examples of interactive content that we believe can benefit bloggers in spreading their message more effectively!
Quiz
Check out this example of a quiz!
A quiz is designed to challenge, entertain and engage people. The quiz is the ultimate snackable content because it takes little time to consume, and can be both entertaining and educating.
Besides – people love to test themselves, and they love the immediate feedback of a score, grade or feedback – that's why quizzes are so popular.
You can use quizzes to for branding yourself, to boost engagement, and to grow your email subscriber list
Quizzes – like any other interactive content – are not only meant for entertainment. If you pair them with a clear lead-gen strategy, you'll have a very powerful tool to activate your target audience and generate loads of new leads.
There are many types of quizzes, such as knowledge quiz, entertaining quiz, or educational quiz. It's also pretty easy to repurpose a blog post into a quiz. Let's imagine you wrote a blog post about the newest SEO updates you already have the knowledge ready, and it won't take you long to create questions for a quiz!
Quiz ideas for marketing bloggers:
Check out how good you are at SEO!

Can you answer all 10 questions on social media marketing correctly?

Do you know what these marketing terms mean?
Time Quiz Challenge
Check out this example of a time quiz!
The time quiz challenge is similar to the quiz, but here time is of the essence! The user needs to complete the quiz within a specific time frame to have a chance to beat other players and earn their place on the high score board.
You can ask questions on a topic of your choosing, and users become highly engaged in trying to beat other people's score.
This means you can easily add a fun spin to the quiz by calling a content marketing quiz "the Championship in Content Marketing" and encourage marketers to test their skills, and beat the rest!
Here, you can also include a lead form to grow your email list.
Time quiz ideas for marketing bloggers:
European Champion

ship in Content Marketing

World Champion

ship in Email marketing

How good are you at Facebook's algorithm?

How much do you know about Google's paid advertises?
Assessment
Check out this example of an assessment!
An online assessment asks your customers a set of questions and gives them a score and custom advice on completion of the questionnaire. It's typically longer than a quiz and can be about personal factors like knowledge, skills and competencies, or about professional benchmarking like business-unit performance, compliance or technology-readiness.
The Assessment offers your readers a chance to evaluate themselves and see how they stack up against their peers, and to receive personalised feedback, in the end.
If you ask the right questions, you encourage your audience to reflect on their needs and pains. As a result, you capture data that helps to qualify leads with greater precision.
This way, you also show you are on the top of your field and offer other valuable insights, and you can include a lead form to grow your e-mail list.
There are many different types of assessments, such as best practise assessment, risk assessment, educational assessment and more.
Assessment ideas for marketing bloggers:
Test your knowledge of Inbound Marketing

How good are you at Digital Media?

How good are you at Web Analytic

s?
Opinion poll
Check out this example of an opion poll!
The opinion poll is a great way to crowdsource your audience's opinions and get feedback on matters that are close to you.
If you have a large group of followers, you can really benefit from this interactive content format.
As an example, you can ask your audience how much time every day they spend answering emails, and when they reply, they instantly see the results. You can also ask funny questions to make your followers laugh!
Opinion poll ideas for marketing bloggers:
How many negative e-mails do you receive each week?

How much time per week do you spend on social media management?

What website system do you use?
Interactive video
The interactive video is a digital video that offers the viewer to interact while watching. It can teach people a new skill, guide them through baking a cake, or showcase products.
The interactive video is useful to increase engagement, offer deeper insights to your audience, and differentiate your brand. You can include a lead form, in the beginning, 10-seconds in, or 20-seconds in.
"Besides the little effort needed to create an interactive video that makes your brand stand out, there are many clear-cut benefits. An interactive video has more engagement, longer viewing time on average and you can track and understand your audience better than when with a standard video." – Svanlaug Árnadóttir, Interactive Content Marketing Specialist, Dot.
You can include a lead form, in the beginning, 10-seconds in, or 20-seconds in.
Besides the interactive video, there is a shoppable video, a branching video, and a video quiz.
The shoppable video is also known as a 'touchable video', or a 'clickable video' because it allows viewers to click on products to learn more and directly make a purchase from a company's webshop.
You can turn almost any video into an interactive experience using the so-called 'action points' or 'hotspots' to showcase your product and relevant information such as price and description.
You can showcase as many products as you like in one video and add as many trigger points as you like. All you need is a Youtube or Vimeo link to your video, and you can get started.
The branching Video is a digital experience where the viewer can create his own narrative. The main objective of a branching video is to engage the viewer through interactive storytelling. In a branching video, decision points are used to ask the viewer questions and based on the reply; the viewer is sent to another part in the video.
Branching Video has proven record of higher engagement and longer viewing time on average than a linear video
The Video Quiz is a video which asks the user a few questions, throughout the video clip. It improves learning and attention, as people have to watch carefully to be able to answer the questions.
The video quiz improves the retention of the message in the video and keeps audiences inside the video experience longer.
Interactive video ideas for marketing bloggers:
Showcase your products or services in a video

Instead of a webinar or a blog post, create a video quiz teaching about new updates, with questions to improve learning

Tell a personal story in your video, and allow people to pick the scenarios in a Branching video

How to optimize your results
Below you'll find advice to make sure you get the best experience possible when working with interactive content.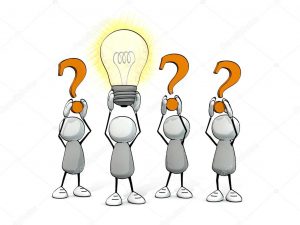 Turn any of your interactive content into a contest
Encourage your audience to engage by inserting a contest into your interactive content. In doing so, they will actively learn about your company, product or message, with full attention. By adding the 'contest element' to your content, you increase the incentive people have to consume your content – and people are more likely to share it.
Recycle your content!
The life of the blogger can be hectic. There's a constant demand to produce high-quality and in-demand content for various platforms. If you ever struggle to keep up with the demand, you may benefit from starting to repurpose your current content.
By repurposing your old content to interactive content, you create brand new interactive content that your customer can engage with, and the best of all, you save yourself time.
You can turn most content into interactive content:
Blog post to a quiz or an assessment

How-to-guides to an educational quiz

Checklist to an assessment

News to a quiz

Research or studies to benchmark assessments
We hope this guide was helpful to you, and you feel ready to start creating amazing interactive content marketing experiences!