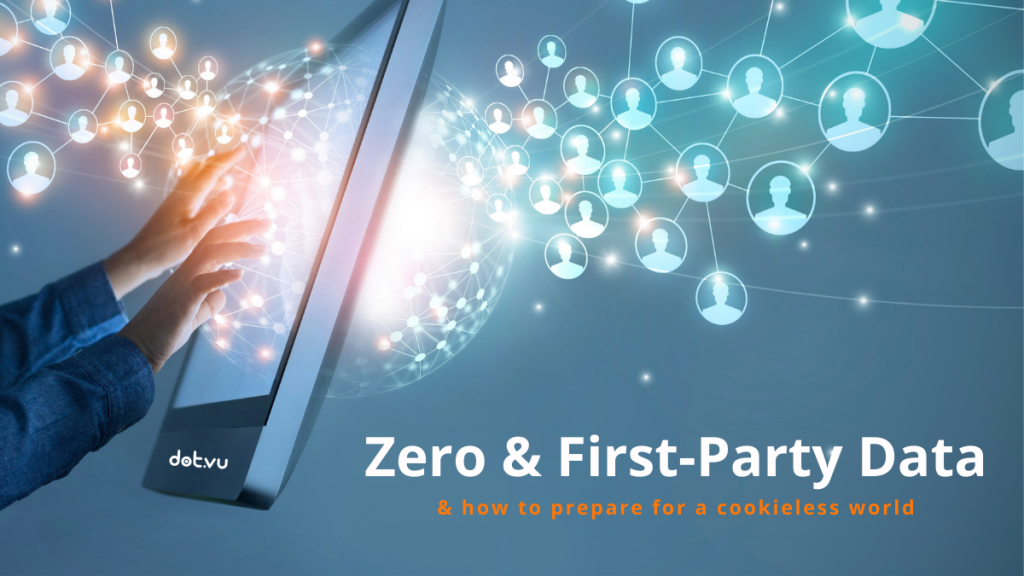 Before we dig into Zero-Party Data & First-Party Data, let's discuss why it's an important subject. Plus, why you should read this article and rethink the way you collect data.
Online Consumers are worried and with reasons. Over the previous years, many companies have been using their personal data without their knowledge and consent. They don't know who they can trust, who they can't, and how to protect themselves. That's why they have pushed governments around the world to regulate the use of cookies to collect data. So, in the past years, we have seen the appearance of GDPR and many other privacy laws across the globe.
However, as a 2019 study from Salesforce.com shows, this is not enough to remove the online consumer's concerns. Companies also need to play a very important role and start rethinking how they collect data. That will ensure that their customers' privacy is respected. They need to build trust and be transparent in how they collect data. And, also, in how they get data from other sources, and how they use that data. Following this principle, many companies have switched to collect Zero-Party Data & First-Party Data.
In this article, you'll earn about what is Zero-Party Data & First-Party Data and the best practices when collecting them. Plus, you'll find out how Interactive Content can play a crucial role in a cookieless world.
Zero-Party Data vs First-Party Data  
Both Zero-Party Data and First-Party Data are information/data that you collect by yourself. It's data on your customers' preferences, behaviors, needs, and so on. First-Party Data is relatively well-known amongst Marketers, while Zero-Party Data is a relatively new term that was coined by Forester.
That's why on many websites, you'll see that Zero-Party is included within First-Party Data instead of being its own separate thing. While Zero-Party Data can be included in First-Party Data, the opposite is not true as Zero-Party Data only includes explicit data. First-Party Data also includes implicit data. 
To clearly understand the difference between both, we have defined them below. 
What is First-Party Data?
First-Party Data is data you can observe: where your customers click, what they buy, what Social Media post they interact with, what's their favorite products, how much Loyalty Points they collect, etc. You collect these data by observing how your customers interact with your brand in-store, on your website, or on your app.
Of course, to collect these types of data, you need cookies on your website, a CRM system, their feedback, and so on. So, it's really about using many different tools both offline and online to create a clear image of your customer's profiles. That's why it is seen by many marketers as high-quality data.
Benefits of collect First-Party Data
Help you predict future behaviors & adapt consequently
Gain customers insights (e.g., customer behaviors, trends, etc.)
Improve your capability to execute customer segmentation
Enhance your Marketing Automation efforts
Personalize your product offering & marketing tactics
What is Zero-Party Data?
Zero-Party Data describe any data that a customer proactively and deliberately shares with a company. So, it differs from First-Party Data because it's based on actual preferences rather than implied preferences.
For example, with First-Party Data, you could observe that a customer has purchased the same lip-gloss every month since January. Knowing that you could assume that she loves this lip-gloss and add it to her customer profile. But, actually, she buys it for her daughter. Of course, by looking at the data you collect on your website, you cannot know that. That's where Zero-Party Data differs.
When collecting Zero-Party data, you directly ask your customers what they like, what they need, what they don't like, etc. Then, you are 100% sure of the veracity of your data because it's not implied.
Benefits of collect Zero-Party Data
The benefits of Zero-Party Data include all the same ones as for First-Party Data, plus the following:
Increase Customer Engagement
Build relationships based on Trust & Satisfaction
Better personalization
A word on Second- and Third-Party Data
To give a complete overview of the different data types, we also wanted to introduce Second-Party Data & Third-Party Data.
Second-Party data is the Zero-Party Data or the First-Party Data of another company or another organization that you buy directly from the Source. It's often used to overcome the limitation of Zero-Party Data & First-Party Data, which usually has a too-small reach to come to statistically valid results. Nonetheless, because it's not collected directly from you and not based on how your customers interact with your brand, it is not considered as valuable as Zero-Party Data and First-Party Data.
Third-Party Data comes from many different sources. It consists of rich behavioral, demographic data. However, it can be unreliable because you often don't know the sources, o, or the data is outdated.
Check out this Interactive Infographic by clicking on it to make sure you fully understood the different concepts:
Zero Party Data & First Party Data: Best Practices
1. Create a two-way value exchange
One thing to keep in mind is that First-Party Data is a two-way exchange based on trust. You must ask your customers' consent and show them clearly what's the value for them. For example, you could highlight that sharing their preferences with you, will be used to optimize your product offering, allowing you to offer products that better fit their needs.
2. Follow the data regulations
Of course, when collecting Zero-Party Data & First-Party Data, you must comply with the data regulations valid in your country. Or, in the countries where your company does business. But, we would like to also highlight the fact that most of the time, following the regulations, is not enough to gain trust. Companies need to take that one step further and be extra-transparent in how they collect data, what data they collect, and why they collect it.
3. Use innovative data collection method
When collecting Zero-Party Data, companies need to focus on innovative collection data methods based on a two-way exchange. This can be done by using Interactive Experiences such as a  Guided Selling Experience.
Guided Selling is one of the most popular types of Interactive Content  in which website visitors answer a series of questions about their needs, preferences, and personal characteristics to be automatically guided towards the rights products, features, or sections of your website. If you want to know more about this Interactive Experience, have a look at What is Guided Selling.
Companies can also leverage other types of Interactive Content, such as Marketing Games, to understand consumer behavior and collect customer data.
4. Invest in UX design
If you want your users to share their contact details, their preferences, and their needs with you, you need to show them what's the plus-value for them. Thus, it would be best if you also focused on designing enjoyable and entertaining interactive experiences that will encourage them to do so. That's why investing in UX design is very important.
Cookieless World on the horizon: How can Interactive Content help?
With the increase in data regulations and companies trying to deceive customers instead of complying, we see a shift towards a cookieless world. But, in a world driven by data, how can companies adapt? For us, at Dot.vu, the answer is clear: companies can survive and prepare for a cookieless world by switching toward Zero-Party Data.
That's why we know that Interactive Content is even more of a necessity for companies than when we started in 2014. To their core, Interactive Experiences are designed to generate this two-value exchange necessary to collect Zero-Party Data, making it the best way to gather data in a cookieless world.
On Dot.vu, you can collect Zero & First-Party Data by designing amazing interactive experiences. You can register every time a customer answers a question in your quiz, navigate your Guided Selling Experience, or click on a hotspot in your Interactive Video.
Test that you have understood correctly what Zero-Party Data & First-Party Data is by clicking on the image to start the test.
Subscribe to our blog!
---