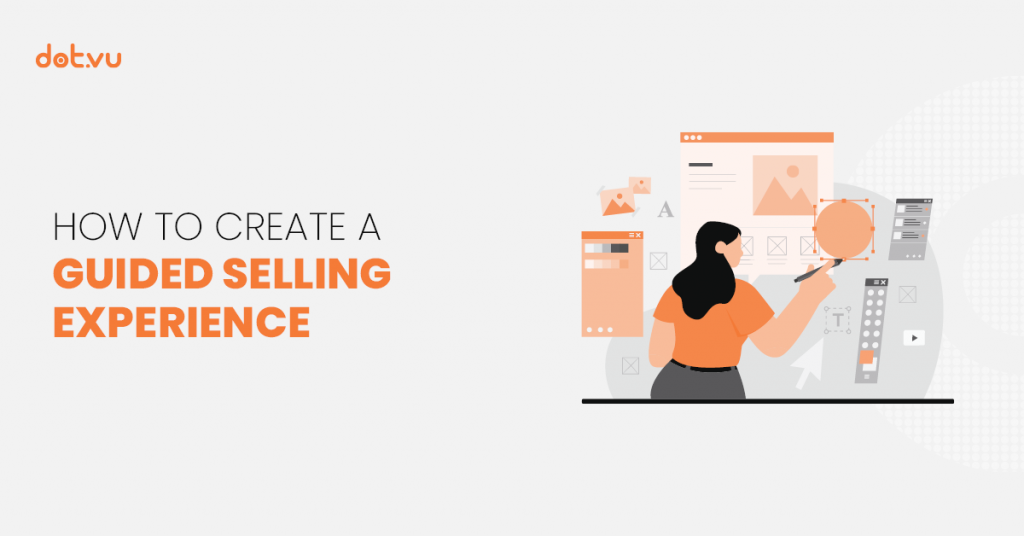 Before deep-diving into the steps of creating a guided selling experience, I just want to quickly give a snapshot of the definition of this interactive content type.
Guided Selling is an Interactive Experience in which website visitors answer a series of questions about their needs, preferences, and personal characteristics to be automatically guided towards the rights products, features, or sections of your website. If you want to learn more about this experience in general, such as benefits and why it is essential to have one, I suggest you explore what is guided selling.
It is important to note that guided selling is an online format. It enables you to create different types of guided selling experiences (e.g., product recommenders, product finders, solution builders) depending on your industry, the nature of your products, customers, and your problems to be solved. No matter the type you are choosing, this guide should serve you the best way possible if you want to create dazzling interactive content for your audience.

7 steps to create a Guided Selling experience
1. Explore
Before you get to the planning phase, it is crucial to take the time and effort to explore the problems you need to solve. Explore the challenges your company is facing and make sure to focus on the solving of those challenges. Ask yourself – What is the overall purpose of the guided selling experience you want to create? Would you like to learn more about your customers, hence better personalize your offerings or simply boost your sales with a simple linear guided selling experience? – and so on. Once you're done with that, go ahead and jump onto the planning phase.
2. Plan it out
When it comes to the planning stage, there are several checkpoints you need to go through to ensure your guided selling experience is planned out accordingly. Therefore I am going to take you through those to help you secure the success of your campaign.
Format
First things first, you need to give some thoughts to the format of your guided selling experience. You can choose either a temporary or permanent option depending on your need. This step is pretty easy as you just need to clarify whether you want to have the experience permanently on your website, or for a specific period, for instance, if you are planning to enrich your upcoming campaign.
Wireframe
The next step you need to spend most of your time with is to create a user flow. You need to create a wireframe to lay down the logic you want to implement through your guided selling experience. Also, include the products you want to showcase in it, if there are any. You should consider whether to have products directly offered at the end of the guided selling experience or link to your e-commerce page. If you want to link to your e-commerce page, you can, for instance, filter the results shown to each of your customers based on their answers to your questions.
Type of the experience
Next up, you need to decide on the type of the guided selling experience you want to have. There are different complexity levels you can choose from depending on your needs and the overall purpose of your plan. It could either be a simple linear experience, where at the end, based on predetermined specific characteristics, there will be matching product offers. The other, as you can probably guess is a more complex branching experience where there are multiple questions with multiple potential answers depending on the specific input that users apply for the questions. Check out this wireframe as a demonstration of a linear and a more complex branching version.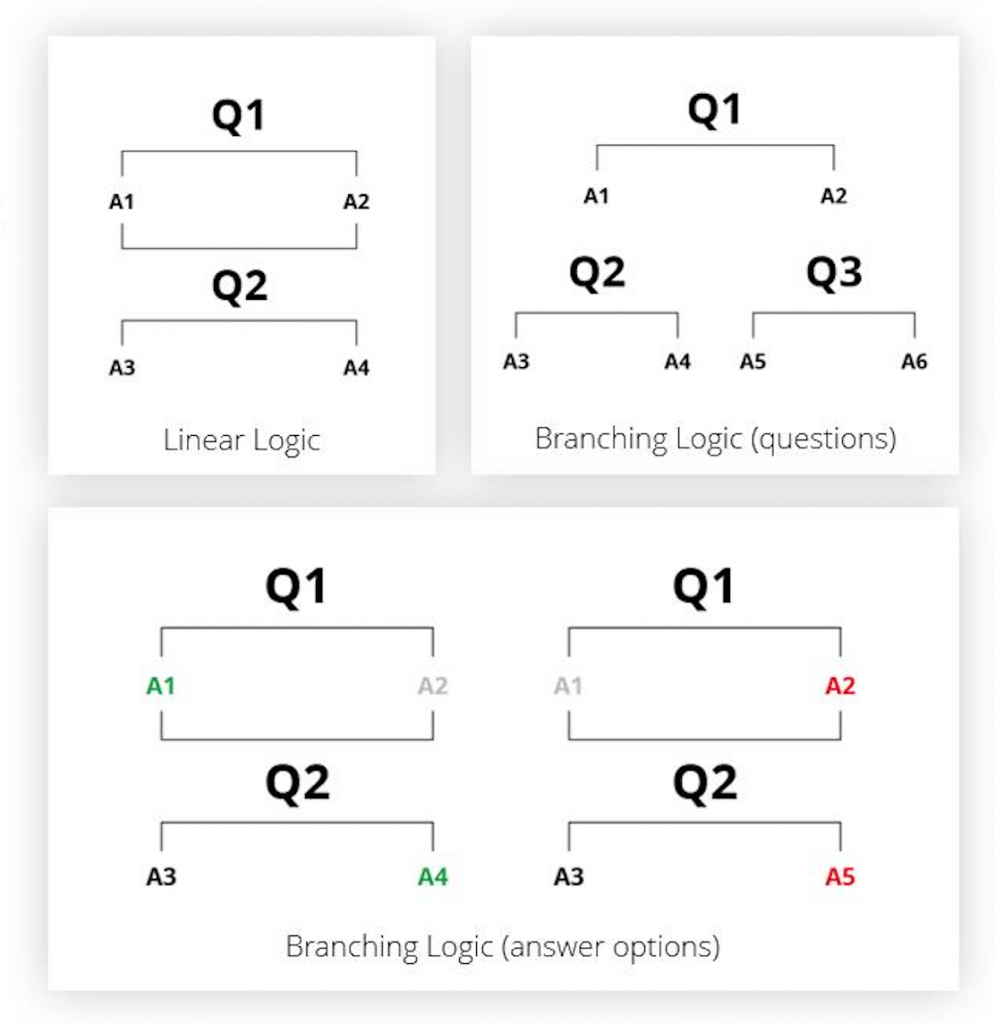 Content of Guided Selling
You also need to give some thoughts to content planning, such as deciding on the questions you'll include in the guided selling experience. Try to focus on making simple to comprehend questions that customers can easily identify themselves with. The point should be to focus more on what it'll be used for instead of technicalities that an average user might not know the answer for. This way it'll be much easier to engage with your customers and direct them to the right products.
Data sources
About data sources, depending on the number of products you want to focus on with the experience, you can either go with a local CSV file, in which case you need to upload that manually whenever you want to add attributes to any of your products. The second option is to store your data about your products online. Therefore whenever you want to implement new qualities to specific products, you can do so, and it'll be automatically updated in your guided selling experience. And the final option that is best suited to a guided selling experience is to have your product information stored online and create a local file with additional attributes if there are any for the products which you intend to display in your campaign. Once you upload the local file, based on the product IDs, the displayed products will be automatically updated with enriched information.
3. Create your Guided Selling experience
Now that we are done with the planning phase and all your ideas are sorted out, it is time to put it together and create the experience. First, think about the format of your experience. You need to determine whether you want your customers to engage with standard questions or a video format, for instance.
When you're ready, you can start working on the design. Make sure to give it a dazzling look to get the wow effect of your customers. You can also add animations to your guided selling experience, pop-ups, and call-to-action with links to ensure your content is highly interactive. The more interactivity you implement, the more engaged your customers will be with what you offer.
Besides, you can also create a simple marketing game in addition such as spin & win game where customers can win a percentage of discount applied at checkout. By doing this, you'll strongly incentivize users to participate in both experiences. The condition could be to only get a discount if they participate in the marketing game. That would then also motivate them to complete the guided selling experience from the beginning to the very end.
4. Set up integrations
At this point, you are done designing your guided selling experience. But before you publish it, make sure to set up all the integrations you need, according to the type of data and analytics you want to collect. To give an obvious example, a must to do is Google Analytics integration to collect data such as the countries people are participating from or the devices they are using. But you can also collect data on the conversion rates of your guided selling and much more as you can set up as many KPIs also custom ones as you want.
Moreover, if you want to use your guided selling to enhance your marketing automation flow (and you should), don't forget to integrate with Pardot, HubSpot, Mailchimp, etc. To learn more about data you can collect to understand your audience.
5. Publish it
Before you publish the experience, make sure to have your KPIs set up in advance so you can evaluate the performance of your guided selling later on. It's also crucial to specify the metadata if you want to have a positive effect on SEO. Make sure to have a meta-title and meta-description that contains your keyphrase and is highly relevant to the content of your experience you're introducing to your customers.
Besides, you need to decide whether you'll publish it on a dedicated page, namely an entire landing page for the experience, or you are going to embed it anywhere on a specific page of yours. It's totally up to you, but you have different options.
6. Promote it
As you probably know, promotion is key to the success of any marketing campaign. There are many ways to do it. Try to focus on an area where you have the most influential reach of your customers. Whether that is your website, social media, or both, you need to make sure to target the right place where you can reach out to them in the most efficient ways. Make sure to have CTA buttons on your website to encourage users to check out your brand new guided selling experience, and don't forget to give it a boost in your social accounts as well. And most importantly, set up the right KPIs to ensure you're getting the most out of your promotion strategy.
7. Evaluate & optimize your Guided Selling experience
Once you have your guided selling experience published for a while, come back on it and check out how it performs. To know how to optimize your content, you need to understand how your customers engage with it. You should first learn about data such as clicks, views, the total number of visitors, customers who opted out, how many people ended up filling out your lead form, and the list goes on with valuable data that you can collect with the help of our platform.
If your experience is not getting the right amount of traffic or sales, this is a great opportunity to stop for a moment. And try to think about how to optimize it to get more participation and engagement from your customers. The great thing about all of this is that you can freely optimize and change whenever you need to. Therefore ensuring the success of your campaign even at a later stage.
Are you ready to create your own Guided Selling experience?
Guided Selling is one of the most popular interactive experience here at Dot.vu, that shows the strengths and potentials of this embracing and attractive tool. To provide you some proof about the effectiveness of this tool, according to Forrester, B2B organizations that use dynamic guided selling, will enjoy an advantage that allows them to stay ahead of their competition for years to come.
If you feel the motivation to read more, you can also check out our blog post about guided selling examples.
Create a free account and try any of our Guided Selling templates for free! When you are ready to publish an Interactive Experience, you can choose the subscription that fits your needs and goals.
---