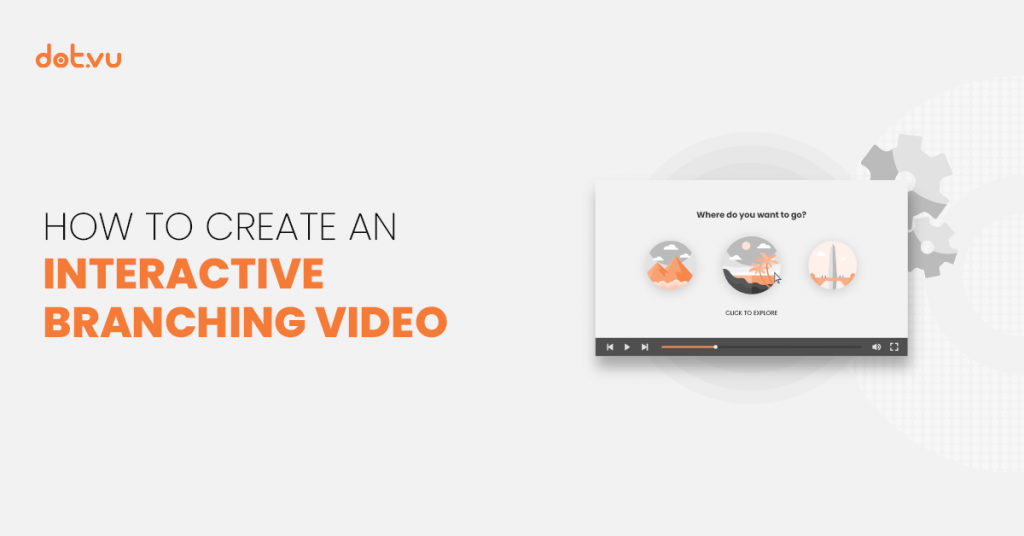 If you want to get your customers engaged with your experience, you will want to make not just any video, but an interactive video. Since 34% of video consumers want to be able to jump to a different part of a video, marketers can give customers what they want with an Interactive Branching Video.
What is an Interactive Branching Video?
Branching videos started to gain in popularity when one first appeared on Netflix back in 2018 in the form of a movie. Viewers not only got to watch the movie, but they also were able to decide what happened during different key moments of the experience. Giving viewers a more active role in the process added value to the overall experience and many viewers enjoyed tailoring the movie to fit their own personal preferences.
Therefore, branching videos, much like this movie, are interactive videos that include different hotspots throughout the video in which viewers can click on buttons to steer the direction of the experience. Marketers can also add other interactive elements to the videos to educate customers about their products or provide call-to-action (CTA) buttons at the end of the experience that can lead viewers to online stores, blog posts, or other areas of the company's website.
Let us show you how to get started creating your very own branching video.
Steps to Creating a Branching Video
When creating your branching video, there are a few things to consider in order to be successful. Let's take a look at them to help you get your way around the creation process.
1) Define Goals and Objectives
Before you get started mapping out the details for your branching video, you first need to decide what goals you have for this marketing campaign. Are you hoping to increase customer knowledge about your brand? Do you have a new product that you would like customers to get some experience interacting with on your website?
Did you know that 50% of internet users look for videos related to a product or service before visiting a store? Knowing what you hope to achieve from your branching video will help you reach your goals in the creation process.
2) Determine Products and Target Group
The next step is that you will need to determine which products or services to include in your experience. Making a list of these items beforehand can help you keep track of your content during the planning phase.
The other factor that is important to consider is your target group. Did you know that 78% of people watch videos online each week and 55% watch videos every day? It is because of statistics like these that more and more marketers need to pair their marketing efforts with the needs of their customers. If you are promoting a product that is more geared towards a certain demographic, you will want to keep that group in mind when writing your messages and establishing a tone that best fits this group.
3) Plan the format, platform and style of video
After establishing your goals, focal point, and target group of your video, now you are ready to start planning the content of your interactive video.
First, you need to decide which format you will use. Will it be a temporary or permanent fixture to your website or is it something that will accompany a seasonal or short-term campaign? Knowing your timeline for the project and when it will be used on your platform are important factors to consider, especially if that might influence the theme of your video.
4) Create a Content Outline for the Story
Now, you are ready to create the outline for your story. Write the outline of the video from start to finish with one scenario. Then, pick a point in the story where you can offer a different scenario and write out that scenario. As not to overwhelm your viewers, it may be best to offer only 2 or 3 options per scenario.
Now is the time to keep in mind those products or services you want to highlight. Decide which images you will use and what content you will write to describe them. Remind yourself of your purpose. Are you hoping to inform viewers of a topic or are you giving product information in hopes to make a sale? The content you include will be the magnet that leads your customers in the right direction.
Don't forget your target group! Make sure the tone of your message fits those you are addressing and that your message is written in a way that is easy and enjoyable for the target group to experience.
Keeping the customer journey in mind will allow you to plan which places to include hotspots, clickable buttons, marketing games, and other interactive experiences all the way to the end of your video to optimize maximum marketing potential.
If viewers click on these areas throughout the experience, they have a variety of opportunities to learn more about the products in the video and even get sent to your online shop.
5) Design your Mock up
Once all of the scenarios and hotspots are mapped out, you will want to create a visual mock-up of the video. These are pictures that show the exact locations where images, text, and hotspots will be located on the interactive video. This is helpful when using the online tools for creation and when embedding other forms of interactive content throughout the video. You don't want to forget this step, because a detailed mock-up will make the process of adding interactivity to your video much easier.
6) Create your Branching Video
With all of the planning done, you are ready to record your video. This is your time to be creative and make a video that has the right message for your target group. All the while, keep your goals in mind to make sure that you fulfill them throughout the video. It is also important to record all of the versions of your video from the different scenarios you offer in the video to make sure that there is a constant flow and that all scenarios have the same start and endpoints.
Upload the video or videos into the editor to edit and add additional interactive content all throughout your video. Use your wireframe to make sure you haven't left anything out.
Next, set an action to each of your hotspots. When you approach part of the video with a question, you want to incorporate a KPI that will signal a CTA button on the screen, allowing viewers to decide in which direction the video will go. These buttons should be easy to see. You can also include a CTA button at the end of the experience that leads to various areas of your website or online store.
Be sure not to keep all of your interactive content in one section of the video. Instead, spread out the experiences to keep your audience interested in what information your video has to offer for longer.
7) Set up Integrations
In order to track your KPIs within the video, you will want to enable the Google Analytics add-on feature. These analytics will help you in knowing more about the popularity of your products and gain insight into what customers like. You can also use them to determine the strengths and weaknesses of your video, which will be helpful when planning future, branching videos.
In addition to that, this is a great time to integrate with other third-party apps like Hubspot, Mailchimp, Pardot, etc., which will help to enhance the functionality of your experience.
8) Publish and Promote your Branching Video
Before you publish your branching video, make sure that the KPIs are set up so that you can evaluate their performance later on. This is also a time to create the metadata for SEO optimization with a meta title and description. Don't forget to include a key phrase in this metadata to optimize SEO on your experience.
Make sure that you have fully researched the best time and place to publish your branching video. Will it be published on a specific landing page or will it be embedded elsewhere? Be sure to place your video when and where your customers will see it!
Decide where the best places will be to promote your video and how. Is this the type of content that would be best promoted with paid media or could you be just as successful with owned or shared media? Whatever you decide, don't forget to include a CTA!
9) Evaluate and Optimize Your Branching Video
After your branching video has been published and promoted, you will want to track the progress of your KPIs in Google Analytics and on the social media platforms where you shared the video. Record data on the effectiveness of the project and look to see what valuable insights you have gained about your customers in order to help you with marketing projects in the future.
In conclusion
Interactive branching videos are the way of the future, and in order for companies to use this new technology to their advantage, they need to make sure their videos are entertaining enough to attract customers and address their needs. Interactive videos can bring the "fun factor" to your experience and give customers more control over how they learn about your products and brand. Give customers a great experience, and they'll come back for more. Let Dot.vu help with that!
How can you get started with Interactive content?
Visit Dot.vu to learn more about branching videos! With our many templates for interactive videos, you are sure to find one that is right for your company. You can also see how other companies have used interactive content to enhance their marketing strategies to give their customers the experiences they want! Visit the Customer Examples section on Dot.vu to find inspiration.
If you would like to see other examples of how you can use interactive content, visit the Dot.vu marketplace to see many other exciting templates. You can also request a demo if you would like more help in the process. Let us show you how Dot.vu can work for you!
---
Subscribe to our blog!
---