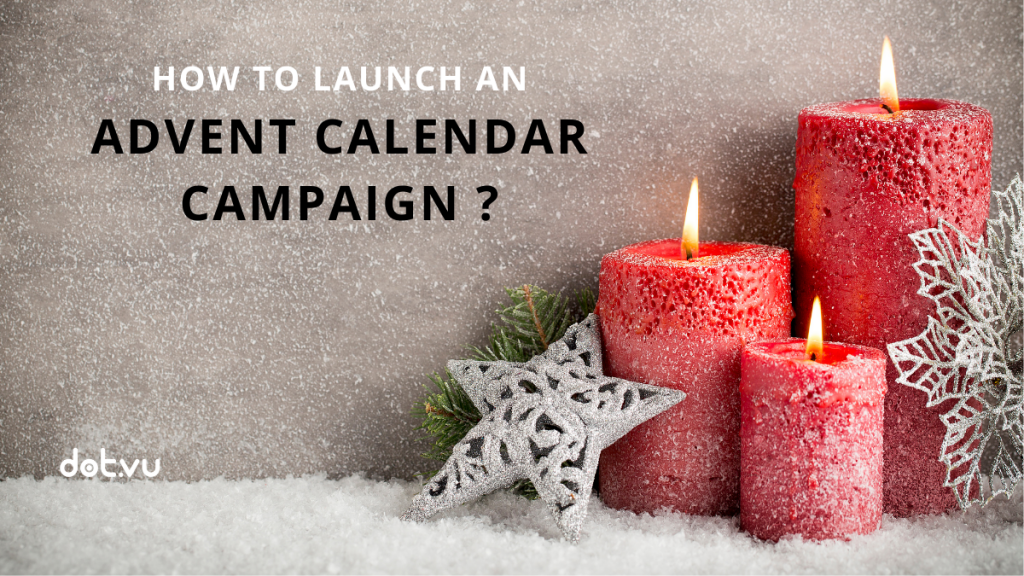 1. Define your objective for your Advent Calendar Campaign
Firstly, you need to define your goal. The Online Advent Calendar campaign is particularly good to achieve several objectives:
Generate more leads and grow your email list

Boost engagement on social media

Promote your products and boost sales

Capture key marketing insights
The more focused your goals are, the more likely it is you will reach them. But who are we to tell you not to aim high. You can pick more than one goal, or even all if you are up for the challenge. Christmas is a time of miracles after all.
Generate more leads and grow your email list with the help of your Advent Calendar Campaign
Your customers have the chance to win a prize or a discount in the Advent Calendar, and that factor creates excitement. Clients are curious about what is waiting for them behind each door.
Because your customers are driven by curiosity, you can throw in an opt-in form and ask them to sign up for your newsletter, blog updates, or other forms of promotion you have running for your company.
In our experience this has worked well with the Advent Calendar campaign; as an example, FlexFunding doubled their email list in 24-days.
Boost social engagement
You can use the Advent Calendar to boost your social media engagement in many ways. For instance, you can encourage people to like, comment, or share the calendar with a simple question like "have you done all your Christmas shopping? This calendar is designed to give you some ideas." You can also include your company's hashtag and encourage people to use it, perhaps to respond to your question and start a debate on Twitter.
Just make sure to double-check with the social media contest rules for each platform. As well as, making a statement that the competition has no link to the platform posted on. You also need to make sure not to require people to like, comment, or share to participate on platforms where it is prohibited. You can encourage it, but not require it.
The Advent Calendar provides you with a lot of social media content. Not only can you promote it often with different angles and questions, but you can also announce the prize each day. Just make sure to include a picture of the different prizes to make it vary. If you give out special prizes, you can tag the winners.
And remember, be sure your posts are engaging, short, and fun!
Promote your products and boost sales
With the Advent Calendar, you are in a unique position to educate your audience about your product.
In our experience, people come back daily for the 24-days, and it gives you 24 opportunities to inform about the qualities of your products. You have four tools to do so on the calendar, but we will get into it in step two.
The Advent Calendar has also proven to increase demand for the products offered on discount. So make sure you have enough in stock.
Capturing key marketing insights and get feedback
In the calendar, you can include questions for each door that your clients need to answer. There, you can ask for feedback on your company or product. In fact, this will make your customers feel like their voice matters and gives you valuable feedback. Even more, the questions need to be easy and quick to respond to. If you are asking for too much it can become too personal and it can put your clients off.
With the Advent Calendar, you can also learn more about your customer's preferences. With this in mind, you can design the questions to gain more data about their needs, pains, preferences, habits, demographics profiles, and more. At the end of the 24-days, you will have grown your email address list and built up a portfolio of your clients' likes and dislikes. Perfect for a personalized email marketing campaign in January!
Relevant: 4 Powerful Ways to Use an Advent Calendar
2. Pick a type of daily activation for your Advent Calendar Campaign
As mentioned before, your Advent Calendar has four options behind each door. You pick one, or two, or mix them all.
Quiz / Image quiz / Video quiz
So, what is common in these is that they all include questions. These quizzes are ideal for educating your clients, ask questions about your industry, and gain critical marketing insight. You can also ask about other things such as Christmas traditions, TV-shows or news to mix it up. Video quiz includes a promotional video from your company. Your audience will engage in the video by answering questions and learn more about your company. They are ideal for promoting your product and educate your audience. Take a look at one here.
Polls
It usually shows four options with pictures and includes one question. It's ideal to ask people what they prefer the most to find out about people's preferences. An example can be 'how do you like your coffee?' And four different options of coffee drinks appear.
Interactive Video
It can appear after each door, including questions or touchpoints which the client can click on for further information, or go directly to a webshop to purchase the product on display.
Games
They can also appear after each door, where the client needs to finish to see the prize behind the door.
Opt-in
It means a lock appears when the client wants to open the first door on the calendar. It asks for email and name without the client having to do anything else like taking a poll or a quiz.
At Dot.vu, we recommend a healthy mixture of those four to make the customer experience vary from day-to-day. You can pick types based on your objectives. If your objective is to find out as much about your client's preferences, then a mixture of quizzes would be the logical choice.

3. Choose your rewards
In this step, you should look at what your company can offer. We recommend these four options:
Discount on your products

Gift cards or vouchers

Your product or service for free

Free consultations or evaluation
It is important to make sure there is a correlation between how much you ask of your clients and how big the reward is. The more time you ask your customer to do, the bigger the reward should be. We do not recommend to ask too much in the Advent Calendar as ideally, you want the client to come back 24 times.
If you choose to give out prizes, you need to decide how many you can afford to give out and how big they should be. You can do a mix of the four options to avoid having to give out too many products. Offer more discounts or vouchers.
Another option is to give out prizes that are not from your company. It can be a ticket to a concert or a conference or a popular product like an iPad. A good advice is to try to stick to your industry if you do that. Say you are a sports company, you should give out sports equipment or a training seminar. Just keep the prize it relevant.
4.Terms of conditions & disclaimers
Every country has its own set of rules, and we recommend you check them out before. You can look at this list below for a couple of things to consider.
Are you running the Advent Calendar in different countries, do different rules apply?

Under any circumstances can the participant be disqualified to participate in the Advent Calendar. Does an employee in your company qualify to participate?

Does the age of the participant determine eligibility?

Can your clients bring the product prize back for money or in exchange for another product?
If you don't want participants to return prizes for cash or other products, make sure to state that. Also, make sure to have an accurate description of the prizes as well to avoid any confusion.
What are people signing up for when they opt-in? It is good practice to state what exactly you opt-in for by participating; such as receiving a newsletter or promotional emails from the company.
Make sure the participants are aware that by taking part in the Advent Calendar they agree to share their contact and other information with the company. It is also good practice to mention the information will not be sold to third parties.
5. Promotion
There are many ways to promote your contest; you can choose one or mix. One thing is for sure; people will not randomly stumble upon it, and you need to promote it.
You can place a banner or a pop-up window on your website or blog. It should include a clear CTA and a direct link to your Advent Calendar landing page.
You can use your existing client list to run an email or SMS campaign. Include a link to the Advent Calendar landing page.
You can use employee signatures, including a small banner below the signature, linking to the Advent Calendar landing page.
Share your Advent calendar on all your social media channels, with a direct link to the landing page.
Organic reach is low on social media these days, to fight it you can run social media ads or boost your posts. Consider setting a small budget aside for the promotion.
Contact influencers in your industry and encourage them to share your contest. You may have a list of bloggers in your industry you work with. This method can be free, but may also require a budget.
If your product is sold through distributor partners, you can ask them to promote it on their social media channels. The cost of this can depend on the business relationship you have.
You can promote in-store if your company has physical stores.
6. Launch and measure results of your Advent Calendar Campaign
Before launch, you can design the Advent Calendar with your company's style. And before you create it you need a couple of things ready:
Your logo

24-prizes, discounts or coupons

24 image for each prize, discounts or coupons, and a description

Catchy title for the Advent Calendar

Text for your opt-in form

Questions prepared for the quiz, videos if you do a video quiz, images for the image quiz, and the poll

Background image if you want to pick your own
Once you have created the contest, you can publish it with a custom domain and embed it in your website or blog.
A good idea is to prepare content to send to the participants when they opt-in. A follow-up email.
To measure your success, you should pick metrics based on your objectives. Here you can see a couple of metrics to measure for each goal we listed above in the blog:
Grow your email lists and generate more opt-ins
Contest form completion rate or conversion rate

Email contacts captures

Number of people who opted-in to receive emails/SMS content from you
Boost social engagement
Traffic to your website coming from social media platforms

Engagement: likes, comments, and shares

Reach

New followers
Promote your products and boost sales
Traffic to your webshop

New purchases from the Calendar

Returning customers from the Advent Calendar
Capturing key marketing insights and get feedback
Number of qualified respondents

Quality of the opinions and feedback

Quality of lead-qualifying data

Ability to segment participants based on data captured about them

Quality of business insights gathered from contest
Altogether, we hope this list was useful to you and helped you in the process of setting up an Advent Calendar. You can get started on your Advent Calendar here at Dot.vu.
Subscribe to our blog!
---