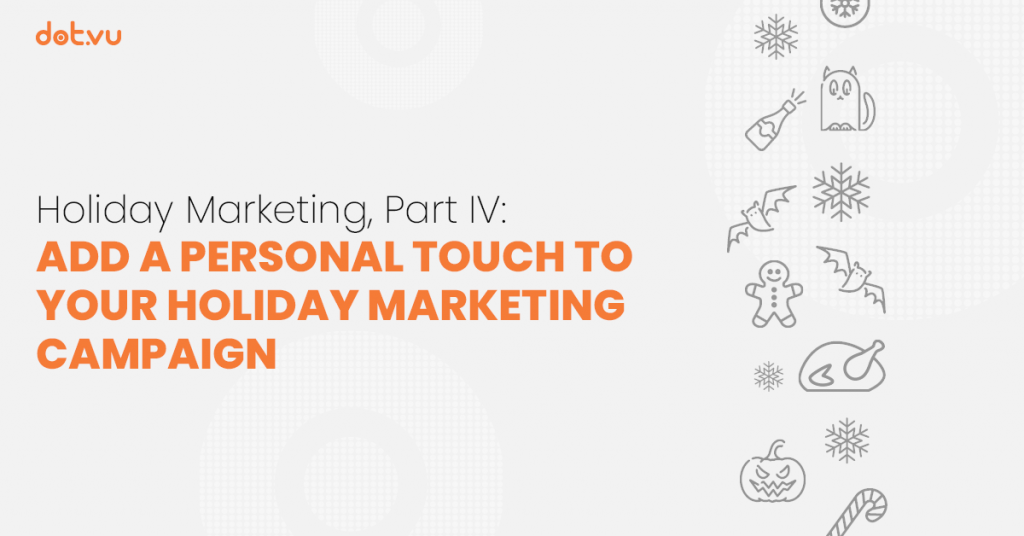 Are you looking for better ways to increase your sales this holiday season? Do you want to differentiate your brand from your competitors? Do you want to improve your personal relationship with your customers?
Naturally, one of the main goals for your holiday marketing can be sales. However, it should not be your only goal, because you could be losing out on a lot. Especially during the holiday season, a thoughtful and personalized communication always wins.
Personalization has become one of the hottest trends in marketing. And today's shoppers want not only to purchase products, but they also demand better experiences with the selling brand. That is what makes them come back for more. Salesforce shows in their article that social commerce is an essential part of a unified online shopping experience. In other words, personalization has a strong or even extreme impact on a company's e-commerce and marketing strategy, and finally, sales.
However, many marketers think that personalization is too expensive, and they need to invest much more to sell more. But behold, marketers out there! This is where you as a marketer could be wrong! Before you spend your entire budget on fireworks and dancing reindeers, consider fine-tuning your basic communication with thoughtfulness and simple personalization.
This blog article will help you to add a personal touch to your marketing campaign this holiday season.
Add a Personal Touch to your Holiday Marketing Campaign
Personalize your Visual Content
Rising above the noise in your customers' information overflooded days is particularly difficult during the widely commercially used holiday season. The solution to this issue could be in form of hyper-personalization combined with images, animated GIFs, and video. Generally, research by the company 3M shows that around 65% of humans are visual learners. Another point made by 3M is that we humans process images 60,000 times faster than plain text. This has proven that personalization, but also visual content is trending and becoming more relevant in marketing.
Thus, utilize the data you collected with your previous marketing activities to personalize your visual content for the holiday season. For instance, a personalized Interactive Virtual Tour can help you reach your customers in a unique way, helping you stand out from the everyday information overload and marketing collateral they see on a regular basis.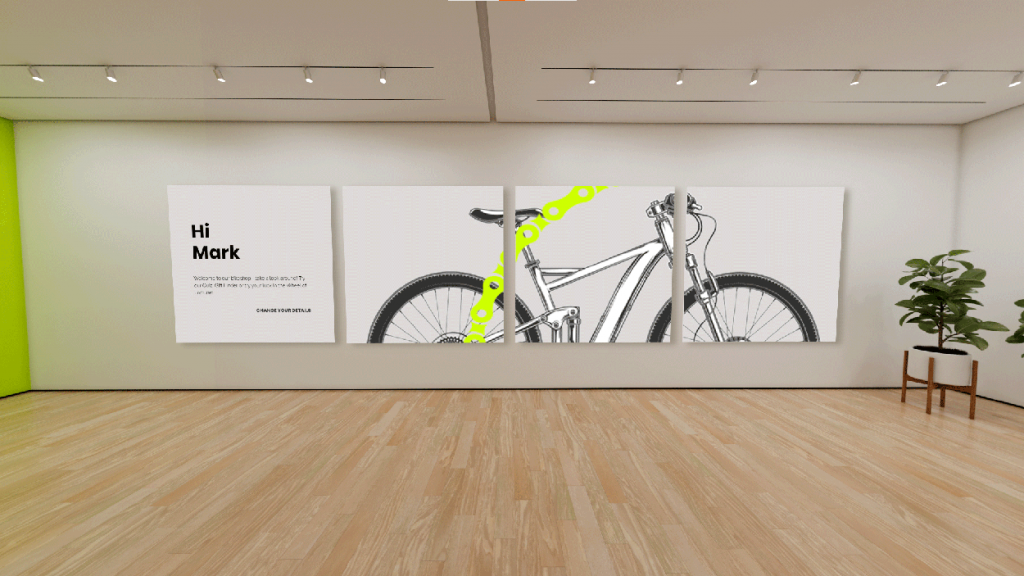 Click the image to experience an Interactive Virtual Tour.
Thank your Customers with Personal Messages
Getting together over the busy holiday season can be a challenge. Thus, you should not forget to send a year's end thank you message to your customers. All your leads and customers would surely appreciate a nice card celebrating the season. However, do not turn your holiday greetings card into a discount code or sales pitch, which is what most companies tend to do. For one moment, try to forget about conversion statistics and all those performance metrics you are meticulously focused on throughout the year. Use this single "Thank you and happy holidays" card to be a bit less serious and simply appreciate the trust and loyalty of your customers. That way, you will be perceived as less of a corporation and more of a human entity.
Engage your Audience with a Personal Video
If a picture speaks 1000 words, a video speaks a million! Personalize your Interactive Video, based on historical data, such as name, birthday, interests, or real-time interactions, such as views or clicks.
While in traditional, impersonal videos, the audience watches passively, an Interactive Video includes and engages them. For instance, your viewers can engage with you in a video through tags and hotspots, or by answering questions. The personal touch will make your customers feel truly valued, increase the likelihood they will tell others about your brand, and keep them coming back for more when they are in a position to buy again.
Click the image to play the Interactive Video.
Invite your Customers to a Holiday-Themed Webinar
The holiday season is the perfect time to truly connect, engage and strengthen the relationship between your brand and your customers. Particularly, a webinar event can drive brand affinity for your company and set you up for more customer retention in the next year.
How about setting up a holiday-themed webinar that is engaging and makes your customers want to spend time with you. Invite them to a fun, casual, and virtual happy hour or any other kind of event. This will allow your customers to get an inside perspective of the people behind your company – instead of simply the product or service. Most importantly, focus on building an event that offers value, and ensures a trusting and long relationship with your customers.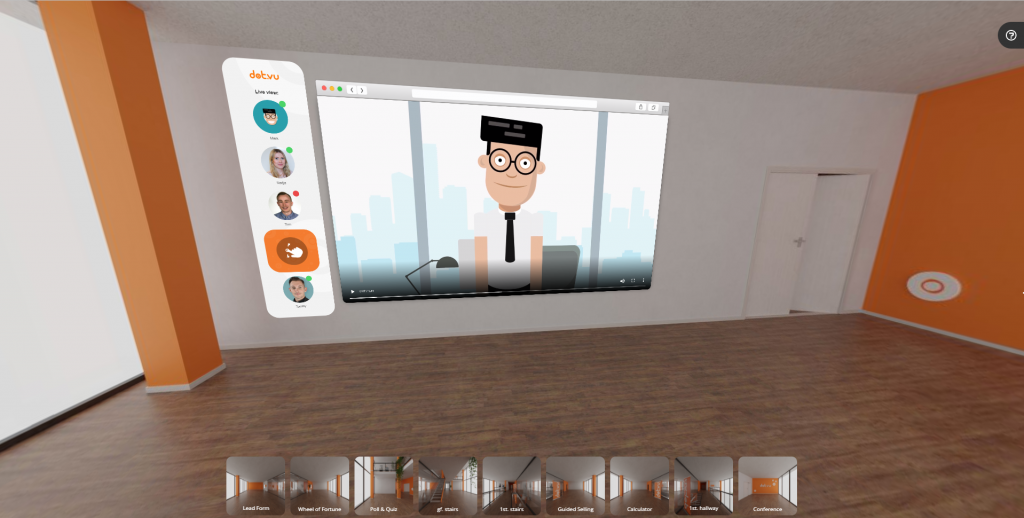 Click the image to get inspired for hosting a webinar.
Work with a Charity
Finally, the holidays are a time of emotions, love, and giving. Particularly, charities use this time to get some fundraising for themselves. For this season's holiday marketing strategy, consider teaming up with a charity for an event like Black Friday. For instance, you could donate a certain percentage of every sale to a specific charity. Another idea is to donate money of the same amount for every product purchased. Also, you can give your customers the chance to do good through the checkout process, donating to the charity you are working with.
Despite which option you are choosing, working with a charity is a good way to increase your brand perception. Most importantly, you do something good for society!
Wrapping It Up (pun intended)
The key to great holiday marketing is to keep your customers in mind during every decision you make. That also means that you should not forget to establish lifetime value with your brand. In other words, whatever you choose to do to create a strong holiday marketing strategy, your brand personality and values should always remain front and center. Moreover, your authenticity will always speak to your audience and create a natural connection, which will shine through all of your messaging and allow you to generate genuine and lasting customer relationships.
On the Dot.vu Marketplace you can discover hundreds of Interactive Content templates. These templates are customizable and will enable you to give your customers a personalized experience with your brand. If you would like to learn more about how to add a personal touch to your marketing campaign, book a meeting with us today!
---
Subscribe to our blog!
---