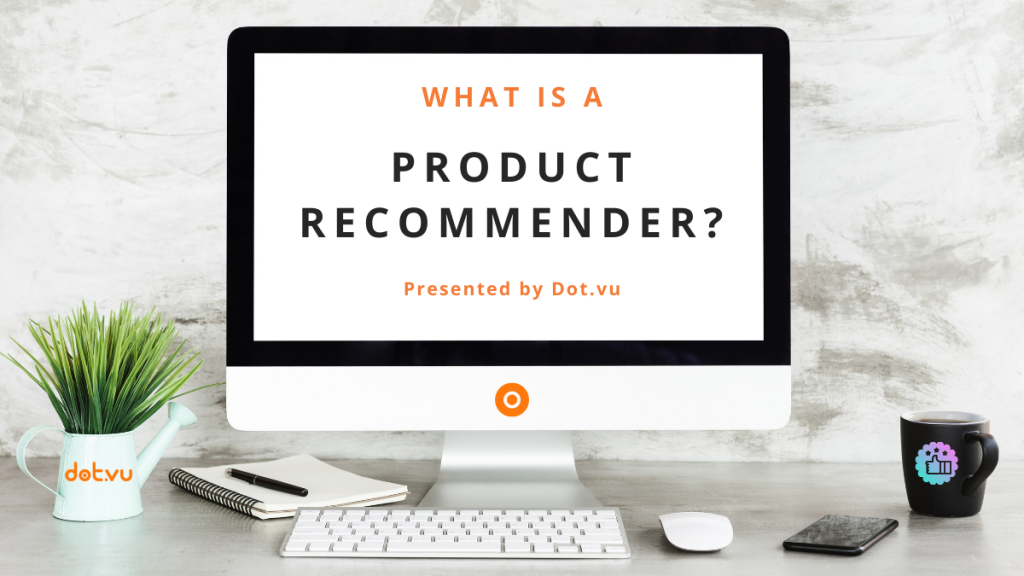 Are you wondering how to satisfy the needs of your customers more efficiently? Especially during these difficult times when there is a significant focus on online. These are radical changes, and it takes a lot to convert your business and achieve more successful online sales. But don't worry, you don't have to look any further because we have numerous solutions for you and one of them is called Product Recommender.
If you feel that you are in a similar position or you simply feel the need to implement something new in your strategy, then stay with me for the next 5 minutes.
In this blog post, you'll find the definition and the most prominent benefits of a Product Recommender. Also, I'll guide you with some of the different approaches you can take with this Interactive Experience. You can decide whether you want to focus on your audience's personality type, style, needs, or a mix of those. If you're interested, stay and learn these tricks that can help you to create a Product Recommender that suits you the best.
The Definition of a Product Recommender
With a Product Recommender, you ask a series of questions from your audience to help them find the right products at the right time. It allows you to uncover the specific needs, characteristics, and preferences of your potential customers.
You might think that this is like a Guided Selling experience, and you are not wrong about that. However, the real difference is that Guided Selling is a big concept that regroups into smaller groups such as Product Recommenders or Solution Builders.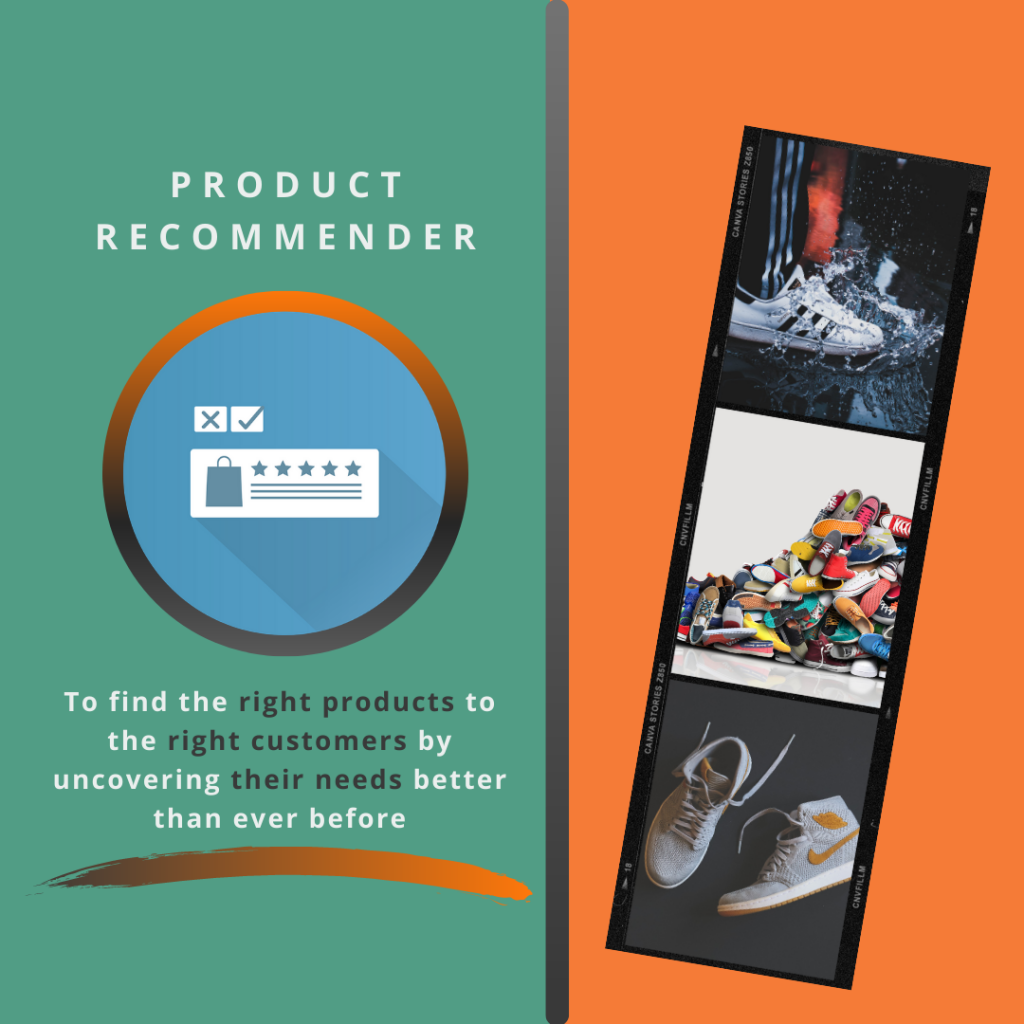 Hence, a Product Recommender is an exceptional experience to offer when you have products for sale in a similar category with similar characteristics.
3 of the most prominent benefits of a Product Recommender
In the next paragraph, you are going to read about the most prominent benefits of a Product Recommender. Hence, you can learn how you can benefit from implementing it in your strategy.
1. Engage and Entertain Your Audience
With a Product Recommender, you get to engage with your audience like you never did before. What you need to do is basically include a series of questions, almost like a quiz in your interactive experience. It will allow you to uncover your potential buyer's needs, such as preferences, characteristics, or different personality types. Based on those answers, you get to recommend a product or some products to potential buyers.
If you design it well, potential buyers won't hesitate to answer your questions and see what you have to offer.
2. Boost Your Sales & Customer Satisfaction
When the questions are designed well, it will help you to uncover their needs. Hence, you will definitely be boosting your sales. Forget about asking your customers to go online to look at your product catalog and trying to make a decision. Instead, you get to impress them by kindly asking questions that will make the decision-making process a whole lot easier.
You can say goodbye to expecting your customers to figure out everything on their own. Or eventually, making them go to one of your physical stores and asking a bunch of questions to be able to decide. You can simply charm them with your well-designed Product Recommender and influence them to make a decision by using it. This way, you get to boost your sales, but you also succeed in increase Customer Satisfaction because you will recommend products that closely fits their needs. So, why not try it?
3. Capture Audience Insights
Well, a Product Recommender is about to uncover your buyer's needs and help them to make a decision. To do that, you'll need to implement a lead form in your experience so that your audience can share their contact information, allowing you to track their responses. With a Product Recommender, you can record every single answer helping you gather valuable insights about them. What an exceptional opportunity for you to learn about your audience, right? Plus, later on, you can successfully send them retargeting emails that promote products you know they like/need.
Examples of the Different Approaches
In this paragraph, I am going to give a quick guide on the different approaches you can take with a Product Recommender. Also, some real product examples just so you can better visualize it. So, let's see them all.
Based on Personality
First, you could, for instance, be recommending clothes based on the several personality types your audience has. So, you could ask questions related to how old they are, their favorite brand, their favorite band, their favorite movie, and so on. The point is to ask basic questions that uncover some of the personal characteristics your potential customer has. After you assign him to a Personality Type you have defined and suggest him products based on this Personality Type. Of course, your Personality Types can be based on your segments and buyer persona.
Take a look at this Program Recommender example based on Personality Types. You need to click on the image to try the Interactive Experence!
Based on Style
The second is to go by style, so you could show them different products and asking them if they like it or not. They can simply swipe to the right or left if they are on their phone or click on the computer, whether they like it or not. For example, you would show a picture of a pair of sneakers, and if your customer likes it, they swipe right. This will give you incredible insights into what they like and what they don't like. As a result, you can recommend the right products to the right person. Isn't that amazing?
Take a look at this Clothes Recommender example based on Style. You need to click on the image to try the Interactive Experence!
Based on Needs
Third and last is to go with more specific questions related to their needs and preferences. Thus, you could ask questions such as what types of clothes you would like to buy? Jeans, dresses or T-shirt? What is your budget? By asking these questions, you will uncover what they came for. Also, the amount of money they are willing to spend. As a result, you can offer them several options that you know will help them make the best decision.
Take a look at this Car Recommender example based on Needs & Preferences. You need to click on the image to try the Interactive Experence!
A Mix of All
Of course, you could also create a questionnaire where you mix questions about styles, personality, and needs to have a complete overview. But, keep in mind, the more question you ask, the more effort it takes to engage with your Product Recommender. So, you want to keep it as short as possible while still being extremely insightful.
On top of the above-mentioned best practices, you can also twist it a bit and add more information to your Product Recommendations. So, let's say a customer filled out your questions. Instead of just recommending a couple of products, you can add social proof to those products. With that, you'll provide an extra layer of awesomeness as you are not only recommending but also including reviews from other customers.
Use a Product Recommender for Your Next Campaign
I hope this blog post was insightful for you, whether you are planning to implement one anytime soon or you just needed some inspiration for the future. Also, when it comes to a Product Recommender think about the different holidays all around the year. Such as Black Friday, Christmas, Valentine's Day because you can easily transform your product Recommender to a Gift Finder.
So, no wonder why a Product Recommender could be one of those Interactive Experiences that can help you out and boost your sales during any of the holidays throughout the entire year.
If you want to learn more about how to create a Product Recommender, feel free to click here to get some inspiration.
---
Subscribe to our blog!
---