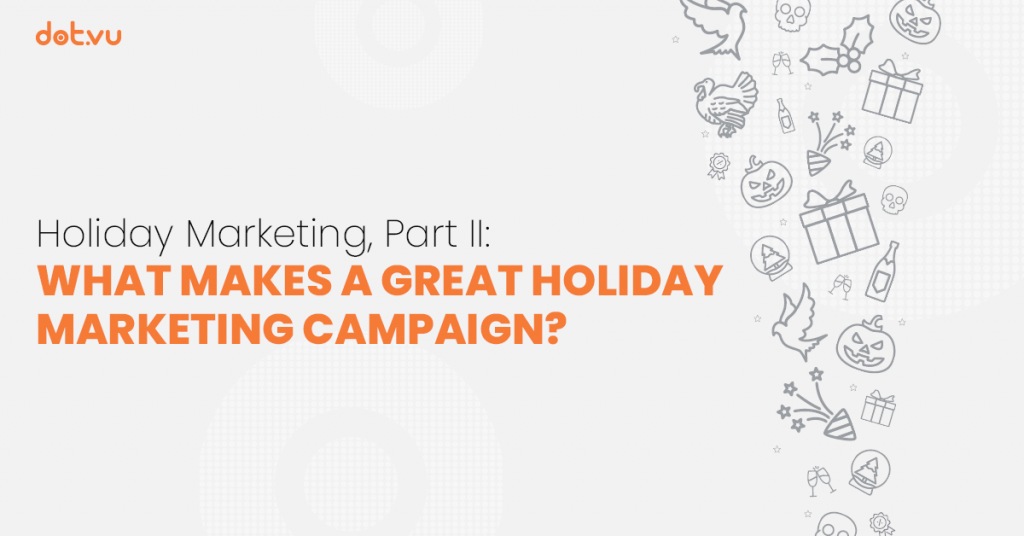 It is an age-old challenge that every marketer must face each year: Approaching the holiday season. In a previous blog article, we gave you some tips on which holiday marketing strategies can boost your sales. This guide will show you some of the factors that make a great holiday marketing campaign.
Especially in the pandemic context, online shopping has significantly increased. According to Statista, over two billion people worldwide purchase goods online. Compared to the previous year, global e-retail sales grew by 27.6%. This shows a clear trend towards more online shopping. And the trend will continue with an expected e-commerce share of 21.8% of the global retail sales in 2024.
Therefore, make the most of this surge and ensure a solid plan is in place for your holiday campaign. However, this is not an easy task, with so many elements to consider. Learn in this blog article more about which elements to consider when creating the best holiday marketing campaign this year.
Before you start, consider this:
Audit previous Holiday Campaigns
Particularly the past years have shown that the behavior of your customers is constantly changing – whether it is because of time or different occasions affecting our society. This change in customer behavior should give you reason enough to look back at the statistics and customer data of your previous years' holiday campaigns. With the insight, you can understand if your customer base has changed and what they now value. Moreover, you can learn where your holiday campaigns performed well, where you won and where there is room for improvement.
Overall, analyzing your previous campaigns will help you avoid making the same or similar mistakes again.
Define your Goals & Plan towards them
A goal is what keeps us learning, improving, and growing. Without a goal, your brand will not see much more sales around the busiest time of the year, and your holiday marketing strategy and the campaign will go to waste. Now you might think: "Well, is it not obvious? Our goal is to make more sales!" But how are you planning to achieve this goal?
The answer is S.M.A.R.T. goals! S.M.A.R.T. is an acronym that stands for specific, measurable, achievable, relevant, and time-based. To jog your memory real quick or to understand what S.M.A.R.T. goals are, briefly head over to Smart Insights.
Your goals are set? Great, then keep on reading what factors make a great holiday marketing campaign.
What Makes a Great Holiday Marketing Campaign?
Global players, such as Google, Disney, and Amazon have created holiday campaigns that evoke customers' emotions instead of adding to the holiday "noise". What do these companies have in common when it comes to their campaigns during the holiday season? They delivered the right content in time to the right target audience and created a valuable experience for their customers.
Content is King
A good holiday marketing strategy should not simply mirror the strategies and content of your competitors. Thus, the key to a great holiday marketing strategy and its campaigns lies in its uniqueness, individuality, and delivering the right message to the right target group. To achieve a great holiday marketing campaign just like these named companies, consider the following:
Use a more Content-Driven Approach
By now, customers are by far much more familiar with the concept of e-commerce and online shopping, as it has been there for more than a quarter of a century. Also, special holiday campaigns, running in the last quarter of the year, have become a more common practice by almost every business. Because of this, customers have become used to being bombarded with special offers and discounted prices from an almost unaccountable number of brands. To cut through the holiday "noise", a more unique and "content-first" approach can help you catch the attention of (potential) customers. Particularly, personalized content is king when it comes to creating efficient holiday campaigns. For instance, personalized shopping experiences, such as gift guides and shopping assistants can be helpful in many ways.
Go Interactive with Your Holiday Content Marketing
The trick of including personalized content in your holiday campaign is not a new concept. However, creating personalized content that is interactive is a new approach only a handful of innovative companies have discovered to be successful. Interactive Content helps you to go beyond the classic approach of just talking to your customers. By creating content that is interactive, your customers are involved, taking action, and being part of your holiday campaign.
There are different types of Interactive Content, and depending on your goals and target audience, you should pick the one that fits best. For instance, an Interactive Advent Calendar is great to motivate your customers to come back every day until Christmas to your website to unlock new surprises and games. By integrating Marketing Games your customers experience some fun, which they will positively relate to your brand. Generally, it is recommendable to combine interactivity with incentives, such as offering discounts, prizes, or free shipping for customers who interact with your content. Your customers will have a fun and positive experience with your brand and be more inclined to make a direct purchase.
Your possibilities of using Interactive Content for your holiday campaign are endless!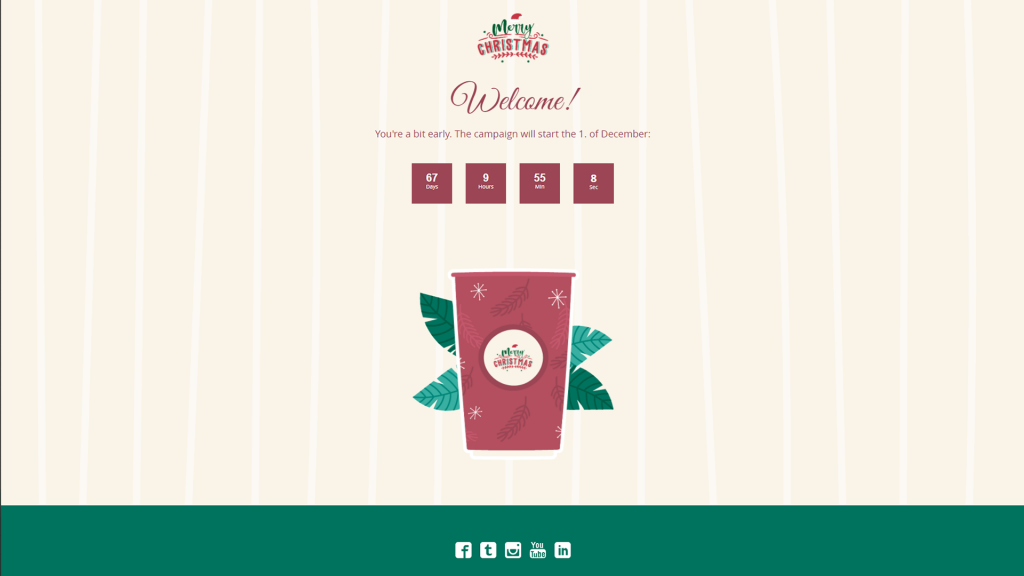 Click the image to try an Interactive Marketing Game yourself
Err on the side of simplicity
It can be easy to be caught up in the hustle of all this holiday strategy, campaign, and content planning. Essentially, the key to keeping calm is to do like the Scandinavians do: err on the side of simplicity. In other words, start in time and small with your holiday marketing campaign planning, especially, if this is your first holiday season as a brand. Additionally, to keep it also simple for your customers, pitch only one idea, one benefit, and one emotion at the same time in each message. The emotion will draft your customers in and will help them remember your brand and products/services. Show your customers what your products/service can provide and how they can benefit.
Share your Holiday Campaign with your Target Audiences
What a dream! You have created your best holiday marketing campaign, yet, and you cannot wait to see how it helped boost your sales. But hold on with the euphoria, because first, it is time to figure out how you will share your holiday campaign with your target audiences. For instance, you could implement some of the following promotion tactics per your channel.
Email Marketing
Think of a specific group that could be interested in your special offers. Well-targeted emails will often take priority over mass messages, as most purchasers have only a limited amount of time to shop. Even if you have identified your recipients, it is important to create relevant and valuable content that catches their attention. When creating your emails, focus your subject line on what your offer solves. The body copy itself should be short and crisp, incorporating personalization to create a better connection with your customers. Do not forget to add call-to-action buttons to your emails that allow your customers to shop away and share your offers with their network.
Social Media
Instagram has started a new trend of offering their business users a chance to sell products via the platform. With this step, Instagram is one of the first social media platforms to adapt to the younger generations' behavior of leveraging social as a shopping tool. Thus, social media are a great way to share your holiday campaign through traditional posts, but also through the shopping experiences, offered by those platforms.
Also, the holiday season provides an interesting opportunity to look for social media platforms you have not tried yet. The reason for this is the fact that your potential customers are looking for inspiration and help – digitally and offline. Nevertheless, remember to switch up your messaging on social media to not repeat the same post over and over again on various platforms.
Blogging
Blog articles are an effective way to attract more customers to your offer and can be approached in different ways. For instance, you could create a simple promotional blog article, which heavily focuses on a quick introduction to the offer, advice on how to use it, and a compelling call-to-action to drive people to your shop. Another example of a type of blog article is the one that simply aligns with its subject matter. Just like this blog article, the storyline should rather focus on the topic in general than actively promote your offers.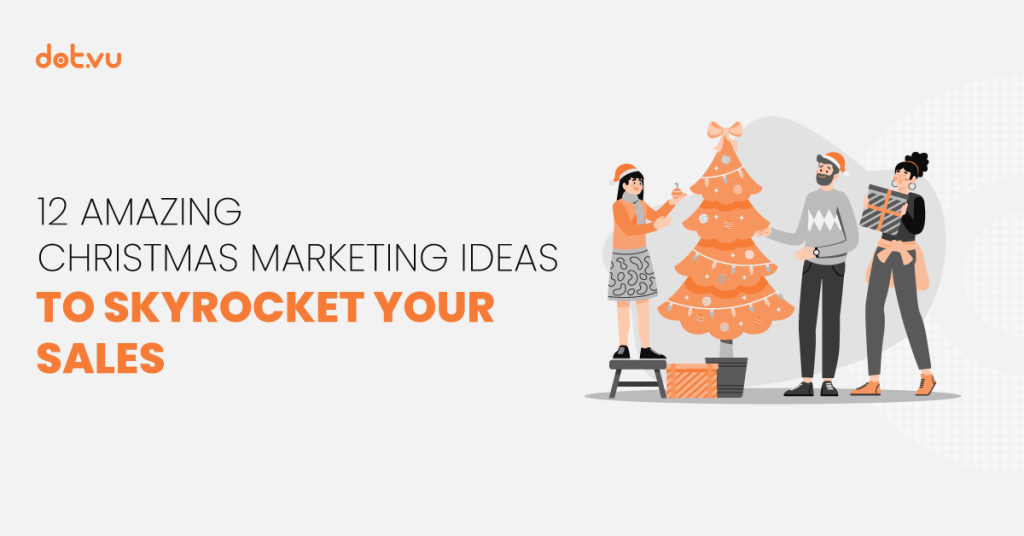 Click the image to read the blog article "12 Amazing Christmas marketing ideas to skyrocket your sales"
Paid Advertising
63% of shopping opportunities begin online, in most cases on Google or Amazon for research purposes. Thus, including paid advertising in the promotion of the holiday marketing campaign, particularly Google Ads, is a must for every marketer. Google Ads – both with text ads and Shopping ads – is essential to attract more clicks and drive sales this holiday season. For advice on how to promote your campaigns through paid advertising across Google Ads and social media check out this article by online advertising expert Wordstream.
Start Crafting your Best Holiday Marketing Campaign
Planning and creating a great holiday marketing campaign requires increasingly more creativity, adaptability, and personality. Content that aligns with your holiday marketing strategy, your brand identity, and addresses your various buyer personas is a must. Interactive Content can help you create the best holiday marketing campaign, which achieves higher engagement rates and boost your sales.
On the Dot.vu marketplace, you can find various holiday-themed templates, which you can use for inspiration or directly customize yourself to get this year's campaign planning started. You are not sure how to create your best holiday marketing campaign with Interactive Content? Request a demo today and we will help you out!
---
Subscribe to our blog!
---