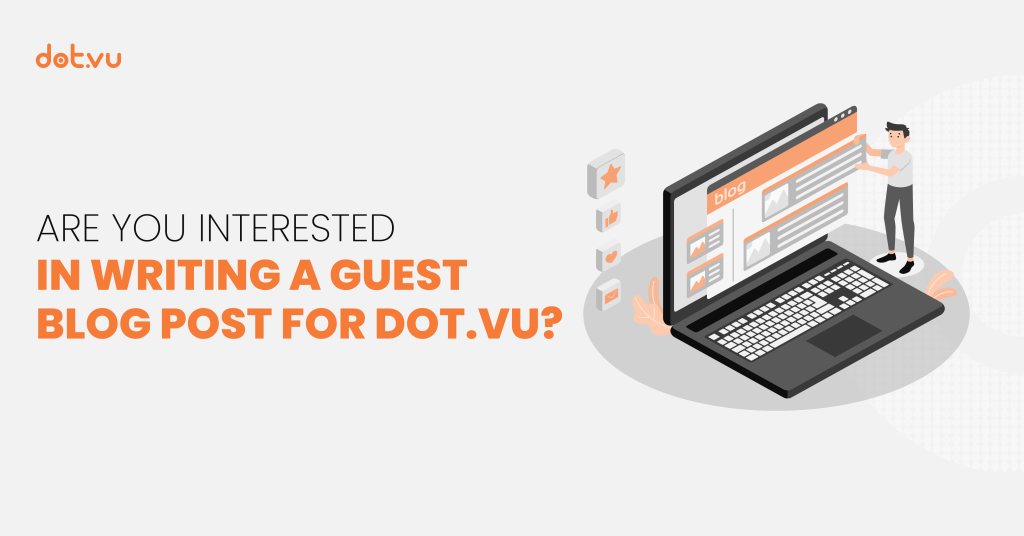 List of Desired Blog Posts Topics
In general, we are happy to receive Guest Posts about the following topics:
Blog posts related to Digital Marketing but in relation to Interactive Content
Blog posts related to a specific Interactive Experience (E.g., Guided Selling, Marketing Games, Interactive Flipbooks, Interactive Virtual Tours, Interactive Infographics, etc.)
While brainstorming, think about these questions:
Will this topic be relevant for Dot.vu's target audience?
Will this post have value for our readers?
Are you qualified to write about this topic?
What difference is there between your article and the other ones about the same topic
Is there already an article on the same subject on blog.dot.vu?
General Guidelines to keep in mind when writing for us
Minimum word count: 1000 words
We use American English
We Don't publish:
Articles that have no value for our readers
Articles that have been posted elsewhere
Articles that have sections or paragraphs copy-paste from elsewhere
Articles focusing on topics we already covered
Articles that were not proofread and contain grammar mistakes
Articles that are not written in a professional way
Articles that are made for the sole purpose of self-promotion
Follow our Content Guidelines
Please, take a look at our Content Guidelines and keep them in mind when writing your Guest Blog post.
Our Purpose
The primary purpose of this blog is to educate our target audience on Interactive Content. We want to teach our target audience how Interactive Experiences can help them achieve their strategic goals.
Our Target Audience
Our target audience is marketers. That includes every position in the marketing department, from the CMO to the copywriters. We also target marketers from every industry – B2C and B2B alike.
However, depending on the topic, some blog posts might have another or a broader target audience such as professionals from the sales department, the Customer Success department, the HR department, and C-Levels.
Our tone
We are positioning ourselves as the Leading Interactive Content Platform – therefore, the tone in your Guest Blogs should highlight that we are experts in Interactive Content. It should be professional, helpful, and trustworthy. However, we also want to appear friendly, as we are always helpful toward our customers. In other words, think approachable experts!
Follow a logical and SEO-optimized structure
The guest blog posts we accept need to follow a clear and SEO-optimized structure (e.g., list-based, how-to, what-is, etc.). It should contain an introduction, a body, and a conclusion.
Keyword Optimization
While we don't accept blog posts solely written for SEO purposes, we also highly encourage our guest bloggers to follow SEO best practices. This means that you have thought about the primary keyword you want your article to rank for. You also listed a list of supporting keywords. Moreover, you have used a keyword research platform such as Ahrefs or Semrush to evaluate the potential of your keywords in terms of difficulty and global volume.
Images
Your blog post must include images or other design elements. We will accept screenshots, graphs, charts, illustrations, etc. But we won't accept stock images. Images that were not created by you or by us need to be cited accordingly.
If you need help creating images, you can make a request at ivanina.topuzova@dot.vu. We will see how we can help you out.
Outbound Links
You must include relevant links to other articles and studies – at least 3 to 5. It is very important that any statistics, quotes, or statements can be retraced to the main source using outbound links. However, we will not accept "do follow" links from our competitors. The anchor texts you use need to be natural and reflect the content of the page it is linked to. Plus, you should only link to websites that are trustworthy and reliable. We will also not accept outbound links only meant for promotional purposes.
Moreover, we will only approve one or 2 links to your website maximum (this includes your homepage, feature pages, blog posts, etc.).
We reserve the right to remove and add outbound links or modify the anchor texts at any time.
Internal Links
You must link to at least 3 to 5 other Dot.vu blog posts in your article.
We reserve the right to remove and add inbound links or modify the anchor texts at any time.
What is the writing process?
This is the usual process we follow regarding Guest Blog posts.
1. Agreement
Before you get started writing a guest post for Dot.vu, make sure to contact us, so we get to an agreement regarding the topic of your blog post.
2. Write a draft
After we have agreed by email about your article's topic, you can start writing a draft. Remember to keep in mind these guidelines. Once you are done, send us your draft by email. It should follow this template
If your draft is approved, we will let you know and move to the next phase. If it's not approved, we will inform you that we cannot proceed with this project.
4. Edits
Once your blog post is approved, we will make the last edits to ensure that your article follows our brand guidelines. If we need something from your side, we will contact you by email.
3. Publishing
We will publish your blog post on our blog 1 to 2 weeks after it has been approved. Then, we will promote it on our social media accounts. We will also send you a link by email so you can promote it as well.
How To Write For us?
You can contact our Creative Copywriter, Ivanina Topuzova, by email at ivanina.topuzova@dot.vu. She is in charge of assessing guest blog requests.
---
---