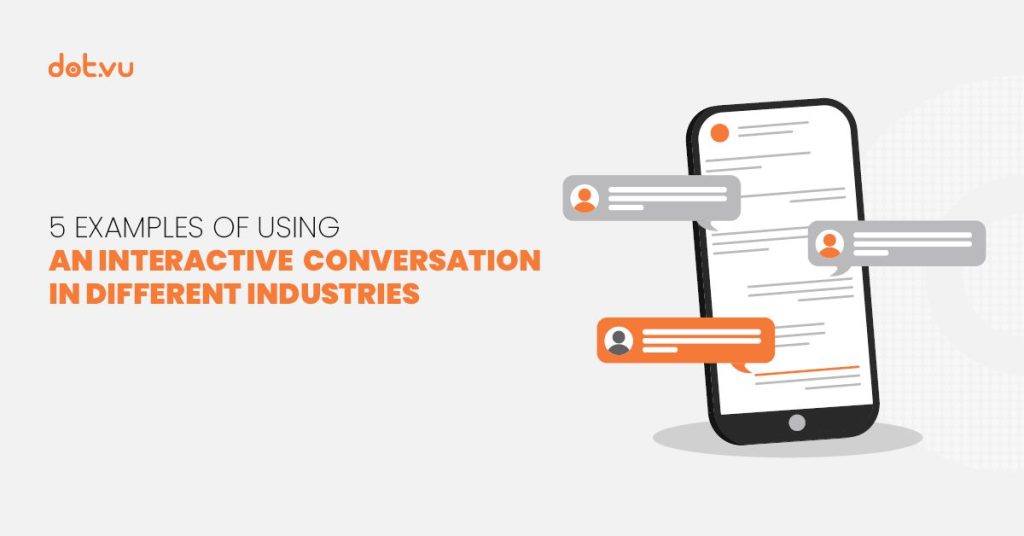 Companies are starting to look for new ways of adding automated customer service to their websites to help customers at any point in the day or night. They want to assure that with their products or services, customers can eliminate pains and gain value. In order to enhance your company's competitive advantage, you need to stand out as a company who cares about helping its customers. See how you can do all of this for your customers with 5 examples of an interactive conversation in different industries.
Sometimes, we all need a little help when we are faced with learning something new or when trying to solve a problem. This is no different when it comes to researching a company during the early stage of the customer journey. Having an interactive experience on your website is a great way to greet visitors. You can also educate them on your brand, product, or services. This experience lets customers feel comfortable with your platform and start to learn what your company has to offer.
This can be true of many different companies in a variety of industries, but don't take my word for it. Let me show you some inspiration. Here are examples of using an Interactive Conversation example in 5 different industries to help assist customers in making important decisions that will affect their buyer behavior.
5 Industries that can Benefit from these Examples of an Interactive Conversation
1) Financial Planning Industry
Interactive Conversations can be used in the banking, financial, or insurance industries. Customers can talk to an interactive bank teller, financial advisor, or insurance agent to get information about money matters. Making a decision to buy from a company in one of these industries can make an impact on the financial future of the customer.
Having an interactive conversation experience embedded on the company's website can often help customers ease into a financial decision that might be confusing to understand or a process that might be intimidating to start.
Interactive Conversations can educate customers into picking the right loan that fits their needs. It can also anticipate pains that the customer might have within this area. An interactive conversation can offer a different approach to helping resolve these issues.
Companies can gate the experience by asking for basic, personal information which can help the program narrow down the customer's options for products and services. At the end, the interactive conversation can offer a call-to-action button in which the customer can get into contact with a professional to make a purchase.
2) Educational Institutions
Educational institutions can use interactive conversations to help those interested in learning more about their schools. For example, an international school could embed an interactive conversation on the main page of its website. It can communicate with potential students, their parents or even with potential new staff members.
Show these target groups what your school is all about while asking them questions to make the conversation fit their purpose. By the end of the conversation, you will have shown them just how your school can fit their needs. By incorporating a call-to-action button, you can direct them to the proper contact person. You can also include a link where customers are directed to the application process.
3) Food and Beverage Industry
Educate customers on how to use your food or beverage product with an interactive conversation. Barry Callebaut's, one of the world's leading producers of quality chocolates, did just that. It used a virtual chef in its experience to communicate customers on how to temper chocolate like a pro.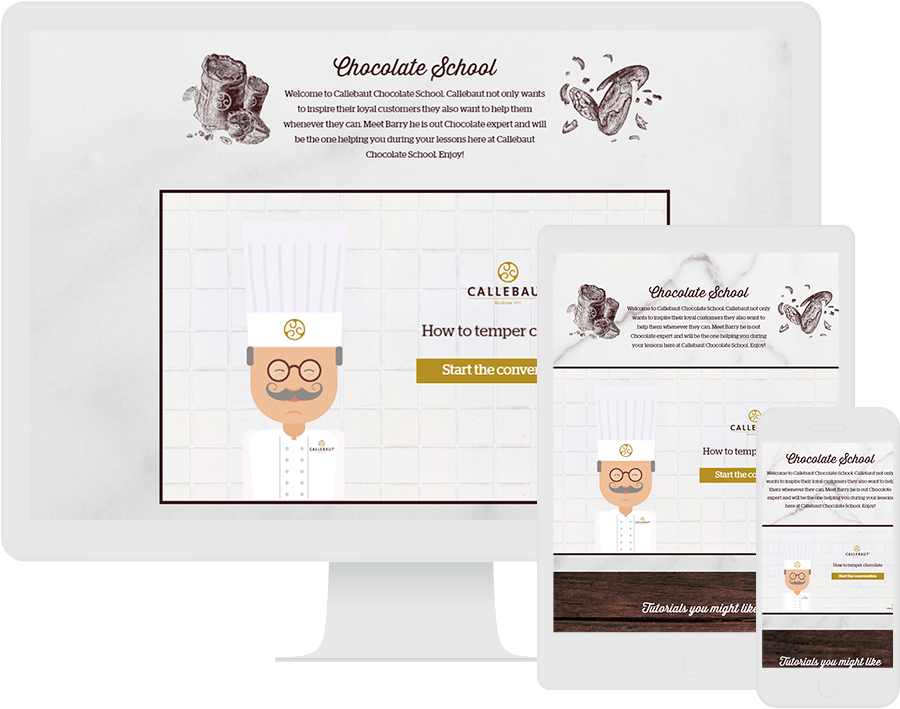 This company used the interactive conversation to lead customers through three different tempering methods in a clear and practical way. The experience gave customers ease of use and entertained them at the same time. Not only were customers staying on their platform for longer, but they also gained valuable experience with products. Therefore, customers formed stronger connection with the brand.
Ask questions to find out at what experience level your customers are with your product. It will help you know which conversation will best suit their needs. You can also tailor the experience to give them information about your products while you learn about your customers through their answers.
4) Tourism and Hospitality Industry
With an interactive conversation, you can help visitors learn more about the travel packages you offer. This will help them plan trips that fit their preferences, travel dates, companions, etc. Use this interactive experience as an opportunity to make travel planning easier. Show customers how your company is the one-stop-shop for all of their needs.
Couples can learn more about romantic getaways, while family planners can learn how your company offers the best packages in kid-friendly destinations. Your customers will appreciate how your interactive conversation has thought of everything when it comes to their anticipated pains. This added support encourages customers to stay on your site for longer because of the value they receive.
5) Retail Industry
Interactive Conversations are great tools to introduce your customers to new products. Within the retail industry, you can embed an interactive conversation onto your website to educate customers. Tell them all about the benefits that the newest versions of your products can offer.  
For example, you are hoping to promote a new product line of cordless vacuum cleaners. By knowing your target groups and anticipating their needs, you can create an interactive conversation with a virtual expert to educate different groups with targeted information on the right products that fit their needs.
Continue to ask questions throughout the experience to make sure that the path your user takes is one that will keep them engaged for longer. You also want to make sure that it will be beneficial for them. With the answers that customers give, you can generate more insight into the preferences of your customers. Furthermore, this will help you with research and development as well as with marketing of these new products.
Get started using these Interactive Conversation Examples
These are just a few examples of an interactive conversation that can bring value to companies in different industries. They allow companies the means of connecting with customers. They also give added value by showing the benefits their products and services can offer.
By giving your customers additional support in their user journey on your website, you do not only have the potential of improving your brand image, but your customers will become more loyal to your company. Furthermore, happy customers are more likely to share their good experience with others who may be looking to have similar concerns go away.
Visit the blog section of Dot.vu! There, read about the benefits of using an Interactive Conversation and how to create your own.
Interactive conversations are not the only Interactive Experiences that can benefit both companies and customers. If you would like more inspiration on other types of Interactive Content, see all the great examples in Dot.vu's marketplace. You can also request a demo if you would like more help in the process. Let us show you how our Interactive Content platform can work for you!
---
---