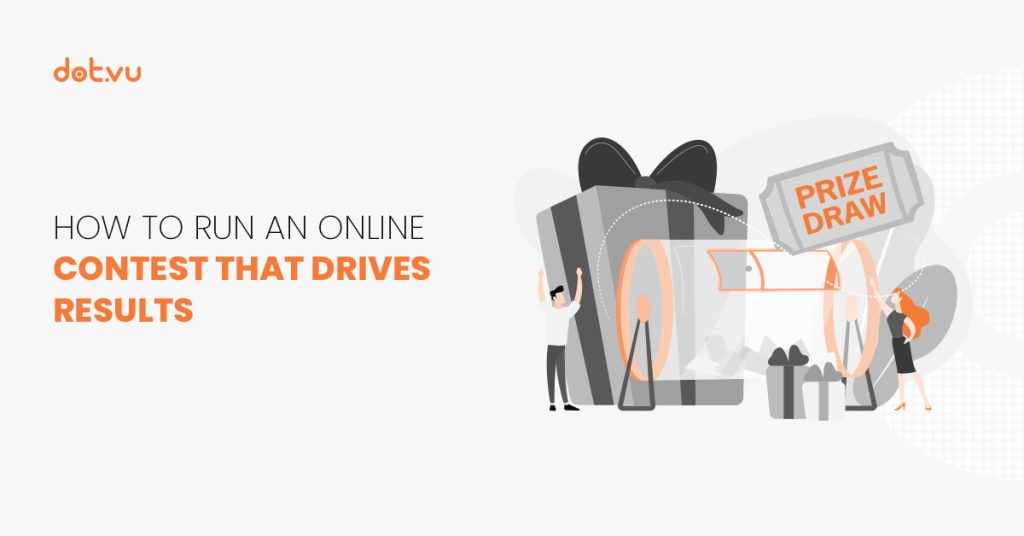 Running an Online Contest can be a great way to engage your audience, increase brand awareness, and generate leads. With the rise of social media and digital marketing, Online Contests have become an effective and popular way to promote products and services. But with so many contests being hosted online, it can be challenging to stand out and create a successful campaign. In this article, we will provide you with a comprehensive guide on running an Online Contest that will help you achieve your goals, whether it is to increase engagement, drive traffic, or boost sales. So, let's dive in and learn how to create an exciting and successful Online Contest.
10 things to consider when making Online Contests
Let's face it, everyone loves the thrill of a contest! But, in order to reap the maximum benefits of interactive contests, marketers need to be careful to avoid a few pitfalls. To ensure that your Online Contest is a hit, don't forget to consider these 10 helpful tips. By keeping these tips in mind, you'll be able to increase customer satisfaction and give your company an extra boost.
1. Making Online Contests worth customers' time
To encourage customer participation and completion in Online Contests, it's essential to create a worthwhile experience. This means providing enough value that customers are willing to invest their time and effort. Here are some considerations for making Online Contests that offer added value to your customers:
Prize value: Ensure that the prize you are offering is worth the amount of time your audience will spend participating in your contest.
Experience: Create a contest that resonates with your audience's preferences and interests to increase engagement and participation.
Time spent: Avoid creating a contest that takes too much time to complete. Instead, aim to design an interactive and fun experience that can be finished quickly.
Winning chances: Customers are more likely to participate if they believe they have a fair shot at winning. Be transparent about the odds and make them reasonable.
Consolidation prize: Customers appreciate being rewarded, even if they don't win the grand prize. Businesses can offer consolidation prizes to all participants to increase customer participation and loyalty.
2. Align Your Online Contest type with your campaign experience
To optimize your interactive contest, it's important to align the campaign experience with the contest type. For instance, a traditional raffle selects winners at the end of the campaign from all entries, whereas an instant-win contest can award new winners every day, incentivizing customers to return to your website. Deciding on the number of prizes, when to award them, and the frequency of entries will guide you in choosing the best campaign experience for the contest.
For instance, an Interactive Quiz typically expects customers to answer questions once during the contest period. The key to determining which type of experience will be best to engage your audience. Dot.vu has many great experiences on our online marketplace. If you are struggling to visualize which experience could be best for your customers, have a look at the templates and examples we have to offer to help you decide.
3. Check contest legality
It's crucial to consider various legal obligations depending on your company's location. These may include marketing, contract, GDPR, and cookie policies. Having a comprehensive "terms and conditions" page for your contest can demonstrate your compliance with local and international laws. Additionally, you should be aware of gambling laws in your area. To ensure that your campaign adheres to the law, it's essential to research the regulations applicable to your country and determine what types of prize giveaways are permissible.
4. Add a pre-signup page
Want to make your contest even more exciting? Try adding a pre-signup landing page! This will help create buzz and awareness leading up to the launch of your contest. Plus, you can share the landing page on your social media platforms to get even more engagement from your customers. It's a win-win! Just make sure to let your customers know how you plan on using their information in the future.
5. Send daily reminders
Keep your customers engaged even after they've signed up for the contest by sending them daily reminders throughout the duration of the campaign. With automated emails, you can easily schedule and send links to participate in the contest multiple times a day. This not only generates more brand awareness but also keeps your customers interested in what you have to offer. Make sure your customers don't miss out on all the excitement and fun, send those daily reminders!
Related: How to automate targeted emails
6. Continuous promotion is key throughout the campaign
Where and how will you be promoting your Online Contest? It's important to have a solid plan that not only focuses on the duration of the contest, but also before and after it goes live. Consider all of the best possible places to promote your campaign, such as specific social media platforms that can lead to your Interactive Content. You can even remarket the campaign with a paid post or encourage followers to share or tag friends on their own social media pages. This is your chance to get creative and generate even more buzz and excitement around your brand.
7. Avoid duplicate lead forms
Make it easy for your customers to enter your Online Contest! Nobody wants to spend their time filling out the same form multiple times. By only asking customers to fill out a lead form once, you can ensure a better user experience and increase customer satisfaction. Happy customers are more likely to engage with your content. So make sure to streamline the entry process and make it as simple as possible.
8. Consider future reactivation using collected data
By collecting basic information from your customers through lead forms during your Online Contest, you can use this data to send out personalized promotional materials in the future. You can also make your interactive contest more engaging by incorporating questions about your customers' preferences or asking them to choose their favorite product. This helps you understand your customers better and tailor your future campaigns accordingly. Don't miss out on this opportunity to create a lasting relationship with your customers!
9. Add a valuable end-campaign CTA
Don't miss the chance to use a Call to Action (CTA) in your Online Contest! It's a powerful way to grow your email list and boost conversions. Make sure to clearly state what you want your customers to do at the end of the contest, whether it's visiting your website, following you on social media, or using a discount code. This will help you achieve your goals and create a better experience for your customers.
10. Integrate with analytics tools
Make sure to connect your Online Contest with the analytical tools you're already using. This will provide you with valuable insights about the demographics of your visitors, their behavior, and the sources that lead to the most conversions on your site. Analyzing this data will help you create more targeted campaigns in the future, resulting in better engagement and higher conversion rates.
After taking these 10 tips into consideration with your own plan, you are ready to run your very own Online Contest! We will guide you through the process of running a successful Online Contest. We will cover everything from brainstorming ideas and setting goals to executing and promoting your contest, as well as analyzing the results and using them to improve your future campaigns. So, let's dive in and learn how to run an Online Contest!
Step by step: How to run an Online Contest that drives results?
Step 1: Define your objective
Let's start with the most crucial aspect of running an Online Contest – setting your goals. Without a clear understanding of what you want to achieve, your efforts in executing, promoting, and measuring the contest could all go to waste. So, ask yourself – what do you want to accomplish through this contest? It could be one or more of the following, but keep in mind not to pick too many. Try to choose 1 primary objective and 1-2 secondary objectives from this list:
Grow your email list/generate opt-ins
Increase brand awareness
Boost social engagement
Promote your products
Get opinions/feedback
Capture rich audience data & insights
Step 2: Pick an Online Contest
There are tons of Online Contest ideas to choose from depending on what you're hoping to achieve.
1. Basic Contest opt-in
Engage your audience and grow your email list with Online Contests that offer amazing prizes while collecting contact information. Dot.vu's Personality Test with Content Opt-in template is a prime example of how you can engage with your audience and offer them a fun and Interactive Experience that also provides a chance to win a prize.
This is a great opportunity to expand your email list and generate leads while giving your audience a memorable experience. By connecting with potential customers, everyone wins – they get a chance to score big and you get to grow your business.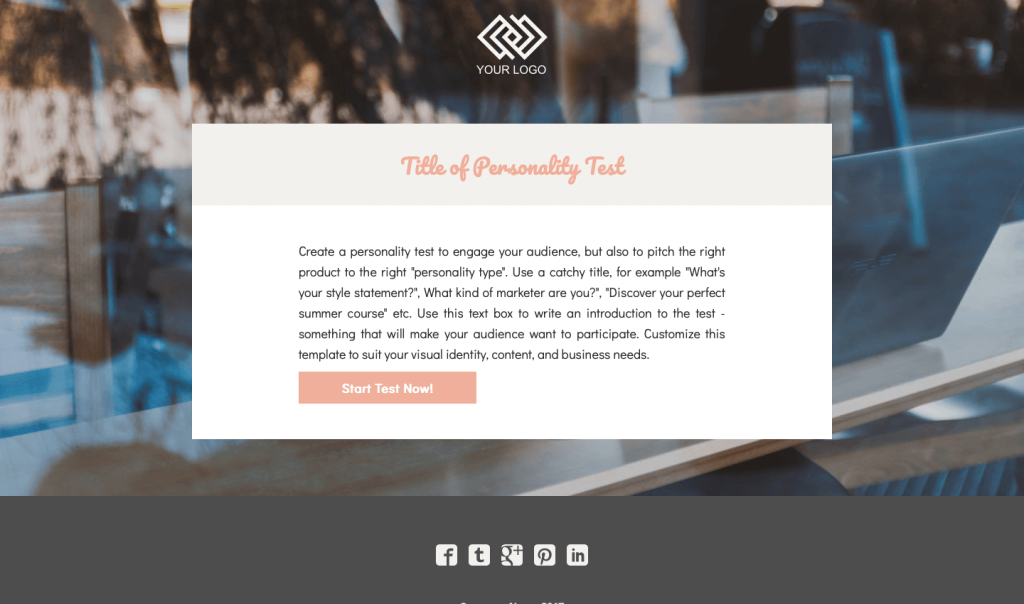 2. Quiz Contest
Challenge your audience's knowledge and engage with them through quiz contests! With the Quiz with Leaderboard contest template, you can create a unique and customizable quiz that's related to your brand or industry.
Participants can take the quiz and compete against each other on a leaderboard to win exciting prizes or rewards. This interactive contest not only promotes your brand but also educates your audience about your products or services.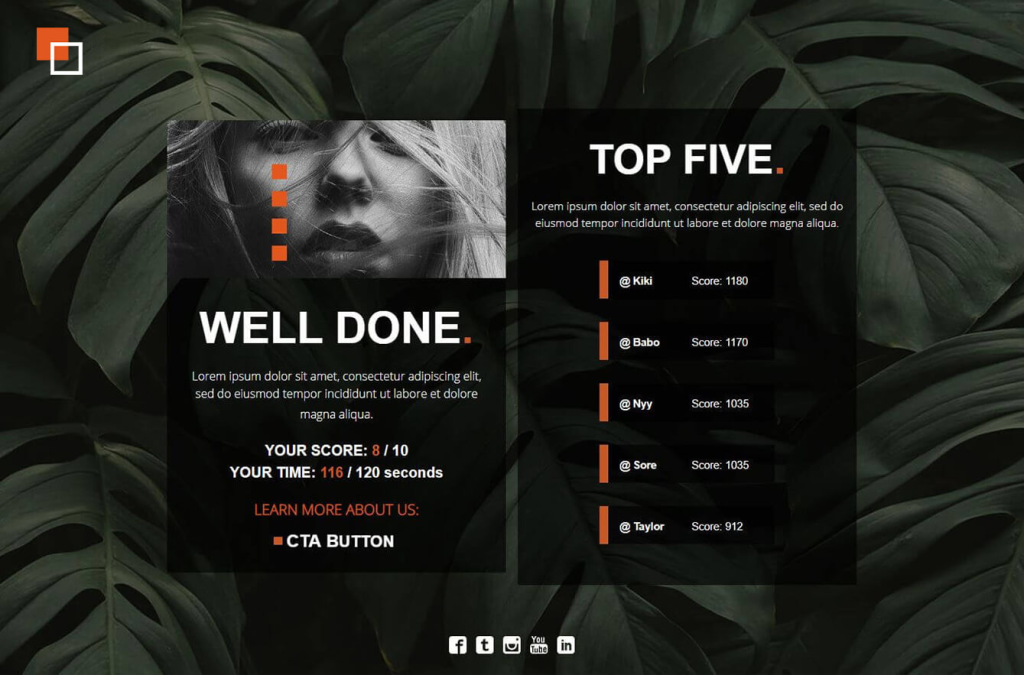 3. Video Quiz Contest
Adding a quiz contest to your promotional video is a great way to incentivize your audience to watch it and engage with your brand. By incorporating a "contest element," you can effectively convert viewers into potential leads for your email distribution lists.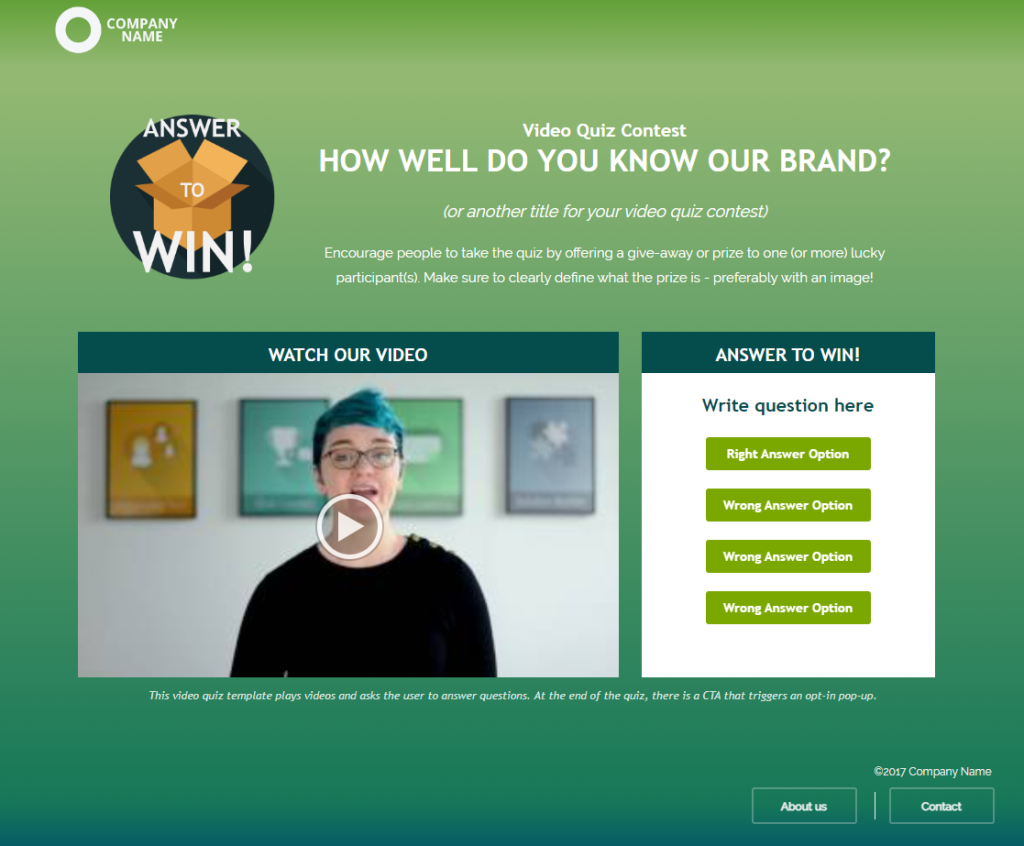 4. Feedback Contest
Using a feedback contest is a great way to gather valuable insights and engage with your audience. Participants can submit their feedback in the form of text, images, or videos, depending on the type of contest.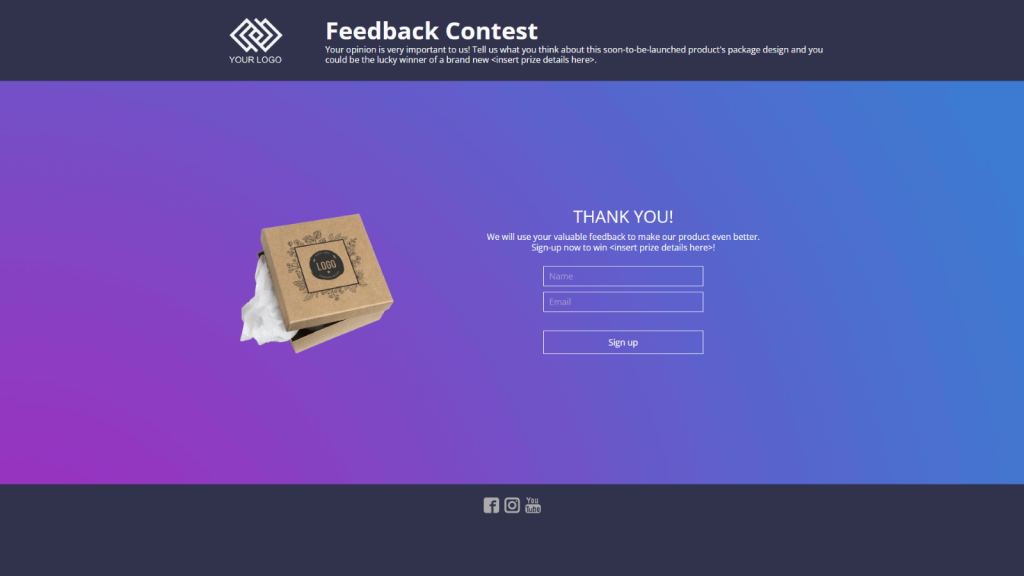 5. Vote-to-Enter Contest
A Vote-to-Enter contest is an Online Contest where participants are required to vote for their favorite product or service from a list in order to enter the contest. This type of contest is a great way to engage your audience and encourage them to interact with your brand or product. Each question is followed by immediate feedback. Therefore, you will be educating the participant about each topic or point.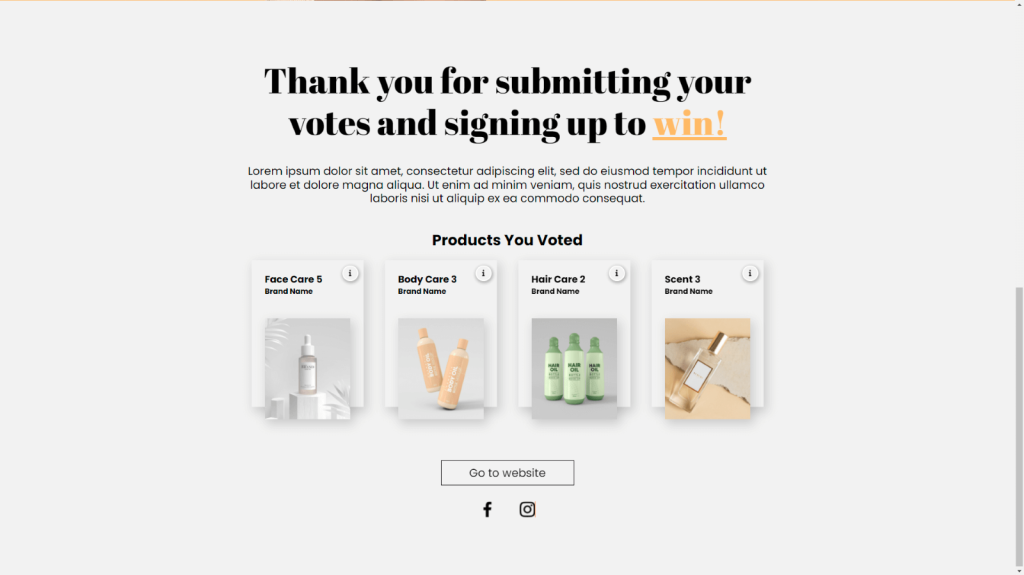 6. Refer-a-Friend Contest
Increase the reach of your brand while engaging with your existing audience with a Refer-a-Friend contest. In this type of contest, you encourage your followers to share the contest with their friends, family, and colleagues. When their friends sign up for the contest, both the referrer and the referred participant are rewarded with a prize.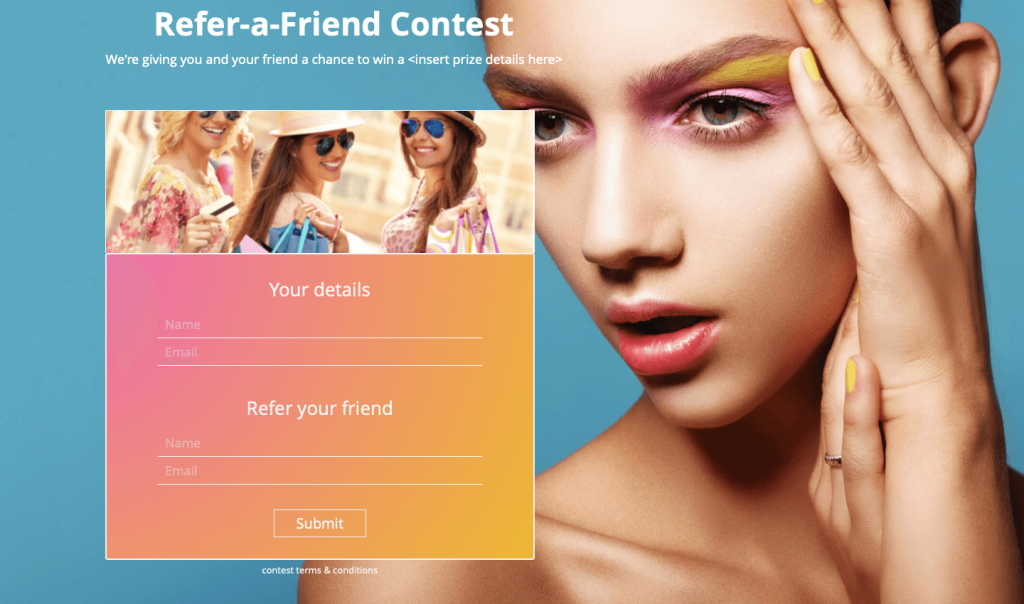 7. Extra Entry Points Contest
Participants can enter the contest by providing basic information like their name and email address. But, by providing additional details such as their phone number and address, they will gain extra entry points and increase their chance of winning the prize. This contest is a great way to gather valuable information about your participants, while also making the contest more exciting and rewarding for them.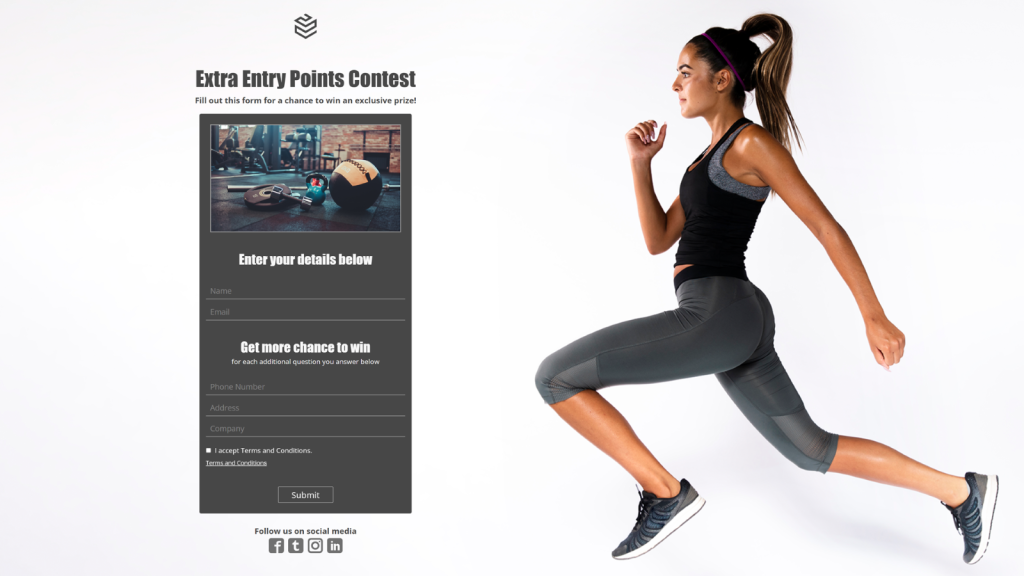 8. Educational Quiz Contest
With this type of contest, you can create a fun and Interactive Quiz that not only tests your audience's knowledge but also teaches them about your company, products, or area of expertise. And the best part? Each question is followed by immediate feedback, so participants can learn as they play. Your audience gets to learn something new, and you get to promote your brand in an engaging way. So why not give it a try?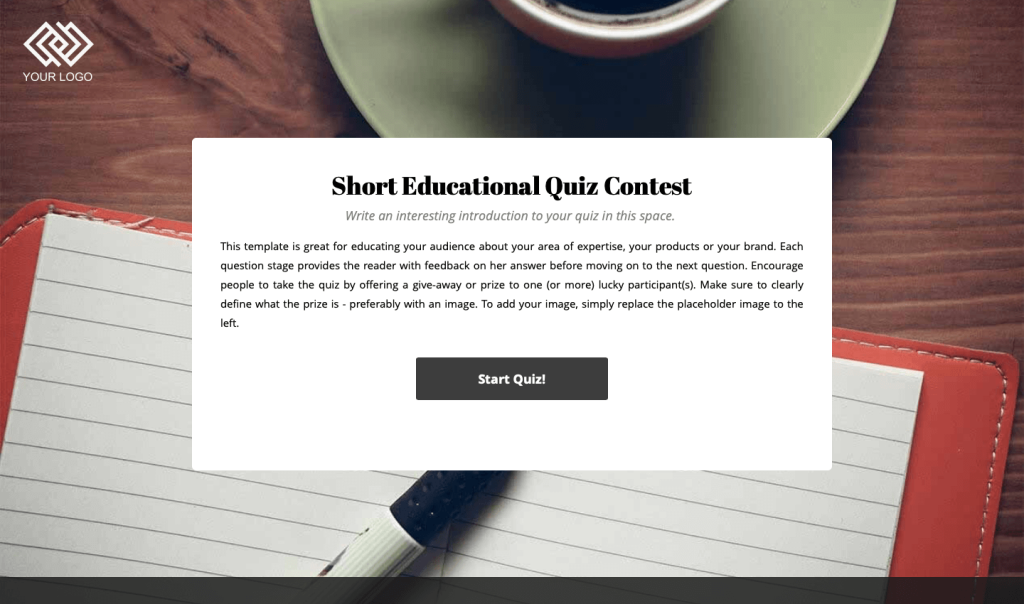 Step 3: Select contest rewards
The reward or prize you offer is a significant factor in attracting participants to your Online Contest. Hence, it's essential to carefully select your reward model. Here are some key considerations to keep in mind when choosing the reward model for your Online Contest:
1. Prize value
Your prize or giveaway should be proportional to the effort required from participants. If you're asking people to spend time or provide personal information, make sure the prize is worth it.
2. Number of winners
Decide whether you want to have one grand prize winner, multiple winners, or even reward everyone who participates with a guaranteed prize.
3. Qualifying criteria
Clearly communicate the qualifying criteria for the contest. What does a person need to do to have a chance to win? Do they need to complete a quiz, share a post, or answer a question? Make sure your requirements are clear and easy to understand.
4. Prize ideas
When it comes to choosing a prize for your Online Contest, it's important to select something that will motivate your audience to participate.
Here are some prize ideas you can consider:
Offering your own products or services,
Gift cards or vouchers,
Discounts, or
Free consultations or evaluations.
Step 4: Define legal rules and terms
To ensure a smooth and successful contest, it's crucial to be transparent about the rules and terms of the game. While different countries have their unique set of regulations when it comes to contests, some of the most common ones that you must define include:
Eligibility requirements
The contest time frame
The prize and return policy
Judging criteria
Winner notice details
Winner response deadline
Use of personal data
Subscription to email and/or SMS list
Step 5: Promote Online Contest
If you're planning an Online Contest, having a solid promotion strategy is crucial to ensure its success. Simply creating the contest isn't enough; you need to make sure that people know about it and are excited to participate. Here are some effective ways to promote your Online Contest and get the word out to your target audience:
1. Your website or blog
Grab the attention of your website visitors with a banner or pop–up that leads directly to your contest landing page.
2. Email/SMS campaign
Send an email blast to your subscribers or use an SMS campaign to reach customers on their phones with a link to your contest page.
3. Employee signatures
Encourage your colleagues to add a banner linking to your contest under their email signature for the duration of the contest.
4. Your social media pages
Promote your contest on your social media pages and create a custom hashtag to encourage participants to share their entry.
5. Social media ads
Consider setting aside a budget for paid promotion on social media platforms like Facebook, which have low organic reach rates.
6. Influencers/brand advocates
Reach out to influencers and brand advocates in your industry to share your contest with their followers. Consider offering an incentive to increase participation.
7. Distributor partnerships
Collaborate with distributors to promote your contest through their channels, depending on your relationship and agreements with them.
Remember, a well-planned promotion strategy is key to boosting engagement and making your Online Contest a success.
Step 6: Measure Online Contest Launch
1. Pick and customize a template
Choose a template that fits your Online Contest and customize it to match your brand identity.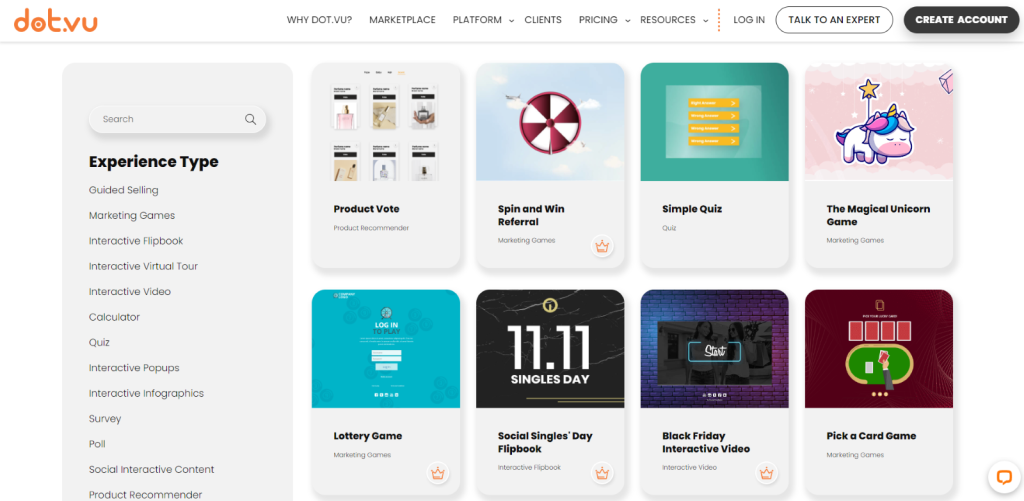 2. Prepare your content
Make sure to have all the necessary elements for your contest such as your logo, prize image and description, attention-grabbing title, contest introduction, opt-in form, content, and thank you message. Also, plan for follow-up emails or SMS.
3. Publish your contest landing page
Launch your contest after organizing your promotional content, imagery, and banners or videos.
4. Promote your contest
Plan and organize your promotional content, imagery, and banners or videos to promote your contest on various platforms.
5. Define and measure metrics
Choose the metrics that matter to you such as contest form completion rate, email contacts, amount of traffic to your contest landing page, etc.
6. Learn and repeat
Analyze your contest and measure the success. Consider what value your contest created, if it met your objective(s), yielded a good return-on-investment, and what aspects were successful. Identify what you would do differently next time and implement changes.
Creating an engaging Online Contest can be easy and fun if you follow these steps. Don't forget to learn from each contest to make the next one even better!
Contests: A surefire way to engage
Looking to ramp up engagement and captivate your audience with your Online Contest? Look no further than Dot.vu's contest management features! Nothing grabs attention quite like a good contest, and Dot.vu has everything you need to create, manage, and reward contests that keep your audience coming back for more. With traditional draws, instant-win options, and much more, our draw addon provides unparalleled flexibility for your contest needs.
Behold, here is a list of the incredible features that make Dot.vu the ultimate platform for Online Contests!
1. Contest management
Use the draw addon to easily manage your games, contests, and prizes on Dot.vu.
Related: How to setup a draw
2. Traditional contests
Create traditional contests with the draw addon where winners are drawn at the end of a predefined period.
3. Instant-win contests 
By using the draw addon, you can instantly notify your customers whether they have won a prize or not.
Related: Creating an instant-win game
4. Standard draw
Create a standard draw on Dot.vu where participants can win one of many prizes.
5. Stepped draw
Use the stepped draw feature to offer consolation prizes to participants who don't win the main prize.
6. Configure prize availability
Use the draw addon to configure prize availability and limit the amount of stock available for each prize.
Related: Configure prize amounts
7. Configure prize probabilities
Determine the probability of winning each prize on Dot.vu with the draw addon.
Related: Prize probabilities
8. Discount code management
Upload a list of discount codes and issue them automatically as prizes with the draw addon.
9. Limit participation
Choose how many times a visitor can participate in your contest with Dot.vu's limit participation feature.
10. Contest time management
Preset the start and end times for your contest and use time zones for easy management on Dot.vu.
11. Automatic prize distribution
Automatically increase the probability of winning a prize to ensure all prizes are distributed during a specific period.
12. Exclusive contests
Create exclusive contests that can only be accessed with a code.
13. Intelligent lead form
Allow visitors from your CRM system to skip the lead form and participate directly with Dot.vu's intelligent lead form feature.
Let the games begin! It's time to launch your own Online Contest.
Launching an Online Contest can be a powerful tool for businesses to engage with their audience, increase brand awareness, and achieve various marketing objectives. By following the steps outlined in this guide, businesses can create a successful Online Contest that not only generates excitement and engagement but also gathers valuable data and insights.
With Dot.vu, you can easily create a custom Online Contest that perfectly suits your needs and objectives. From choosing a template and preparing your content, to publishing your landing page and promoting your contest, we've got you covered every step of the way. And the best part? You can sign up for a free account with Dot.vu today and get started right away. Don't wait – unleash your creativity and launch an unforgettable Online Contest that will leave your audience wanting more.
---