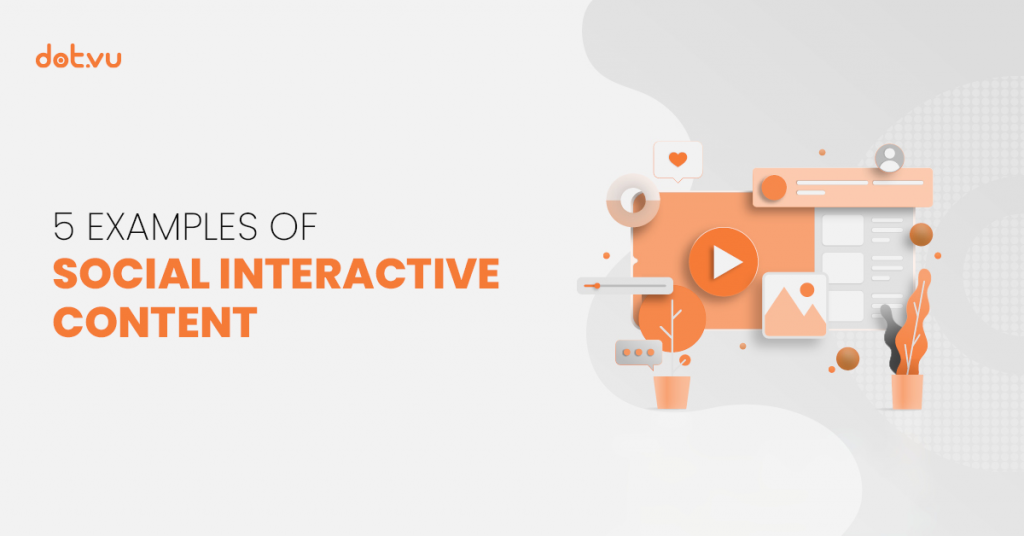 Examples of Social Interactive Content are a great way to be effectively mixing Interactive Content with social dimensions. It is a type of content that engages with your audience in branded interactive experiences and motivates them to share it with their friends. Social interactive Content is a dazzling opportunity for you to boost your referral marketing.
Also, you probably know this, but people are far more likely to buy products from a business that is referred by people who they know and have a relationship with, such as friends and family. Social interactive content is a new rising star that you must consider implementing in your strategy.
In this blog post, to learn the ropes of this concept, I thought it would be a great idea to present 5 Examples of Social Interactive Content.
5 Examples of Social Interactive Content
The goal of this blog post is to give you some ideas about the various context in which you can implement this type of interactive experience.
1. Personalized love story with a gift
This concept is fantastic for Valentine's Day. Your customers could create their personalized stories and share them with their beloved ones to make Valentine's Day a memorable moment. Besides, add a gift card that will help you incentivize participation and ensure a better customer experience. Any remarkable experiences you create like this one will have a positive impact on your brand image.
The idea behind this concept is to pursue love and care for your customers. Show them how much you care about their love story. By creating a personalized love story, you offer your customers a remarkable experience. So, instead of explicitly promoting your products and trying to boost your sales, you are also showing your customers that you care. These benefits help you to gain a competitive advantage against your competitors.
2. Shareable Mystery Boxes
With mystery boxes, you play around with the power of surprises. With this simple concept, you can encourage your customers to create and share a mystery box that holds a secret prize with their friends. Incentivize shares through rewards like loyalty points, discount codes, and so on.
These examples of Social Interactive Content can be an exceptional opportunity on Single's Day. The point is that single friends could surprise each other with something meaningful. Of course, shareable mystery boxes can be implemented as a campaign any time throughout the year. But it is nice if you have any additional reason that can be added as an extra layer of awesomeness to your interactive experience.
Some of the most prominent benefits of this experience are promoting your products and boosting your sales. It also contributes to creating a positive impact on your brand. Also, growing your email list as you can gate your interactive experience with a lead form.
3. Social Marketing Games
Activate your customers with a fun game where friends can cooperate or challenge each other for a chance to win prizes. Marketing Games are terrific to incentivize participation as they use the power of gamification. People love to play and have a fun experience. On top of that, you'll also stimulate the playful and competitive nature of your audience. These examples of Social Interactive content are no brainer. They are one of the primary and most effective way to get your campaign off the start.
Since marketing games are so powerful, they'll help you to effectively promote your products and boost your sales. Also, to grow your email list as participation would require your participants to share their contact information that would finally allow you to effectively learn about your customers by collecting important first-party and zero-party data.  
4. Personal Video Greeting
With these examples of Social Interactive content, you let your customers choose between several types of video messages. Plus, they can enrich the experience by adding pictures and names of their friends to it. Imagine adding this experience to your Christmas marketing campaign. Your participants could create a personal video for their beloved ones with whom they cannot spend the Christmas holidays this year due to the global pandemic. If you are looking for more inspiration, have a look at these 12 Christmas marketing ideas to boost sales during the holidays.
It is a sensational opportunity for you to show how much you care about your customers. In exchange for participation, you can reward every participant with discounts or prizes. As a result, your customers will sincerely remember your brand as a company that contributed to making their holiday spirits high and happy.
Also, it gives an outstanding opportunity to take advantage of some of the most prominent benefits. You'd be effectively learning about your customers by capturing key insights about them. What's more, it'll also help you to extend your email list as sharing the personal video would require them to share essential contact information with you. Consequently, with the combination of these benefits, you'll be able to boost your sales. Get started! You won't regret it!
5. Selfie Card
Have people take a selfie and enrich it with a fun scratch card that their friends can scratch for a chance to win a prize. You can reward your participants with loyalty points, discount codes, and so on. That way, you make sure that everyone who participates is rewarded and their friends also have a chance to win something.
This is another exceptional opportunity for you to promote your products and boost your sales. Besides, you'll be able to extend your email list that you can use later on the send personalized emails.
To conclude this blog post,
Social Interactive Content is a great way to broaden your audience and reach new customers. Also, because people usually tend to have friends with the same values or tastes as themselves, you'll likely reach the right type of customers. Amazing, isn't it?
Find more inspiration on the Dot.vu marketplace. Or book a meeting today, and let us show what Dot.vu can do for you!
---