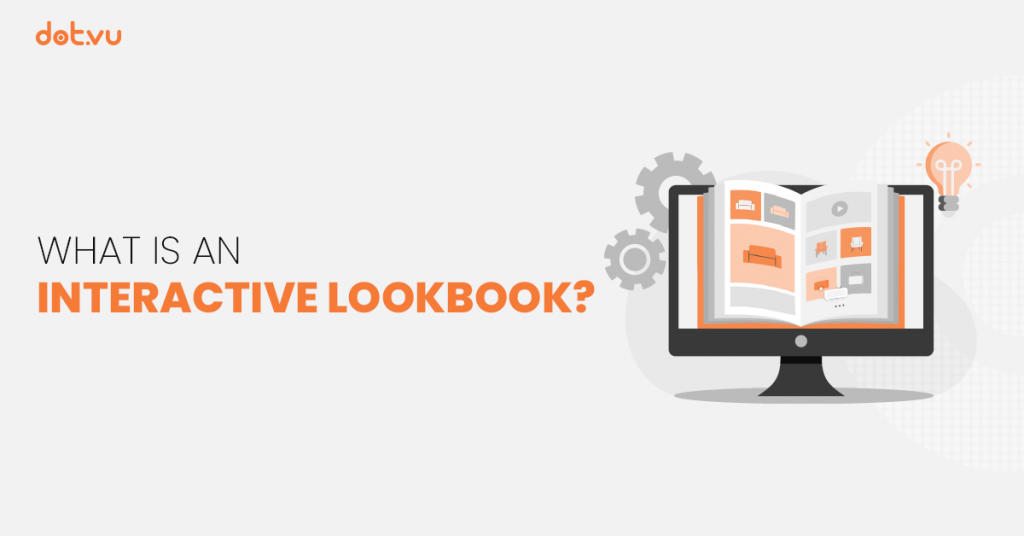 Hi there! Are you selling online? And wondering how to convert more of your visitors into customers? If so, don't look any further because I am here to help you. Here at Dot.vu, we have various types of Interactive Experiences to help you give that extra layer of attractiveness that will make you stand out from the competition.
Static and boring content is the past, and interactivity is the future. Especially during these difficult times when we face a global pandemic, and it is super challenging to generate profits. The ones that aren't agile will fall out, and those who can live with these opportunities will arise. Suppose you fail to create a connection with your customers. In that case, you're likely not going to produce any better than the average of a 3% conversion rate, according to WordStream.    
For this reason, I hope you have a couple of minutes to spare because I cannot wait to share some of the most prominent characteristics of an Interactive Lookbook. You can use an Interactive Lookbook to grow your brand and your sales.
In this blog post, I will cover the following topics:
What is an Interactive Lookbook?
An Interactive Lookbook is an Interactive Experience in which your brand can display its products and offerings in a highly visual and interactive way. Interactive Lookbooks are a part of a broader Interactive Content type called Interactive Flipbooks. If you want to learn more, read our ultimate Interactive Flipbook guide.
Lookbooks are suitable for the fashion and sports industries. The purpose here is to drive visitors to your website and your products directly into their shopping carts. Typical interactive elements in a lookbook are interactive product images, hotpots, shoppable videos, shopping quizzes, and more.
So, the point is to cut the clutter and engage with your audience on an entirely different level. What that means is you are going to display highly immersive visual experiences for your audience. Visual content not only makes it easier for people to remember, but it is also great for generating more views, clicks, and conversions. According to an article on Venture Harbour, 46% of marketers say photography is critical to their current marketing and storytelling strategies. So, why not play around with that and add that extra layer of content? That way, you interact and engage with your audience like never before.
Let's say that you are in the e-commerce business in the fashion industry. It is a brutally competitive market, so you can only be successful if you know what your customers want. On top of that, it is indispensable to find the right tools to market your products. Also, to create a vibe around your brand that will make it remarkable. Otherwise, you will have a static website with no charm and temptation. So, in such a case, you wonder how to spice things up and turn your luck around. Well, an Interactive Lookbook could be one of those tools that you implement in your strategy.
To make it simple, just imagine an online magazine with your products in it except that your audience can interact with it. They can click on the products, learn more about them, and directly add them to the basket. All this happens in a highly immersed environment that you need to make sure it is designed well so that people will get tempted by what you show them. Don't forget, this way, your audience will be influenced by multiple senses, so they are getting an entire experience instead of just browsing through your static catalog and trying to make a decision based on that.
4 Most prominent reasons to create an Interactive Lookbook
As of now, you will be reading about the most exceptional benefits of this Interactive Experience. You will get some inspiration for creating fashion lookbooks that convert!
Promote your products & boost sales
If your primary goal is to boost your sales, then look no further. Why? Because an Interactive Lookbook is highly visual, it will be more tempting for your audience to stay on your website vs. on static websites. Also, as a result, people will be more willing to purchase from your site as they get a better way of imagining your products by displaying them in a highly immersed environment. Interactive Lookbooks should be made shoppable, so you must include clickable buttons where your audience can directly add products to their basket and purchase them instantly. The simpler you make it, the easier it will be for you to convince them about choosing your products over your competitors' ones.
Increase brand awareness
When you offer something unique and outstanding to your industry, you will create some buzz around your brand and collections. It would help if you made it easily shareable so you can drive organic engagement around your brand. Word of mouth is an essential element here, as that will be your No.1 driver to generate more traffic to your website.
Another reason is that younger audiences crave digital experiences. Did you know that 67% of Millennials and 73% of Generation Z prefer to shop online, according to Voltagead? Also, they primarily look for brand authenticity and demand shopping experiences. Plus, Generation Z alone commands 40% of the market. That is crazy, right?
Positively impact your brand image
With an Interactive Lookbook, you get a fantastic opportunity to make your overall brand designs more visible. With that in mind, you should focus on your target audience and consider their nature and uniqueness when designing your Lookbook. As a result, you can positively impact how your target audience sees you as a brand. If your concept is good enough, they will remember you, which is the biggest wish you can dream about coming true.
Grow your email list
Whenever you have sales discounts to offer your audience, don't forget to gate them with a lead form. As a result, your potential customers will need to opt in and share their contact information with you in exchange for unlocking the discounts. Thus, you can grow your email list with an Interactive Lookbook and collect insights about your customers that you can use later to send personalized offers.
If your Lookbook is well-designed, your potential customers won't hesitate to share their contact information. Moreover, they will be happy to engage and spread the word about your brand. Trust me; we have seen it numerous times here at Dot.vu! 
What is lookbook in fashion?
Interactive Lookbooks are particularly suitable for the fashion industry. To promote products, you can display your seasonal fashion collection in a highly engaging way. Adding interactive elements to your digital lookbook will encourage your target audience to interact with your product offerings. Product images, shoppable videos, and shoppable quizzes will make your visitors more confident in their choice. As a result, you will increase your sales.
Of course, you can also use lookbooks for other industries. For example, you can boost your beauty industry marketing with Interactive Lookbooks.
How to create a lookbook?
You can easily make a lookbook with lookbook software. Upload your product catalog and align the design with your brand identity. To make your lookbook interactive, add Interactive Experiences. Product images, shoppable videos, and quizzes can be great choices to promote your products. Remember that the more your visitors interact with your brand, the more loyal they become. Therefore, you need to make sure to provide an experience that will engage your audience.  
Our Interactive Content platform has a drag & drop editor that allows you to create a lookbook with Interactive Experiences without writing a single line of code. Follow these steps:
Upload your current lookbook or fashion catalog to our editor.
Add photos and product information whenever necessary.
Add Interactive Experiences to drive engagement. We recommend shoppable videos, quizzes, and Marketing Games.
Three Interactive Lookbook examples to drive customer engagement
Looking for inspiration? I have three stunning lookbook examples for your company!
Interactive E-Magazine
An Interactive E-Magazine enables you to promote featured products. You can customize the Interactive E-Magazine based on a product feed or a CSV. This Interactive Experience is suitable for the retail, food, and sports industries.
Interactive Magazine
Make your magazines come to life with interactive elements. To drive customer engagement, you can add as many experiences as you need. Discover customers' preferences with a quiz, distribute discount codes with games, or encourage participation with contests – the choice is all yours!
Lookbook with Opt-in form
This lookbook example allows you to educate your readers on how to use your products. The opt-in form is a bonus that helps you grow your customer base and email lists.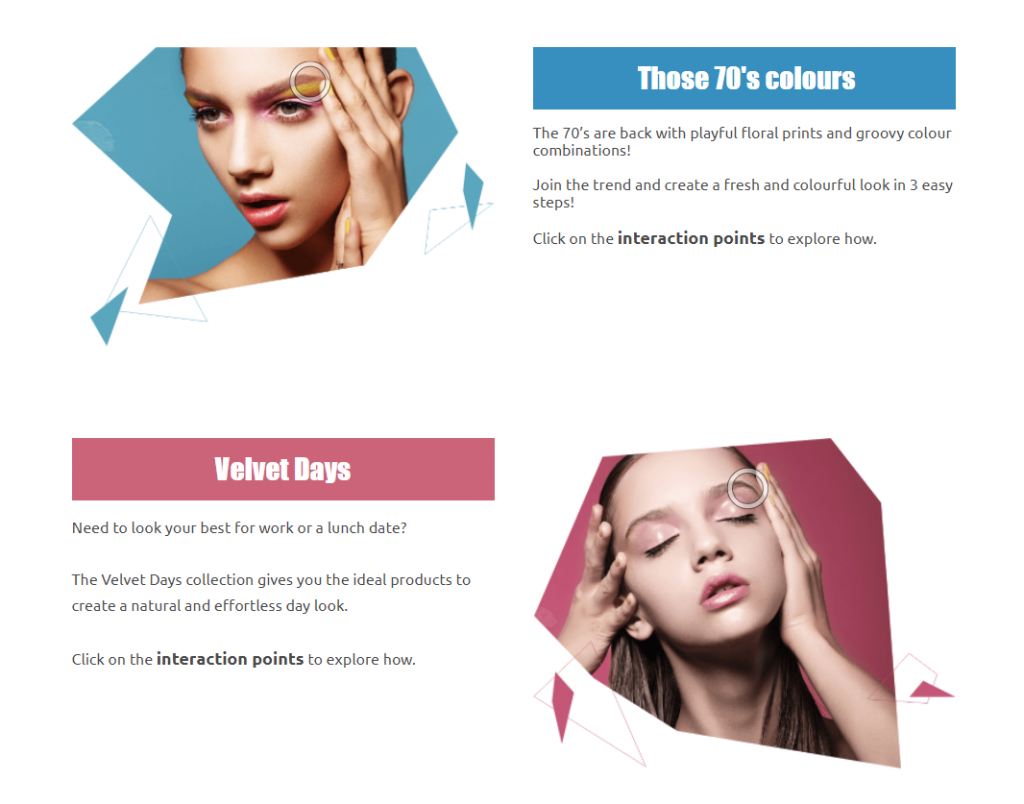 Increase your sales with an Interactive Lookbook!
By showing real-life scenarios, lookbooks will allow you to create memorable experiences and a stronger emotional connection with your audiences. I am referring here to Paco Underhill (Psychologist and author of "Why We Buy") saying, that there is a need to appeal to multiple senses to increase sales.
The psychological behavior mentioned about human nature will definitely prove itself when you implement an Interactive Lookbook in your strategy. Shopping becomes an experience, not just a search, and your audience will not overlook that. That is just how we are!

Explore Dot.vu, the perfect platform if you are looking for a versatile flipbook solution! Our customizable templates enable you to create an extraordinary Interactive Lookbook that will amaze your audience.
---