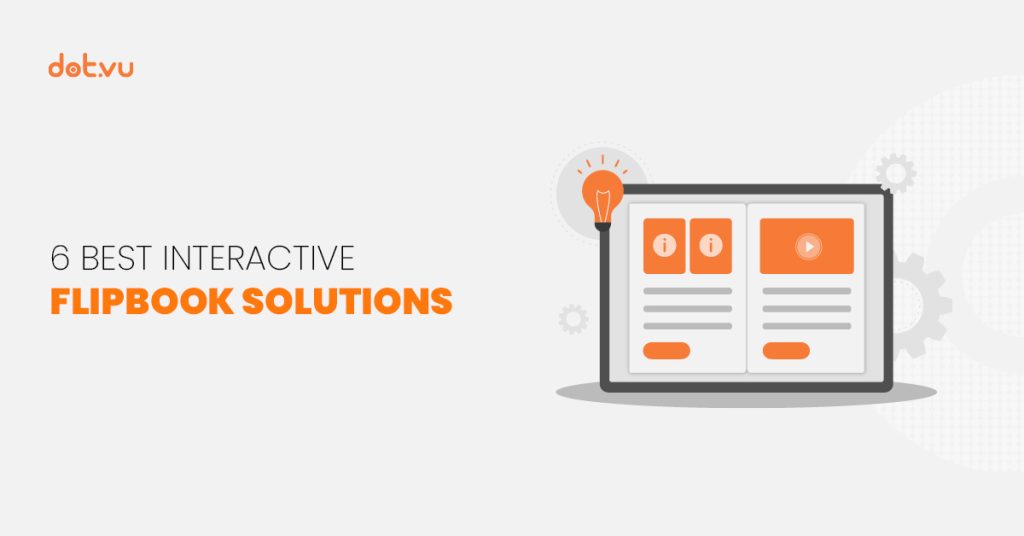 Flipbooks are engaging and visually appealing. They enable businesses to increase brand awareness, boost customer engagement, and capture valuable customer insights. Compared to PDFs, flipbooks offer readers a better content experience and give content creators much more scope than PDFs.
Flipbook software saves you time in creating embeddable flipbooks for websites. Users can upload preselected images through a PDF or presentation file and convert them into an interactive image scroll for a website.
Interactive Flipbooks are becoming a popular digital tool to communicate with readers and customers. As a result of that, you can find an increasing number of solutions in the market. That's a lot of options to sieve through!
In this blog post, we'll save you time by giving you an overview of the 6 best Interactive Flipbook solutions. You'll get insights into specific features that are super important when it comes to flipbook creation.
What is an Interactive Flipbook?
A flipbook is a digital piece of content that resembles a physical book. Readers can turn the pages and flip through like an actual book or magazine. An Interactive Flipbook gives the reader an even better Interactive Experience. Interactive Flipbooks contain engaging elements like Marketing Games, videos, and quizzes. These encourage readers to interact with the digital flipbook and, thus, your brand.
Learn more: What is an Interactive Flipbook?
Interactive Flipbooks – The future of publishing
Digital publishing has changed the world. Now you can get publications like newspapers, magazines and books in digital form. At the same time, readers are increasingly mobile-first. So why not just stick to PDFs which are also digital? Here's why:
Flipbooks are visually appealing
Easy to design
Its interactivity attracts more readers
Able to add in elements like videos, quizzes, and even virtual tours
Supports links and can integrate into your sales funnel
Cost effective
Related: The ultimate Interactive Flipbook guide
6 Best Interactive Flipbook solutions 
Here are the 6 top Interactive Flipbook solutions. We'll focus on the four main features that are key in deciding which flipbook maker is the best for your business.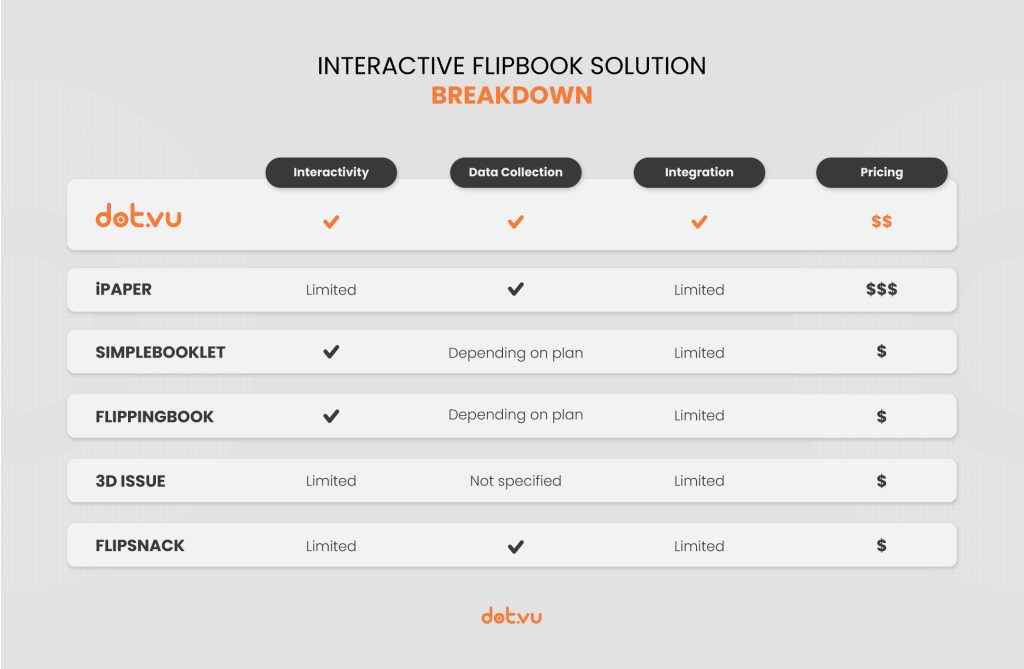 1. Dot.vu  
Interactive Flipbook solutions by Dot.vu is more than just a simple online solution that enables you to flip pages. You can exponentially increase your engagement by adding Interactive Elements such as quizzes, videos, games, and clickable buttons.
As a contemporary flipbook solution, Dot.vu constantly innovates and presents concepts that can help change how we think about interactivity and raise it to a whole new level.  
Click on the flipbook below to immerse yourself in the Interactive Experience!
Here, we featured educational content that showcases the benefits of Dot.vu's Interactive Flipbook while inviting you to become a part of the experience.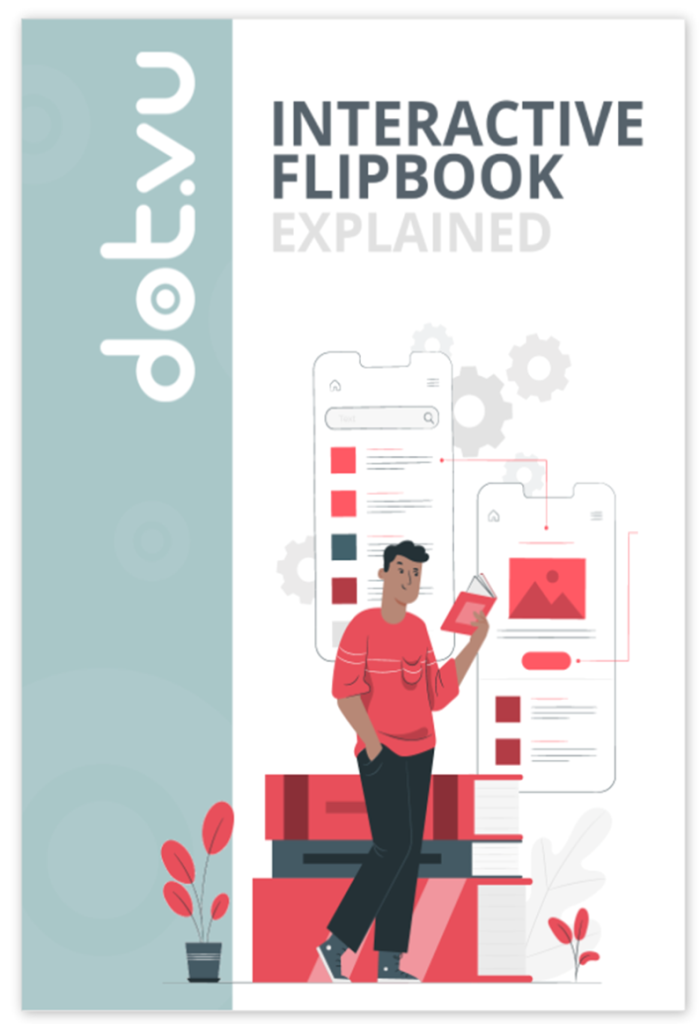 Click to experience Interactive Flipbook Explained
Interactivity 
Dot.vu takes interactivity to a whole new level. It's more than just clickable buttons, hotspots, images, embedded videos, and links. There's a range of highly immersive interactive elements that you can add to your flipbook with a simple drag-and-drop function.
People are much more likely to engage with your content if they can actively participate. The more interactivity you offer in your flipbook, the easier it'll be to get their attention and maintain it till the end. Plus, the more your customers interact with your content, the more data you can collect. You can then use that for personalization purposes.
Data Collection 
You can set up any custom KPIs for data collection purposes. Collecting zero-party data is one of the best advantages of Dot.vu. You'll be able to learn customer preferences and better personalize the content or products you are representing in your content.
Integrations 
Dot.vu is able to integrate with many major analytics, sales & marketing, and social applications. This is a huge plus point as integration with these tools can help you build a solid sales funnel and further understand your target customers.

Pricing  
A Basic Lite Package starts at $200/month, and it can vary up to $1,600/month if you go with a Premium Pro Package. Choose the package that suits your company's goals and needs. There is also a plan for enterprises where the price is customized depending on the scope.
2. iPaper 
iPaper offers Shoppable Flipbooks as an opportunity for you to transfer your product catalogs into more advanced content. This transformation will help spark interest, increase sales and traffic as it engages with customers better.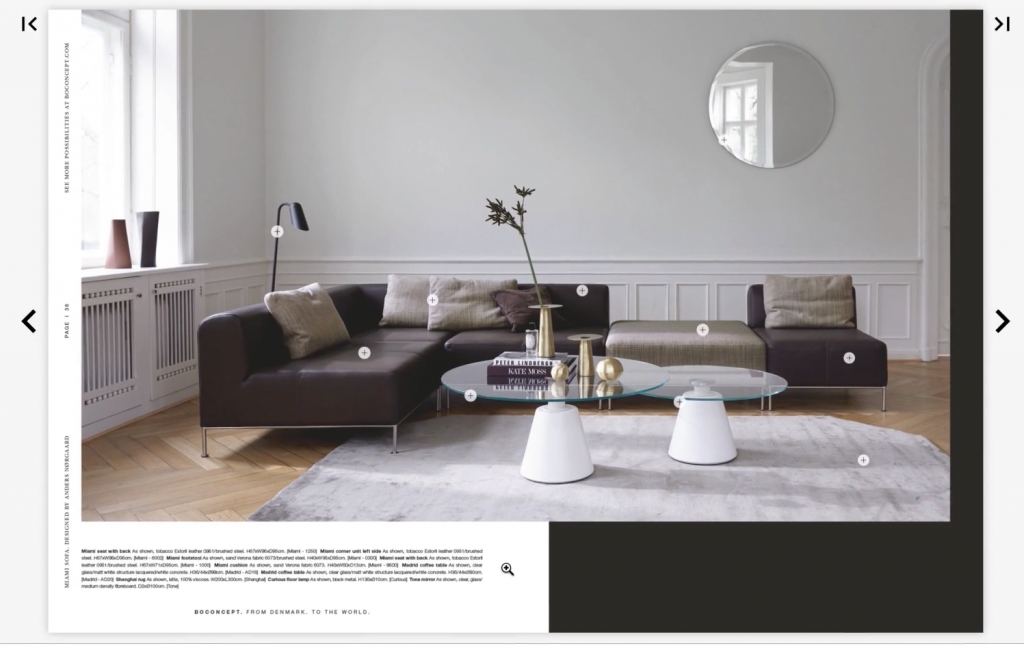 Interactivity 
When it comes to interactivity, iPaper is one of the platforms that offer a fair amount of interactivity to help clients achieve better engagement and lead conversions. However, they are limited to clickable buttons, images, embedded videos, product catalog integration, and direct in-catalog checkout.  
Data Collection 
Based on the information provided, you can collect data such as pages with the longest viewing time, which links are clicked the most, and how your readers interact with specific parts of your content. 
Integrations
Some analytics and sales tools can be integrated, but limited. Unable to integrate with social applications.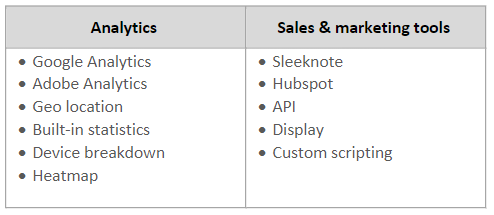 Pricing 
It is important to consider the pricing for iPaper as well, as a Commerce Light package starts from $323/month and can go up to $14,888/month with the Empire package.
3. Simplebooklet 
The next one on our list is Simplebooklet. They have a marketing platform with several features, such as multiple transitions, branded links, and video narration. Simplebooklet has different plans you can purchase as well, and each plan will unlock valuable features depending on your needs.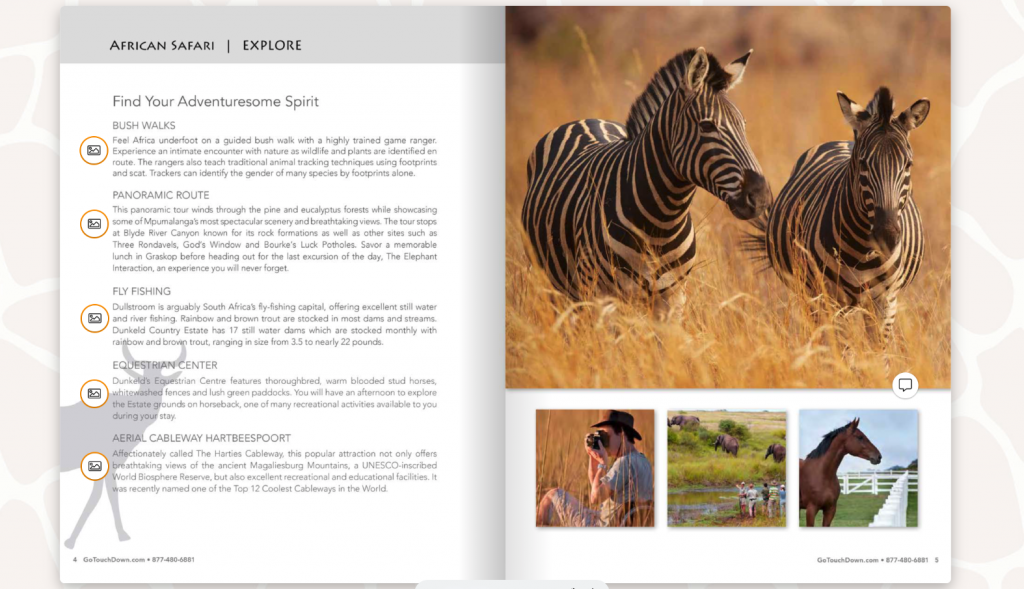 Interactivity 
They offer features such as videos, images, and captions. Besides that, you'll be able to link hotspots such as email, weblink, or other click-to-action to drive engagement. There is also an option to add interactive buttons that you can use to add contact information and engagement buttons to drive inbound sales.  
Data Collection 
You can add gated content to your interactive flipbook solution to collect customer information before providing access to your unique content. Additionally, you'll also get per page stats about the number of views and clicks over your own set timeline. The latter is only available if you purchase their Business Plan. 
Integrations 
Limited integration options for analytics and sales tools. Unable to integrate with social applications.

Pricing  
Simplebooklet's pricing plans are moderate compared to any of the above presented solutions. The Basic plan starts at $3.50/month, and a Business plan costs $39.99/month. It is important to note that the Basic plan only includes 1 flipbook, so if you want to have more than that, you'll need to pay additional fees or simply choose the Business plan where you can create up to 200 flipbooks.
4. FlippingBook 
This is a browser-based service for creating lead-generating interactive flipbooks. You can freely customize your flipbook, share it as a direct link when it is ready, and track its performance. Besides, they also offer a FlippingBook Publisher which is a desktop software for Windows. It has a one-time fee, and if you decide to go with that, you'll have unlimited space to host your white-label flipbooks on your own server.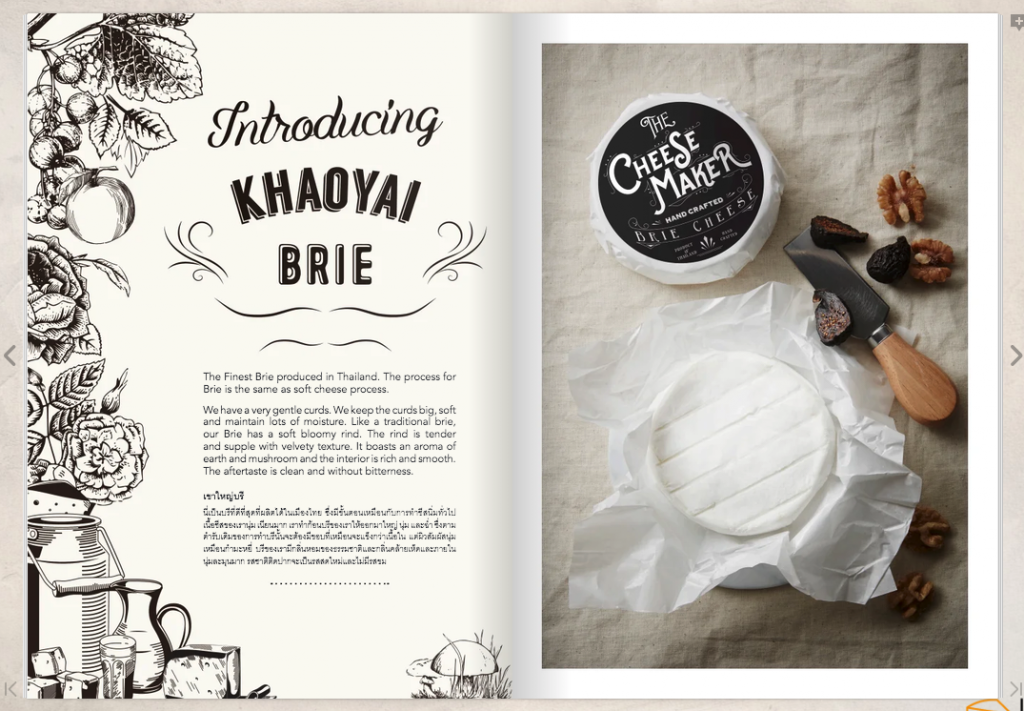 Interactivity 
Depending on your needs, you can add unlimited videos to your flipbooks. You can also enhance your content with inline and pop-up images. Besides, you have the option to add GIFs and clickable links such as page links, weblinks, and contact links to the relevant parts of your digital solution. 
Data Collection 
Depending on the plan you decide to go with, you can collect data about recipients by sharing multiple links with clients one by one which enables you to collect data individually. Data included are views, total time spent for each trackable link you share.
What's more, you can collect data about the entire flipbook in general, such as views, clicks, and average time spent in it. But again, you'll get access to those features based on the plan you decide to have with them. 
Integrations
Limited to Google Analytics and Zapier.

Pricing 
FlippingBook offers different pricing plans depending on the number of users, either individuals or teams. A Lite plan is $19/month, while an Advanced plan would cost you $179/month. Additional users and domains will add up some extra costs to your bill.  
5. 3D Issue 
They are a platform where they provide two solutions with the same subscription. The Flipbooks Desktop version lets you host publications on your own existing hosting on both Mac and Windows. While Flipbooks Online runs on the cloud. All publications created are hosted in the 3D Issue cloud hosting. Either way, both versions will cost you the same and allow you to create flipbooks with multiple output types, namely HTML5, offline editions, epub, and mobi, to reach as many readers as possible.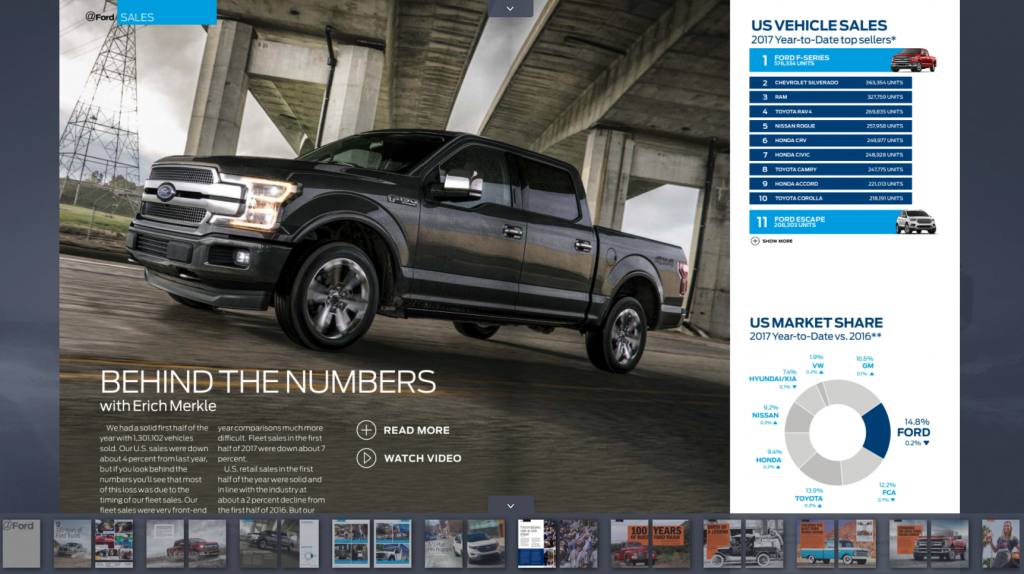 Interactivity 
The selection of interactive elements is limited to embedded videos, images and slideshows, and link types such as web, email, and phone numbers. Besides, you have the option to add background audio to your flipbook as well as buttons and hotspots to launch items, including info panels and videos.
Data Collection 
They have custom data collection, though type of data was not specified.
Integrations 
Limited integration with Google Analytics and Google Tag Manager.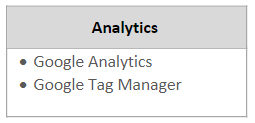 Pricing  
The pricing model 3D Issue offers is somewhere in the median prices compared to others presented in this blog post. A Professional account starts at $75/month and can go up to $599/month.
6. Flipsnack  
Flipsnack is a 2in1 tool. They provide you with an interactive flipbook solutions maker and also offer an integrated design tool to make it easy for you to create a catalog design from scratch.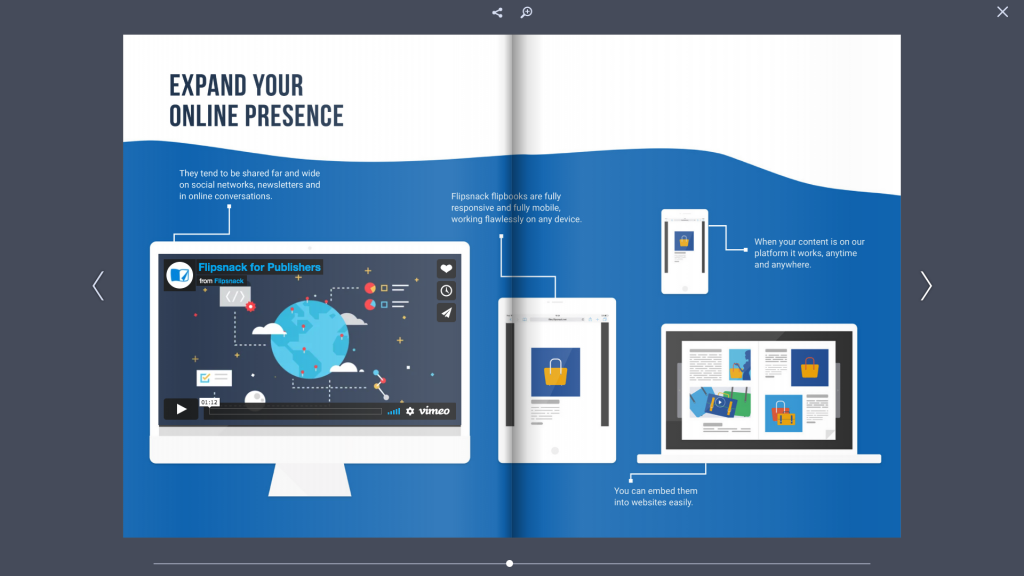 Interactivity  
Unfortunately, the selection of interactivity is limited. You can choose videos from URL, audio, tag caption, and lead forms on different pages. These features are accessible with a Professional or Business account.
Data Collection 
You'll be able to track views and engagement and analyze data history with line charts to spot trends in recent history. Next, you'll get a snapshot of what devices and sources were used to find and access your catalog, as well as a locations report to help you find out from which countries people access your content.  
Integrations 
Limited integration with Google Analytics and Google Tag Manager.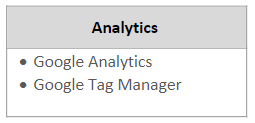 Pricing 
Plans start from $14/month and go up to $355/month.
Get started with the best flipbook solution!
As you can see, there is a broad array of Interactive Flipbook solutions in the market in recognition of the growing importance of interactive digital tools.
If you're looking for an Interactive Flipbook solution that not only delivers an amazing reading experience, but at the same time is able to collect valuable customer data and on top of that integrate with your other tools, Dot.vu is the best choice. With Dot.vu, you'll get all-round value for money – from interactivity to data and personalization.
Dot.vu is an Interactive Content creation platform with many elements available for you to create the ultimate Interactive Experience for your readers. With our user-friendly drag & drop editor, you can create an Interactive Flipbook without writing a single line of code. Moreover, you can use a ready-to-be-customized template and convert it into your own brand. Let's get started. Create a free account and try any of our templates for free!

---
This blog was updated by Cathryn Kok on 11th May 2023
More articles that may interest you: