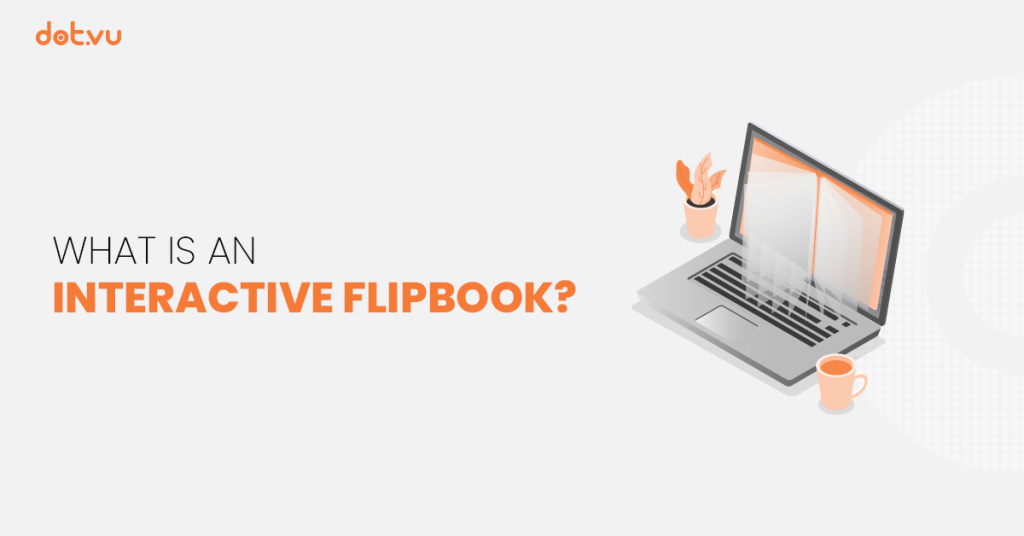 Before we dive into the concept of Interactive Flipbook, let's start this blog post by reflecting on PDFs. When was the last time you downloaded a PDF? Do you read it? Do you reopen it frequently?
I don't know for you, but at Dot.vu, we are unanimous; we rarely see value in the PDFs we have encountered. Most of the time, we download a PDF to search for a specific piece of information. So, we quickly browse through the PDF to find what we are looking for and never reopen it again. We don't interact with most of the content in a PDF, and we rarely download one if we can avoid it. That's because PDFs are generally boring. They are an old type of content that we need to adapt to the reality of 2022: humans have a short attention span!
The declining attention spans have made flipbooks extremely popular. Therefore, flipping your old PDFs into Interactive Flipbooks enhances the quality of your content marketing strategy. Companies are adjusting to their target audience; they are giving them a better type of content instead. A type of content that is more engaging and visually appealing.
What is a flipbook?
A flipbook is a digital piece of content that resembles a physical book. Viewers flip through the pages of the flipbook directly on your website. It is a new and innovative way of presenting content that replaces PDFs and other types of paper-based content like magazines, reports, brochures or catalogs, etc.  
What is a flipbook as opposed to an Interactive Flipbook? An Interactive Flipbook is an online flipbook that contains several Interactive Experiences that keep your readers engaged.
What is an Interactive Flipbook?
Now that we have answered the question What is a flipbook, we can delve into the definition of Interactive Flipbooks. An Interactive Flipbook is an Interactive Experience that looks like an online book or magazine. Viewers can turn the pages and flip through as if they were physically engaging with the experience. In addition, Interactive Flipbooks contain engaging formats like games, videos, and quizzes. These encourage visitors to interact with the digital flipbook and, thus, your brand.
Organizations use Interactive Flipbooks for many different purposes. For example, an eCommerce company could use an Interactive Flipbook as a product catalog to display their products. A SaaS company could use an Interactive Flipbook as an eBook to teach their target audience about a specific subject related to their business. An entrepreneur could display their expertise using an Interactive Flipbook as a brochure. Any large company could use an Interactive Flipbook to create a stunning annual report for its board members. The possibilities are endless. That is why this type of Interactive Content is so great!
Read our ultimate Interactive Flipbook guide to learn everything you need to get started with Interactive Flipbooks.
You might also be interested in learning more about Interactive Product Catalogs. Interactive Product Catalogs are a very amazing type of Interactive Flipbook for retail companies.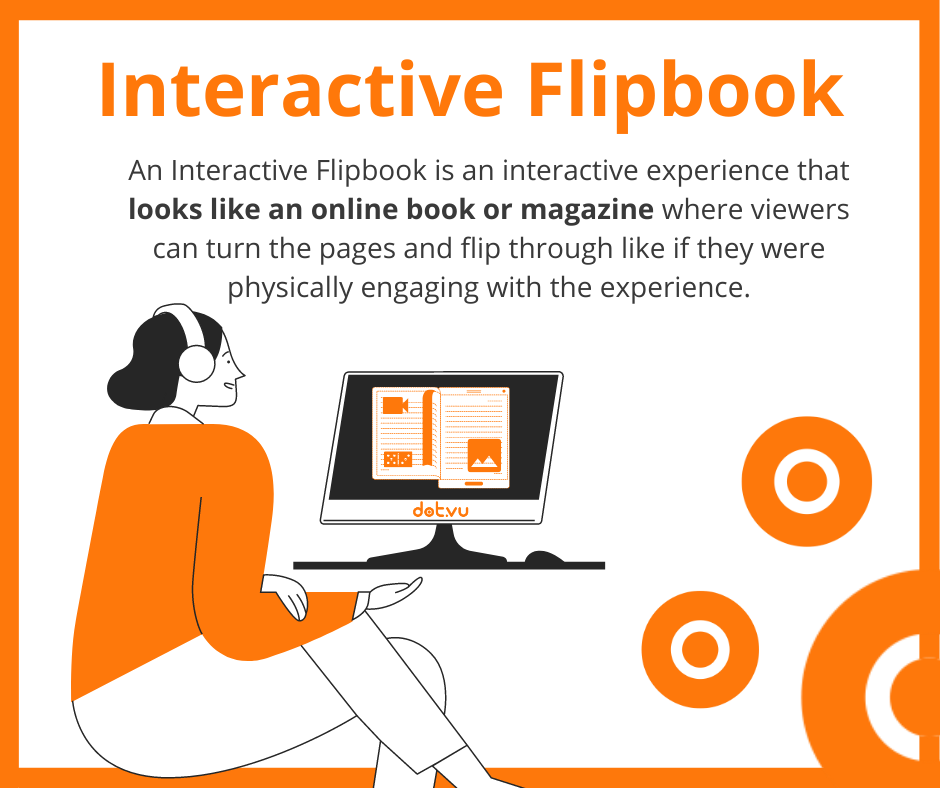 Why is it important to flip your PDFs into flipbooks?
Since Interactive Flipbooks are so popular, many companies have started to flip their old and boring PDFs into stunning Interactive Flipbooks. There are many reasons why companies would do that. We give you four reasons to turn your PDF into a flipbook:
Increase engagement with interactivity
In an Interactive Flipbook, as opposed to in a PDF, you can add as many Interactive Experiences as you want.
As a result, rather than passively reading your PDF, viewers interact with your online flipbook. They answer questions in a quiz, click on hotspots to learn more about your products, and collect points in a game. These Interactive Experiences boost engagement rates and create memorable and personalized experiences for the viewers.
Grow your email list
With an Interactive Flipbook, you can also add gated lead forms to grow your email list.
For example, you can add a gated lead form for specific sections or Interactive Experiences. Therefore, if the viewers want to play the Spot the Difference game you added to your digital flipbook, they will have to fill out the form. It is an amazing way to collect new leads that you can use later in your sales funnel.
Increase sales
You can boost sales by joining product information pop-ups to your Interactive Flipbooks. 
Pop-up pages are a great feature of this type of Interactive Experience. When using them, customers can learn more about specific products or services that are interesting to them without leaving the flipbook. You can also allow viewers to add products to their shopping baskets for eCommerce purposes. Incorporating a shopping option in your flipbook accelerates the decision-making process.
Collect data insights
Finally, one of the greatest benefits of turning your PDF into an Interactive Flipbook is the possibility to capture data insights.
You can use these insights to understand better how things are performing and optimize your Interactive Experience. To name a few examples, you can track who reads your flipbook, how long they read it, where they click, what Interactive Experiences they interact with, and many other data points.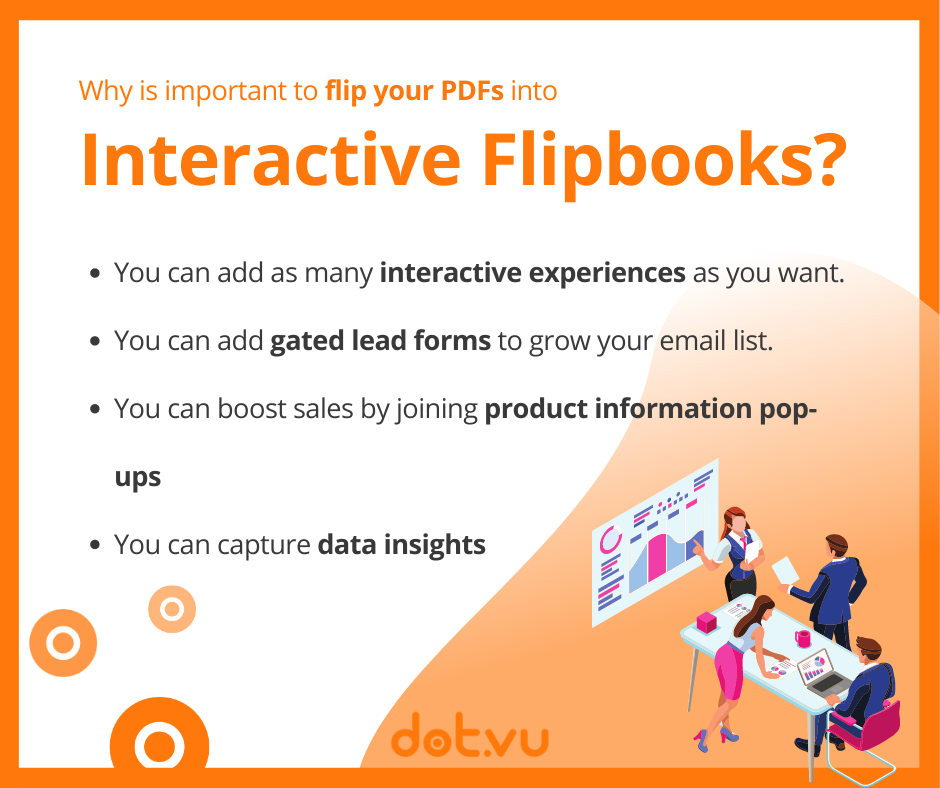 These are some, but not all, advantages of flipping your static documents to Interactive Flipbooks. Overall, addressing the shrinking attention span will improve the communication between your brand, customers, and employees.
5 Examples of Interactive Experiences to add to your Interactive Flipbook
What is a flipbook without a few interactive elements to fully engage your customers? There are many types of Interactive Experiences you can add to a Flipbook. Again, the possibilities are endless. But below, we wanted to highlight the most common experiences you can use.
Related: 6 Stunning Interactive Flipbook examples you need to try
Polls
Polls are a highly engaging experience for your flipbook because people often like to compare themselves with others. Therefore, adding a poll will generate a lot of engagement. Moreover, you can use the results to learn more about your customers and their preferences.
For instance, you could ask your customers what dress they prefer between choice #1 and choice #2. Another example could be asking your customers about the most important criteria when looking for a new CRM system (a. the price, b. the integrations, c. the features, etc.).
Another advantage of using polls in an Interactive Flipbook could be increasing employee satisfaction. If you replace static learning documents with Interactive Flipbooks, your staff will be more engaged. Moreover, adding polls to encourage interaction is among the best HR practices for making your work culture thrive.
Would you like to see an example of a poll?
Marketing Games
Games are always fun, or at least they should be. Adding  Marketing Games  to your Interactive Flipbook is a great way to encourage your customers to flip through the entire experience. The funnier you make it; the more visitors want to continue reading it. Funny games can include turning a Wheel of Fortune or doing a quiz to get a discount. If the games are entertaining and the reward is well-received, your audience might share your Interactive Flipbook on social media. Therefore, you will generate more awareness.
Take a look at this example of a Marketing Game:
Calculators
Therefore, depending on the purpose of your calculator, it will have different results. Let's say you want to use a calculator simply to entertain your readers; then, you could add a funny love calculator.
One of the best calculators to add to an Interactive Flipbook is a Product Finder with Cost Calculation. This calculator can help your customers evaluate the real value of your products. For example, let's say you have an e-commerce shop that sells espresso machines. By answering a couple of questions, your readers can calculate the price of each coffee a specific espresso machine can make.
In the following example, you can calculate the cost per use of a product. Of course, the prices and products in the interactive experience are simply there as examples.
Quizzes
Quizzes  are always a favorite of customers. They can be used in many places in an Interactive Flipbook since there are different  types of quizzes. Moreover, quizzes are an excellent way to increase your engagement rate and get social shares. 
Below you can find the best types of quizzes to include in an Interactive Flipbook. 
Diagnostic quizzes
Diagnostic quizzes help your customers to find solutions for what they are looking for. For example, you could have a quiz to help customers find the best product for their hair or help them identify which antivirus is best for them, depending on their usage. 
Buzzfeed style quizzes
You can include Buzzfeed-style quizzes to entertain your readers. They don't have the goal to inform customers or to target them more efficiently; they simply make your Interactive Flipbook more entertaining. It could be anything like, "How many plants can you identify?". Of course, the quiz should be relevant to your product offerings, so avoid making a quiz about plants if you are not selling any.
Personality quizzes
Personality quizzes  are often a favorite of customers because they help them learn more about themselves. The trick here is to link the results with your products. For example, you could have the following test: "Find the perfect little black dress for yourself", where the results would suggest a specific dress from your product catalog.
IQ or knowledge quizzes
This kind of quiz is excellent if you sell a specific type of product that customers are passionate about (e.g., plants, board games, a marketing solution for marketers, etc.). Your customers will love to be able to test their skills in your Interactive Flipbook. 
For example, if you have an online board games shop, you could include a quiz about the rules of Monopoly or Munchkin. If you are selling a SaaS, you could evaluate your visitors' expertise on specific subjects related to your product offering. 
Try this Trivia Quiz as an example:
Interactive Video
Interactive Videos are also a fantastic addition to any Interactive Flipbooks. Why? Because some viewers will get tired of reading content. With this in mind, mixing different content types is an excellent way of making your experience less monotonous and more entertaining. 
There are diverse types of Interactive Videos you can add in an Interactive Flipbooks depending on its purpose. 
Shoppable Videos
If the goal of your Interactive Video is to display your products, then you should consider adding a shoppable video to your flipbook. In Shoppable Videos, you can visually and appealingly advertise your products while allowing customers to click on elements that are interesting to them and buy them on the spot. Great, right!
Interactive Sales Consultation 
Another great Interactive Video to add to your Interactive Flipbook is an Interactive Sales Consultation video. In this type of video, you open a dialog with your viewers where you ask them questions about their needs, and you reply to them with pre-recorded answers. Interactive Sales Consultations are suitable for most B2B companies or B2C companies with complex products.
Gamified Interactive Video
If you want to use an Interactive Video to entertain and boost engagement in your Interactive Flipbook, consider adding a Gamified Interactive Video. You can simultaneously highlight your products or services and delight viewers with a small quiz or a game.
Not sure what is an Interactive Video yet? Check it out below in the example below!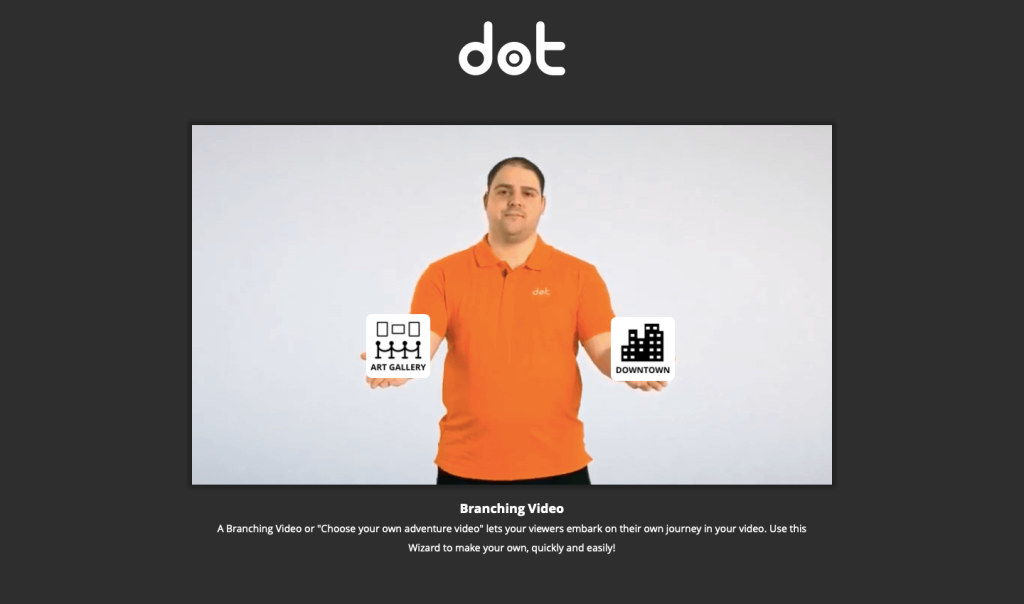 Furthermore, you can use Guided Selling and Product Catalogs to shorten the decision-making process. Have a look at our marketplace to discover all the Interactive Experiences you can add to make your flipbook interactive and more engaging.
Create your Interactive Flipbook and boost customer engagement today
We hope this article answered your questions about what a flipbook is, what are the advantages of replacing PDFs with flipbooks, and how to create a flipbook with interactive elements. Certainly, the old way of creating PDFs is dead, but that doesn't mean that the concept is. To make any other product timeless, we need to adapt it to the latest technological advancements. In the case of the PDFs, that means flipping them into Interactive Flipbooks.
Learn more about flipping your old PDFs into Interactive Flipbooks. Create a free account to customize a flipbook template. You will see how our platform will enable your company to increase engagement, attract attention, and convert more customers.
---