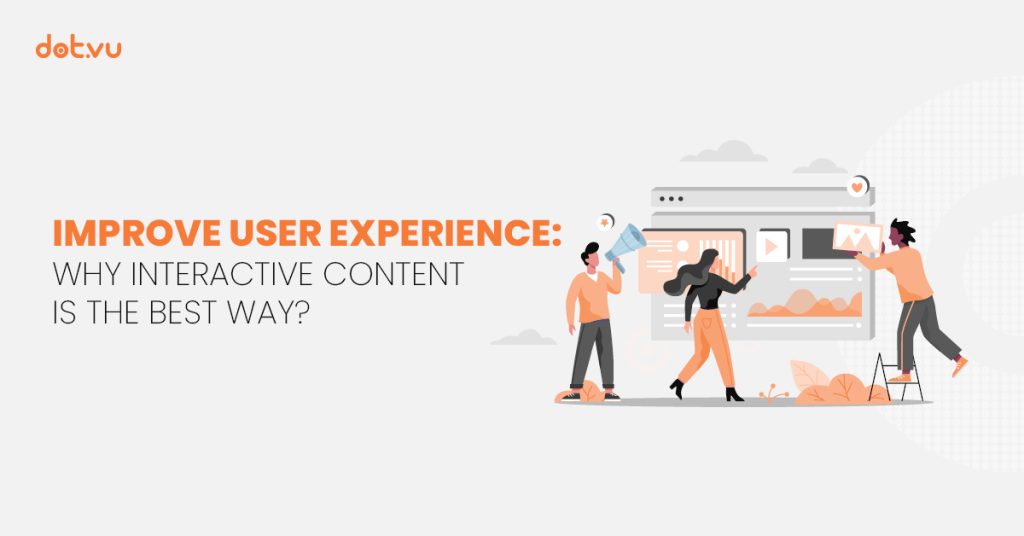 Improving the User Experience on a website is a common marketing goal. But, as with many other marketing goals, it is hard to discover the best way to go to improve the User Experience and even harder to calculate the ROI of your marketing efforts toward reaching this goal.
Nonetheless, it's a big part of your strategy. Therefore, marketers research best practices, read countless blog posts (such as this one), have brainstorming sessions with the design team, and so on. Every time, the same tips and ideas come over and over again: research thoroughly, keep it simple, don't overcrowd the design, put emphasis on the important elements, focus on the User Flow, get feedback, etc.
The thing is, most likely, all the designers you know are aware of these things and already apply them. But, do all websites offer a great User Experience? Definitely not!
So, how do you improve User Experience?
Let's start by saying that following the tips and tricks mentioned above is a requirement – or even a necessity to have a User-Friendly Website. But, it's not because you follow them that you'll have a great User Experience. Why? Because creating an amazing User Experience is much more complex; it depends on your target audience and their preferences, it involves the aesthetics, the time it takes for a visitor to find what they are looking for, the loading time of your pages, the interaction between the visitors and the brands, and so on.
In other words, improving the User Experience of a Retail Fashion website is going to be completely different than improving the User Experience of a SaaS website. So, there isn't an easy step-by-step guide to follow when trying to improve User Experience.
Rather, you can improve User Experience by focusing on the interaction between the users and your brand throughout your website. You need to reflect on exactly what is expected from visitors when they arrive on each specific page. How can you make it nice and easy for them to browse on that page? Most of the time, the answer lies within creating Interactive Content. Because, when you ask visitors to actively participate in the User Experience, you normally succeed in creating a positive User Experience for them.

Why is it important?
Improving the User Experience of your website is extremely important nowadays because if visitors are frustrated with your website, they'll leave. They'll go to your competitor's websites to continue their buyer's journey. But, not only that, 88% of online shoppers go as far as saying that they wouldn't go back on a website where they had a bad User Experience. So, in other words, the User Experience is a deal breaker for most online browsers.
I mean, reflect on your own online behaviors, do you enjoy a slow website? A website where it's hard to understand what they are selling? One where you can't find answers to your questions? A website with many annoying pop-ups? A website with a neon yellow background? Chances are, you wouldn't return there either.
---
---
A word on Interactive Design
Interactive Design is the process in which a designer creates a dialogue between a person and a product, system, or service. So, Interactive Designers use the Interactive Design Process to create website pages that engage users based on the principles of good communication.
So, what is the difference between Interactive Design and UX and how can Interactive Design improve User Experience? Broadly, Interactive Design is a part of the User Experience, among other things such as visual design, information architecture, usability, user research, and content strategy.
We believe that Interactive Design must be the most important part of your design process to maximize User Experience. But, not only does the design needs to be interactive, you can also add Interactive Experiences directly within your web pages to increase your chances of success.
How to improve User Experience with Interactive Content?
In the following sections, we will discuss different ways to improve User Experience with Interactive Content.
1. Think about Interactivity first – Aesthetics second
While the aesthetics of your web pages is extremely important (75% of people judge a website's credibility solely on aesthetics), it is not the most important factor to improve User Experience. You should always think about Interactivity first when going through the design process. This means that you must start by researching what visitors are expecting from a specific web page. Focus on how you connect and communicate with them. How do they communicate with you? How do they let you know what they want? What they need? Allow them to actively participate in the User Experience.
Once you know the answer to these questions, you can visualize the optimal user flow with a mock-up. Once you have planned and visualized an action-driven layout with a mock-up, then you can spend time pimping it up to make it as visually pleasing as possible. But, remember that following your brand guidelines, keeping in mind your target audience, and keeping a clear design with a well-thought hierarchy is a must to improve User Experience.
2. Rethink the usual way of doing things
We have seen a trend in recent years where most websites start to look exactly the same. While conformity across the web can improve User Experience, it can also backfire and keep you from being innovative and looking for better alternatives.
For example, you are looking to buy a pair of jeans – black jeans. You go on some of your favorite shopping websites. You'll go under categories and select men or women, then in a sub-category, you'll select pants. Afterward, you can use the filtering options to select the type (jeans) and the color (black). Finally, you can browse and look into the different black jean options. On a well-designed website, that would still take you almost a minute. On a bad one, you won't even be patient enough to get to the filtering options.
But, how can you improve the User Experience here?
Simple, you could have a Guided Selling experience instead! Guided Selling is one of many types of Interactive Content in which website visitors answer a series of questions about their needs, preferences, and personal characteristics to be automatically guided towards the rights products, features, or sections of your website.
In other words, it's like having an employee that welcomes visitors entering your physical shop. The employee will ask visitors what they are looking for and they will help them find it. A Guided Selling Interactive Experience is based on the same principle. But, instead of having a staff member, you'll design a Guided Selling tool that will automatically suggest products to your website visitors after they answer a couple of questions.
3. Add Interactive Experiences within the Website User Experience
While the previous point is very important, it can be difficult to achieve. Because sometimes we are so used to seeing things a certain way, that it's like wearing tinted glasses. Another approach to improve User Experience, which might be easier for some, is to think about Interactive Experiences you can create and embed directly on web pages in addition to the content you already have. For example, you are creating lots and lots of blog posts for your audience. But, how do you ensure the two-way communication necessary for having a great User Experience in a blog post? You can simply add an Interactive Experience directly within them. The types of Interactive Experiences will depend on the context.
For example, if you are writing a blog post on "The best way to cleanse your skin", you could add an Interactive Video tutorial at the end where readers would get a personalized video depending on their skin type; if they suffer from acne, and their favorite skincare lines.
On the other hand, if you are targeting marketing professionals for a SaaS blog, you might want to include a quiz at the end to boost information retention, or a poll to share with everyone what other professionals from your industry think.
4. Use Interactive Content to personalize the User Experience
Another amazing way to improve User Experience is to create personalized content. There are two approaches to personalized content.
Dynamic content is content that changes depending on data you have already collected before. For example, it can be based on past purchases, user behaviors such as clicks, search intent, and so on.
User-Defined content (also called instant personalization) is content that changes on the spot, in real time, depending on active choices made by web visitors.
Both types of personalized are a great way to improve User Experience because the Interactive Experience you provide users is tailored to their choices. In other words, it's a personalized experience that fits exactly what they are interested in.
5. Repurpose your old content into Interactive Content
There might be pages on your website where the User Experience is not optimal or content that you have created that is not as engaging as you thought it'd be. Instead of improving them or disregarding them, sometimes we need to think about repurposing them into Interactive Experiences instead. Interactive Experiences that will lead to a better User Experience.
For example, you spent lots and lots of time writing this very insightful and valuable eBook. You know there is so much value in your work, but no one reads it! It's most likely because reading an eBook can be quite boring. But, how do you make sure your hard work doesn't go to waste? You repurpose it into an Interactive Experience and thus, improve the User Experience.
In the case of your eBook, you could transform it into an Interactive Flipbook. So, you keep the content you worked so hard to create, but you transform it into an amazing User Experience where you can add hotspots, Polls, Quizzes, Marketing Games, and so much more. So rather, than passively reading an eBook, visitors now emerge into a two-way experience.
6. Use Interactive Content to boost the overall Digital Customer Experience
While modifying web pages and content pieces separately can be a way to go to improve User Experience, an even better way would be to think about the overall Digital Customer Experience, across all touchpoints. Because, most of the time, current and potential customers won't only judge you on your website, but also on social media, with your emails, and so on. Having a well-defined Interactive Content strategy can help you maximize the overall Digital Customer Experience.
For example, for Father's Day, you create a Gift Finder and place it on your Home Page to help customers quickly find the best gift ideas for their dads. (See example)
A few weeks before Christmas, you can send personalized emails to everyone who tried the Father's Day gift finders where you suggest Christmas gift ideas for their dads based on the answer they provided for Father's Day! So, instead of receiving a random Christmas email from you, they received an actual helpful email with ideas that reflect their previous preferences.
In conclusion, Interactive Content can definitely help you improve User Experience!
After reading this blog post, I hope you are convinced that Interactive Content is the way to go to boost the User Experience and the overall Digital Customer Experience. For a marketer, the day you'll start implementing Interactive Content within your marketing strategy, you'll realize how the possibilities are endless and how the ROI of your Interactive Content efforts is way higher than any other type of content! Sounds interesting? You can get started by creating a free account (no credit card required) on Dot.vu.
Dot.vu is the leading Interactive Content platform. With Dot.vu you can create many different types of Interactive Experiences from scratch or use one of our 250+ templates. With a free account, you have access to all of them – unfold you creativity and customize a template today!
---