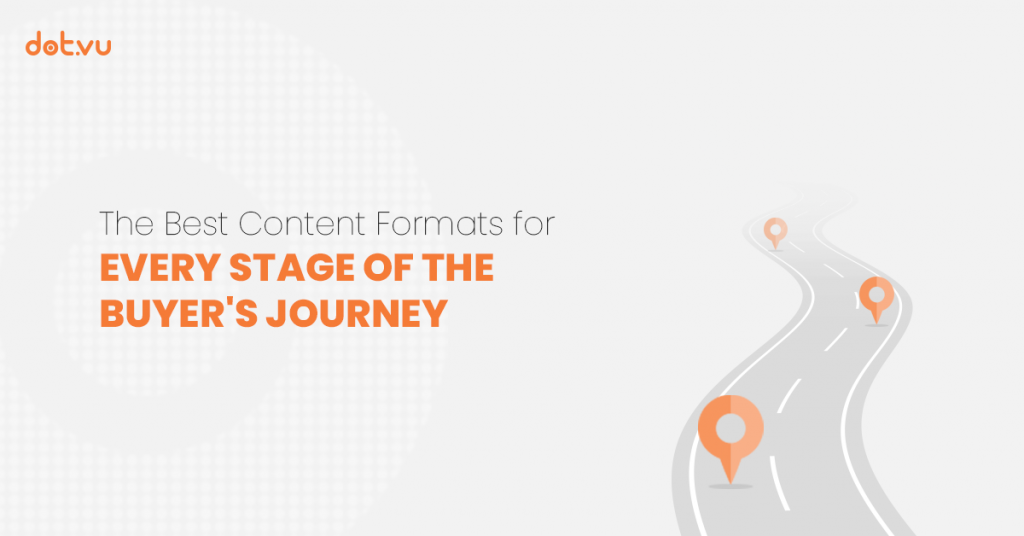 Have you ever noticed how methodical you approach buying a new product? Usually, it starts with you noticing that you are in need of something. Followed by thorough research until, finally, you purchase the product. Studies have shown that all customers, whether B2C or B2B, go on such a journey and experience this cycle. Different content formats can help you as a business to influence your buyers' journey, and in turn, their buying behavior.
Before diving into the best content formats, it is important that you truly understand your buyer personas and their journey. Only when you understand your buyers' journey, you can create content that helps them in their decision-making. Moreover, it will position you as an authority in your industry.
Defining the Buyer's Journey
Except of in the case of impulse buys, most customers begin their journey in the "unaware stage". In terms of demographics, these customers are likely to fit your buyer personas. However, they are not aware of your product nor of the fact that they need it. Nevertheless, they might experience a triggering event that changes this situation, kicking off the buyer's journey.
Again, it is crucial that you know and understand your buyer personas, but also your business and marketing objectives. Is your goal to rather raise awareness? Or are you trying to generate leads? Maybe you are aiming for helping those customers who simply need the last push to buy specifically your products? With this fundamental knowledge, you will be able to start building out your marketing funnel.
Following the Marketing Funnel
The marketing funnel is commonly also known as the sales funnel since its output is revenue. Essentially, the marketing funnel describes the different stages your customers go through leading up to their purchase. From being absolute strangers, landing on your website for the first time and subscribing to your email list, and talking to your sales team.
The marketing funnel can be separated into 3 basic parts: Top-of-the-funnel (TOFU), Middle-of-the-funnel (MOFU), and Bottom-of-the-funnel (BOFU) (as pictured). The majority of your audience will be in TOFU and MOFU stages of your funnel. The TOFU and MOFU funnel requires you to rely on the inbound processes to help nurture those prospects further down the funnel until they are ready to buy. While going through TOFU and MOFU, your audience turns from strangers into leads.
At the bottom of the marketing funnel, your leads purchase your products or service and thus, turn into your customers. In addition, at this stage, you have convinced your now customers of why they want your products or services. Sometimes, your leads will need a little extra assurance to buy your products or services, thus, it is crucial in the transition between MOFU and BOFU to nurture your leads.
In turn, with your buyer's journey and marketing funnel built out, you have the best requirements to create a content strategy for each stage of the buyer's journey.
The Best Content Formats for Every Stage of the Buyer's Journey
The buyer's journey includes multiple touchpoints that require different types of interactions. Using engaging Interactive Experiences will help you get and hold your customers' attention. To enhance your customer engagement and interaction even further, try to build your Interactive Content on the top of each to create a "stickier" customers journey. In other words, use Interactive Content to make your customers enthralling to your brand experience, loving and advocating for your brand.
Each type of Interactive Content is a tool in the buyer's journey and has a purpose – all come together to form a compelling story. The capability for marketers to deliver a cohesive digital journey that tells a compelling story begins with a platform approach. Marketers must be empowered to focus on funnel performance rather than production or resources constraints.
Thus, the following is a guide on what Interactive Content formats are best for every stage of the buyer's journey.
TOFU
For the TOFU stage, your goal is to get the awareness of your audience. Additionally, you want to make the buyers realize that they are facing a problem. According to the Demand Gen Report, 60% of B2B buyers engage with content formats such as whitepapers and eBooks during the buying. For instance, Interactive Infographics, and Marketing Games will inform, educate and entertain your audience in a fun way while being in the awareness stage. Particularly, Interactive Quizzes can help you educate your audience about a certain topic or even your products and services. Integrating a lead form into your Interactive Quiz enables you to collect leads. Moreover, based on their answers, the Interactive Quiz allows you to filter and segment quality leads into different categories.
Click on the image to experience an Interactive Quiz example
MOFU
The MOFU stage is the one, in which the stranger transitioned into a visitor. The visitor, and thus a prospect of yours, defined their problem or challenge and they are dedicated to addressing it. In the consideration stage, the prospects understand how to solve their problem and start analyzing all available options. At this stage, it is crucial for you to position your products and services as the only valuable solution to their problem. Besides tools like email marketing, retargeting and social media posts, Interactive Content can help you differentiate your brand from your competitors. For instance, enhance your marketing by adding the wow factor to your marketing by inviting them to your Interactive Virtual Showroom. Within their Interactive Virtual Showroom, your audience can have a conversation with you, read more about your company and products and so much more.
Click on the image to experience an Interactive Virtual Showroom example
BOFU
For the BOFU stage of your marketing funnel, the buyer has reached the point of decision. The problem is recognized, options analyzed, and now it is time to decide on one of them. At this stage, delight and nurture your leads to show them that you value them. For instance, give them a limited free trial, a live demo, consultation offers of discounts. As almost every industry is flooded with free samples, discounts, etc. Interactive Content is a way to make it more unique. Particularly, Advent Calendars are a great way to give your leads a chance to test your products. Moreover, Advent Calendars allow you to reward, and thus, nurture those customers who have been loyal to you.
Click on the image to experience an Interactive Advent Calendar example
Convert your Leads into Customers with the Best Interactive Content Formats
Brands, especially marketers, can adapt their stories through Interactive Content, raising awareness, generating more leads, and converting these into customers. The more your customers are captivated by your Interactive Content, the more they will stick around and become loyal to your brand. Use different types of Interactive Content for various stages of your marketing funnel.
Unlike point solutions, you can create all types of Interactive Content with Dot.vu. If you are looking for inspiration, visit our marketplace, where you can find hundreds of creative templates. Do you already have an idea for amazing Interactive Content in mind? Great! The Dot.vu Editor allows you to create your own design from scratch. If you do not have time for either, let us know, because our content experts would love to create Interactive Content for you. Book a meeting, so we can show you a demo of our platform and explain you more.
---
Subscribe to our blog!
---