The way we learn, decide and buy has changed dramatically in recent years. Research suggests that 74% of buyers conduct more than half of their research online before making an offline purchase. In fact, 70% of a buyer's journey is complete before a buyer reaches out to sales. In other words, we marketers have more responsibility than ever before to make the customer journey more meaningful. Using marketing automation within interactive content is a good way for marketers to start doing this.
However, it is important to understand the challenges marketers face and how marketing automation with interactive content can help satisfy customers along the user journey.
Challenge #1: Information Overload
With 27 million pieces of content being shared online each day, our audience is being bombarded with information. Not just from companies, who publish tons of blog posts, infographics and e-books but also from their friends, family and colleagues. Not to mention the explosion of 'viral' videos from publishers like Viral Thread, LADbible, and The Dodo who receive over a billion monthly views.
Differentiating in today's crowded online arena is clearly a challenge, and it is forcing marketers to become more creative, innovative and strategic with their content – giving rise to the concept of interactive content.
What is interactive content?
Interactive content is content that actively involves audience participation with the objective of engaging, entertaining or educating about a certain topic. Designed to create a personal, immersive experience, interactive content goes beyond simply reading or watching content. It requires audiences to choose preferences, answer questions, assess, vote, play or compete.
Typical forms of interactive content include quizzes, assessments, interactive videos, personality tests, product-suggesting tests, interactive e-books, interactive story-telling and games.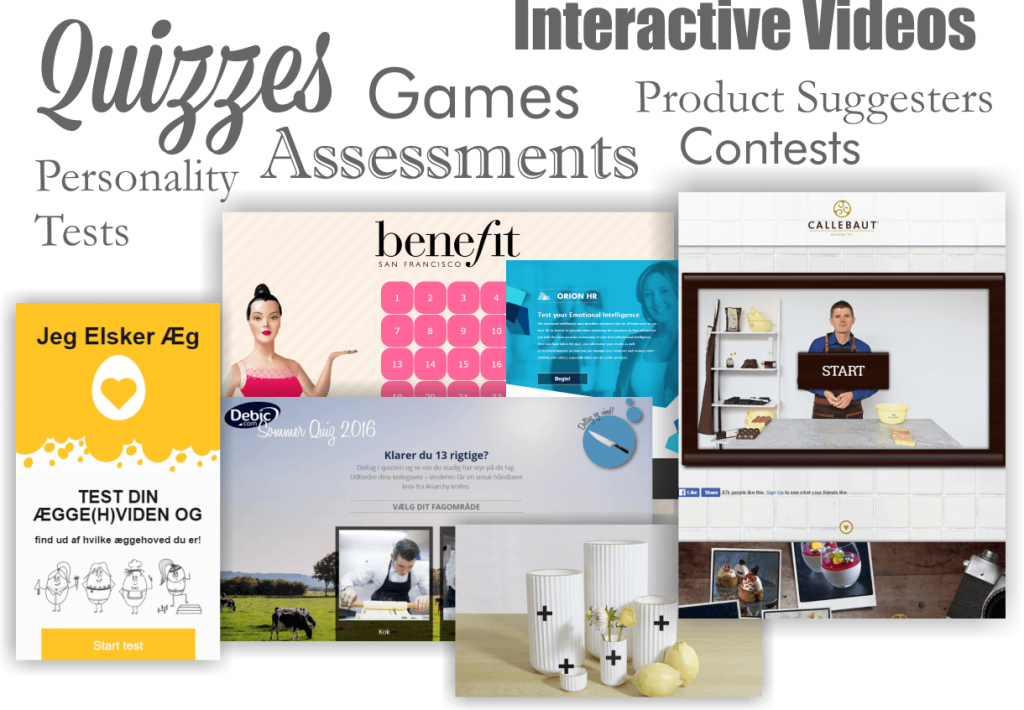 The Benefits of Interactive Content
People love the immediate feedback of a score, custom result or advice. That is why these interactive formats are so effective at encouraging social sharing. Now, Facebook has a record-low organic reach of under 2%. This is forcing companies to pay and 'sponsor' content to reach their own followers. Therefore, this kind of interactive content offers a great solution.
By using interactive content, MasterChef Denmark got people talking with their personality test ' What kind of MasterChef are you?' (below).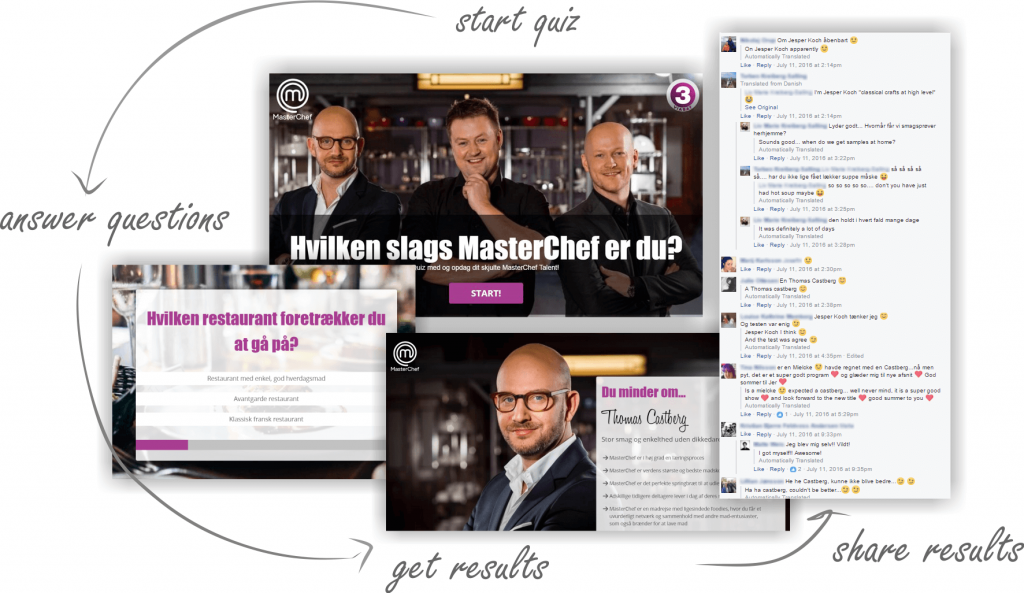 Challenge #2: Tired conversion tactics
As marketers, we are held responsible for ensuring that we are:
Growing our subscribers / email opt-in lists
Feeding the sales funnel with a steady flow of new, qualified leads
To do so, we've been using a set of tried-and-tested tactics. For example, the 'subscribe to my blog' opt-in is one such tactic. However, it has nowadays evolved into an annoying jack-in-the-box-like pop-up that suddenly interrupts your reading.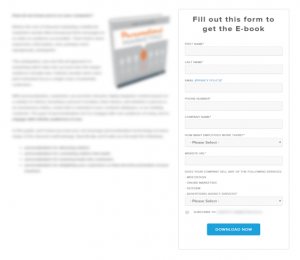 While conventional conversion rates are somewhere between 2-5%, that number could go much higher with clever gated, interactive content.
Read more about boosting lead-gen tactics using quizzes and assessments.
When it comes to lead qualification, we have been using various forms of high-gates for our high-value content. Marketers dangle their Interactive Ebooks or webinars as bait, in exchange for all kinds of information.
Often times though, people don't want to part with all their information for fear of being spammed. Therefore, they either write some dummy text in those fields or avoid the e-book altogether. In contrast, by using interactive e-books or assessments, marketers can ask for less with shorter lead-gen forms. Marketers can also learn more about each customer through their interactions and answers to questions.
Challenge #3: Nurturing and pitching
When we send out our mass mailers to our audience, we do so to nurture them in the hopes of someday converting them to paying customers. That said, the average office worker receives 121 emails per day, and if they deem your email content as irrelevant, uninteresting or spammy, one of two things will happen. They will either avoid your emails or unsubscribe.
So instead of sending loads of emails, we should be sending fewer, but more targeted emails at the right time. This is where marketing automation comes in.
What is Marketing Automation?
Marketing automation refers to the software that exists with the goal of automating marketing actions. Many marketing departments have to automate repetitive tasks such as emails, social media, and other website actions. The technology of marketing automation makes these tasks easier.
Using Marketing Automation software, you can develop profiles for each 'contact' based on which pages on your website they visited, what search words they used to land on your site, the information they filled out in your lead-gen forms and more. The software then uses that information to send well-timed, automated targeted emails to each individual based on a set of rules or 'triggers'. Some automation software like Hubspot can even adapt your website content for the individual based on data in their individual contact profile.
So now imagine combining the power of engaging, differentiated, high-conversion interactive content with marketing automation.
Using Interactive Content with Marketing Automation
Richer Contact Profiles
By using interactive content and marketing automation tools together, you will be able to develop richer profiles of your future and current customers. Look at the example below. It aims to explain how these two technologies can work together, when integrated to paint a clear picture of who John is.
You can use interactive content to generate more leads, capturing contact information and track every answer or interaction to build a rich profile. With marketing automation, you can take this one step further by knowing exactly what website content John was viewing, where he's from, which emails he opened and more. Then, assign the profile to a specific sales rep who can take over and manage the lead.
An Improved Buyer Journey
The example below is from a fictitious company called 'Pace Learning' that offers culinary courses to chefs and professional cooks.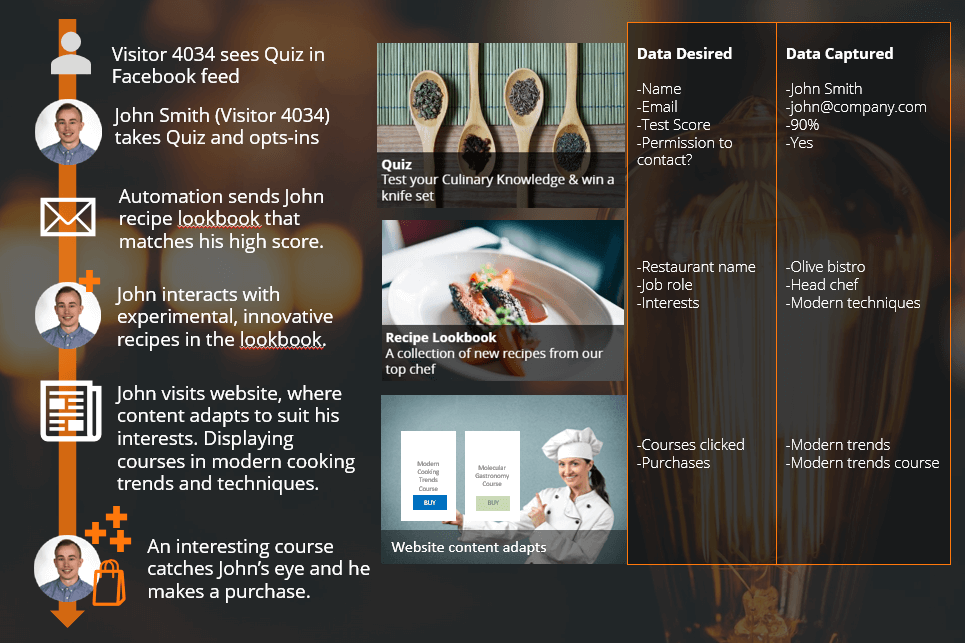 It illustrates how the potential customer – anonymous visitor 4034 – is engaged by an interactive content asset (in this case, a quiz contest) that converts him into a trackable contact – John Smith. John is then nurtured with an automated email and additional interactive content (recipe lookbook) that reveals where his interests lie.
When John visits the website, the content (in this case, displayed courses) adapts to suit those interests. One of the courses catches John's eye, and he goes ahead and makes a purchase. There onwards, the journey continues where John is constantly nurtured and turned into a loyal customer of Pace Learning.
What do you need to make it happen?
I know that all the above sounds like a lot of technical setup and complexity, but it's not that difficult. There are tools today for creating interactive content, like at Dot.vu – which is affordable and has loads of easy-to-customize templates. Dot.vu also has a content wizard for creating certain content types (quizzes, assessments and product-suggesting tests) in a matter of minutes. By integrating with software like Hubspot, you can create a powerful marketing engine that learns more about each individual and serves them the right content at the right time – throughout the buyer journey.
Apart from Hubspot there are loads of other marketing automation platforms out there. If you're only looking to automate your emails, MailChimp is a very affordable option. Read more about how to send super-targeted emails with Dot and Mailchimp.
If you're looking for the whole package of contact management, lead scoring, ad management, social media management and beyond there are others like Marketo, Eloqua, Pardot etc.
Visit the marketplace on Dot.vu today to find many great interactive content examples that can easily enhance your marketing strategy!
---