The customer journey is changing…
Let's see some of the numbers about the changing customer journey before diving into scaling sales with Interactive Video.
With 67% of the buyer journey now done digitally, consumers are more in charge of their own buyer journey than ever before. In fact, it's estimated that B2B are typically 57% of the way to a buying decision before reaching out to sales!
And this pattern only seems to reinforce itself. With Gartner Research reporting that by 2020, over 85% of the decision will be made without any human interaction.
It's a clear sign that we as consumers want to serve ourselves, on our own time and without anyone bothering us before we are ready. It's a question of convenience.
But how exactly do you win the sale without any personal contact?
Scaling sales with interactive video
At Pagely they are currently taking a new and innovative approach to this challenge, by leveraging interactive video. Visitors are invited to take part in a video experience where the content changes depending on the person interacting.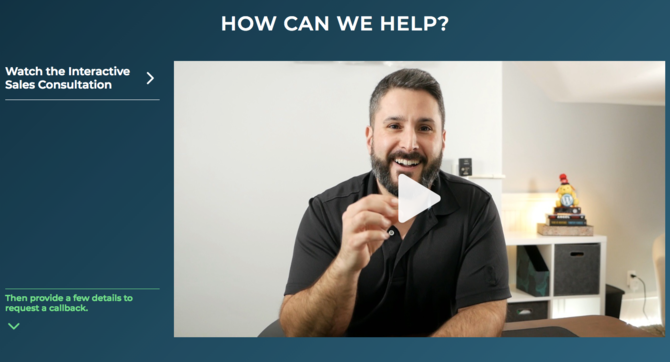 The beginning of Pagely's interactive video. Click here to try it yourself.
By offering this, Pagely manages to deliver a self-service option for visitors. It enables them to explore a consultative sales experience without ever actually engaging a human.
Not only is this a great experience for the customer, but all the interactions are also simultaneously being tracked and sent directly into ActiveCampaign. Then, they are used to trigger highly-personalized follow-up—before a live rep ever connects with the prospect. So, when sales reps decide to get on the phone with these new contacts, they have more background information about industries, specific challenges, and current setup
How was this beneficial for Pagely?
The interactive video has been very beneficial to their sales process in especially two ways:
The repetitive parts of a sales demo were automated. It let Pagely's sales team spend more time with leads who needed answers to detailed questions
Top-of-funnel website visitors that weren't ready for a phone call could enter the sales funnel and give their contact information. Hence, increasing the number of inbound leads.
"It's served to both get us some new leads we might not have acquired otherwise, as well as provide a mechanism to deepen the rapport and engagement in a way that scales and doesn't consume any overhead from the sales team. It's like having a custom-tailored sales conversation available 24×7 for the prospects who aren't necessarily ready to speak with a human" – Sean Tierney, Director of Sales
Sean, Director of Salas at Pagley, recently sat down with us to give a detailed account of how to set up this kind of interactive, personalized video. Also, how it ties into their existing sales process:
The Results of Sales with Interactive Video
Setting up self-serve video content had fast results. They had 30 more sales leads and an 8% lower bounce rate on the quotes page in just 3 months. They've even managed to get sales directly from the video experience, which is something that happens very rarely.
Overall, they are seeing an increase in leads for sales to follow up with. Also, that fewer people leave Pagely's website without getting in touch. Even better, the new leads that do get in touch with sales have already gone through the beginning of the sales process. Therefore, they are more qualified.
Pagely has also seen a number of very positive tweets and emails from people. They appreciate being able to engage with a sales rep without actually having to book and attend a call.
If you liked what you read and you have a need for something similar, don't hesitate to get started on creating your own interactive video right now.
---