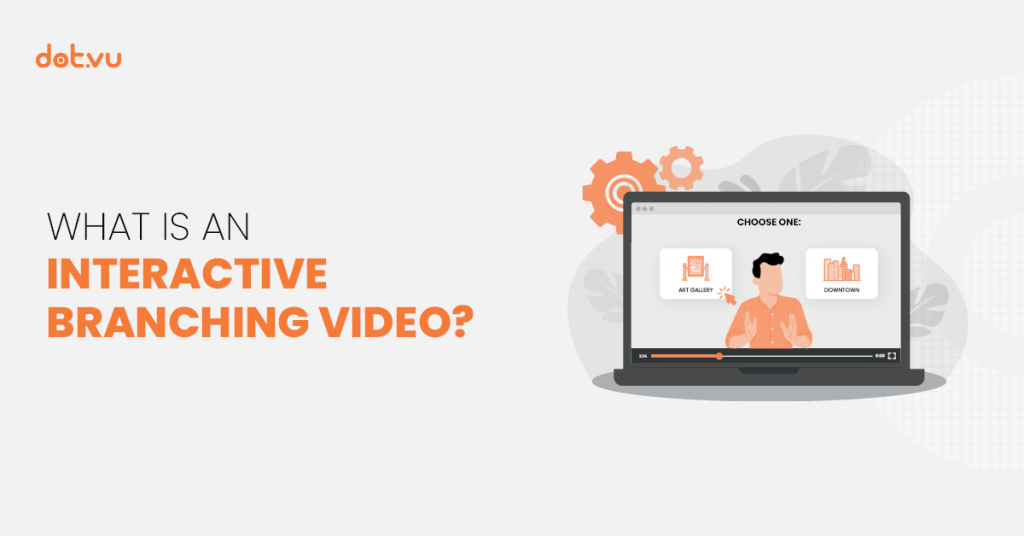 Do you know what Branching Videos are or, commonly named, Choose Your Own Adventure Videos? Have you watched Black Mirror: Bandersnatch or the new Kimmy Schmidt special on Netflix? If not, you should! Netflix started producing interactive branching TV-Show and these are amazing examples of their new type of content.
As usual, Netflix is not disappointing us. They always find ways to be trendsetters and to distinguish themselves from bigger players (a.k.a richer players) like Disney+, Amazon Prime, and HBO.
But, Branching Videos (or Choose Your Own Adventure Videos) are not only accessible to big companies like Netflix. You can create some quite easily. Read on to find out more about branching videos and be a trendsetter like Netflix!
What is a Branching Video? 
A Branching Video is a type of Interactive Video where the viewer is asked to participate actively in the narrative by choosing between different actions or storylines. In other words, the viewers create their own narratives rather than watching passively.
The main objective of Choose Your Own Adventure Videos is to engage the user through strategic storytelling. In a Branching Video, decision points are used to ask the viewer questions, and based on the reply; the viewer is sent to another part of the video. In other words, a Branching Video combines different video clips to make an interactive story for the viewer.
You can see how the chocolate brand Callebaut used a very simple Branching Video to create an interactive recipe-building experience. The users create their own chocolate cream puff by choosing the type of chocolate, base, and filling. Then, the chef creates the dessert based on the viewer's "order" and presents it to the viewers with a link to the recipe.
Try it out yourself by clicking on the picture!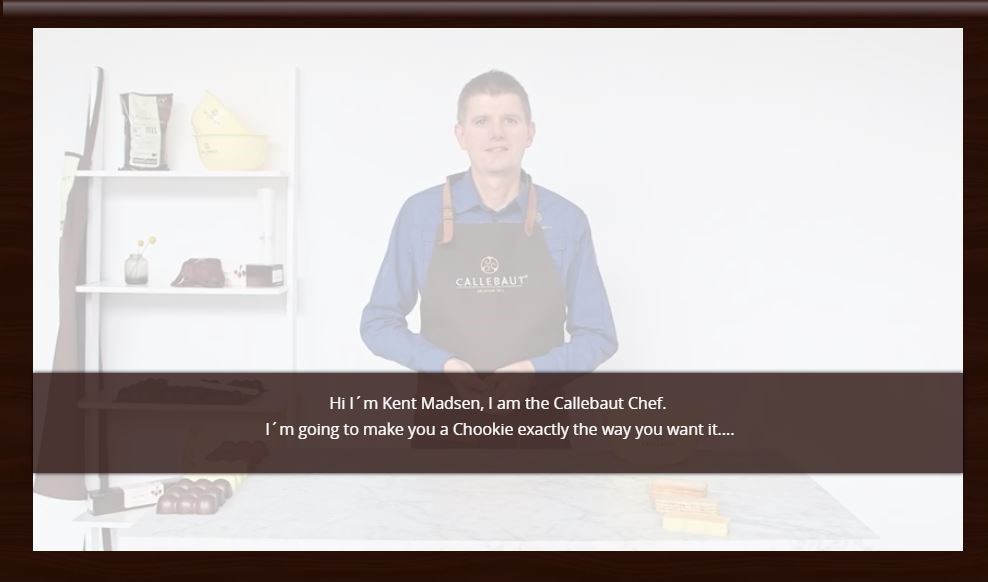 The Main Benefits of Branching Video 
You might be thinking, why don't I just use my regular videos? Videos are an effective marketing tool and deliver good results already. Why bother? Well, a Branching Video delivers even better results. Here are a couple of things to consider.
Branching Videos provides higher engagement and longer viewing time on average than linear video.
You offer the viewer to become an active participant and influence what happens instead of passively watching.
With Branching Video, you can understand your customer behaviour by tracking every choice the viewer makes and register it.
By registering the audience insight, you can personalize your future marketing tactics or even dive into hyper-personalization Marketing.
You can include an opt-in form to grow your email list, people are more likely to opt into an Interactive Experience than to a linear video.
You can tailor the content of your branching videos to match people's preferences based on their choices and end with a CTA matching it, offering a more personalized and memorable experience.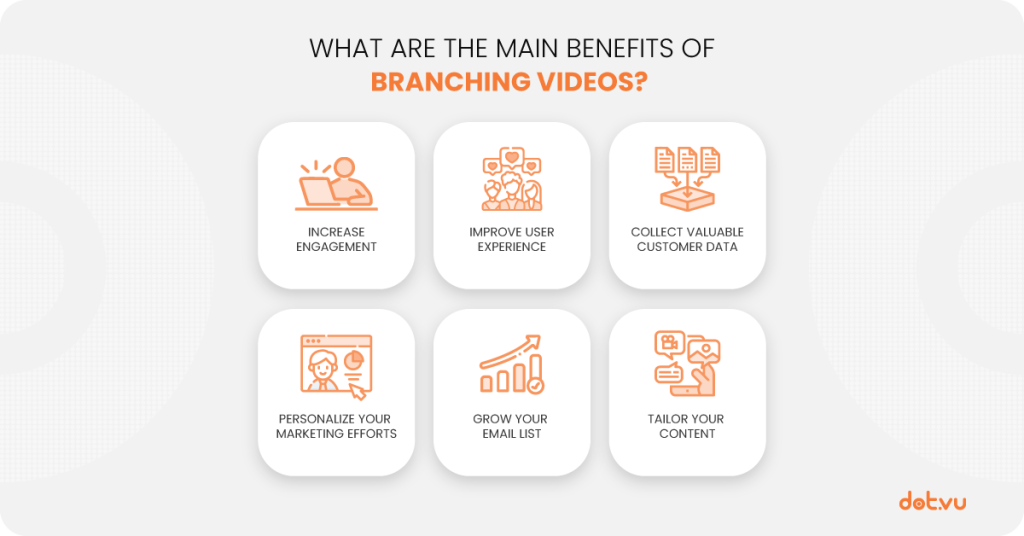 The opportunities of using Choose Your Own Adventure Videos 
A Branching Video also opens up new potentials that regular video does not. For example, you have many types of branching videos like a virtual consultation, a virtual treasure hunt, or a new staff company presentation.
Because of these definite benefits, more digital marketers are turning to Branching Videos or Interactive Videos. In fact, around 17% of marketers said they plan to include Interactive Video in their marketing strategy in 2022.
With recent technological advancements, we have seen a rapid increase in video and mobile use. This development has made videos more crucial than ever in marketing. Everyone has started to do them. It's getting incredibly difficult to stand out on digital channels with a linear video. That's why it's important to be different and implement Branching Videos and other types of Interactive Videos.
To sum up, by using Choose Your Own Adventure Videos, you stand out from the crowd and reach beyond the digital channels' noise.
Check out this example by clicking on the picture!
How to make a Branching Video? 
When creating your Branching Video, there are a few things to consider in order to be successful. Let's take a look at them to help you get your way around the creation process.
1. Define Goals and Objectives
Before you get started mapping out the details for your branching video, you first need to decide what goals you have for this marketing campaign. Are you hoping to increase customer knowledge about your brand? Do you have a new product to promote? 50% of internet users look for videos related to a product or service before visiting a store. So, creating a branching video to promote a new product might be a very good way to generate awareness! You might also be interested in boosting sales, or simply entertaining your audience. In any case, it's always better to know beforehand what the main goal of your Branching Video is.
2. Determine your Target Group
The other factor that is important to consider is your target group. Did you know that 78% of people watch videos online each week and 55% watch videos every day? It is because of statistics like these that more and more marketers need to pair their marketing efforts with the needs of their customers. If you are promoting a product that is more geared towards a certain demographic, you will want to keep that group in mind when writing your messages and establishing a tone that best fits this group. Moreover, you'll think about which channels to use to promote your branching video.
Pro Tip: Create a shorter, static version of your branching video and promote it on YouTube and TikTok to generate awareness. Have people go on your experience to decide what happens next!
3. Plan your Branching Video
After establishing the goals and target group of your video, you are ready to start planning the content of your Interactive Video. Making a Branching Video is not as hard as you may think. Get started by simply choosing between repurposing one of your linear videos or recording a new one. But, first, you'll want to create a roadmap! A road map will help you decide what stories will be told, and what questions will be asked.
Let's imagine you wanted to introduce your workplace to your clients. You record a video of one of your staff members walking into your office. You decide that the first decision point (the first question) will be running into Johnny, a college. You'll ask viewers: 'What would you do, say hi to Johnny or run to the coffee machine to get coffee?'
From there, the viewer picks an option and jumps to the scenario chosen: running to the coffee machine or saying hi to Johnny, both of which you have recorded. The Choose Your Own Adventure video will then continue with your other decision points.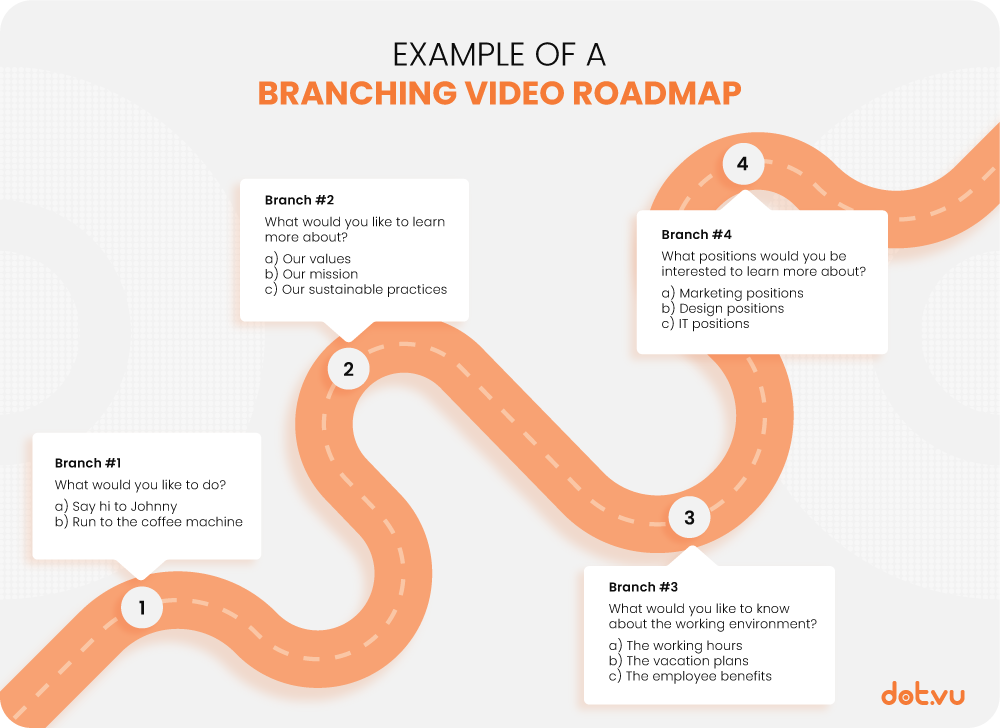 4. Create a Content Outline for the Story
Now, you are ready to create the outline for your story. Write the outline of the video from start to finish with one scenario.
Now is the time to keep in mind those products or services you want to highlight. Decide which images you will use and what content you will write to describe them. Remind yourself of your purpose. Are you hoping to inform viewers of a topic or are you giving product information in hopes of making a sale? The content you include will be the magnet that leads your customers in the right direction.
Don't forget your target group! Make sure the tone of your message fits those you are addressing and that your message is written in a way that is easy and enjoyable for the target group to experience.
Moreover, keeping the customer journey in mind will allow you to plan which Interactive Elements to include such as hotspots, clickable buttons, Marketing Games, and other Interactive Experiences to optimize maximum marketing potential.
If viewers click on these areas throughout the experience, they have a variety of opportunities to learn more about the products in the video and even get sent to your online shop.
5. Design your Mockup
Once all of the scenarios and hotspots are mapped out and the content is outlined, you will want to create a visual mock-up of your Branching Video. These are designs that show the exact locations where the images, text, and hotspots will be located on the Interactive Video. This is particularly helpful when using an Interactive Video software for creation. You don't want to forget this step, because a detailed mock-up will make the process of building your Branching Video much easier.
6. Create your Branching Video
With all of the planning done, you are ready to record your video. This is your time to be creative and make a video that has the right message for your target group. All the while, keep your goals in mind to make sure that you fulfil them throughout the video. It is also important to record all of the versions of your video from the different scenarios you offer in the video to make sure that there is a constant flow and that all scenarios have the same start and endpoints.
Upload the videos into the editor to edit and add additional Interactive Experiences throughout your video. Use your mock-up to make sure you haven't left anything out.
Next, set an action for each of your hotspots. When you approach part of the video with a question, you want to incorporate a KPI that will signal a CTA button on the screen, allowing viewers to decide in which direction the video will go. These buttons should be easy to see. You can also include a CTA button at the end of the experience that leads to various areas of your website or online store.
Next, set an action for each of your hotspots. When you approach part of the video with a question, you want to incorporate a KPI that will signal a CTA button on the screen, allowing viewers to decide in which direction the video will go. These buttons should be easy to see. You can also include a CTA button at the end of the experience that leads to various areas of your website or online store.
Be sure not to keep all of your interactive elements in one section of the video. Instead, spread out the experiences to keep your audience interested in what information your video has to offer for longer.
7. Set up Integrations
In order to track your KPIs within the video, you will want to enable the Google Analytics add-on feature. These analytics will help you in knowing more about the popularity of your products and gain insight into what customers like. You can also use them to determine the strengths and weaknesses of your video, which will be helpful when planning future branching videos.
In addition to that, this is a great time to integrate with other third-party apps like Hubspot, Mailchimp, Pardot, etc., which will help to enhance the functionality of your experience. Plus, it will ensure that your Branching Video contributes to your Marketing Automation strategy.
8. Publish and Promote your Branching Video
Before you publish your branching video, ensure that the KPIs are set up so that you can evaluate the performance of your Interactive Content later on. This is also the time to create the metadata for SEO optimization with a meta title and description. Don't forget to include a key phrase in this metadata to optimize your experience for SEO.
Make sure that you have fully researched the best time and place to publish your branching video. Will it be published on a specific landing page or will it be embedded elsewhere? Be sure to place your video when and where your customers will see it!
Decide where you will be to promote your Interactive Content and how. Is this the type of content that would be best promoted with paid media, or could you be just as successful with owned or shared media? Whatever you decide, don't forget to include a CTA!
9. Evaluate and Optimize Your Branching Video
After your branching video has been published and promoted, you will want to track the progress of your KPIs in Google Analytics and on the social media platforms where you shared the video. Record data on the effectiveness of the project and look to see what valuable insights you have gained about your customers in order to help you with marketing projects in the future.
Let your customers choose their own adventure! 
To summarize, Branching Videos are an important and popular type of Interactive Video. There are many benefits to using Choose Your Own Adventure Videos like distinguishing yourself from your competitors, gathering awesome audience insights, and engaging your customers. Plus, one is not as hard as it may seem. So, why not try to make one?
Dot.vu is an Interactive Content platform that allows you to create a Branching Video that you can embed anywhere. Visit our marketplace, pick a template and create a free account to start customizing!
---
Other articles you might be interested in:
---