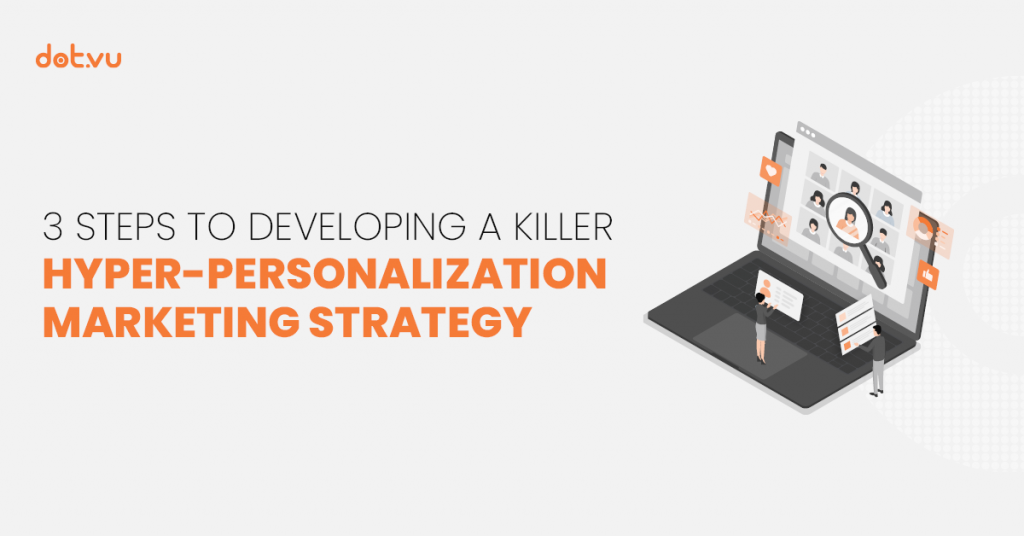 An increasing number of companies use hyper-personalization marketing in their strategy. This should not come as a surprise, because 80% of buyers are more likely to purchase from an organization that provides them with a tailored customer experience. This tendency is a great opportunity for businesses. The correct implementation of hyper-individualized experiences will set you apart from your competitors.
This blog post provides you with an overview of:
What is hyper-personalization marketing?
Hyper-personalization marketing is a strategy that aims to create a tailored customer experience based on behavioral data. Companies use artificial intelligence and real-time data to provide hyper-individualized content for their users. Combining data and technology is the key to a successful hyper-personalized approach.
Implementing personalization in digital marketing can help you differentiate your name from competitors, create a unique customer experience and improve brand loyalty.
Personalization vs. Hyper-personalization
Personalized marketing is not a new concept, whereas hyper-personalization has recently gained popularity.
Nowadays, most companies use basic customer information such as names, titles, organizations, demographic data, and purchase histories to improve communication. Later on, they use this information in their personalization tactics. Common examples include addressing your email subscribers by their first names or providing product recommendations based on purchase history.
Hyper-personalization, on the other hand, goes deeper than regular personalization. This strategy is more complex and uses behavioral and real-time data, such as:
Individual taste
Detailed search and purchase history of specific products
User actions on your website
Time spent consuming a piece of content
Preferred channels
The time when customers are most active
For instance, if you know that a part of your target audience tends to visit your webshop in the evenings between 8 and 9 pm, you will be able to send push notifications at the right time.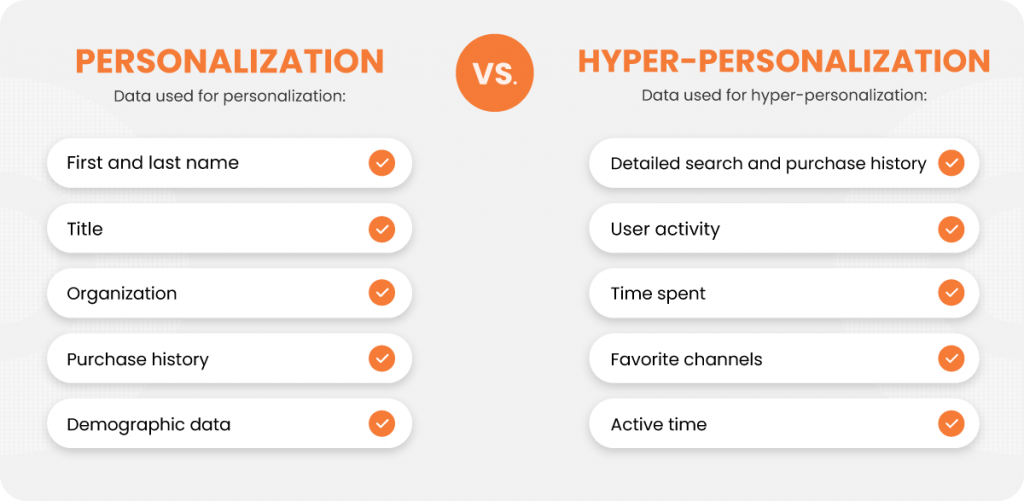 Benefits of hyper-personalization marketing for your business
Why should you replace regular personalization with hyper-personalization? Let's explore the advantages of obtaining a better understanding of your audience.
Stand out from your competitors
What if your company is the one to make your target audience feel special? After all, delivering the content that your customers need will make their lives easier. Not every organization can manage to do that. Therefore, delving into customer experience data and crafting hyper-individualized marketing materials will differentiate you from the competitors.
Simplify the shopping experience
Research shows that choice overload may affect our ability to make a purchase decision. Customers feel overwhelmed with the vast number of products sold online. By providing tailored product suggestions, you simplify the shopping experience and increase your chances of gaining trust and authority.
Increase revenue
When you gather enough customer insights, you will be able to suggest products the right way. Receiving accurate product recommendations will facilitate the purchase decision. As a result, your visitors will buy more as they find exactly what they are looking for.
Improve the customer experience
The ultimate goal of hyper-personalization is to create a unique customer experience. Reaching out to your customers when they are most active, sending them tailored messages, and using their favorite channels will increase satisfaction.
Increase brand loyalty
Providing hyper-individualized experiences is tightly related to building an emotional attachment to your brand. More than 90% of all purchase decisions are based on emotions and subconscious factors. In other words, people are more likely to buy from you if your company makes them feel good. Providing tailored content based on data will evoke positive emotions among your customers. As a result, you improve brand loyalty.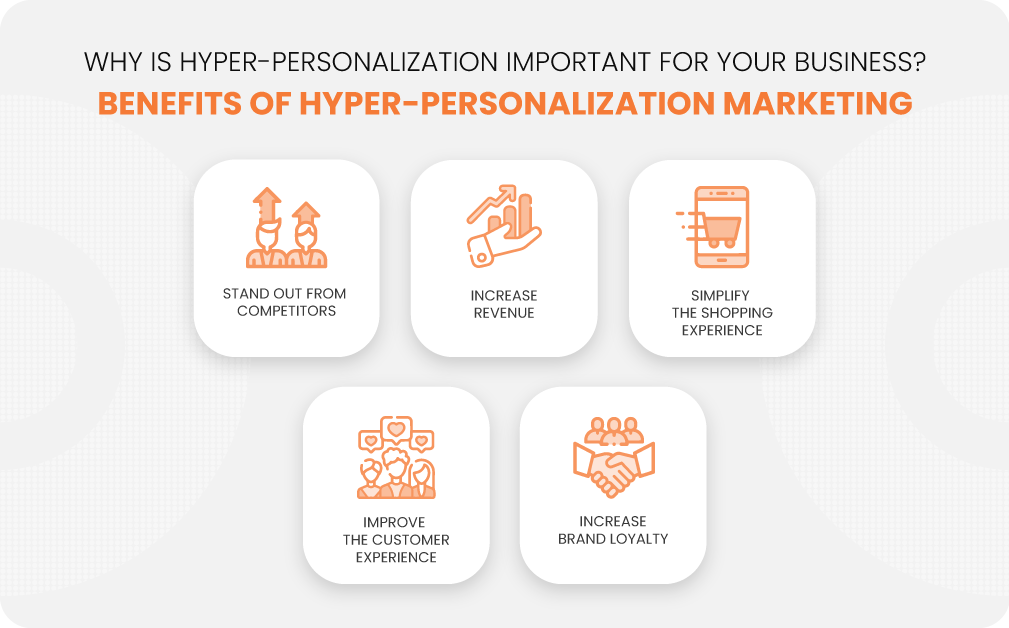 5 Steps to developing a killer hyper-personalization marketing strategy
1. Data collection
The first step to creating a killer hyper-personalization strategy is collecting valuable customer insights. After all, you need to get to know your customers better to tailor a personalized experience based on their preferences.
Data privacy regulations tighten. Therefore, marketers are facing rising expectations for personalization. In 2023, companies will use an average of 18 data sources for collecting information.
Some of the common tools to collect data are:
AI and machine learning. Artificial intelligence and machine learning are among the top MarTech trends for 2022. Marketers leverage these tools to improve data collection. If you want to adapt your communication to your customers' needs on a deeper level, AI and machine learning are the solutions for you.
Interactive Content. Interactive Content requires the user to interact actively with your website. Some examples include Marketing Games, Quizzes, and Guided Selling experiences. Leveraging the power of Interactive Content will help you understand consumer behavior in depth. Let's explore the example below. This is a Product Recommender Interactive Experience that encourages visitors to vote on their favorite products. You can collect the responses to understand your audience better. If you want to learn more about gathering valuable insights with Interactive Content, we recommend this article: What is Interactive Content?
Interactive social media posts. Another technique to collect relevant consumer data is communicating with your audience through interactive social media posts. The average user spends 147 minutes per day on average browsing through social media! Therefore, reaching out to your target audience through Instagram, Twitter, Pinterest, or TikTok is a brilliant opportunity for your business. For example, you can ask questions directly through a poll.
2. Create a hyper-individualized content strategy
Once you have obtained real-time customer insights, it is time to create your content strategy. Use your analysis to craft hyper-individualized messages, push notifications, emails, product recommendations, and videos. Furthermore, real-time data enables you to send the right content at the right time and on the right channels. In other words, you will communicate with your customers exactly the way they want it.
Here are some hyper-personalization examples:
Sending push notifications when your customer is most active.
Crafting tailored messages and sending them through your customer's preferred social media channel.
Sending a gift that you know your customer would like, as you collected information on their preferences in advance.
Offering detailed product recommendations based on your customer's needs and preferences.
Creating tailored individualized content that your customer would love to read.
Here is an example of how Interactive Content can help you leverage hyper-personalization. This Personalized Birthday Card template enables you to send tailored birthday wishes to your customers along with discount codes as gifts.
Here is another great example. An Interactive Birthday Video that greets viewers with their first names, it creates a memorable experience that will make your brand shine.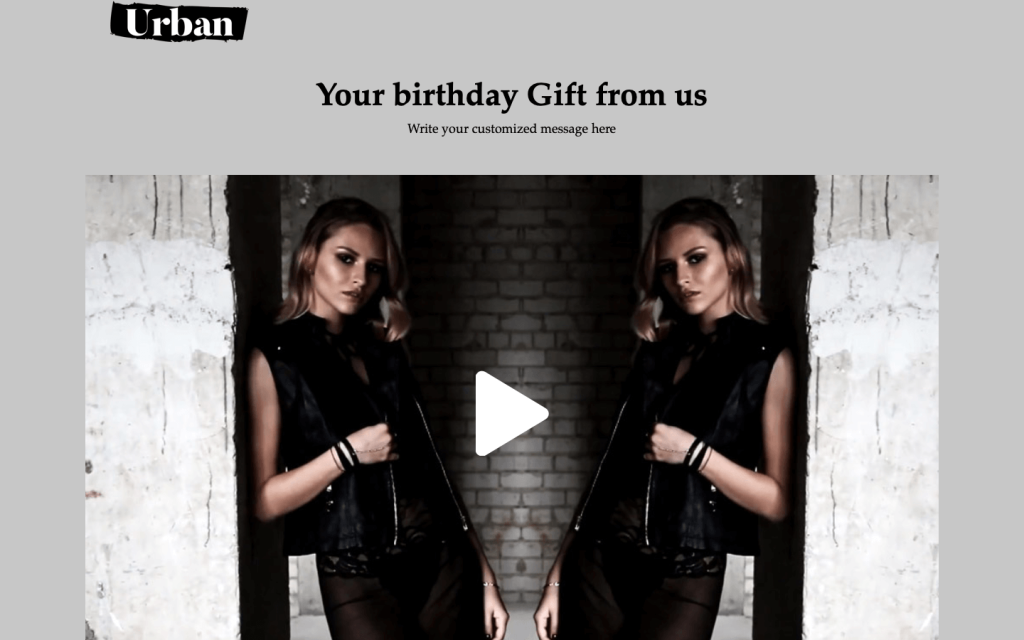 The previous two examples were created using the Dot.vu URL Data Addon. This addon allows you to collect customer data that is passed on the URL of the page into data fields available on the page.
3. Measure your performance
Last, but not least, measure the efficiency of your hyper-personalization marketing strategy using relevant metrics. You might discover that something doesn't work the way you expected. No worries! As you can easily collect data and perform A/B testing, you have the opportunity to improve your hyper-personalization strategy continuously.
Why is hyper-personalization the future of marketing?
Hyper-personalization is the future of digital marketing as it strives to meet customers' expectations. An astonishing 72% of online buyers will only engage with tailored marketing messages. Your audience is likely to switch to a competitor if they don't receive customized content from you. Therefore, ignoring the trend might shake up your business.
On the other hand, being the first organization to implement hyper-personalization in your industry might provide you with a huge advantage. Although the implementation of personalization in digital marketing is more complicated than a regular one, it is totally worth it.
Create unique customer experiences with hyper-personalization marketing
Are you ready to create an unforgettable tailored customer experience based on real-time consumer data? Be one of the first companies to implement a hyper-personalized marketing strategy in your niche and gain a competitive advantage!
Dot.vu is an Interactive Content platform that enables you to collect valuable customer insights through various Interactive Experiences. Are you intrigued to explore the world of Interactive Content? Create a free account and try any of our templates for free! When you are ready to publish an Interactive Experience, you can choose the subscription that fits your needs and goals.
Create Interactive Content that tailors to the need of every and each of your customers!
---
---