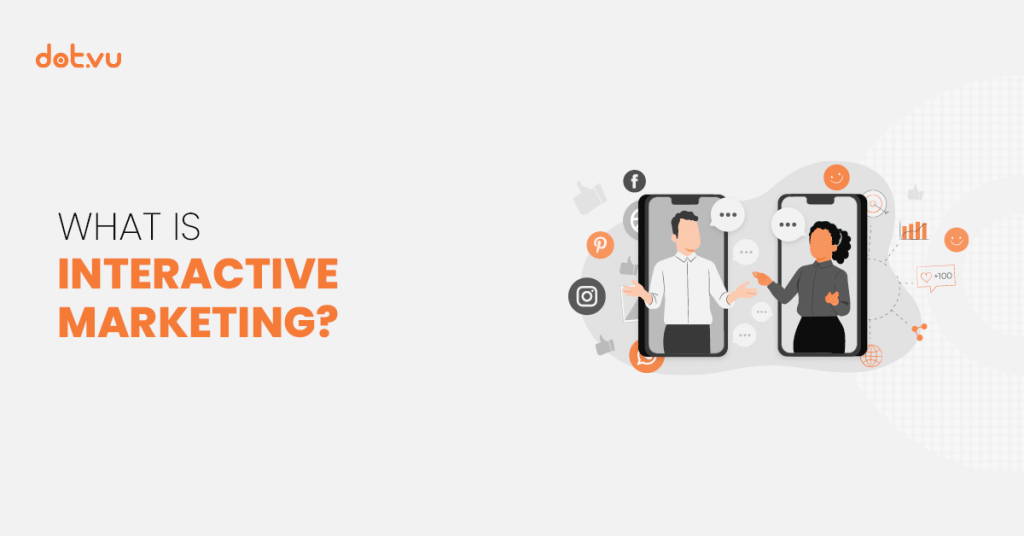 Content is king; we've heard this over and over, accepted it, made the necessary investments, and jumped on the content marketing bandwagon. Today, we're churning out more newsletters, blog posts, white papers, and videos than ever before. But while we're busy overloading our audiences' inboxes and social feeds with our content, we must stop to ask ourselves: is this really effective? Or is it time to innovate?
With more than 90% of marketers using digital content to approach customers, audiences are bombarded with information every day. Companies publish blog posts and share social media posts daily. How can you compete with that?
Why should your audience pick your website over your competitors? Differentiating in today's crowded online arena is clearly a challenge and is forcing marketers to become more creative, innovative, and strategic with their content – giving rise to the concept of interactive marketing.
In this blog post, you will learn the following:
Ready? So, let's dive into the interactive marketing definition!

What is interactive marketing?
Interactive marketing is implementing business strategies that encourage customers to interact with your brand while collecting valuable customer insights. As a result, you use accurate behavioral data to improve content so that it adapts to your target audience. In other words, interactive marketing refers to leveraging Interactive Content to gather consumer data, boost engagement, and improve brand experience.
This strategy is also called interaction marketing. As the name suggests, the focus is on effective interaction. Customers interact with the website content and demonstrate specific behaviors and preferences. Every action highlights the personal preferences of the users. They show what they like by clicking, viewing, answering questions, and participating in certain experiences. The response of the companies is to improve the content accordingly.
If you want to learn more about implementing Interactive Content in your marketing, read our blog post "What is Interactive Content?".
Interactive marketing is implementing business strategies that encourage customers to interact with your brand while collecting valuable customer insights. As a result, you use accurate behavioral data to improve content so that it adapts…
Click To Tweet
Why is interactive marketing important?
Encouraging customers to interact with your brand is 33% more effective in differentiating from competitors than sharing passive content. In addition to this, there are other crucial advantages you can't afford to miss out on.
1. More interaction = more engagement
While traditional content talks to the user, Interactive Content talks with the user by inducing active participation. In contrast to a typical 1000+ word blog post, an Interactive Flipbook, for instance, allows audiences to shape and influence content as they interact with it. This creates a highly engaging, personal, and memorable experience that satisfies people's desire for individuation.
2. More engagement = more likes and shares
By creating a custom experience, and a custom outcome for users, digital interactive marketing is much more effective at driving audience action. Let's take, for example, a rudimentary knowledge test that produces a score for each player – we've seen how something as simple as this can make audiences want to share their scores and challenge their friends to participate.
By boosting likes, shares, comments, and follows, Interactive Content makes it possible for marketers to rely less on paid media and more on the quality of their content to carry their message.
3. More engagement = deeper data on individual needs, preferences, habits and pain points
When it comes to collecting audience data through content, most of us employ the same methods, such as newsletter sign-up forms, opt-ins, and gated content access forms. Unfortunately, this means that the data points we collect through these methods are also similar. Therefore, you and your competitors are probably sharing the same data set in your line of business.
In contrast to traditional content, interactive marketing content sets the user on a journey where each interaction aids in drawing a clearer picture of the user's profile. With this in mind, marketers can strategically mine specific setс of data that reveal their audience's needs, preferences, habits, and pain points. Marketers can leverage these insights to keep their business ahead of the curve not only in terms of marketing, but also in terms of product development, business development, and sales.
4. More engagement = more qualified leads
As a marketer, you would agree that aligning with sales on lead management is an epic battle. 'Marketing doesn't generate enough leads' or 'These aren't leads, they're just email addresses' are complaints many marketers have had to deal with at some point in their careers.
Interactive Content has the potential to be the medium that aligns marketing and sales on these issues and brings these two natural foes together. Because interactive marketing offers a custom experience, audiences are more willing to share personal details to access valuable content than they would for, say, a blog post or a static PDF article. In fact, 60% of millennials would share their personal information to receive personalized offers and content. Therefore, you finally manage to increase the number of leads you can hand over to sales.
The more you know about your audience on a personal level, the easier it becomes to identify the right target groups. By plugging in the data collected from audience interactions, marketers can significantly improve the quality of their leads. As a result, they provide sales teams with the right insights for making highly personalized, tailor-made sales pitches.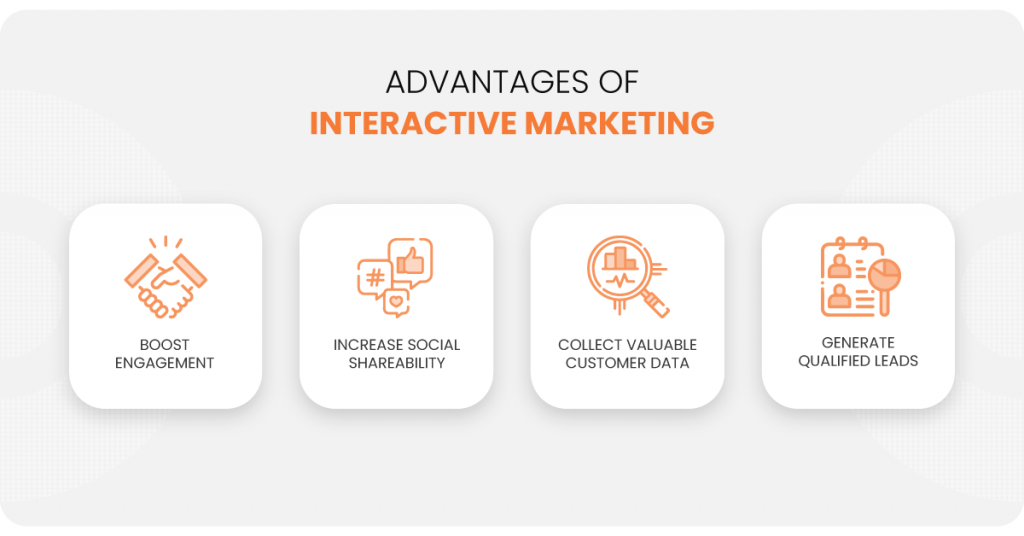 What are the most common interactive marketing strategy types?
When it comes to encouraging your audience to interact with your content, it is important to provide experiences that align with your customer's expectations as well as your brand identity. After reading the following strategies and interactive marketing examples, you will get a clear picture of what would work for your organization.
1. Gamification
Gamifying content for business purposes is a concept that has gained vast popularity over the last few years. This strategy can be used both for entertaining customers and training employees. Gamification in marketing can help companies be seven times more profitable. Furthermore, tracking your customers' actions within the game will help you get to know them better.  
Gamification can have many different forms. From transforming traditional concepts into games to educating customers in a fun way, you can create any game that matches your brand identity. Get inspired with these gamification marketing examples to create better personalized content.
2. Quizzes and surveys
What can be a better way to get to know your customers than a personality quiz? As you have complete freedom to craft the right questions, you can learn whatever you need to build a consumer preferences database. As a result, you will be able to improve content.
3. Interactive video marketing
Interactive Videos are highly engaging Interactive Experiences. Interacting with different elements is more captivating than passive video viewing. In fact, using an Interactive Video marketing strategy can lead to a 44% longer viewing time! Therefore, making your visitors part of the journey boosts engagement and brand loyalty.
Learn how to implement interactive video marketing in our blog post "What is an Interactive Video."
4. Personalized content
Providing content tailored to your visitor's preferences is invaluable. Rapid technological advancement allows companies to collect customer data like never before. As already mentioned, embedding interactive elements to your website can help you understand consumer behavior much better. The more you know about your audience, the more personalized experience you can provide. Why is this important? Well, nearly 100% of marketers reported an increase in revenue thanks to personalization! Therefore, personalized content is the direct path to boosting sales!
Some companies implement a personalization strategy, whereas others switch to the more advanced and complex hyper-personalization marketing approach. The difference between these two is the type of data used to craft tailored messages.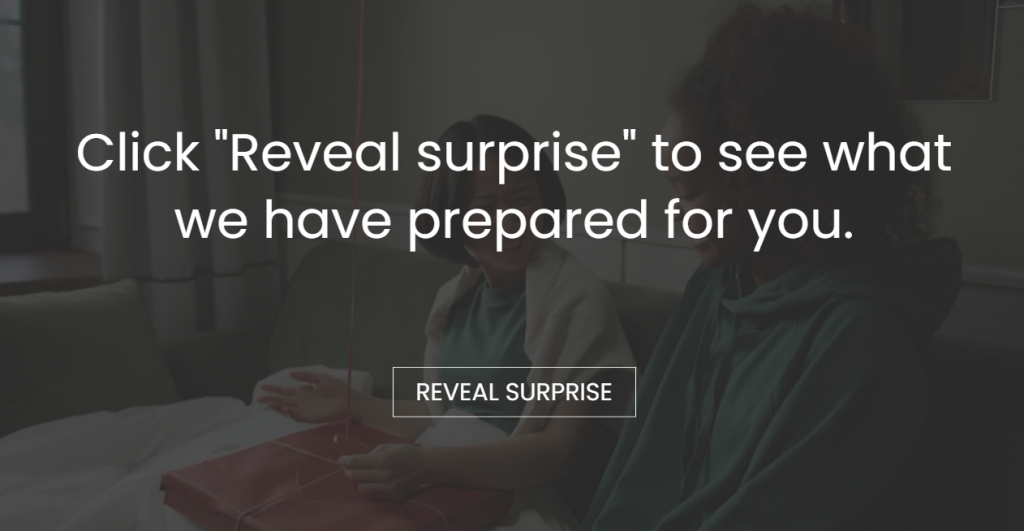 5. Assessments
Creating assessments is yet another way to collect data and craft better-personalized content. Assessment is a type of Interactive Content that helps customers make informed decisions. You manage to gain a much deeper understanding of the respondents through their answers. More than 50% of marketers make use of Interactive Assessments to connect with their audiences and improve their content strategy. Are you next in line?
6. Contests
Organizing a contest is a brilliant way to get to know your audience better. Communicating with your customers during such an event can help you improve personalization. Gathering your loyal customers in one place will encourage interaction between them and your brand.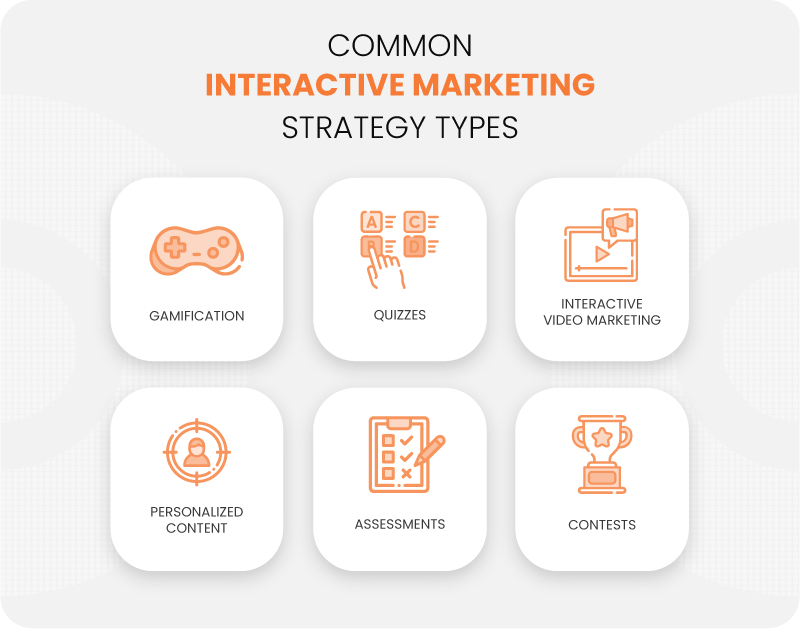 4 Successful interactive marketing examples
Get inspired to create your successful interactive marketing content. These companies did it right. Are you next in line? We guarantee that your customers will love it!
1. Challenging Marketing Game for Valentine's Day
The Perfume Shop, the UK's largest perfume retailer, launched a challenging Marketing Game where customers interacted with the brand actively. Not only did participants play to win a mystery prize, but they also learned more about the company. The game revealed company-specific information along the way. While providing terrific value, The Perfume Shop could collect a large amount of data.
2. Interactive Sales Consultation
Pagely, the WordPress hosting market leader, created an Interactive Video to serve as a virtual customer service. After answering a series of questions, the viewers receive personalized messages based on their answers. The main benefit for the customers is obtaining a customized product recommendation. At the same time, the organization benefits from gathering valuable consumer data to improve offerings in the future.
3. Interactive Video Quiz for new product launch
A new product launch is an important event in every company. This is where effective two-way communication plays a vital role in the interaction between the organization and the customers. Hummel, a Danish footwear and sportswear brand, managed to spread awareness during their new product launch with an Interactive Video Quiz. The participants test their knowledge related to different handball stars' careers with the chance to win a special prize.
4. Interactive conversation to educate customers
Barry Callebaut, the world's leading supplier of high-quality chocolate, implemented interaction marketing in the right way. The company created an Interactive Conversation to teach professionals how to temper chocolate. As tempering chocolate is a pretty challenging task, the purpose of the guide was to provide a two-way step-by-step guide. While providing educational content, Barry Callebaut can gather customer data based on the actions taken by the viewers within the experience.
Get inspired with more Interactive Conversation examples and delight customers with your own!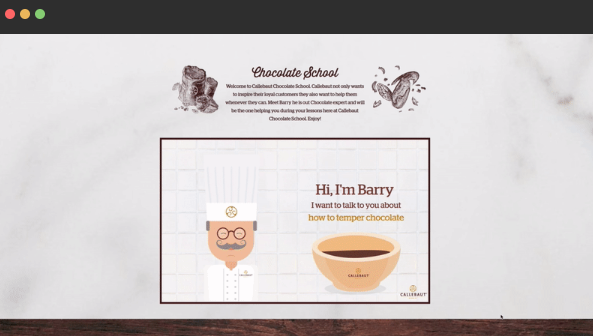 So, are interactive marketing campaigns on your agenda yet?
If not, you should definitely consider it. There is too much online content at this point. When interactivity in marketing really breaks into the business arena and companies learn how to leverage it for their audiences, it will change how we publish and consume content, ushering in the next phase in content evolution.
Dot.vu is an Interactive Content platform that allows you to implement interactive marketing into your overall strategy to achieve optimal results. Our marketplace offers hundreds of Interactive Experiences to create two-way communication with your audience. Create a free account to try a template and experience the magic of interactive marketing!
---