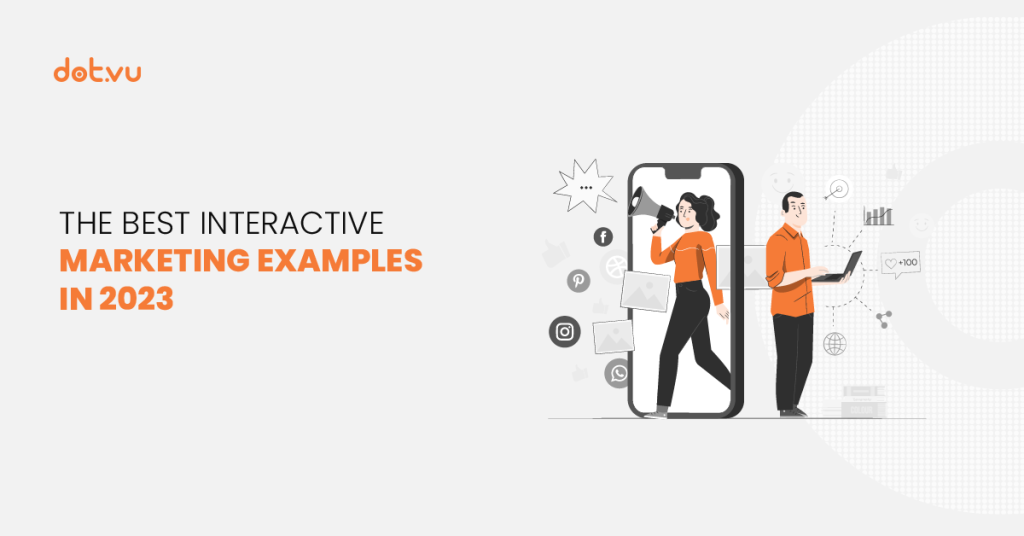 Content marketing is a cost-effective yet powerful way to nurture and educate your target audience, ultimately building trust and driving conversions. However, keeping high customer engagement levels is challenging, and so is converting readers into confident buyers.
Here is where interactive marketing comes into play. It is your lucky day, as you've just landed on the complete list of interactive marketing examples to inspire you in 2023.
What is interactive marketing?
Interactive marketing is all about engaging customers and learning from their actions. When users interact with your content by clicking, viewing, answering questions, or participating in digital experiences, it's like they're sharing their personal preferences with you. In response, companies improve their content to make the user experience even better. It's all about sparking meaningful interactions and continuously enhancing how customers connect with your brand.
In other words, interactive marketing encourages two-sided communication between your visitors and your brand. Plus, interactive marketing allows you to go beyond guessing when it comes to customer preferences!
Related: What is interactive marketing?
Now, let's see how successful companies implement interactive marketing.
24 Amazing interactive marketing examples
Welcome to the journey of marketing interactivity, where we introduce you to 24 brilliant examples of interactive marketing. These are all easy to recreate with Dot.vu without writing a single line of code.
1. Interactive Infographics
Infographics have the power to simplify complex information and engage your audience with compelling visuals. When you add interactive elements, you transform infographics into dynamic storytelling tools.
With Interactive Infographics, it's your audience who takes the reins, clicking and choosing the information they want to explore further.
Take a look at this example, a Simple Infographic, which is packed with information that could easily become cluttered without interactivity. Instead, you can incorporate images with corresponding titles, allowing viewers to choose the topics they'd like to explore further simply by clicking on them.
2. Surveys and polls
Surveys and polls are indispensable tools for marketers seeking valuable insights. By using them, you not only show that you value your audience's opinions but also actively seek their input.
Are you curious about whether your customers would recommend your brand to others? This short survey can efficiently gather this valuable information through a quick interaction with your visitors.
3. Interactive Q&A page
Q&A pages offer a plethora of benefits, from boosting SEO to enhancing user experience and reducing support inquiries. Q&A pages are just great. But have you ever seen an interactive Q&A page? We bet not!
Imagine users crafting the page by asking questions, ensuring that it's a repository of pertinent and valuable information that speaks directly to their needs.
4. Interactive blog posts
Blogging is an exceptional way to connect with your audience and establish authority, both in a B2C and B2B context. In fact, more than 70% of B2B buyers consume blog content as a part of their buyer journey. However, lengthy, text-heavy articles can be overwhelming. Incorporate interactivity – breaking up blocks of text with engaging elements ensures your readers stay captivated and your message resonates.
Now, let us make this blog post more interactive with a poll. Let's see if you already use interactive marketing:
5. Social media posts
Your brand's voice finds its stage in social media. When you infuse interactive marketing tactics into your social media strategy, you take your posts beyond likes and shares. Initiating conversations on your social platforms strengthens your customer relationships, fostering a long-lasting impact.
Interactive social media posts can have many different forms, such as:
Contests and giveaways
Polls
Tag-a-friend posts
Discount posts
User-generated content
6. User-generated content
UGC is among our favorite interactive marketing examples – it's like marketing with a side of fun! Imagine your customers being creative and crafting content that speaks volumes about your brand. UGC comes in many forms, such as videos, social media images, reviews, and testimonials.
Brands can get more user-generated content by:
Asking for feedback
Creating and developing a branded hashtag
Launching social media contests.
Collaborating with influencers
In the example below, you can encourage customers to share their creations on social media, all tagged with your branded hashtag. Then, you select the top nine pictures, and users cast their votes for the best one. It's all about sparking excitement, interaction, and the pure magic of UGC.
7. AR & VR
Augmented reality offers a blend of entertainment and education for customers, while also helping them evaluate products. Companies can leverage AR in various ways, like interactive store maps, product visualization, real estate visualization, and technical visualization.
8. Online quizzes
People love quizzes! These engaging digital tools have the remarkable ability to turn passive readers into enthusiastic participants. With a well-crafted online quiz, you can captivate your audience's curiosity, challenge their knowledge, and spark their creativity.
The example we're excited to showcase is a gamified quiz. In this Interactive Quiz, users are invited to playfully engage by dragging and dropping images into the answer area, creating an enjoyable and casual experience that's bound to put a smile on their faces.
9. Personality Tests
Let's delve into the fascinating world of Personality Tests, a unique quiz format designed to uncover your customers' distinct personality traits. Taking an online Personality Test is a delightful pastime for your customers, and the rewards for your business go beyond entertainment. You gain valuable insights into your audience's preferences and behaviors, offering invaluable knowledge that can enhance your marketing strategies.
Personality Tests offer significant value to your customers. Take, for instance, this Health Tips Test, which tailors health advice to users based on their unique personalities.
10. Interactive Assessments
Online Assessments prove to be powerful tools for fostering interaction between your customers and your brand. These assessments empower users to self-evaluate their skills and knowledge on behalf of your company. This, in turn, contributes to building authority and trust within your target audience.
Pro tip: You can use Interactive Assessments both for individual consumers and businesses.
You don't have to invest an extensive amount of time to create an Interactive Assessment. Take a glance at this assessment template that empowers you to assist customers in assessing their skills and enhancing them with your valuable feedback.
11. Interactive Videos
Interactive Videos stand out as one of the go-to interactive marketing examples for marketers across the board. They elevate the already engaging video format by letting viewers shape their own viewing experience through interaction.
Companies can create Interactive Videos to educate, entertain, guide, or reward their customers. For instance, you can create a Shoppable Video where customers can make direct purchases while watching the video, turning engagement into action.
12. Personalized content
In today's digital era, marketers can leave generic content behind. Thanks to modern technology, they now have the power to craft personalized content and engage in direct conversations with customers.
You can create personalized content by using Interactive Content platforms like Dot.vu, which extract data from your CRM system.
Consider this Personalized Birthday Video as an example, where viewers are greeted with the warmth of their first name. Picture the delight on their faces as they receive this special video, tailor-made just for them.
13. Interactive Calculators
Calculators have long been indispensable tools, and today, they've found their digital home. Companies can use Interactive Calculators to assist potential customers in calculating costs, ROI, or any other figures of interest. What's even better? It's your brand that provides the answers, setting you apart and leaving a lasting impression.
Pro tip: You can use Interactive Calculators both for individual consumers and businesses.
14. Interactive Virtual Tours
Virtual tours can recreate a real-world space in the digital world, just like how museums offered online tours during the pandemic.
Your company can use this technology to give customers a fantastic online experience. Think of it as an opportunity for them to virtually visit your store or office. They can click, play games, and answer questions right within this virtual tour.
15. Interactive Presentations
An engaging presentation, enriched with interactive elements, serves as an invaluable asset for effectively communicating your company's message. Consider, for instance, including quizzes and surveys, which not only captivate your audience but also spark meaningful conversations and interactions.
16. Idea generators
Let the creative sparks fly! Idea generator tools are the perfect recipe for stirring up your potential customers' imaginative thinking. It doesn't matter which industry you're in; you can craft an Interactive Content piece in the form of a quiz. As they respond to questions, you can guide them toward brilliant ideas.
Pro tip: You can use idea generator tools both for individual consumers and businesses.
Take, for instance, our Template Idea Generator. It's a nifty tool for marketers keen on Interactive Content. It helps you discover the finest concepts tailored to their specific needs and target audience. Are YOU interested in getting started with Interactive Content? Let us help with the idea!
17. Interactive Flipbooks and Ebooks
Interactive Flipbooks and eBooks transform traditional one-sided, text-heavy documents into dynamic online experiences. Readers can not only dive into the content but also take a fun break, participate in a quiz, watch a video, or enjoy a game.
Are PDFs, ebooks, or online catalogs part of your content marketing strategy? Adding a touch of interactivity can work wonders for boosting engagement rates.
Pro tip: You can use Interactive Flipbooks both for individual consumers and businesses.
Take a look at this Interactive Product Catalog that stands out thanks to its built-in Product Recommender. But, what exactly is a Product Recommender? Find out more in the next section.
18. Product Recommenders
We've all been there, spending hours scrolling through product pages in search of that perfect item. Do you want your customers to struggle with the same issue? While automated product recommendations have been a helpful tool, recent years have brought forth a more contemporary and efficient solution: the e-commerce quiz, or what we refer to as 'Product Recommenders' here at Dot.vu.
A Product Recommender takes the form of a quiz, offering consumers an online experience where they answer a few questions about their preferences and budget. In return, they receive precise and tailored product recommendations.
Pro tip: You can use Product Recommenders both for individual consumers and businesses.
19. Online contests
What could be more enticing and inspiring for customers than a nicely organized contest featuring enticing rewards?
Online contests have stood the test of time as a proven method for elevating brand awareness, fostering loyalty, and, ultimately, spurring sales. Now, picture this: infuse a dash of gamification into the mix. Challenge participants to not only enter your contest but also engage in a fun game where they must conquer a puzzle to earn their chance at winning.
Take, for instance, this online contest, a delightful game that dares players to crack the image puzzle, and in doing so, they secure their entry into an exciting draw.
20. Marketing gamification
As we delved into gamification in the previous section, let's now explore one of the most powerful examples of interactive marketing. Infusing game elements into your content marketing efforts stands as one of the most effective ways to captivate customers. After all, people enjoy the thrill of playing online games. And when you sweeten the deal with enticing prizes like free shipping, complimentary samples, or exclusive discount codes, your audience simply can't resist the allure.
Gamification simply represents customer engagement at its fullest.
There are many different types of Marketing Games, ranging from simple puzzles to complex knowledge games.
Moreover, you can make your Marketing Game an authentic reflection of your brand. Incorporate product images, your logo, and infuse your brand's unique essence into the game. It's an opportunity to not just engage but also imprint your brand into the hearts and minds of your audience.
See this amazing example from the Perfume Shop:
21. Online Advent Calendars
We're all well-acquainted with the concept of the advent calendar, a cherished tradition in the holiday season.
In the marketing world, this concept has evolved, taking on new life in the digital landscape. In this virtual space, customers can uncover daily surprises by virtually opening doors, making it a powerful marketing tool that generates excitement every day in the lead-up to Christmas. It's not just about spreading holiday cheer; it's about connecting with your audience and driving engagement, making Online Advent Calendars a unique and effective marketing strategy.
Do Online Advent Calendars deliver results? Let's dive into this example from Color Street, an innovative beauty brand that achieved an astounding feat. They generated over 30,000 leads with an Advent Calendar campaign. Yes, you read that correctly – 30,000 email contacts were generated through a thoughtfully crafted Online Advent Calendar, filled with delightful surprises, engaging games, and captivating videos hidden behind each virtual door.
22. Interactive Landing Pages
As a marketer, you're likely familiar with the use of landing pages to drive action on your website. But have you ever thought about taking your landing page to the next level by infusing it with interactive elements that truly stand out?
Here's a little riddle for you: How can you entice your visitors to become active participants using one of the interactive marketing examples from this blog post?
If you guessed 'Gamification,' you're absolutely right! (In fact, most examples here would be fitting answers.)
Now, let's delve into an exciting Black Friday landing page that incorporates a gamification element. With the simple addition of a Spin & Win game, this landing page ramps up the excitement for online shoppers as they prepare for the big retail day.
23. Storytelling
Strategic storytelling stands as a formidable content marketing tactic. Since people have an innate affinity for stories, presenting your brand's content as an engaging narrative can genuinely capture their interest.
Consider this: You can craft a video that empowers viewers to choose their own adventure with a Branching Video. Isn't it more thrilling to actively choose what happens next in the video rather than being a passive observer?
Narrate your brand's story through a Branching Video, and you'll find your customers simply falling in love with it!
24. Webinars
Webinars, a classic marketing method, provide a valuable platform for establishing two-way communication between your brand and your customers. This is especially effective when you include a Q&A session after your presentation.
Webinar marketing is mostly used by B2B marketers.
Get started with any of these interactive marketing examples today!
Recreating any of these examples is just a few clicks away with Dot.vu, the leading Interactive Content platform. Shift from traditional one-sided marketing content to dynamic two-way communication, where customers become active participants, interact, and engage with your brand.
Say goodbye to traditional, static marketing. Getting started has never been simpler. Sign up for a free account, and explore our library of over 350 templates, covering a wide range of interactive marketing methods, including quizzes, Personality Tests, Interactive Calculators, Marketing Games, and much more.
---