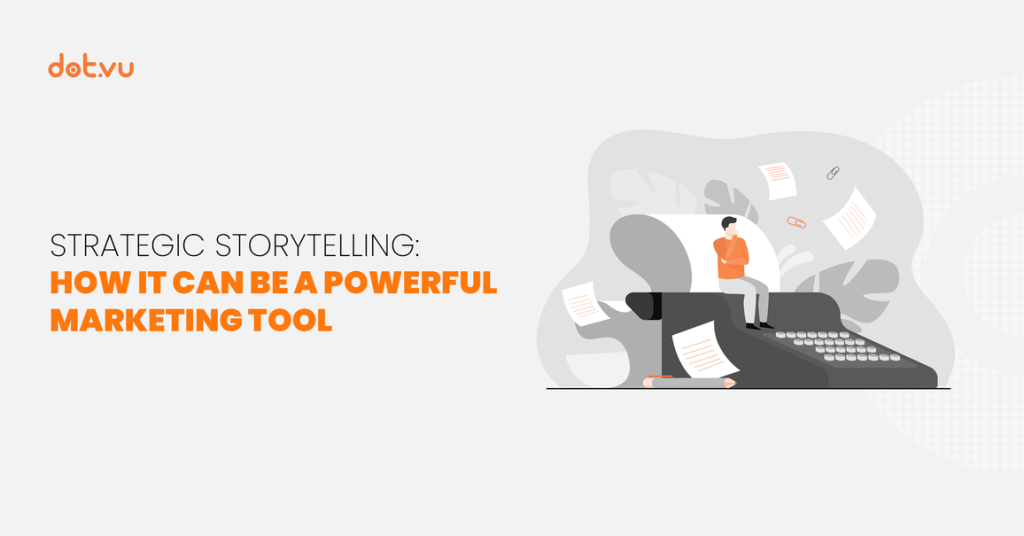 Storytelling is one of the oldest (and proven effective) forms of human communication. It increases the oxytocin hormone level in the human body that promotes the feeling of love, bonding, and well-being. 
Storytelling can be strategically used as a powerful business tool. It is a skill that every business wanting to build a powerful and lasting brand should master.
Strategic storytelling can do wonders for a business – it can turn a brand into a legacy, create an amazing marketing strategy, generate profits and build loyal customers.
In this blog, we'll explain why strategic storytelling can captivate the audience and ways to effectively communicate it.
Table of contents:
What is Strategic Storytelling? 
Strategic storytelling takes the principles of storytelling that have been used for crafting children's stories, movies, and games and adapts them to the business and marketing strategy. 
Storytelling can be used to attract potential customers, develop new marketing narratives, and even reposition the company amongst the competition. Storytelling makes a business more "human" and can play a big part of every company's strategy.  
Studies show as many as 92% of consumers want brands to make ads that feel like a story. So why not give your audience what they want?
4 Benefits of Strategic Storytelling
1. Stories keep the audience engaged
Stories have the capability to be remembered up to 22 times more than just facts alone. Plus, stories can engage your audience better. They tend to keep the audience hooked, wanting to know how the end turns out. This reduces the risk of the audience losing interest as compared to a person that is just fed with facts and figures.
2. Human connection creates loyalty
Using storytelling helps the audience connect with you and builds trust. If the story is more relatable, it will be more memorable as well. If your product solves a problem, tell a story of how it has helped you and make it relatable using real-life situations.
One good example that many would remember until today was Steve Jobs' iPhone introduction in 2007. He touched on the audience's pain points. He told a story of how irritating it can be to carry different devices around for different purposes. But the iPhone has it all in one. It listed the real-life situation that many people faced, and iPhone had the answer.
The image below shows the how a story activates four different regions of the brain. It explains why the audience tends to relate to a story and how dopamine gives that "feel good" factor that helps the audience remember a story better.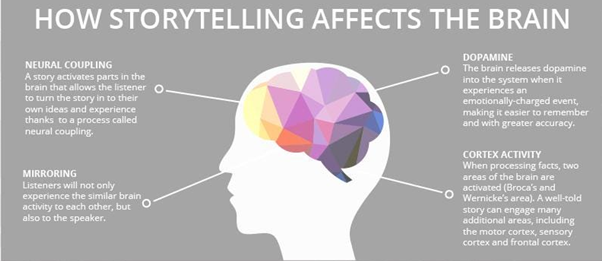 3. Strong marketing strategy
A good story can turn into a strong marketing strategy. With clear marketing communication that is captivating and effective, companies can communicate their visions and dreams. They can tell a story of what their brand stands for.
With good storytelling, a business can position their brand, vision and values effectively. Storytelling conveys purpose, and businesses with purpose are the ones that ultimately stand out and capture consumer's hearts and loyalty.
"A business with a remarkable story can win over its audience and raise the perceived value of its brand" – Forbes
4. It gives a competitive advantage
Humanizing your company builds empathy. And studies have shown that people prefer buying from empathetic companies. Statistics show that the most emphatic companies were also the fastest growing and most profitable!
The decision-making process to purchase is more emotional than logical. A good story would help you stand out against your competitors.
To prove this theory, researchers listed insignificant objects for sale, all costing around $1.25 each. They featured heartfelt, purposeful stories for each item. In the end, they managed to sell the items at a very substantial margin – totalling 8,000!
Important tips on creating your story
Framework to building your story
Build your story using a framework to bring your audience on a journey. The most popular and simplified one is Donald Miller's story brand model, as shown below.
This model can be applied to any story you know, as well as any company. Most global brands, for example Nike, are great storytellers and have applied this model.
Following this framework, you can create a simple and relevant brand message to communicate effectively to your customers.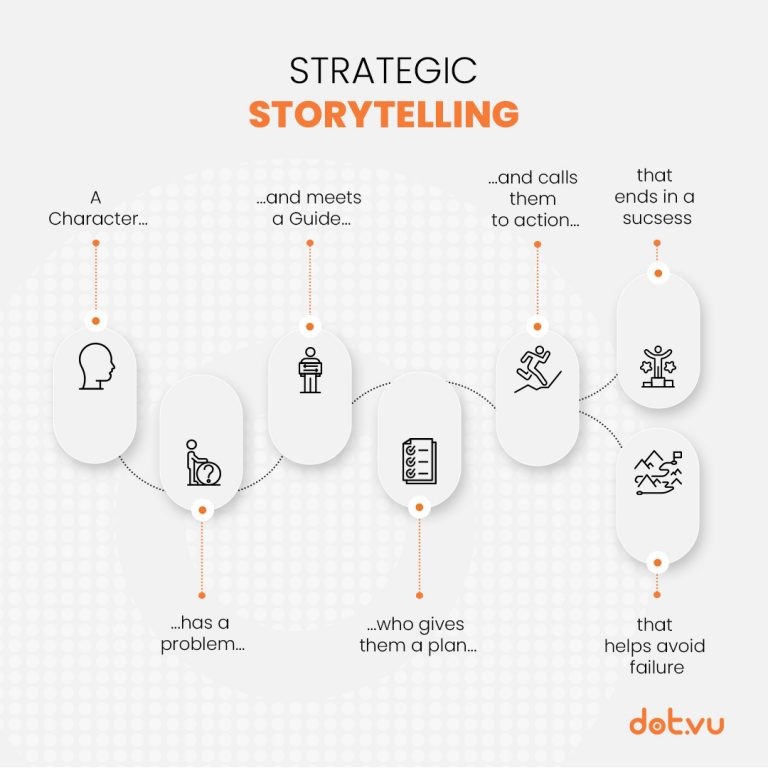 Character
Defining the main character or the hero of the story. Usually, the customer is the hero, not your brand. Therefore, you must know your target audience before you start crafting a strategy. Identify your customers' needs and desires to create a story that resonates with their emotions.
Problem
In every story, there is always a villain. In business, it is the problems that your customers face. It is vital to identify your customers' main pain points to know how to solve them. The problem must be relatable and real.
Guide
The Strategic Storytelling framework defines the company as a guide or mentor to tackle customers' problems. The company should communicate its position with authority and empathy. Showcase your business testimonials, statistics, and awards to create a greater impact.
Plan
Create a simple plan that describes the steps the customer needs to take, to buy a product or service or steps to use it. This might clear out any confusion or fear. Transparency and clear communication is key!
Action
Create a call-to-action (CTA) to encourage your customer to act. Use enticing CTA in your campaigns that encourages the customer to take the first step.
Success
Now for the finale. Communicate how you have helped the customer in avoiding failure, and how it lead to their success. Communicate the urgency and exclusiveness of this solution and how your product/service can make their quality of life better.
Creating a good story can be challenging. Here are some quick tips on what to do and what to avoid when writing your story: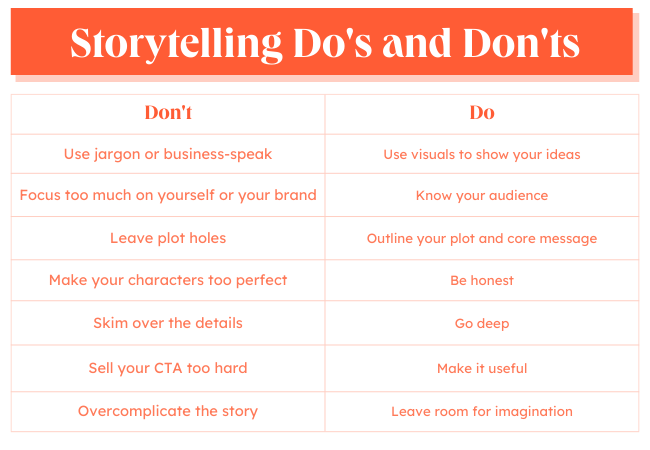 Source: hubspot
Implementing strategic storytelling into marketing 
62% of B2B marketers rated storytelling as an effective content marketing tactic. Once you have written a good story, an effective way to communicate that story is through Interactive Contents..
Interactive contents are more engaging than normal text or static visual. It has the potential to create a much greater impact in telling your story and to be remembered.
Related: What is Interactive Content
Here are some ideas to excite your audience:
1. Branching Video
Branching Videos can be a great way to portray a story in a fun and interactive way. Branch out the story on which event happens next and let the audience decide. Bring your audience through your company's journey in a memorable way with a Branching Video.
2. Interactive Infographics 
An Interactive Infographic can be a great tool to help the audience visualize your story. Highlight the audience's pain points and how your product can solve that problem.
Include testimonials and clear call-to-action to seal the deal! Add in interactive elements to the main points to bring the audience's attention to that point.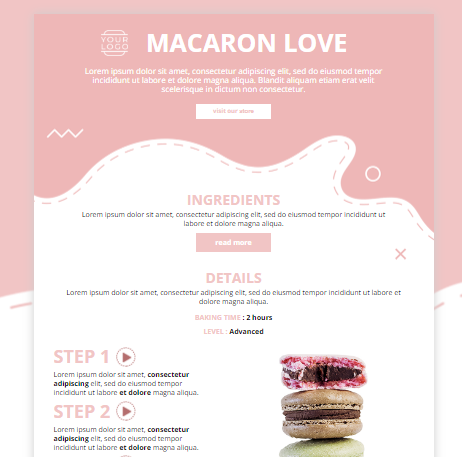 Related: What is an Interactive Infographic
3. Interactive Games 
Another way to communicate your brand's story in a fun way is through Interactive Games. Create games such as a Guessing Game and invite the audience to guess what happens next in the story.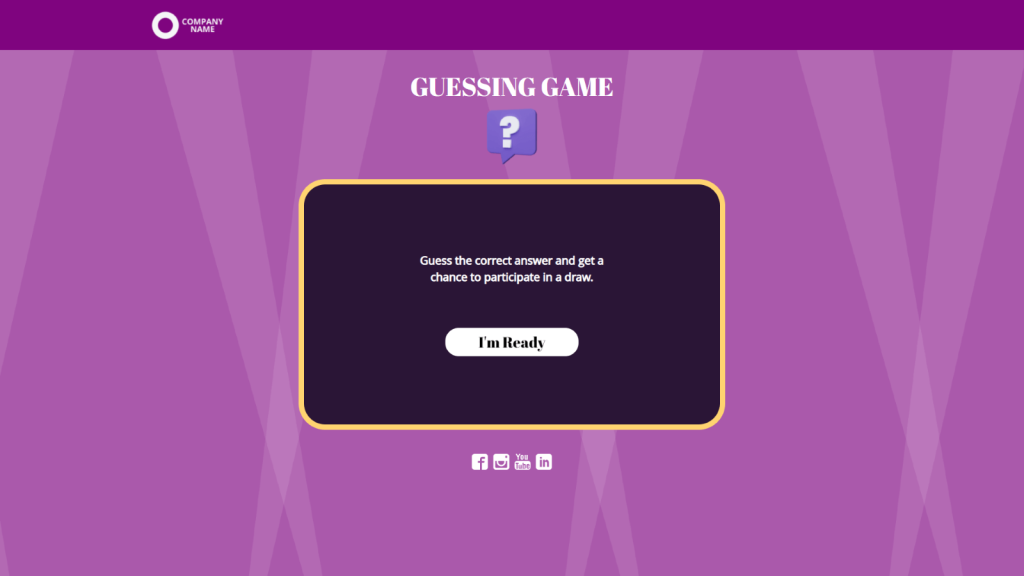 You can also create a Shopping Game where the customer must avoid obstacles. Create a storyline that your brand will be able to guide and help the customer on their journey.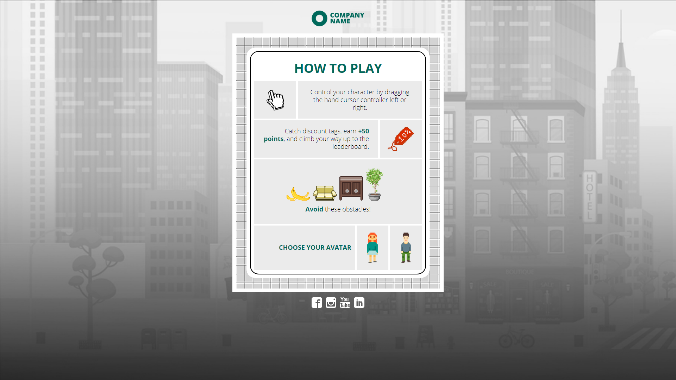 Are you ready to tell your story? 
The importance of storytelling could not be stressed enough. Strategic storytelling can play a crucial part in your company's growth. Telling a story is a critical part of building your brand. It can work as an effective content marketing tool to communicate your brand values. 
Be sure not to make it a bedtime story that puts the audience to sleep! Make it interesting with Interactive Contents that will excite your audience. Create a free account and explore Dot.vu's hundreds of customizable templates and find new ways to immerse your audience within the story. 
---