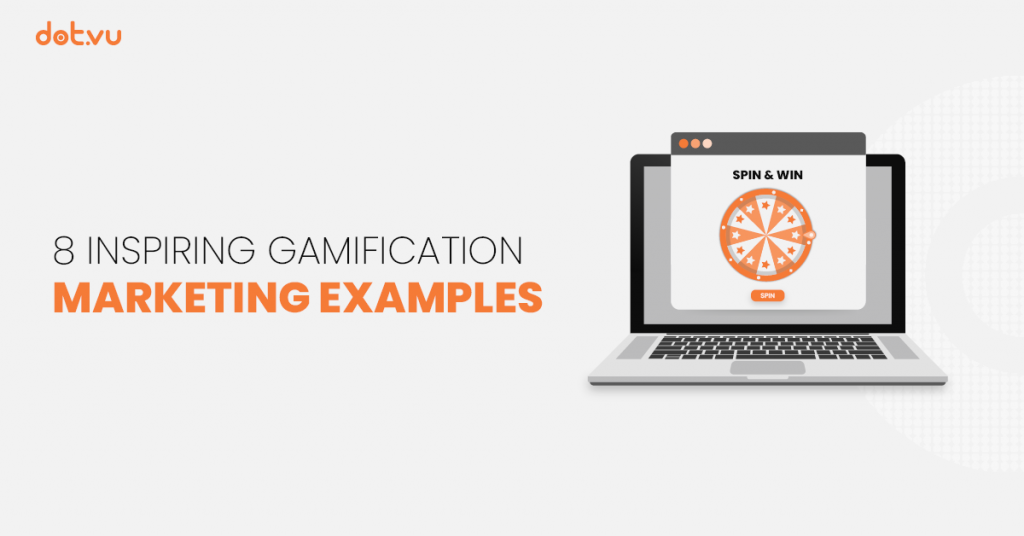 Implementing various types of gamification in marketing is one of the most effective ways to supercharge customer engagement and improve brand identity. Transforming static content to Interactive Experiences, such as Marketing Games, is a proven method to keep visitors on your website much longer. In fact, Interactive Content is two times more engaging than static content. The reason for that is the active participation of the user. People tend to get distracted while reading long texts. On the other hand, Marketing Games and all other types of Interactive Content require active involvement from the viewers, which keeps them engaged.
Gamification in marketing can take many different forms. Therefore, you can gamify a large number of experiences. The sky is the limit!
The different types of gamification in marketing help you build and maintain long-lasting relationships with your customers. The more clients communicate with your brand through Interactive Experiences, the more they feel attached to your company.
If you struggle to find the best performing gamified experiences, we have you covered. This blog post provides eight inspiring gamification marketing examples that will change your website content forever. Your customers will love it! Don't miss out on these!

8 Engaging gamification marketing examples to inspire your process
We are excited to share these inspiring gamification marketing examples with you. Whether your company is B2C or B2B, these Interactive Experiences will win your customers' hearts. Furthermore, gamifying your marketing would be beneficial for every industry.
Pro tip: You can create a free account on Dot.vu and try to transform any of these examples into your branded game. No coding skills required!
So, let's get started!
1. Transform traditional concepts into gamified experiences
Some games have existed for decades. Just think about claw cranes! They were first made available as a game back in 1926. Claw machines are ubiquitous in shopping malls, cinemas, and restaurants. Nowadays, you can also find them in the digital world as online games.
Let's think about another example. The exciting and entertaining slot machines! The very first one was supposedly invented back in 1894. The slot machines have undergone several transformations since then. They have become an enjoyable activity for many people today.
Digital marketers can transform classical games into online marketing games to satisfy visitors. A digital claw machine, for example, will engage your customers because it is a familiar concept made digital. Claw Machine with Referral is an intriguing online version of the well-known toy cranes. Deliver a fun digital experience with a traditional gamified concept.
2. Test your customers' problem-solving skills
Another gamification example is testing your customer's solving skills in the form of an instant win game. A puzzle can be a great activity to activate your audience. Moreover, puzzle games develop memory and planning skills.
A digital puzzle will keep your customers on your page for a long time. Overcoming the challenge is the main motivating factor that keeps players engaged.
Rotating Puzzle is an exciting, gamified experience that gives players three attempts to solve the puzzle in a limited time. Fun, challenging, and entertaining, a Rotating Puzzle is a fantastic way to boost engagement.
3. Entertain your audience
Entertaining your customers with an easy-to-pick-up game is one of the most common gamification marketing examples. Delivering simple games to your visitors will help them relax and associate your brand with a pleasant experience.
Tapping Game with Leaderboard is a fun example of gamification in marketing. It is a challenging game that keeps players highly engaged. The longer they play, the harder it becomes to tap on all items.
4. Bring joy to your customers during the holidays
Holidays are the perfect time to cheer your audience up. Creating holiday-themed branded Marketing Games will keep players engaged with your website. You can bring joy to your customers by leveraging the spirit of Christmas, Halloween, or Easter.
Shake the Easter Egg is a fun gamified experience that entertains players and allows them to break an egg for a prize. Cracking an egg during Easter is a popular tradition in many countries. You can transform this activity into gamification in digital marketing to boost engagement.
Christmas Dice Game is another seasonal gamification marketing example. It is a Marketing Game that encourages your visitors to come back every day to your website with the chance to win daily prizes. As a result, you will increase website page views and conversions.
5. Test your audience's attention to detail
A classic spot the difference game is one of the most challenging yet amusing gamification marketing examples. Your customers' attention to detail skills are put to the test, as they need to find the differences between two images. Players will train their eyes and mind to solve the challenge. Therefore, this experience will boost engagement and the time spent on your website.
Spot the Difference is a Marketing Game that activates customers to interact with your brand and have memorable experiences. After all, we are all familiar with the concept. Why not use it to boost user engagement?
6. Enable your visitors to try their luck and win an exciting reward
Let your customers try their luck with an instant-win game. The possibility of earning a prize straight away will increase their motivation to play. In addition, an instant win game allows companies to promote their offerings by giving out discounts and limited offers on specific products.
You can transform everything into an instant-win game on your website. Consider what your target audience would enjoy, or conduct consumer research to unfold your creativity.
Pick a Box is a classic example of an instant win game. Players need to select a box and try their luck to get a reward.
7. Educate your customers in a fun way with a quiz
An online quiz is a brilliant way to boost customer engagement. At the same time, you provide value to your visitors by educating them on a particular topic. Win-win! The questions can cover knowledge about your industry, brand, or products. The goal is to engage as much as possible.
Tic Tac Toe Quiz is an entertaining combination of a quiz and the classic Tic Tac Toe game. It engages visitors by challenging them with three questions and the chance to win a prize.
Tap into the social nature of people
Humans are social beings. We want to communicate and share our emotions with others. Companies can leverage customers' desire for human interaction to spread brand awareness. Create a great experience for your visitors and encourage them to share it online. Alternatively, enable your customers to personalize their own experience and show it to someone else.
Gift Card with Wheel of Fortune is a social gamified experience that allows your visitors to customize a gift card for their loved ones. Sharing is caring! The gift card contains a Wheel a Fortune game where the receivers will try their luck to win an exciting prize.
Take your marketing to the next level with some of these gamification marketing examples
These gamification marketing examples were just a fraction of the experiences you can gamify nowadays. Take your customers on an exciting digital adventure and watch your conversions increase.
Dot.vu can help you turn all your ideas into reality. Our Interactive Content tool allows you to be flexible and create engaging content without writing a single line of code. Create a free account to experience the power of gamification by customizing a template!
---
Other articles you might be interested in: