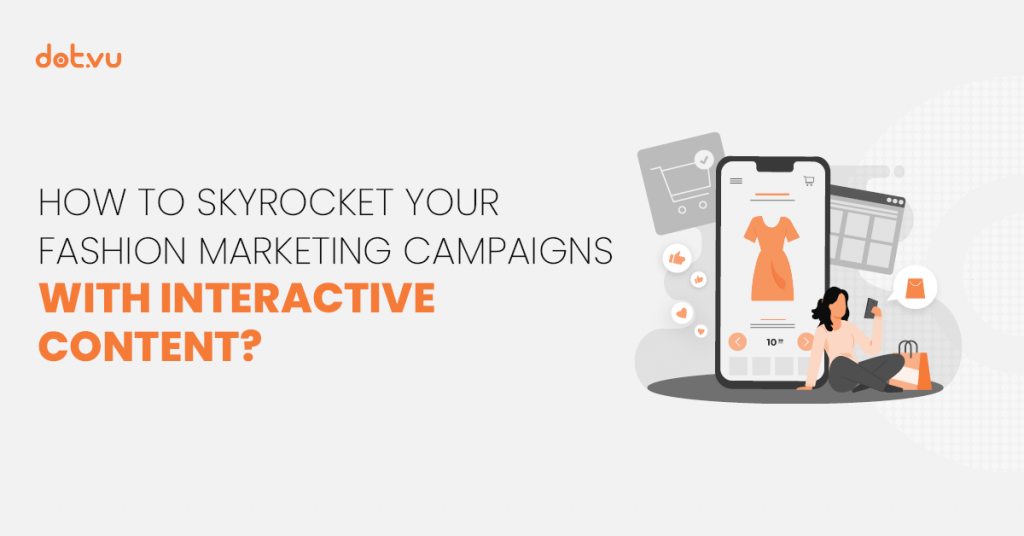 Everyone knows the Fashion Industry is gigantic. But did you know it's the #1 eCommerce sector globally? Indeed, the global fashion market is expected to reach $38.21 billion by 2023. That's an incredible amount of money! No wonder fashion brands around the world are going crazy and overboard when designing their fashion marketing campaigns.
The competition in fashion is simply ferocious. Plus, some of the big brands that have been there for many many decades have colossal budgets for their successful fashion marketing campaigns.
So, how can new-entry and low-key companies succeed in this overcrowded market? The answer lies within originality and interactivity. It's not about boosting your budget; it's about thinking differently. It's about getting off the beaten path.
In this article, we will help you find great ideas to skyrocket your fashion marketing campaigns with Interactive Content. The ideas are divided into three categories:

Before the launch of your Interactive Fashion Marketing campaigns
No matter if the goal of your Fashion campaigns is to raise awareness about your new clothing line, get visitors to your pop-up shop, or find spectators for your fashion show, you need to build up expectations. You need to spark interest.
For a couple of years now, we've seen fashion brands raise build interest before a launch in 2 main ways: PR campaigns and Ad Campaigns. In other words, using lots of influencers and public figures and doing fashion ads on Social Media platforms such as Instagram and Facebook.
But what if you turned toward Interactive Content instead? There are many types of Interactive Content to choose from when wanting to raise awareness, but let's discuss two great ones.
1. Personalized Interactive Video – with discount codes
A great way to raise interest is with Personalized Interactive Videos that you send to all your fans through your email list. The idea here is to create a very appealing video where you give a sneak peek at your new fashion line or your new store.
The video is personalized so it's directly addressed to the viewer. Within the video, thank the viewers for their loyalty and offer them a special discount they can use once the fashion line is out or the pop-up shop opens.
At the end of the video, encourage viewers to share the video with their friends in exchange for an extra discount or a free item. That's a great way of generating even more awareness.
Pro Tip: Give a mystical twist to your Personalized Interactive Video to create even more of a buzz.
2. Interactive Virtual Tour
Another great way to build awareness around your next Fashion Marketing campaign is to create an Interactive Virtual Tour. What is an Interactive Virtual Tour? It's an Interactive Experience where your visitors feel like they are physically present in the rooms. Everywhere they go, they can learn more about your products, play a Marketing Game, add products to their basket, and so on. There are lots of ways to build awareness for your next successful Fashion Marketing campaign using Interactive Virtual Tours, but let's give a couple of examples.
First, you could give a tour of your design studio. You could showcase some of the pieces from your new clothing line. You can have a short interview with your head designer where they explain the whole idea behind the new line. In addition, you could see the seamstresses working on the final pieces. Perhaps, even see the models trying the new line for the first time, and their reactions.
Another great idea would be to do an Interactive Virtual Tour of your new pop-up shop. You would let viewers go around the shop and see what it looks like. The goal here is to get them to come to the shop physically. So, make it nice and cozy. Think about adding music. Maybe, have a store assistant explain the different sections of the store. The possibilities are limitless.
Pro Tip: Enhance your Interactive Virtual Tour with Marketing Games, Quizzes, Polls, Contests, and so on.
During the launch of your Interactive Fashion Marketing campaigns
Once you've established how to create a buzz around your next fashion line or pop-up store, it's time to focus on making the launch of your Fashion Marketing campaigns a success. The goal of the launch is to showcase your products and educate viewers about them. There are two ways of launching successful Fashion Marketing campaigns: Online or Offline.
If you want to launch online, you could consider the 3 following Interactive Experiences:
1. Interactive Lookbooks
What is an Interactive Lookbook? It is an Interactive Experience in which your brand can display its products in a highly visual and interactive way. It is particularly interesting for the fashion industry.
In other words, you can use this page flipping experience to present your new clothing line. You can add interactive elements to your Lookbook to make it more engaging such as product images, hotpots, shoppable videos, shopping quizzes, and much more.
Check out this Interactive Lookbook example:
2. Hourly Surprises
Another great way of launching a new clothing line or any other fashion-related product is with Hourly Surprises. The goal here is to launch the products of your new line throughout the day rather than in one go. This is particularly good if you only have a limited amount of each product, and you want to create the sense of urgency through FOMO marketing.
Every hour, you could reveal a new product from your line, and open sales. Once the hour is over, this product becomes unavailable for purchase, the next item is revealed and sales for that specific item open.
To make things even more interesting, you could add some small Marketing Games or Quizzes to give customers the chance to win discount codes.
Take a look at this Hourly Surprise Campaign example:
3. Shoppable Video
Another original way of launching your next Fashion Marketing campaign could be with Shoppable Videos. A Shoppable Video showcases your new product line in the most creative and appealing way. Plus, from a simple click on the items shown in the video, viewers can learn more about your products and buy them.
You could create a Runway Style Shoppable Video to give your fans the impression they are assisting live to your runway show. Allow them to learn more about each item the models are wearing and to add the items to their baskets with a few clicks.
Check out this Shoppable Video to understand the potential behind this idea:
If you want to launch offline, you could consider the following Interactive Experiences:
1. Hybrid Event
There are many different Hybrid Event examples out there. But, for successful Fashion Marketing campaigns, the goal would be to give online access to your normally only physical events. For example, give online viewers access to your runway shows.
An astounding 73% of event organizers believe that hybrid events will be common in the upcoming years. So, be ahead of the trend. Open the doors to your usually very restricted event and notice an increase in the reach and attendance of these events.
2. Pop-Up store with Interactive QR Codes
If your next Fashion Marketing campaign has the goal to encourage sales in your new pop-up shop, you should think about how to make your pop-up shop worthwhile. How can you encourage visitors to spread the word about your pop-up shop? A great idea would be to include loads of interactivity in your shop.
For example, use QR codes to let visitors learn more about specific items. Allow them to share their favorite items in Interactive Social Media posts with a few simple clicks. Incentivize sales with fun Marketing Games at checkout where customers can win discount codes.
The possibilities are endless with free QR codes because all your customers have their mobile phones with them!
3. Interactive Display Window
Last but not least, Display Windows has always been an important part of Fashion Marketing campaigns because they work. Shoppers pass by your shop and see your new fashion line in the window. They like it, they enter the store. Pretty simple, right?
So simple that it has not really been rethought throughout the years. But what if we could make Display Windows even better? For example, by adding a touch of Interactivity to them.
Directly in the Display Windows, you could add QR Codes with links to more general information on the items, add-to-basket button, Marketing Games, Contests, and so on.
After the launch of your Interactive Fashion Marketing campaigns
Once you have launched your Interactive Fashion Marketing campaigns, you still need to ensure their success. In other words, you need to make sure you get a good ROI for them.
Below we will present 2 ways of boosting sales once your Fashion Marketing campaigns are released:
1. User-Generated content
The first way would be to encourage User-Generated Content. Get your best fans and customers to share your new line or Pop-Up shop on their Social Media accounts.
You can encourage User-Generated Content by creating a User-Generated content contest. In other words, reward the best content with gifts and discount codes.
2. Product Recommender
There are many different examples of using Guided Selling in retail. One of the best examples would be to add a Product Recommender to your website. Adding a Product Recommender is like having an employee that welcomes visitors entering your physical shop. The employee will ask visitors what they are looking for and they will help them find it. A Product Recommender is based on the same principle. But, instead of having a staff member, you'll design an Interactive Experience that will do it automatically.
In other words, the goal here is to help your audience browse efficiently through your new line and easily find what they like and what they would like to buy.
Click to tweet: A Product Recommender is a great way of boosting the shopping experience on your website.  
Click To Tweet
Ready to take your Fashion Marketing campaigns to the next level?
This article only aimed to give a few ideas on how to improve your Fashion Marketing campaigns with interactivity. But, with the help of an Interactive Content platform, the possibilities are endless.
At Dot.vu, we are experts in Interactive Content. We have already had huge success with clients from the fashion industry, and we can help you boost your Fashion Marketing campaigns with interactivity.
You can start by creating a free account. Once you have access to our platform, you can try any of our templates and customize it fit your brand. When you are ready to publish an Interactive Experience, you can choose the subscription that corresponds to your needs and goals.
---
Other articles you might be interested in:
---