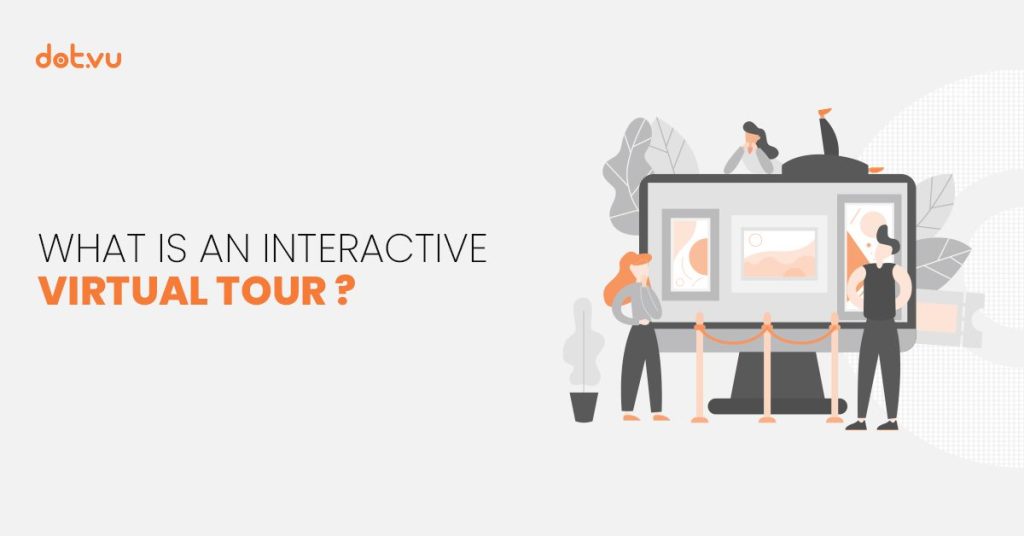 Interactive Virtual Tours are one of the most exciting experiences you can create for your customers. The purpose of an Interactive Virtual Tour is to give your customers the feeling of being physically present in the same room with you and other people. In addition, with different Interactive Experiences within your virtual tour, such as Wuizzes and Marketing Games, you can invite your customers to engage and interact with other customers and your brand.
Interactive Virtual Tours were extremely popular during the Covid pandemic. Lots of museums and other famous establishments created online tours to allow people stranded at home to have the opportunity to visit something new. For instance, museums like The Louvre, Guggenheim, or theme parks like Disney World offer virtual tours. It worked very well and thus a new concept was born: Virtual Tourism.
While Interactive Virtual Tours are the greatest tools to create Virtual Tourism experiences, they can also be an amazing help for real estate agents. Showcasing your houses online in this out-of-the-box way can help them distinguish themselves from competitors.
In any case, possibilities are endless with Interactive Virtual Tours, so continue reading to find out more about the concept and how you can use it in different industries and contexts.
Table of contents:
What is an Interactive Virtual Tour?
An Interactive Virtual Tour is a virtual tour that has interactive touchpoints. For example, you can add quizzes and polls to engage the audience.
By adding interactivity to your virtual tour, you encourage your customers to be active. The more interactivity and personalization you provide, the closer you get to creating a lifelike experience for your customers. Hence, the more engaged your customers will become. For example, you can encourage interactions with exciting games, challenging quizzes, videos on-demand or live-streamed, or the so-called hotspots. Hotspots help your customers to find their way around the virtual tour. Your possibilities for adding interactivity to your virtual tour are endless!
Furthermore, Interactive Virtual Tours can act as your brand's own private online environment. This way, you give your brand a purpose, connecting to your customers on a deeper level.
Benefits of Interactive Virtual Tours
Making virtual tours interactive will help you to become more agile and efficient. Sparking new ideas and innovations is well-needed in today's changing world.
Nearly 70% of online users expect to find virtual tours on a company's website. Therefore, Interactive Virtual Tours are a must for every brand that wants to meet customer demands.
Virtual reality and tours are among the MarTech trends nowadays. Many businesses have already started to understand and implement these innovations. They do so by integrating more "virtual reality" into their marketing mix. For example, in the form of digital experiences and virtual events. The advantages are great, so these efforts pay off.
Here are the benefits of making your virtual tours interactive:
Increase engagement
In an Interactive Virtual Tour, your visitors will actively participate in the journey. They will not just click with the mouse to move around. They will answer questions, play games, watch videos, and more. Therefore, you will engage them better than with a traditional virtual tour.
Gain competitive advantage
How many of your competitors create super cool, engaging, Interactive Virtual Tours? Probably not that many, yet. You can stand out by simulating a physical location, like your store, and adding interactive touchpoints.
Collect behavioral data
While your customers are busy with the different interactivities, you can collect first-party and zero-party data. With Dot.vu, you can track your visitors' activities within the experience. These data insights can be used to personalize the experience in real-time, making your Interactive Virtual Tour more relevant. In addition, collected data can make future touchpoints more relevant. In turn, you can create a more meaningful and lasting brand relationship.  
Convert more leads
Creating an interactive virtual environment engages your potential customers more. If one of your most significant revenue streams comes from your website, converting online visitors is vital. Interactive Virtual Tours come in handy in this situation. They are available 24/7, so your audience can engage with your brand at all times, thus converting more.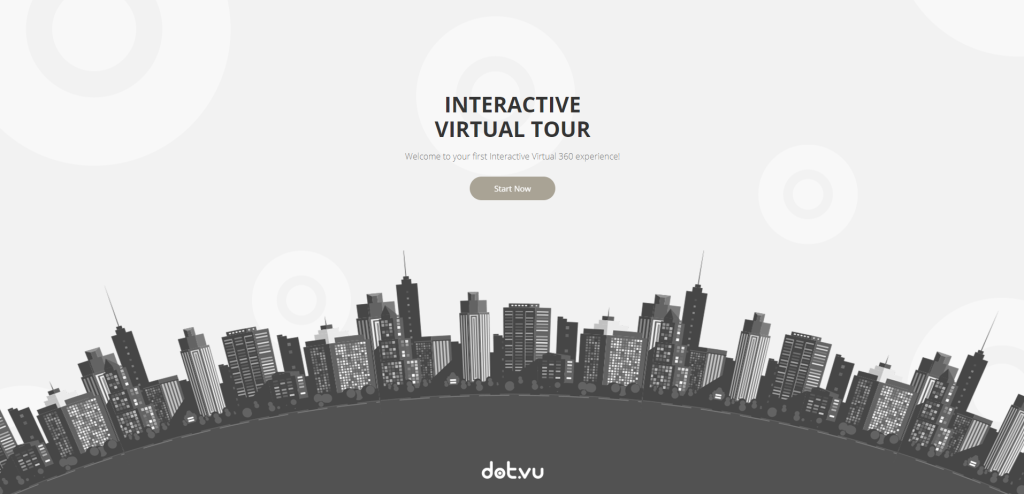 How to enhance your Interactive Virtual Tours?
Interactive Virtual Tours enable you to present your company in new innovative ways. The key to success is giving your Interactive Virtual Tour an approachable, customer-friendly, and human touch. Your customers should be able to see your brand as relatable, consistent, and true to its values. Thus, the options for your customers to interact with your brand need to be as relevant and authentic as possible.
With Interactive Virtual Tours, you have the possibility to create a personal and realistic Interactive Experience. This allows your customers to interact and engage in an innovative and forward-thinking way. To make an Interactive Virtual Tour feel as personalized and authentic as possible, let real people be present. More features, such as real-time interactions and interactive live streaming, can make a dialogue between you and your customers possible.
A personalized Interactive Virtual Tour can feel just as real to your customers, as interacting with your brand in person. As a result, improve your brand awareness, increase customer engagement, and reach higher conversion rates.
You can upgrade every Interactive Virtual Tour with many different Interactive Experiences, such as:
Guided Selling. This tool directs virtual tour visitors toward the best products or services without talking to you in person.
Interactive Quizzes. Incorporating quizzes in your virtual tours creates two-way communication with your potential customers.
Surveys and polls. Just like with quizzes, surveys and polls engage your audience in a virtual conversation.
Interactive Videos. If you want to create a multilayer customer journey, Interactive Videos can make your virtual tours unforgettable.
Marketing Games. Interactive Virtual Tours enable you to leverage the power of gamification. While showcasing your company, store, or products, you can also invite your visitors to play a game and, potentially, win a discount code or another reward.
Pro tip: Try to make your tours as realistic as possible. For example, you can set doors to remain open for a specific time period. Moreover, you can limit how many people enter a room simultaneously.
The sky is the limit when it comes to adding interactivity to your virtual tour. Whatever you create, with Dot.vu it will be done without writing a single line of code.
Industries that can benefit from Interactive Virtual Tours
Interactive Virtual Tours take people on an exciting journey. The additional interactive touchpoints allow users to explore the environment as if they were physically there. Many organizations from several industries can benefit from this functionality.
Real estate
Real estate agents would do anything to have a 24/7 online open house. They could show properties virtually to more potential buyers, without meeting them in person. This is possible with an Interactive Virtual Tour, simulating the house environment and adding Interactive Experiences. Additionally, virtual tours also allow agents to make their clients understand exactly what they want. This will help their clients to make an easier decision when renting or buying a property. Research shows that 77% of real estate clients want a virtual tour before a "real" visit.
Interactive real estate content is the hottest trend in the housing market.
Hospitality industry
Restaurants, hotels, and amusement parks can all boost sales using Interactive Virtual Tours. The hospitality industry is highly competitive. Creating a multilayer Interactive Experience that takes visitors on a journey can set any restaurant or hotel apart.
Retail
Retailers can take the shopping experience to the next level with virtual tours. Adding Interactive Experiences to their physical location simulations will encourage potential buyers to interact with the brand. The idea here is to recreate a real shopping experience, but online. Let your customers walk around your aisles and click on the items they want to learn more about. Encourage them to add the items directly to their shopping basket, creating the closest to reality shopping experience ever seen.
Tourism
Tourism agencies use virtual tours to spark interest in their vacation packages. If they want to step it up, adding interactive touchpoints will create an even better experience for their potential customers.
Event industry
In our faced-paced world, hybrid events are a common practice. Interactive Virtual Tours can help create a seamless experience for all attendees regardless of location.
If you are interested in hybrid events, get inspired by these hybrid events examples.
Get started creating your first Interactive Virtual Tour
Bring your creative ideas to life and design unique Interactive Virtual Tours for your customers. Use Interactive Virtual Tours for your next conference, product launch, exhibition, and other events. Depending on your needs, you can keep it simple with quizzes and polls or take it to another level with Interactive Videos and Marketing Games.
Dot.vu is an Interactive Content platform with a large variety of Interactive Experiences. We have Interactive Virtual Tours templates, as well as all other experiences to enrich your project. You can find them on our marketplace. You can quickly get started by creating a free account and customizing any template.
Building Interactive Virtual Tours with the wow factor is easy with us. If you want us to do the work for you, book a meeting with an Interactive Content expert.
---
This blog post was updated by Ivanina Topuzova on 6.12.2022.
---