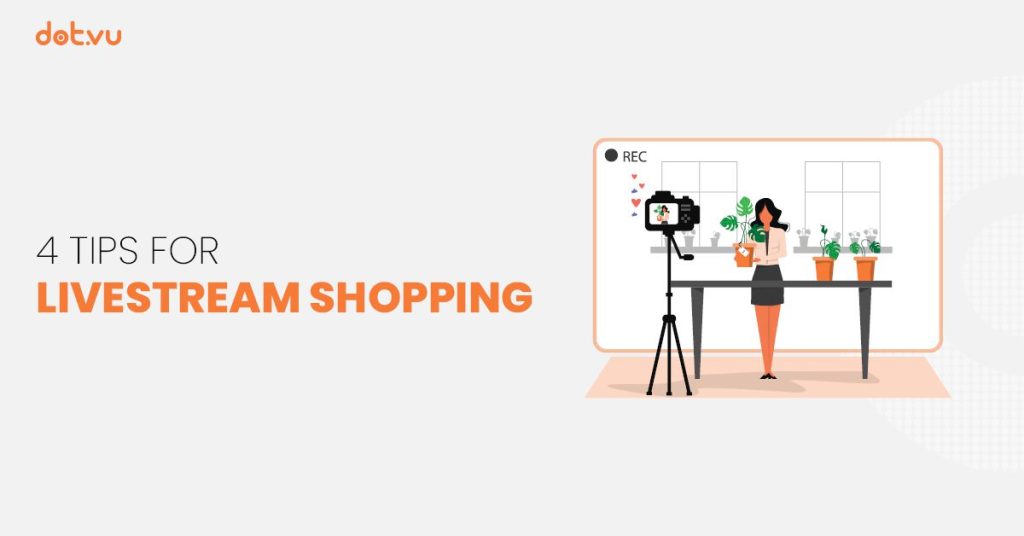 Livestreaming has become significantly more popular in the last few years. Amongst others, due to the rise of Facebook and Instagram Lives. This process has sped up even more due to the global COVID-19 pandemic and international lockdowns. Therefore livestreaming helped influencers connect with their audience and create a closer human connection.
The concept of livestreaming is relevantly new in Western countries. However, in Asia, it has been growing for a while, and its growth continues. For instance, in China, Livestream Shopping skyrocketed from $66 billion in 2019 to $150 billion in 2020.
In this blog article, you can learn more about how you can jump on this livestream trend and how it can help your business.
What is Livestream Shopping?
Livestream Shopping, also known as live commerce, sells products through livestreams on digital platforms, often collaborating with influencers. The aim is to provide customers with an immersive and Interactive Experience. Therefore, allowing them to ask questions and buy products during the livestream. Blending entertainment with instant purchasing, Livestream Shopping offers retailers and brands the opportunity to create value and accelerate conversions.
In addition, even YouTube announced earlier this year that it would begin pilot testing Livestream Shopping with a handful of selected creators. Also, a week-long live shopping event is planned to be hosted: "YouTube Holiday Stream and Shop."
How can Livestreaming Shopping create Value for you?
Livestream Shopping can provide a highly engaging and immersive shopping experience that physical stores and e-commerce cannot replicate.
A reduced consideration period from your customers is one of the main benefits of Livestream Shopping, as it creates urgency and exclusivity. Moreover, by creating a two-way communication opportunity, your customers can interact with your brand in the form of comments and likes during the livestream. Data shows that some companies are seeing their share of younger audiences increase by up to 20%.
Furthermore, livestreaming will also help you boost your sales and be a great way to sell out stock at discounted prices. It is no wonder that Livestream Shopping is a growing channel as it is expected to reach $11 billion by the end of 2021 and $25 billion by 2023 in the USA. Companies report conversion rates approaching 30 % —up to ten times higher than in conventional e-commerce.
Overall, Livestream Shopping can improve your brand appeal and differentiate you from your competitors.
4 Tips for Livestream Shopping
Although livestreaming might sound easy, Livestream Shopping requires some preparation and planning to be successful and engage your customers. Before jumping into setting up your first Livestream Shopping event, consider these 4 important tips:
Choose a Type
Depending on your needs and business goals, there are different types of Livestream Shopping you can host. A new product launch can be a tutorial, interview, and behind the scenes. However, if your goal is to sell the existing product, it can be a product showcase or store tour.
Tutorials can be a great way within the beauty and fashion industry, demonstrating how the products can be utilized, applied, and combined. This will also open the opportunity of cross-selling your products.
Whatever your business goals are, you might start by testing the waters by using social media livestreams and showcasing a few items. Experiment with different types of livestreams and try out other platforms, formats, and technologies.
Choose Your Strategy
Once you have decided on the type of Livestream Shopping you prefer, it is time to lay out your strategy. How about attracting your audience with some sort of special offer? It can either be a limited-edition product line that you sell only during this livestream; or, it can be time-specific, meaning that these products have a special price only during the livestream.
Both of those approaches have been wildly used to create hype just before a livestream takes place. It gives a feeling of excitement and exclusivity to the occasion, creating an experience that is nothing like traditional e-commerce.
Attract a Wide Audience
Livestream Shopping can only work if you can attract a large audience. For that reason, it might help to collaborate with other brands to join forces and cross-sell it. As well as, you can either provide influencers with your product to sell during their livestream. Another option is to invite an influencer to your Livestream Shopping and have an interview with them. Getting an influencer to showcase your products and highlight key features and benefits can be great for driving sales. It also helps create some noise ahead of the event.
Innovate the Formats
Do not be scared to experiment with different formats for your Livestream. Instead of using social media and other livestreaming platforms, try to be ahead of the competitors with innovative technologies like augmented reality and virtual reality.
Dot.vu offers to host Livestreams within Virtual Reality. It can make the shopping experience even more immersive and engaging and enables buyers to explore your products more in-depth. For example, Ulta Beauty created an interactive virtual experience to showcase its products.
To create an even more engaging and exclusive experience, try to gate a livestream within your InteractiveI Virtual Tour and set up a countdown. If you included an accessible waiting room for the Livestream Shopping event, let your customers explore a Virtual Tour, which consists of different Interactive Experiences. For instance, Interactive Flipbooks, Interactive Videos, Marketing Games, and other interactivities help you educate your customers about your brand and products while waiting.
Are you ready for Livestream Shopping?
Be innovative and creative and start with Livestream Shopping to provide your customers with a more engaging and immersive experience. Livestream Shopping can be ideal for B2C and B2B companies in various industries. How about including Livestream Shopping in your next campaign? Get started creating your Livestream Shopping with Dot.vu. Discover our marketplace with hundreds of templates, which you can customize, brand, and personalize for your marketing activities. If you want to learn more about Interactive Content, get in touch with us and let Dot.vu show you how it works.
---