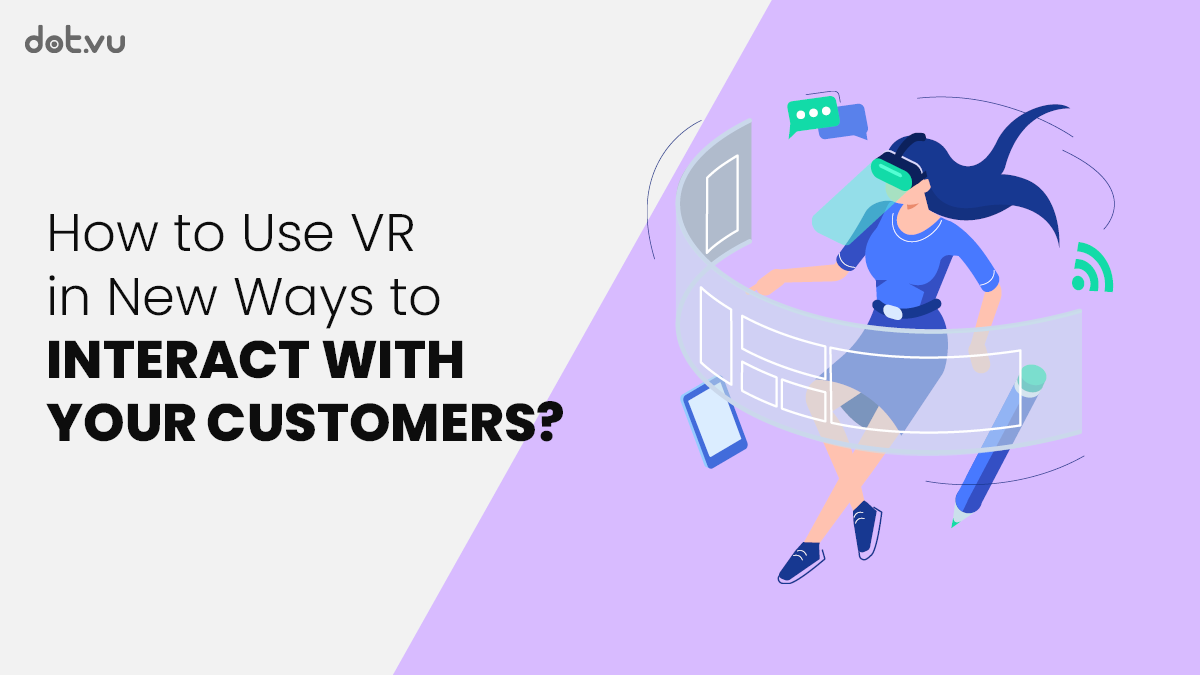 A little bit about the history of VR
The first-ever VR head-mounted display (HMD) system was invented in 1968 by computer scientist Ivan Sutherland and Bob Sproull. Virtual reality, as a term then has been popularized by Jaron Lanier in the 1980s.
So, VR is not new, its history goes back in time longer than you would think. It just simply had its peak and through over the past decades and took some time for it to be widely adopted and used.
The essence of this blog post is to show the importance of virtual reality and why it is essential to have it included in one way or another in your marketing strategy.
Also, to mention our latest innovation here at Dot.vu, called Interactive Virtual Tours in connection with virtual reality. So, if this is something of your interest, keep on reading and let your creativity flourish with new ideas for your next marketing campaign.
What is VR?
VR, short for virtual reality, is a term for any type of experience that places the consumer of the content in another world or dimension, so it is a simulated experience that can be alike or far from reality. It is a 3D, computer-generated environment that can be explored by anyone.
Virtual Reality in Marketing
Did you know that 75% of leading brands have already invested in some form of VR experience? That means leading brands are starting to catch up with the potential of this growing technology. Businesses from all over the world realize the importance of taking customer engagement to another level. As technology is evolving and being widely adopted by the different industries, static content is simply not here to stay. Brands must keep up with the trends and expectations of the consumers.
Customers are more aware of their needs and expectations as well, which increases the competition amongst brands. They are looking to better engage. The ones that can offer more personalized, immersive experiences are the ones gaining competitive advantages on the market.
Besides, virtual reality and its possibilities offer brands a better starting point for communicating their values and building stronger, more personal, and longer-lasting connections with their customers.
When we talk about virtual reality used for advertisement purposes, the goal is to make ads an enjoyable experience rather than feeding and pushing consumers towards buying products. The key is to have an entertainment factor that makes it a memorable, fun experience for them and subconsciously influences them to engage with your brand and eventually buy your products.
Virtual Reality that benefits your customers and your brand
There are numerous ways virtual reality can help drive your marketing efforts. So, let's take a look at some of those to help you get inspired.
Create a More Impactful Brand Image
Including some form of Virtual Reality in your marketing strategy can have a great impact on your brand image. Creating an immersive brand image will enable you to communicate with your audience on a different level and form a closer connection with them. The more memorable and visually eye-catching the experience is, the more invested they will be with your brand and the more they want to engage with it in the future. It is all about creating the connection and bridge the gap between your brand and your potential buyers.
Use Virtual Reality for Advertisement Purposes
Having Virtual Reality in your marketing strategy will help you promote your products more efficiently. Again, the more interactivity you add to your interactive experience that your customers can be a part of and interact with, the more intrigued they will be to engage with your products and purchase them.
If you think about it, you can help your customers visualize how your products can transform their world or add value to their lives, and that is exactly the point, right? Your goal should not be to push your products in front of the customers and flood them with ads that do not help them see the value in your products. Interactivity and personalization are the future of innovative marketing. The more they can interact with your brand, the easier it will be to influence them.
Show the Human Side of Your Brand
We cannot just expect customers to return if there is no value in the relationship that makes them attached to your brand, right? You need to decide whether you want to be a brand just by selling products to your customers or showing that you care about them with you, appreciating the human side and aspects of that.
Therefore, if you want to thrive in the long run, you need to ensure that you prove those values to your customers. Hence, securing higher retention rates. You cannot be successful by ignoring the essence of human relationships and the value exchanges that benefits both sides. Eventually, it is just simply indispensable. And the good news is that VR experiences are a fantastic opportunity to satisfy those needs.
You as brands can use Virtual Reality in marketing to create interactive experiences to showcase offices, workshops different events to give an insight into your world and involve your customers in it. Show them the tireless effort and work you do, not just as a company, but as a team of people. That will not only prove your human side but will also build a foundation of trust. As soon as you secure that, customers will start being loyal to your brand, and they will want to have you as part of their world.
Showcase Your Products with VR
With VR experiences created, you can showcase your products in an immersive environment that works way better than static content.
Because how do you sell your products at the end of the day?
By telling your customers. You need to bridge the gap between your products and your potential customers. That is what marketing is about.
The more incentivizing solutions you come up with to communicate and showcase, the easier and more influential you will become at leading your customers on your website. By learning about them and their needs, the higher your chances are to satisfy them with not just your products but the overall brand experience you provide them. The more you can understand their pain points and needs, the more successful you will eventually be.
VR applied for Your Marketing: Interactive Virtual Tours are here to stay
Our latest innovation here at Dot.vu that we are extremely proud of are Interactive Virtual Tours. Although this is not technically a VR experience requiring a headset, it is still leveraged as a virtual world to create events, market products, and tell a story. It is an outstanding solution for events, showrooms/expos, product launches, educational tours, virtual shopping, and the list can go on. You can create them from real 360° images of your own environment or those of a 3D model.
Anything you can imagine, any creative ideas to better communicate with your customers can be built with Interactive Virtual Tours. To experience an example of an Interactive Virtual Tour, click the image below. To start creating your own Interactive Virtual Tour, discover our template for an Interactive Virtual Showroom, which is available on the Dot.vu marketplace.
To conclude
New technologies, such as VR are becoming more relevant and are here to stay. The market is going to be influenced by the successful implementation and adoption of these technologies like in your marketing activities. And the reason is simply the changing consumer needs, which need to be satisfied – today and in the future. Stay ahead of your competitors and gain that competitive advantage, to stand out from the competition as it grows. You must show your customers that you are better than the rest. Invite them into your world and show that you value the relationship with them. Thus, you can serve the long-term goal, that is, to maintain a relationship which is mutually beneficial.
Our goal at Dot.vu is exactly that: To help you connect with your customers and maintain a mutually beneficial relationship. With Dot.vu you can bring your ideas to life. Get inspired by the templates on our marketplace, customize them or design your own interactive experience. Request a demo and let us show you how we can support you on your journey to success.
---
---