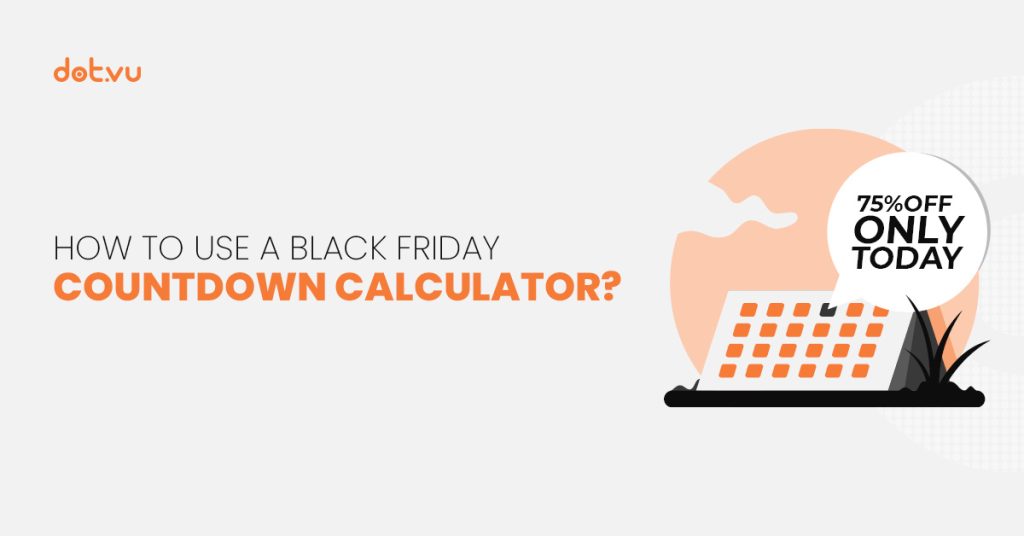 A Countdown Calculator prompts customers to think on their feet and make split-second decisions within the time limit. When done right, timer pages and countdown features can be one of the most effective marketing campaigns you will ever run to introduce your brand or your products and services.
In this blog post, you will learn tips and tricks on adding Countdown Calculators, where to use them, their benefits, and the psychological aspects of Black Friday Countdown Calculators. 
What is a Countdown Calculator?   
A Countdown Calculator or countdown timer is a virtual calculator that counts down from a certain date or time to indicate the start or end of an offer or event.  
It's often used on websites, landing pages, and checkout pages to create a sense of urgency and encourage visitors to act before the timer runs out. 
The purpose of Countdown Calculators is to create a sense of urgency. Why? Because it makes customers feel they are running out of time, therefore urging them to complete the buying process. In addition, businesses can also create Countdown Calculators ahead of any special event such as a Black Friday countdown to create hype and excitement. 
The psychological effect of Countdown Calculators   
The point of any Countdown Calculator is to play around with the perception that there's a shortage of time to create a sense of urgency. Seeing the numbers decrease will urge customers to decide to purchase before time runs out. This phenomenon is called FOMO (Fear of Missing Out).  
In fact, statistics show that as much as 60% of sales are driven through FOMO marketing tactics. It's no surprise that marketers are using FOMO as a tactic for conversion rate optimization.

Source: optinmonster
Another technique is showing the number of products you have left in stock instead of a timer. This also creates a sense of urgency, indicating that if customers don't act quickly, their desired items might run out of stock soon.  
Research done by the University of Nebraska has concluded that sellers can compel shoppers to make an immediate decision by creating a perception of scarcity. It entices shoppers to buy right away because they might regret later if they missed a deal.
4 Benefits of Countdown Calculators  
1. Sense of urgency   
Urgency is a powerful psychological trigger that can motivate people to take immediate action. Creating a sense of urgency has been proven to increase sales by up to 332%!
People will not want to miss out on any great offers. As a result, having a sense of urgency and the fear of missing out will urge your customers to make decisions quickly before they run out of time.  
Examples of phrases that add a sense of urgency:
Flash sale! 50% off for the next xx hours
Deal ends in xx hours
Grab it before it's gone! Only xx:xx time left!
2. Highlight products  
It allows businesses to promote products by focusing on different objectives. That said, those objectives can be either a special discount or free delivery within the given period. However, it can also be a simple format showing the number of items left on stock to generate more scarcity and incentivize buyers to complete the buying process as quick as possible before missing out on the offer.  
3. Increase sales & conversions  
Countdown timers can significantly increase website conversions. By adding a countdown timer, The Diamond Store had a 400% higher conversion rate in their Black Friday emails!
Additionally, countdown timers can also reduce the bounce rate on your website. By creating a sense of urgency, you're keeping visitors engaged and motivated to take action. As a result, your business can effectively increase sales and conversions during any campaign period.
4. Enhance user experience  
Not only can a well-designed Countdown Calculator increase sales and conversions, it can also improve the overall experience for your visitors. For many, Black Friday is the sale of the year! Having a Countdown Calculator can add a sense of excitement and anticipation to your landing page.
Where to Use Countdown Calculators?  
Website Landing Pages   
Any website landing page can be an ideal place to implement this effective sales tool. It can attract attention to a specific product or service, or a campaign that's coming up. A Countdown Calculator can effectively create hype and excitement amongst your visitors.
Make sure to decide ahead of time where you intend to place your Countdown Calculator to make it fit into the content of your page.  
Related: The magic of Interactive Landing Pages
Pop-ups   
Countdown Calculators can be in the form of exit-intent pop-ups too. If the user is about to abandon your page before making a purchase or any other key page action, you can show a pop-up with a limited-time offer. Influence the decision-making process with this simple trick and watch your sales grow!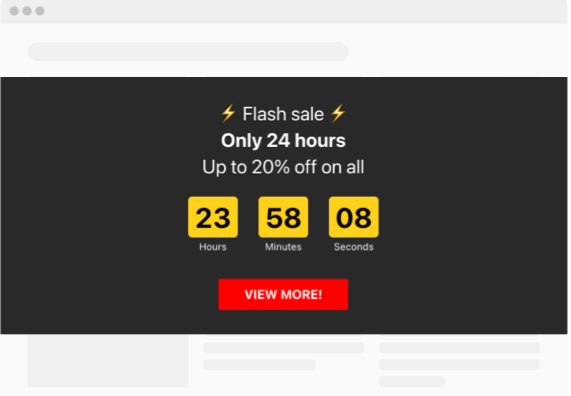 Related: 28 Types of popups to make your website appealing
E-commerce page
Many online shops put a countdown timer next to their sale items to let shoppers know that the product is on sale – for a limited time only.
Here you have multiple options to play around with. You can give a simple discount offer for a limited time, to create FOMO on your most popular products.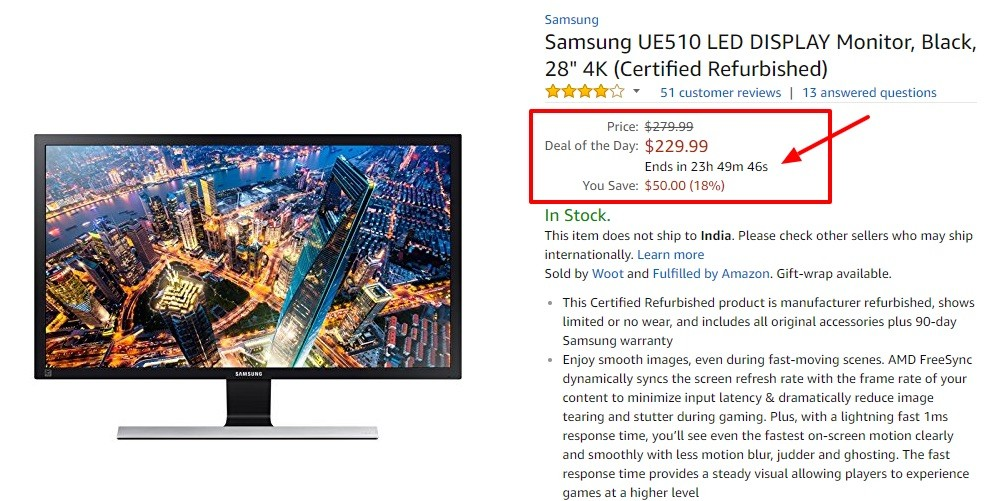 Or, you can use a Countdown Calculator for products low-on-stock and highlight the number of items left. This way, you can increase the demand for your products.  

Email Marketing  
You can drive success in email marketing with Countdown Calculators. According to a case study, adding a live countdown clock to create urgency and excitement around their 24-hour Black Friday sale resulted in a 171% higher click-to-open rate!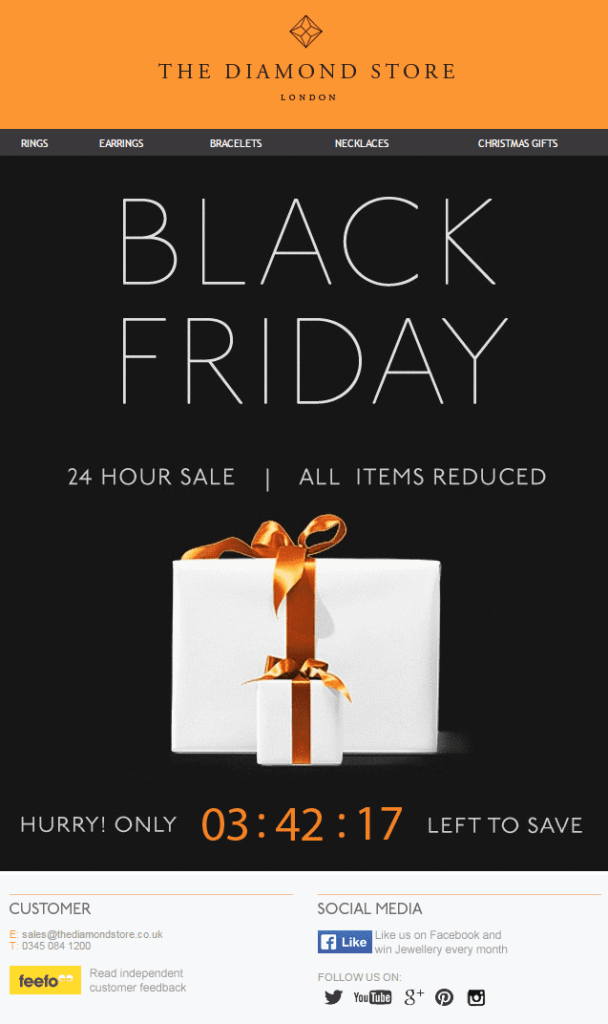 Checkout Page
The checkout page is the last opportunity for you to turn your visitors into customers. This is one of the most popular ways to use Countdown Calculators, as the cart abandonment rate can be as high as 80%.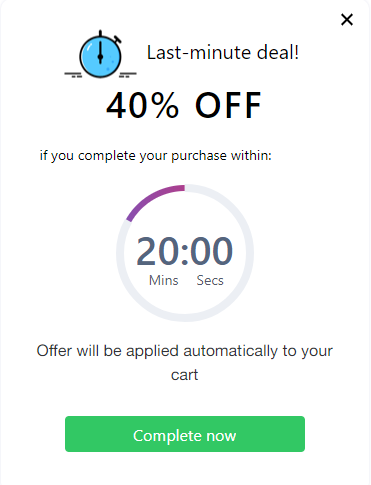 By putting some pressure on your customers, you can push them to go ahead and make the purchase.   
Sign Up Page
As you countdown towards your sale, get potential audience to immediately sign up so they don't miss out!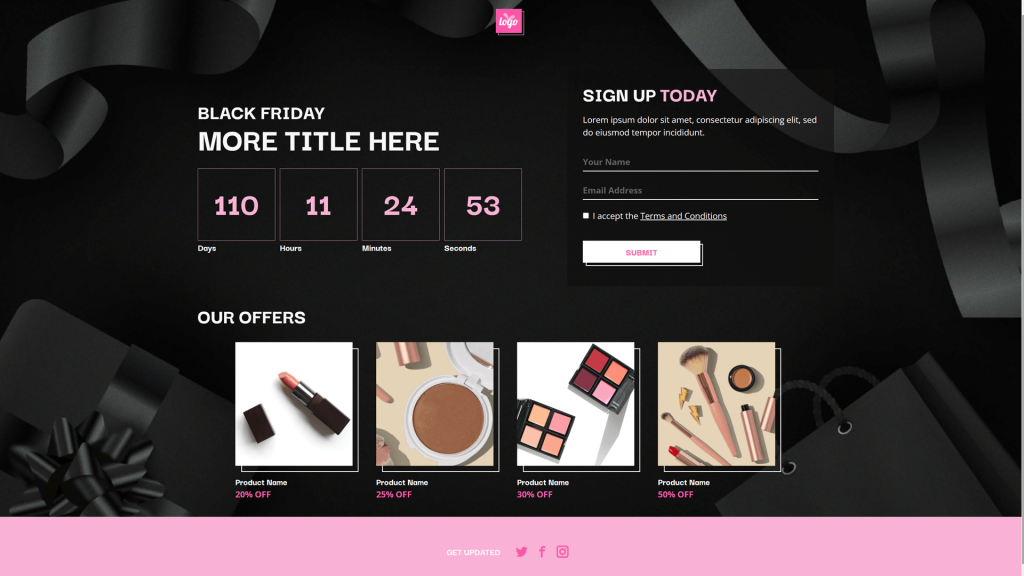 6 Best practices for implementing Countdown Calculators
While countdown timers can be a valuable tool for driving conversions and boosting engagement, it is important to implement them correctly for the best results. Here are some best practices when implementing a Countdown Calculator:
1. Make it stand out:
The Countdown Calculator should be prominent and easily visible. This will help to ensure that visitors are aware of the timer and create the urgency.
2. Keep it simple:
The design of your countdown timer should be simple and not too cluttered. Avoid using complex designs or animations that can distract the visitor from the timer.
3. Customize it:
Customize the design of your countdown timer to suit your brand. This will help to ensure that the timer fits seamlessly.
4. Honesty is the best policy:
Make sure that the time displayed on the countdown is accurate and honest. If the timer is counting down to a specific event, make sure that the event takes place when the timer reaches zero.
5. Test it:
Test your countdown timer to make sure it's working correctly and displaying the correct time. This will ensure that your timer is effective and driving conversions.
6. Use it strategically:
Use your countdown timer strategically, such as during limited time offers and special promotions. This will help to maximize the impact of the timer and drive more conversions.
Get started on your next Countdown Calculator!
It's never too early to start planning your next promotion, especially if it's for a big event like Black Friday. The sale season can be hectic and overwhelming for every business.
Countdown timers can be a valuable tool for driving conversions and boosting engagement on your business. By creating a sense of urgency, you can motivate visitors to act before the timer runs out.
Apart from a Countdown Calculator, there are lots more that you can do to attract visitors and boost sales. With Dot.vu, you can create holiday-themed Interactive Content effortlessly. Just create a free account and start customizing any of our 300+ templates to suit your brand.
Visit Dot.vu's Interactive Content Platform for some inspiration or book a meeting today to learn more about how Interactive Content can drive results for your business. 
---
This blog post was updated by Cathryn Kok on 26th May 2023
More articles that might interest you: