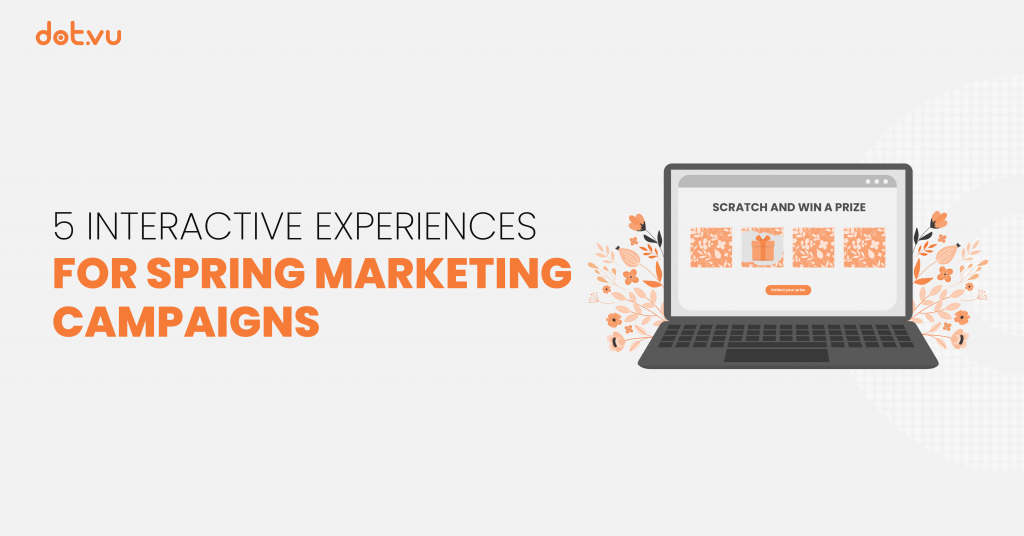 Spring marketing campaigns – why even bother?
The season of new beginnings is here. The flowers are blossoming, temperatures are rising, and the birds are returning with their beautiful songs. In general, springtime boosts our mood and makes us more creative. Therefore, this is the perfect time for marketers to bring in innovative ideas and create mood-boosting content for their audiences. Although the highly profitable Halloween and Christmas seasons are behind us, the inevitable spring shopping fever surges; and companies need to act on that quickly. Implementing some interactive spring marketing ideas can set you apart from the competition this year. Thus, neglecting spring marketing is one big mistake that can cause you to lose excellent profit opportunities.
Speaking of new beginnings, it might be a clever idea to "spring clean your marketing" in March and April. Updating prices, ads, social media presence, and blog content can be a great start to optimizing your strategy. Make sure to adapt your brand touchpoints to the bright season's nuances. The result will be improving customer engagement and incentivizing sales!
This blog post covers some of the most engaging marketing ideas for spring that will boost your sales.
5 Engaging Interactive Experiences for Spring Marketing Campaigns
Marketing Games
Interactive Marketing Games are a proven tool for captivating the attention of your website visitors. The reason is that customers are consuming the content actively instead of being passive viewers. The more they interact, the more they create positive associations with your brand. Implementing different types of Marketing Games is among the most engaging spring marketing ideas. Furthermore, entertaining and rewarding your customers can boost their mood even more!
For example, you can use a Scratch Discount Code game to promote your products and engage your customers. Designing the template to match the spring mood and offering exclusive deals will boost your sales during this happy season.
Related: 8 Interactive Easter marketing ideas you need to try
Interactive Contests
Another spring marketing idea is encouraging your audience to participate in an Interactive Contest. Choosing a colorful theme and an intriguing topic for your contest will delight visitors.
In general, contests and sweepstakes are a brilliant way to increase your brand awareness. The more enticing the reward, the more people will take part. Engaging your community with a contest has several advantages for your company. These include growing your email list, gaining trust, attracting new followers, and boosting sales. Furthermore, you can share your contest as a spring interactive post on social media to generate more value for your followers.
Invite your customers to participate in an exciting contest and see the popularity of your spring marketing campaigns increase. Maybe you could try an Interactive Contests for your next Interactive Mother's Day Campaign?
Product Recommender
What can be a quicker way to guide your online customers through your new product offering than a Product Recommender? If your audience is still unaware of your exciting spring additions, you have the perfect opportunity to show them what is new. Adapt this Interactive Experience type to your brand identity and add plenty of colorful elements to create memorable experiences on your webshop.
You can efficiently explore your customers' preferences and suggest products with a Product Recommender. For instance, you can use a Product Vote template to understand consumer behavior and collect valuable data insights. When visitors vote for their favorite products, you gain an overview of customers' tastes.
Let's have a look at another spring campaign idea. Daylight is increasing significantly during springtime. With all the sunny days in front of us, it's a golden opportunity for sunglasses retailers to boost sales. They can display their sunglasses collection with a Sunglasses Finder. This template helps your customers get the best item recommendation based on their needs.
Interactive Lookbook
If you are in the fashion business, you want to display your spring fashion collection in the best way possible. We have an outstanding marketing idea for spring products presentation! An Interactive Lookbook allows you to turn your physical catalogs into an Interactive Experience that keeps your audience continuously engaged.
You can boost engagement with an Interactive E-Magazine. The exciting part about this format is the possibility of adding popping product descriptions, inspiration videos, shopping quizzes, and purchase buttons. As a result, your potential customers would be highly involved in the experience.
Quiz
An Interactive Quiz is an educational and entertaining Interactive Experience for successful Spring marketing campaigns. Spring is filled with diverse color palettes. Use these to engage your customers and spread some positivity!
One of our newest templates, Quiz with Gated Results, enables you to collect leads while providing value to your customers. In the spirit of spring, you can create questions based on some fun facts about the season. As for the design, utilizing fresh colors is naturally the best way to appeal to your customers.
We have gathered a few fascinating facts about spring that you can steal for your quiz:
Easter always falls on the first Sunday after the first full moon after the spring equinox.
Spring almost always arrives on March 20 or 21.
Snowdrops, hellebores, crocuses, primroses, daffodils, and hyacinths are examples of typical spring flowers.
People around the world celebrate some unusual holidays in springtime. Examples include Make your own holiday day (March 26), Don't go to work unless it's fun day (April 3), and Star Wars Day (May 4).
More popular holidays during Spring are Easter, April Fool's Day, Earth Day, Mother's Day, and Cinco de Mayo.
All these Interactive Experiences can also be used in your summer marketing campaigns.
Did you get inspired by these fun Interactive Experiences for Spring marketing campaigns?
Don't fall into the trap of being inactive during the Spring season. Halloween, Black Friday, and Christmas are far behind us, but we still need some mood boosters from time to time! Moreover, many people are ready to spend some money due to the spring shopping fever. Therefore, marketers can boost sales by crafting some exciting spring marketing campaigns!
Your seasonal advertising can be converted into a highly engaging, unforgettable experience for your audience. You simply need to use your imagination in leveraging Interactive Content.
Dot.vu is an Interactive Content platform that enables you to create various Interactive Experiences. Visit our marketplace to get inspired for your spring marketing and create a free account to get creative today!  
---
Other articles you might be interested in:
---