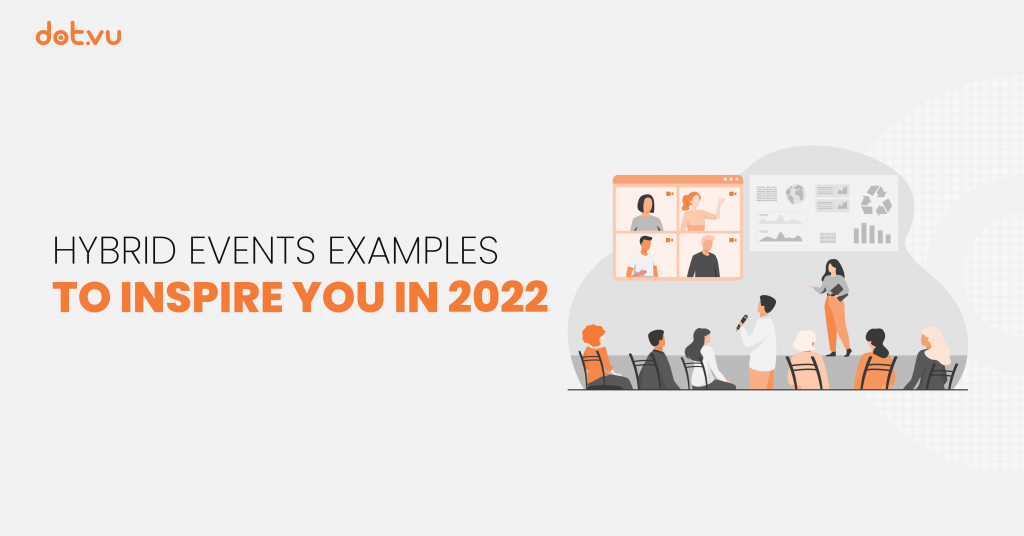 Business events connect companies with potential customers, shareholders, and partners. Trade shows, seminars, team-buildings, conferences, and product launches, to name a few examples, provide golden networking opportunities.
We are all familiar with the traditional physical meetings setup. We also know how a webinar works. However, a new format has gained vast popularity in recent years. Hybrid events have become the new norm because of the Covid-19 pandemic. When Covid hit, event planners had to deal with a radical change no one expected. This opened our eyes to how quickly circumstances can change. Therefore, having a "safety feature" can save any event.
Although some countries lift the public restrictions, many people prefer to stay home when possible. That's one of the reasons why organizations are trying to provide both in-person and digital elements in their seminars and trade shows. In fact, more than 59% of event marketers consider hybrid events a crucial part of their event marketing strategy. Furthermore, hybrid events are part of the top 8 MarTech trends in 2023.
This blog post explores inspiring hybrid events examples, facts, and hosting advice. We also discuss the future of hybrid events.
What is a hybrid event?
Before jumping into some inspiring hybrid events examples, let's have a quick look at the definition of this term. Hybrid events are events that combine in-person and virtual elements. Put another way, hybrid events have two separate audiences. One participates physically, whereas the other one follows the event online.
When it comes to hosting a hybrid event, it is important to keep in mind that both audiences need to be fully engaged. Livestreaming is not enough, because remote guests require the same level of interactivity as in-person attendees. One of the main purposes of hybrid event organizers is to make the virtual audience feel part of the event.
Apart from providing a memorable experience for people who prefer to attend from the comfort of their homes, hosting a hybrid event has multiple benefits. For example, combining in-person and digital elements reduces costs and increases attendance, flexibility, and networking opportunities.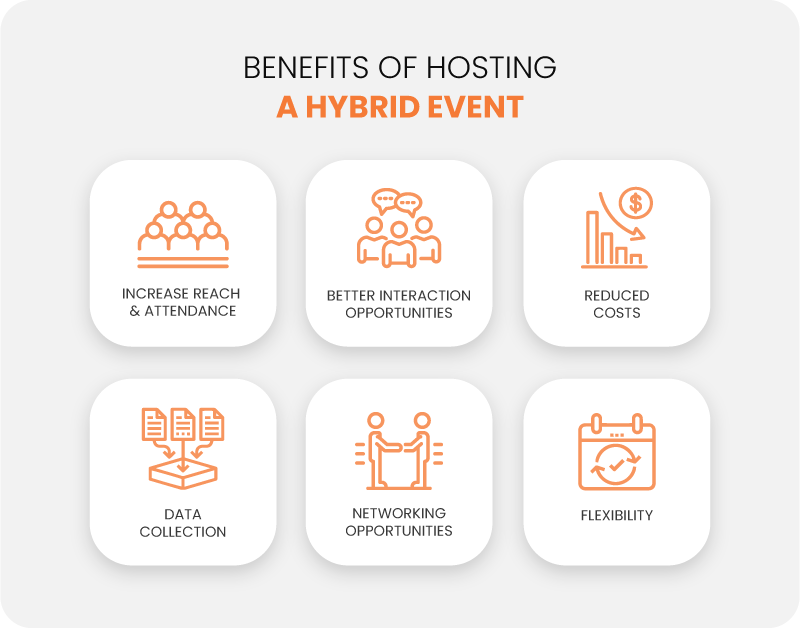 Hybrid events examples to inspire your organization in 2022
Are you planning to host a hybrid event in 2022? We hope these hybrid events examples will inspire you to create memorable experiences for your attendees:
INBOUND
INBOUND, powered by HubSpot, is an annual event that gathers international experts across marketing, sales, customer success, and revenue operations. This amazing networking opportunity will be open to everyone in September 2022. This will be Inbound's first hybrid event ever. Exciting!
InEvent's 360º
InEvent's 360º is one of the greatest hybrid events examples of 2021. Event professionals had the opportunity to learn more about hybrid events by experiencing the concept themselves. Participants from more than 190 countries joined virtually! This would be impossible if the event were face-to-face only.
Content Marketing World
Content Marketing World is a conference that inspires content marketers with hundreds of sessions, workshops, and forums. The 2021 event brought together representatives from companies such as McKinsey, LinkedIn, Microsoft, The New York Times, American Express, The US Food, and Drug Administration. The Content Marketing World enables its participants to expand their professional circle and build new partnerships. In 2022, the organizers will allow virtual attendees to engage in interactive discussions with the in-person participants.
FinCon21
FinCon is a digital marketing event that started as a financial blogger conference back in 2011. In September 2021, the edition was a hybrid and had enormous success. The event attracted some of the industry's most influential speakers, whereas many attendees shared positive thoughts about the experience.
WEC Grapevine
In 2021, WEC Grapevine had 1131 digital and 608 in-person attendees. The event gathered people from 17 countries who had the chance to interact with each other despite the geographical distance.
New Yorker Festival
The twenty-second New Yorker Festival sold all-access digital passes and tickets for in-person activities. As usual, The New Yorker magazine will organize a festival in 2022 too.
Johnson and Johnson
The Hybrid Annual sales and Training Meeting in 2021 engaged 750 people in keynote speeches, live-streamed plenaries, podcasts, and social activities. According to the post-event survey, many participants preferred the virtual format over an in-person event.
These were just a tiny fraction of the latest hybrid events examples that you might find inspiring. Combining in-person and digital elements tailored to each audience for optimal engagement is a continuous trend. A recent survey shows that many companies plan to host hybrid events in 2022. Is yours one of them?
How to host a hybrid event?
Hosting a hybrid event has its own challenges. One of them is the interaction between attendees. More than 70% of event organizers experience difficulties connecting the in-person and digital audience. Other issues include technical problems, preparation time, and scheduling with different time zones.
Selecting a hybrid event platform
Choosing the right event platform is crucial to overcoming the above-mentioned challenges related to hosting a hybrid event. Therefore, make sure that your provider is reliable and meets your individual requirements. Live streaming opportunities, audio quality, video quality, and level of engagement are some of the features you would need to take into consideration.
Some event solution providers offer both hosting and creating an event website. This will take a load off your shoulders.
Budget
The virtual component of your hybrid event will of course bring some cost savings. Nonetheless, calculating your expenses related to venue, technical equipment, and platform provider is necessary.
Promotion
Promoting your event will attract the right audience. You can increase awareness by promoting your event with Interactive Content or using social media.
Content
Create valuable and engaging content tailored to all attendees. Providing Interactive Experiences where both in-person and digital participants communicate with each other will boost your hybrid event's quality. Moreover, make sure that everyone feels like a part of the conference. 39% of hybrid events virtual attendees admit that they felt left behind. Don't let this happen during your event!
Event gamification is a brilliant way to bring your audiences together. Encourage them to play networking and educational games together.
The future of hybrid events
Hybrid events are a popular response to the pandemic restrictions we all faced in 2020. Companies acknowledge the benefits of hosting an event that allows for great flexibility. Gathering people for a meeting is dependent on the venue size. Inviting online attendees can significantly increase the reach of your trade show or seminar. Some of your potential guests might also be limited because of their geographical location. With hybrid events, this is no longer an issue.
Hybrid events are also more environmentally friendly than physical events. Imagine the resources required to host a meeting for 1000 attendees! Thanks to the rapid technological changes, you can focus your effort on creating an online component that reduces the environmental impact of your meeting.
Hybrid events are the future. An astounding 73% of event organizers believe that hybrid events will be common in the upcoming years. This is due to the cost-efficiency and safety of combining in-person and online participants.
Did you get inspired with these hybrid event ideas?
The hybrid format is the future of the events industry. Whether you plan to organize a corporate event or a trade show, allowing a part of your audience to interact virtually will increase your reach while reducing costs.
The hybrid event examples mentioned above are just a tiny fraction of companies organizing these formats of events. Many organizations go for hybrid events because it is one of the top event planning industry trends this year. Furthermore, they just consider it the new normal. And they are not mistaken. Your company can benefit from reaching a broader global audience and inviting international speakers who wouldn't be able to participate if they had to travel. For your business, this means more leads and improved brand awareness.
If you are currently hosting live or virtual events, you can transition to hybrid in 2023. The first step would be to evaluate potential event solution platforms and providers who will help you create unforgettable interactions between your audiences.
The next steps to take are budgeting, promotion, and creating content. Dot.vu is an Interactive Content platform that can help you promote your event. You can also leverage Interactive Experiences such as Quizzes, polls, and Interactive Virtual Tours to enhance the interaction between your audiences during your next event.
If you want to rock your next hybrid event, create a free account and try the templates you find suitable for enhancing your next event!
---