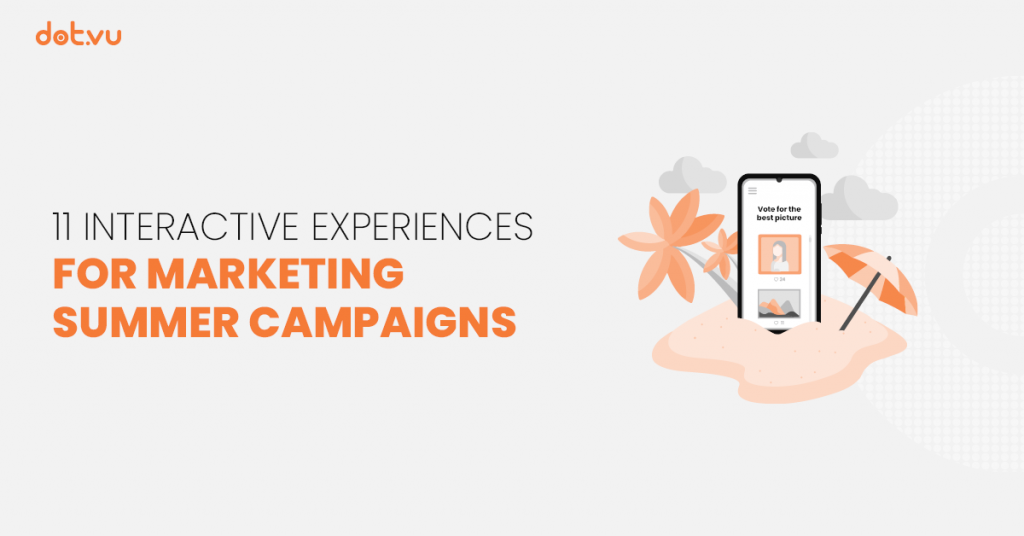 Summer will be here before we know it! With this in mind, marketers are looking for ways to stand out from the competition. They want to offer their customers memorable experiences that will connect them with the hot new products and services showcased in their summer campaigns. One of the best ways to get customers excited and engaged with your content this summer is by adding Interactive Experiences to your summer marketing campaigns. 
In a recent study from MassMutual, 52% of Americans spend more money in the summer than during other months. Marketers need to be not only ready for the party, but the ones to bring the party to their customers in their summer campaigns. 
Start planning your summer marketing today
As with every seasonal promotion, it is appropriate to start planning your summer marketing campaign in good time. A good time to start would be right after your Interactive Mother's Day campaign is launched. Pretty much at the same time as when you are planning your Interactive Back-to-school campaigns. Prepare your plan in advance to have an advantage over your competitors. Determine your target audience and goals to stay on track. Last but not least, unfold your creativity to create quality content that will distinguish your brand from the competition. Dot.vu wants to help you with some engaging summer marketing ideas to heat up your sales in 2023.
Why use Interactive Experiences for your summer marketing?
Interactive Experiences are a game-changer for your summer marketing. They grab attention, drive engagement, and foster memorable connections with your audience. By offering Interactive Content such as games, product quizzes, contests, and immersive videos, you create a dynamic and participatory environment that captivates users. This not only boosts brand awareness but also promotes social sharing, amplifying your reach. Plus, Interactive Experiences enable data collection, providing valuable insights for personalized marketing campaigns. Embrace interactivity this summer and take your content marketing to the next level!
So, let's get ready to bring the party to your customers!
11 Summer Marketing Campaigns  
Here are 10 examples of Interactive Experiences that will help to bring some fun to your summer marketing campaigns.
1) Interactive Contest as a part of your summer marketing campaign
Interactive Contests are fun ways to get people interested and excited about your brand for your summer campaigns. Use a Refer-a-Friend Contest to encourage customers to share their contact information and that of a friend in order for a chance to win a prize. The whole process is quick and easy. Interactive Contests can be a great source of referral marketing. This is because customers can share the experience with friends and family via social media.
2) Countdown Calendar
You have heard of advent calendars, right? Well, who says that the idea of a countdown calendar has to be used only during the Christmas season? Use a fun Countdown Calendar to highlight the days leading up to the first day of your summer campaign. You can also countdown to the first day of a big event your company is holding like a product release or annual sale.
Give customers a chance every day to win a prize or offer them discounts behind the different windows. A Countdown Calendar is a great tool to increase engagement on your platform. You can also generate leads and collect data on your customers at the same time.
3) Marketing Games for summer campaigns
Marketing Games are always a great tool to entertain your customers on your platform. A simple Catching Game can be a fun way to promote your brand and get customers excited about your products.
By clicking on objects to "catch" them, customers can win the game and be entered to win a prize. For those who don't win, they have multiple chances to try again. Companies are the real winners because they don't only get more people being active on their website, but also more contacts added to their email lists.
4) Product Assistant to boost your summer marketing
Give your customers more peace of mind when planning their travels this summer with a product assistant. Ask them a few questions and offer the best option with personalized feedback based on their own responses. Include a Call-to-Action (CTA) button to encourage customers to make a purchase.
A Product Assistant Is a form of a Product Recommender and can also be great to use with different products within the same category. Customers may be unsure of which product best suits their needs. A product assistant can eliminate customer confusion and help more customers to feel secure in their buyer decisions on your platform.
5) Product Recommender to promote your "hot products"
Help your customers find the perfect summer item based on their preferences and needs. If you have some summer products to sell on your e-commerce website, a Product Recommender is your new best friend. From swimwear to water slides, you can promote your hottest products and boost sales in many different ways.
Sunglasses Finder can be one of the best summer marketing ideas for your seasonal promotion. This experience will help your customers find the best pair of sunglasses and protect their eyes against the sun's UV rays! Not selling sunglasses? You can adapt the experience to match your product offerings.
6) Visual Personality Test
One of the most popular forms of interactive marketing is the personality test or quiz. With a Visual Personality Test, customers answer a set of questions by clicking on the image that best suits their personalities. Each question can match a specific personality type and connect with a lead form.
At the end of the experience, customers are excited to read the results of their personality type and are more likely to share the experience with others on social media. Include shareable buttons to make it easier to get customers to do referral marketing for your company. Showcase your brand in a summer theme to get customers associating your company with the fun of summer and see the popularity of your summer marketing campaigns increase.
7) Interactive Lookbook to enhance your summer branding
An Interactive Lookbook can be a helpful tool to promote your summer fashion, gardening tools or beach essentials for the summer. Unlike a traditional product catalog, customers have the option of learning more about your products within Interactive Experiences. Embed elements like product descriptions, instructional videos or purchase information within your Interactive Lookbook to educate your customers before they decide to buy. You can add "Buy Now" buttons within the product descriptions, so customers can easily place items in their shopping carts.
8) Selfie Contest for Summer Campaigns
Another great idea for your summer campaigns would be using Social Interactive Content. One example of Social Interactive Content could be a Selfie Contest. Invite people to participate in a Selfie Contest for a chance to win prizes. Create a summer background to get people in the mood for the season.
Make the experience more personalized by letting people choose a sticker to highlight their selfie card. Also, allow them to share a link to their selfie after they have filled out a lead form. Once friends open the link, they will get a chance to win a prize by scratching off the picture. The joy friends receive from the experience will make them want to create their own selfies to share. This can extend the reach of your summer campaigns even more.
Organizing a selfie contest will help you increase your followers base with summer interactive posts. The more people participate, the greater your reach.
9) Picture Voting Contest to increase the shareability of your content
Another fun way to get your customers engaging on your platform and sharing your summer campaign with friends online would be with a Picture Voting Contest. As with the Selfie Contest, customers need to upload a picture in order to enter the contest. However, with a Picture Voting Contest, it can be any picture that fits the theme. At the end of the campaign, a specific number of pictures could be chosen to win. The prize might be a discount on a future purchase, which can be enough of an incentive for customers to participate in the contest.
The more they vote on other pictures, the more their picture will be shared with others. This causes more opportunities to win the contest. A Picture Voting Contest is a great way to increase engagement and get your customers to spread the word about your summer campaign. Connect the theme with your product and increase your brand awareness at the same time.
10) Fitness and Wellness Calculator for Summer Campaigns
Are you customers looking to lose weight or get in shape for the summer, swimsuit season? Help them with a Fitness and Wellness Calculator that will calculate the results they are looking for. Tailor the experience by making the questions reflect your offerings. You can also include feedback that is not only informative but also targeted to showing how your products and services will help customer achieve the results they need.
11) Video Quiz
Within your summer campaigns, you should consider using a Video Quiz Contest to educate customers on your products. Customers engage with Interactive Videos which helps them to stay on your platform for longer. By including a quiz within the video, marketers are not only getting more data on their customers but giving customers more of a reason to pay attention to the video's information.
This is a great opportunity for brands to connect with customers and for customers to get a chance to enter a contest through their participation in the quiz. With the great templates that we have at Dot.vu, you'll get the support you need to make this type of interactive content a quick and easy solution to bring the wow factor to your summer marketing campaign.
Ready to implement these Summer Marketing Campaigns?
This summer, let Interactive Experiences bring the heat to your fun summer marketing campaigns. They can help you connect more with customers and engage them for longer on your platform. Not to mention, Interactive Experiences are also great for creating more opportunities of helping your customers through your sales funnel.
Visit Dot.vu to find out more about Interactive Experiences that you can use for your Seasonal Marketing Campaigns this summer or for any time during the year! Create a free account to get started!
Also, get inspired for this or any other Interactive Experience on the Dot.vu marketplace place. See our many exciting templates for Interactive Experiences that are sure to bring value to your company. Let us show what Dot.vu can do for you!
---