Easter is coming! Countries around the world have different Easter traditions that make the holiday so special. From decorating eggs, having water battles, and writing mysterious letters to covering the streets in colorful carpets and preparing giant omelets, the ways of celebrating are truly fascinating.
Your seasonal marketing should be your top priority. Holidays always incentivize customers to spend more as they are special occasions throughout the year. Therefore, to maximize your opportunities this season, I will give you 8 Interactive Easter marketing ideas you should try:
If you are also looking for engaging strategies to heat up your summer or Mother's Day marketing, check out our blog posts with 11 Interactive Experiences for summer marketing campaigns or 9 Interactive Experiences for your next Mother's Day campaign.
Why do you need to diversify your campaign with these Easter marketing ideas?
According to the National Retail Federation, 8 out of 10 adults in the US plan to celebrate Easter, spending an average of $150. Besides, even consumers who don't want to celebrate the holiday find the seasonal sales and goodies hard to resist. About half of those not celebrating still plan to take advantage of Easter-related sales to pick up items, expecting to spend an average of $19. Therefore, Easter is a prime business time for retailers.
However, planning the perfect marketing campaign requires marketers to use innovative methods. Interactivity is one of the elements that can set your brand apart from your competitors. As a result, customers will prefer to buy your products.
Related: 7 Easter promotion mistakes to avoid in your next Easter campaign.
8 Interactive Easter marketing Ideas
Let's explore the best ways to increase customer engagement online during Easter! Your customers will love them!
1. Marketing Games
Marketing Games are excellent for your Easter marketing campaign. Your audience will enjoy engaging in a fun experience that will distract them from their daily routines. Moreover, this is a fantastic opportunity to create some buzz around your brand and increase awareness amongst your existing and potential customers.
It is always a good idea to include a lead form in your Marketing Game. You can either place it at the beginning or end of the game. You could rightfully doubt the efficiency of a lead form as people don't always like to engage with them. To ensure success, you need to incentivize participation by offering a worthy prize or reward, so they won't hesitate to fill out your lead form. Eventually, you'll also benefit from collecting data and growing your email list. Later, you can use the data for remarketing purposes.
Companies like Hummel, The Perfume Shop, and Benefit have created engaging Interactive Games for their customers. Have a look at these 6 successful examples of Marketing Games from real brands. Various Marketing Games can come in handy, but let's look at one of the examples we already have here at Dot.vu.
Easter Bunny Game
Your visitors need to keep hopping with the bunny to avoid obstacles and collect eggs. The purpose of the game is to obtain at least 3000 points. This Easter game is a engaging and easy to play.
Easter Calendar
Your customers get to open a lock each day doing the Easter holiday and participate in a daily contest. Visitors need to fill out a lead form to participate and get a chance to be the lucky winner each day through the campaign. With our Interactive Content platform, you can fully customize the design of your calendar, locks, and content under each lock, set up custom KPIs to track the performance of your game, and much more.
Shake the Easter Egg
This is an instant-win game where players need to fill out a lead form, tap or click on the egg until it breaks. As simple as that, Shake the Easter Egg is a fun experience that will engage your visitors. Furthermore, you can promote your products by giving out discounts as prizes.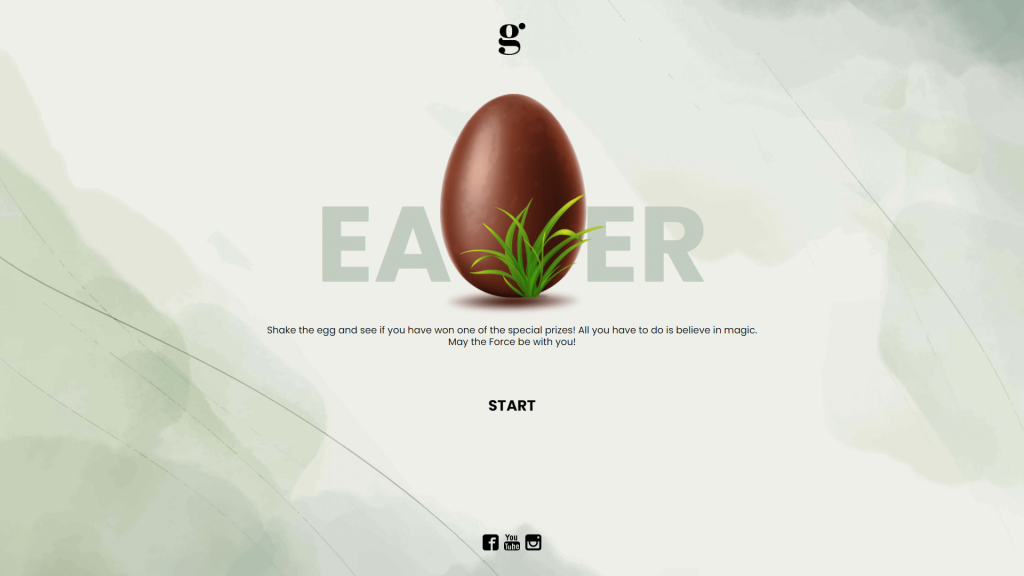 2. Product Recommenders
Easter has become one of the biggest retail holidays. Not only are consumers spending money on cards and chocolate bunnies, but they are also buying gifts for their loved ones. Some people simply take advantage of the discount season to save money on their purchases. Whatever the reason, it is a fact that online sales increase during the Easter season.
Therefore, we recommend using Product Recommender in your Easter marketing strategy to effectively suggest products to your customers. All you need to do is design a template, set up your questions that guide your visitors through the experience, and offer personalized products at the end.
This is an excellent opportunity to learn more about your customers' needs. Thus, increasing sales and buyer satisfaction. Another benefit of this engaging Interactive Experience is that it helps speed up the decision-making process by directly offering products that suit your buyers' needs. As a result, they will more likely remember your brand and want to return in the future.
3. Social Interactive Content
Social Interactive Content provides an opportunity to increase social shares and reach a broader audience during your Easter marketing campaign by asking your participants to share the experience with their friends, family, and loved ones. With this Interactive Content type, you can practice highly beneficial referral-based marketing.
Your visitors can share Social Interactive Content across their social media channels. Spreading the word about their experience strengthens your social media presence during the holidays. Not only does it help you to promote your brand to your existing audience, but it also incentivizes them to grow your audience. The goal is to design an experience to motivate visitors to share, cooperate, or challenge their friends to participate. Have a look at these examples of Social Interactive Content to enhance your Easter marketing campaign.
Crack the Easter egg social game
With this game, visitors will need to customize a gift card by adding their name, configuring the egg, and choosing between different prizes. Once it's done, it is ready to be shared through social media as a link. When the recipient receives the card, by clicking, it'll directly take them to the landing page, where they can play right away by tapping the egg to reveal the surprise. They will, of course, need to share their contact information to get the prize which is the kind of opportunity you are looking for to grow your email list. When they are done with it, they get the option to create a new gift card and share it with someone else. This tool is truly amazing to create memorable experiences, hence boost awareness around your brand. In addition, sharing this game is a perfect Interactive Easter Post that will improve your brand awareness.
4. Interactive Video
Using an Interactive Video has proven to be highly profitable for retailers. This format is more effective than a standard video. Almost 80% of marketers who used an Interactive Video instead of a passive one observe higher online sales.
To enhance your Easter Campaign, give your creativity a boost. Try to work on your brand identity and give your best wishes to your viewers in a creative way. What about an Easter greetings video? For example, you could leverage an Interactive Video that contains an Easter story or your company's Happy Easter wishes. This would be a memorable gesture of appreciation. Incorporating an Interactive Video in your Easter campaign can improve customer loyalty and attract new audiences to your Ecommerce website.
Related: What is an Interactive Video?
5. Hourly Surprises
An Hourly Surprises campaign is perfect for holidays and special days. Design an Easter-themed Hourly Surprise experience to provide a chance to win multiple rewards throughout your Easter marketing campaign. You can use this experience to showcase your discounted products during Easter to incentivize customers to buy your special items. In other words, it is an Interactive Landing Page where you release special deals, offers, and/or discounts every hour.
Let's see some of the benefits you can enjoy by having this Interactive Experience in your easter marketing campaign. It creates a sense of urgency since all your discounted offers are only available for an hour. If your deal is good enough, buyers wouldn't want to risk missing out on it! Another great benefit is the mere exposure effect, as buyers will be engaging with your brand all day long due to returning to see your offers throughout the campaign.
6. Interactive Flipbook
What about having an Interactive Flipbook in your Easter marketing campaign? One of the most effective Interactive Easter marketing ideas is to create an interactive product catalog to share your discounted items during Easter. You can add clickable buttons, hotspots, videos, marketing games, and so much more to enrich the experience. Customers can learn more about the products they are interested in and add them to the basket without redirecting them to a different page.
Having these in mind, you'll be able to speed up the decision-making process and boost your sales during your Easter campaign. An Interactive Flipbook also allows you to collect data about your customers that you can later use to better personalize your offerings. All you need to do is find a place in your flipbook that is high in value, and you can gate that with a lead form to ensure your email list is growing. Interactive Flipbooks are becoming extremely popular here at Dot.vu, so make sure to consider them when choosing the most suitable solution for your business.
Check out the example below. Although it is not Easter-themed, it will serve as an inspiration to get a better idea of the concept.
7. Interactive Quiz
People love to test themselves and get immediate feedback on their results. Why not create a fun, entertaining easter themed online Quiz to educate your visitors about a specific topic? The point here is to generate engagement and collect data by offering to participate in a short quiz and win a small reward or discount upon completion. You can gate the results page, so participants will need to share their contact information in exchange for finding out their score and whether they are the lucky winners or not. The benefits of this experience include improving brand image and increasing brand loyalty while also generating more sales.
An Interactive Video Quiz is another entertaining alternative to a traditional quiz that can drive traffic to your eCommerce site. This interactive combination of a video and a quiz allows you to open a dialog with your audience. Maintaining a virtual conversation improves message retention and boosts customer experience.
You can use an Interactive Video Quiz to test your visitors' knowledge of a given topic. For instance, you can ask questions about Easter facts, holidays, and traditions during your Easter campaign. By doing so, you will build awareness around your brand identity, which will, in turn, boost loyalty.
To provide further incentive to pay attention to the quiz, you can create an Interactive Video Contest to reward the participants. This is yet another opportunity to give discount codes and promote your products. An Easter-relevant competition would be a fun activity for your visitors. At the same time, your company will benefit from the increased website traffic.
8. Easter Interactive Posts
Can any business exist nowadays without being active on social media? Social media is the perfect channel for reaching a wider audience.
You can achieve maximum engagement via Easter Interactive Posts. These are social media posts that encourage your visitors to comment, share, tag, and interact with your content.
Here are some examples:
User Generated Contest
This is a perfect experience for activating your customers. The idea is for them to share images using your unique hashtag. As a result, they will spread the word about your brand. Then, you can select nine images and insert them into your website where people can vote for the winner.
Polls on social media
You can always use polls to activate your social media followers. Ask them, for example, about their favorite Easter traditions or their favorite movies. Not only will you show appreciation, but you will also make your audience interact with your brand.
Do you need to use more Interactive Content this Easter?
Not sure if Interactive Content is for you? We created this Interactive Assessment for you with 2 things in mind:
Experience the magic of Interactive Content yourself, answering 5 simple questions and receiving valuable feedback.
Find out if you need to incorporate more Interactive Content into your marketing efforts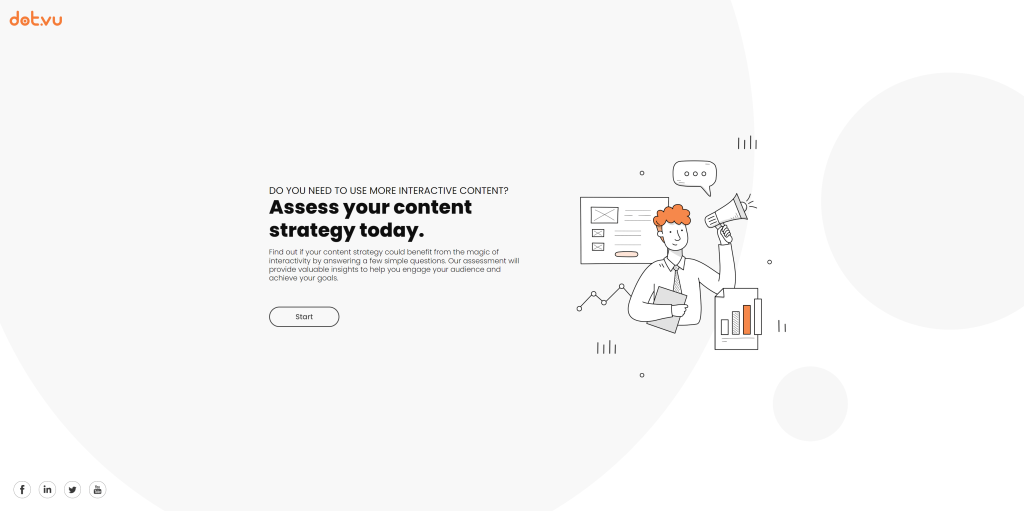 Implement these Interactive Easter marketing ideas and boost sales!
We hope you got inspired with these Interactive Easter marketing ideas. Crafting an Easter campaign can be the path to increasing brand awareness and boosting customer loyalty. Involving your business in the holiday celebrations by focusing on Easter-related content shows that your organization cares about current and potential customers. The more you show appreciation, the more buyers will love your brand.
Using Interactive Content as a part of your Easter 2023 campaign can help you achieve your goals in terms of brand awareness and sales revenue. Your company will enjoy high brand loyalty if you deliver relevant, personalized, and valuable content.
Dot.vu can assist you in leveraging Interactive Content during Easter 2023. You can find various Easter Interactive Games on our marketplace. Feeling creative? Creating your own project from scratch is also possible. Our Drag & Drop editor allows you to personalize different templates to match the holiday motives, your brand identity, and your target audience's preferences.
---
Other articles you might be interested in: