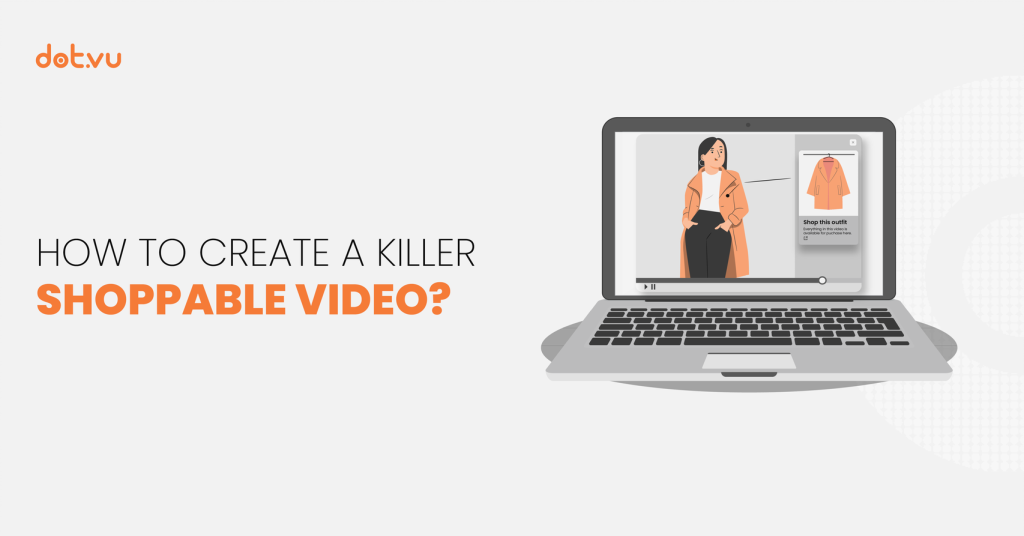 Shoppable Videos are becoming extremely popular among marketers. In fact, Shoppable Videos are among the hot video marketing trends in 2023. There are many good reasons for that:
Shoppable Videos elevate the online shopping experience.
They bring the perfect opportunity to leverage the power of storytelling.
This type of video shortens the decision-making process.
This blog post shows you how to take your product videos to the next level with interactivity. Here are the topics we will talk about:
What is a Shoppable Video?
A Shoppable Video is a type of Interactive Video where viewers can purchase products directly within the video, hence shortening the buying process. In other words, it is a product video with hotspots where users can click to learn more about products and add them to their shopping baskets.
A video is a great way to engage your potential or current customers. It gives you greater flexibility in showcasing your products than, for example, written descriptions. Also, your customers want this: nearly 70% of online shoppers prefer watching a product video over reading text. You can record your physical shops, new collections, or bestselling products. However, in a static video, your audience must leave the page to find the products. As a result, the buying process gets more complex, with many different touchpoints and users might feel discouraged. In the worst-case scenario, they might even not find the item they liked the most from the video in your web shop. In this case, you just lost a selling opportunity.
A Shoppable Video combines all kind of interactions. Now, your customers can watch, click on the products they like, read more about their favorite items, and shop – all in a single video.
Related: What is an Interactive Video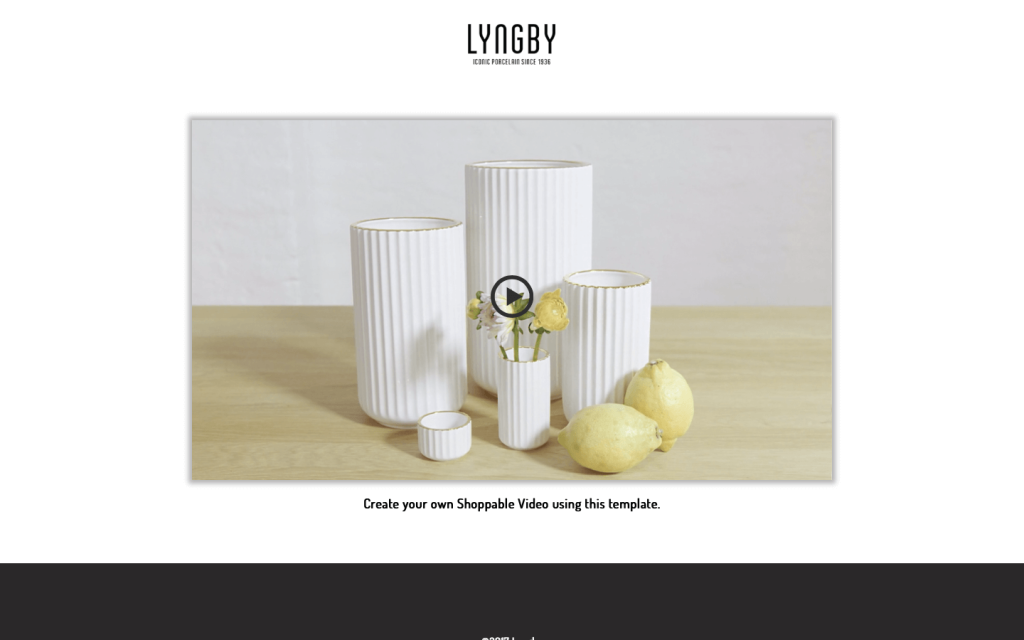 Why is it important to transform your product videos into Shoppable Videos?
Videos are, by default, effective at engaging visitors. In fact, online users will stay 88% longer on websites with videos. The reason – watching something is far more interesting than reading. Therefore, showcasing your product offerings in a video is an excellent idea. However, adding interactive elements encourages viewers to become a part of the story and interact with your content rather than passively consuming it. As a result, they stay focused much longer, boosting their information retention. Moreover, when you convert your product video into Shoppable Videos by adding clickable hotspots, your audience can shop quickly without leaving the video, making it a much nicer shopping for them.
Here is a list of benefits of making Shoppable Videos:
Increase engagement
When consumers watch a Shoppable Video, they can click on the products that catch their attention. In other words, they interact with your content, getting closer to your brand. As a result, they spend more time engaging with your products.
Boost sales
Shoppable Videos make online shopping a piece of cake. While watching a video and having fun, visitors can add products directly to their shopping carts without exiting the video.
Capture valuable insights
When you create Shoppable Videos with an Interactive Content platform like Dot.vu, you can track and analyze all interactions. You can set custom KPIs and follow what product viewers click on most. Therefore, you can discover your customers' preferences.
Send targeted emails
Once you collect data, you will understand your target audience better. As a result, you can improve your email marketing by sending personalized emails based on your customers' interests. Moreover, you can tailor your messages so that they contain relevant offers.
How to create a killer Shoppable Video?
Creating a successful Shoppable Video is easier than you might think. You don't have to record a new video. With our Interactive Video platform, you can use your existing product videos and add interactive touchpoints.  
However, many factors set a good Shoppable Video from a killer Shoppable Video. This paragraph reveals XX steps for success.
1. Definition
Before getting started on your Shoppable Video, you need to define the general idea. Here are a few things to consider:
Who is your target audience?
What kind of products do you want to include?
What product information do you want to appear in the clickable hotspots: price, short description, images?
Where do you want to place your video: on the homepage, a category page, or a native mobile app?
How are you planning to promote your Shoppable Video?
2. Setup the design basics
As a starting point, you can customize the video to match your brand identity. You can choose the button, action point, background, and footer color. In addition, adding a company description to the footer will make the video more memorable.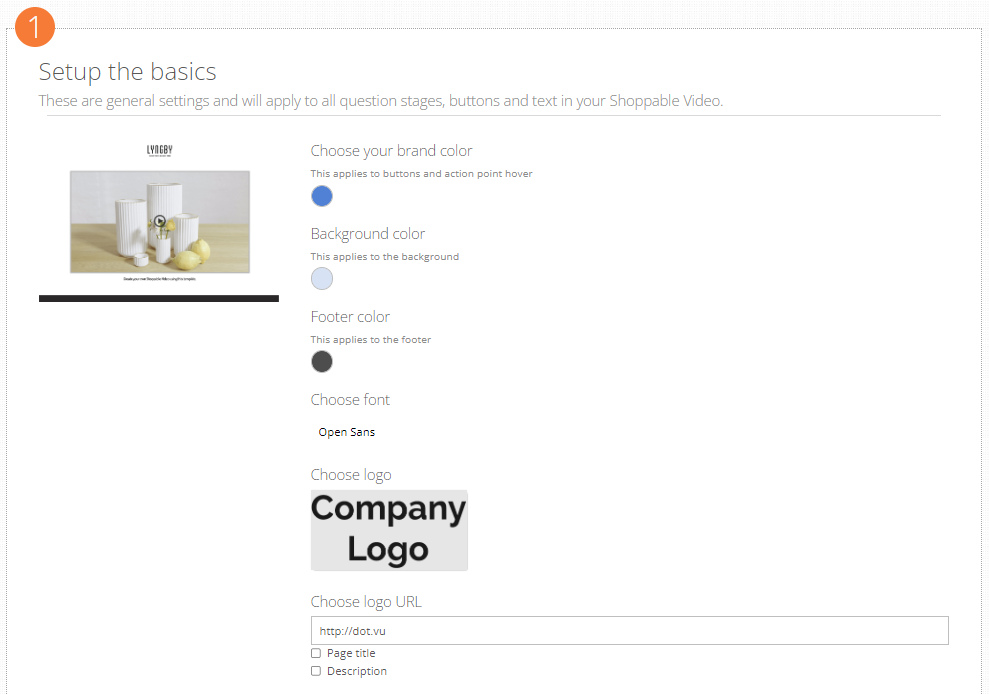 3. Choose your product video
You can use your existing product videos. You probably have your videos on Vimeo or YouTube. When you consider which video to choose, we recommend one that doesn't have too many products. After all, you don't want to overwhelm your customers with a choice overload.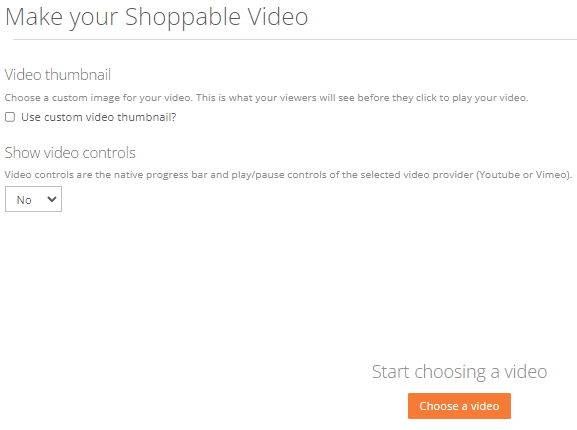 4. Add interactivity
Now is the time to make your video interactive. Pick the products you want to make clickable. Then, add a layer of interactivity by enabling your visitors to click on different elements.
When you set the time your clickable elements will remain in the video, make sure to give your users enough time to act. If the hotspots disappear too quickly, the users will not be able to click.
5. Embed your Shoppable Video
Once your video has a unique layer of interactivity, it is ready to get some visibility. You can embed it on your homepage, a dedicated category page, your mobile app, or even as a popup. It all depends on the content and the purpose of the video. For instance, a dedicated page is the best choice if you have recorded products from one category. Furthermore, if you have many app users, inserting the video there will improve the user experience.
Pro tip: You can target your customers with relevant, well-timed popups that contain a Shoppable Video. Discover different types of popups to get inspired.
6. Promote your Shoppable Video
Make your customers know that you put so much effort into improving their shopping experience! You can promote your video organically or through paid advertisements. Social media is also great for spreading the word about your Shoppable Videos.
Inspirational Shoppable Video examples
Try some Shoppable Video for yourself! You can take one of these examples, create a free account and make your own Shoppable Video!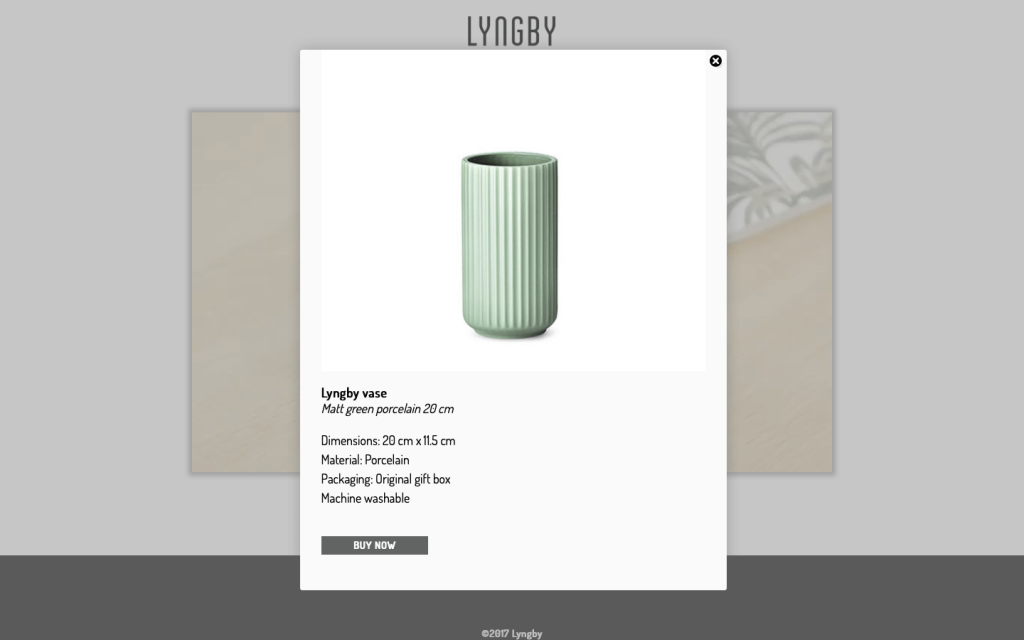 This video is educational and inspirational. It shows how Lyngby's products can adapt to every home, creating a beautiful décor. Furthermore, viewers can click on the items. Then, an image with a short description appears, including a link to buy.
The engaging storytelling and the possibility of purchasing within the video make the user experience unforgettable.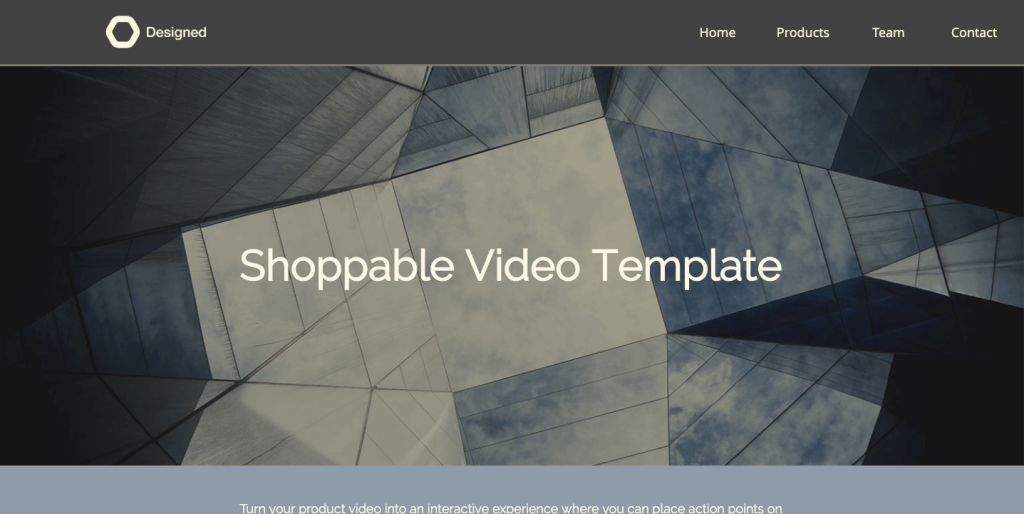 Here is another Shoppable Video template. It is ready to be customized. You can replace the video with your own. Then, you need to replace the clickable elements with your design and eCommerce pages links.
Get started with Shoppable Videos today!
Embedding a Shoppable Video on your eCommerce site will make a huge difference. Not only will you generate more sales, but you will also collect valuable audience insights. As a result, you can improve your digital presence strategy.
With our Interactive Content platform, you can easily create your own Shoppable Video. Create a free account, and customize one of our templates. If you have a more complex idea in mind, feel free to contact our Interactive Content experts. We will gladly support you in your project.
---