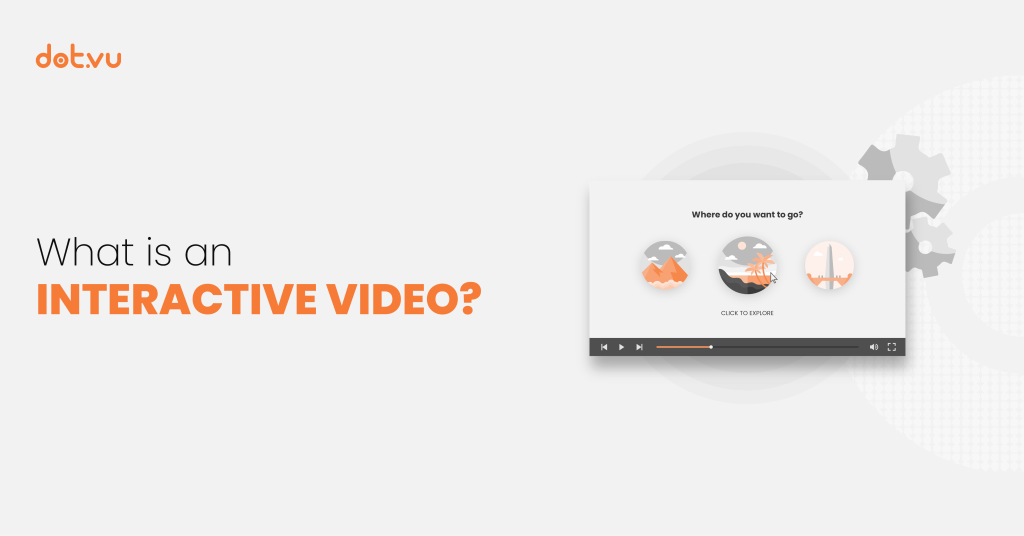 What is an Interactive Video? What makes it so popular among marketers today? In this blog post, you will learn everything you need to know about this amazing Interactive Experience.
Before we start to talk in detail about Interactive Videos, let's begin by looking at the benefits of using traditional video in your marketing. First, integrating video on your website will increase the chances that your website will rank on the first page of Google by 52 times. This statistic shows that the need for videos to promote brands is rising.
Also, because consumers are eager to get their information quickly and easily, video works well to attract those who don't want to take the time to read a lengthy copy. The overall purpose of traditional videos is to entertain, educate consumers, demonstrate how products are used, or create a need for a product within viewers.
Specifically, the main goals of a traditional video in a marketing campaign would be to generate brand awareness and increase online engagement. However, by adding interactivity, companies are more likely to reach these goals.
In this article, you'll learn about:
What is an Interactive Video?
An Interactive Video is a video that allows viewers to participate actively in the storyline. Instead of watching passively, the users become a part of the experience by clicking, making decisions, answering questions, or playing games. In other words, they shape their own experience.
Interactive Videos take traditional (or linear) videos to the next level by encouraging the audience to stay engaged. While the interactions in a linear video are limited to clicking the "play," "pause," and "replay" buttons, Interactive Videos can contain several additional interactive elements, such as:
Clickable hotspots
Polls
Quizzes
Assessments
Marketing Games (for example, scratch cards, spin the wheel, and slot machine)
And many more!
Interactive Videos are among the best examples of interactive marketing, as they create a bilateral exchange with customers.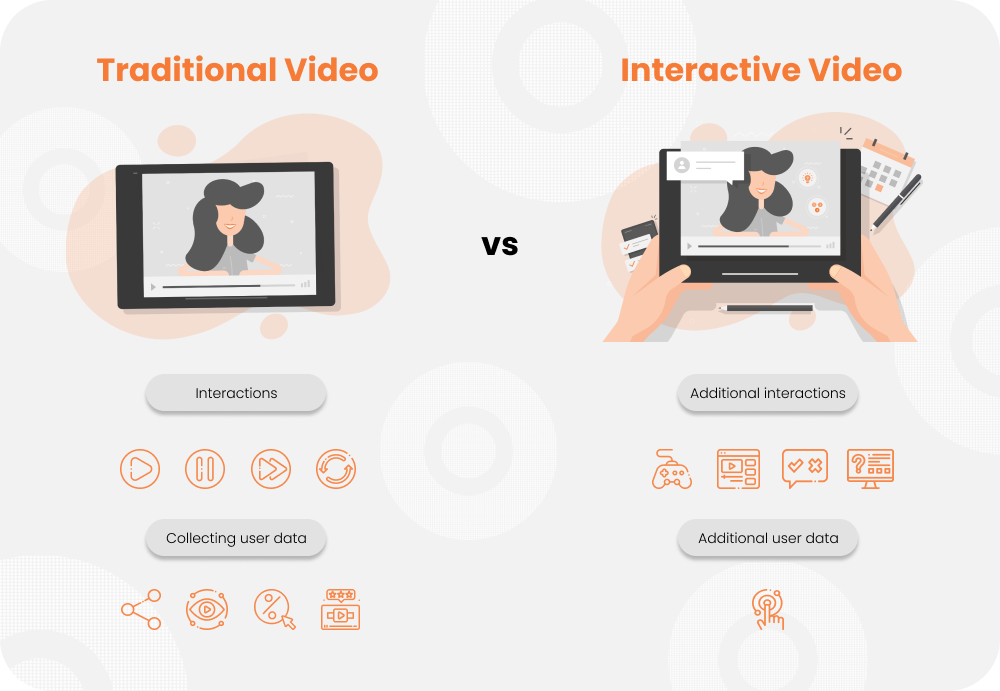 Benefits of using Interactive Videos for your marketing
There are many good reasons to choose Interactive Videos over traditional videos in your marketing campaigns. Here are some of the most important benefits for your company:
1.Increased engagement
Users pay more attention to a video if it is tailored to their interests. Overall, when the content is interactive, customers are more interested in learning about a company. Because of this increased attention and longer time spent with your brand, customers are more likely to go to your webshop to make purchases.
2.Viewer Retention
Users will watch for a more extended period of time if they are contributing to or can alter the outcome. Also, Interactive Videos get customers to watch to the end of the video if they are waiting for the answer to a quiz or assessment. Therefore, marketers can utilize Interactive Videos to keep the customers interested in their brand and encourage them to return for more exciting experiences.
3.Collect Zero-Party Data
Interactive videos are a great way to collect zero-party data. By directly asking visitors for information in exchange for the experience, companies have the power to get data from their customers and use that for personalization purposes. More data can be collected with an Interactive Video since there are different stages and hotspots to track. This makes Interactive Videos much more useful when learning about your customers. More insight into customer interests will also help you create future content tailored to them.
4. Brand differentiation
Interactive Videos enable you to build unique and memorable experiences. The possibilities for adding interactive touchpoints are endless. Controlling the narrative flow in online videos is not something your customers do every day. Therefore, you can position your brand as an innovator.
5. Email personalization
As you communicate with your audiences through questions in the video, you get to know them better. Collecting data through an Interactive Experience is among the email personalization best practices because it allows you to gather valuable information in a non-intrusive way. You can track every interaction and group the viewers based on their interests. Then, you can write personalized email messages that are more relevant to customers. This will lead to more email opens and clicks to the website. With traditional videos, there isn't a way to generate such data or an ability to know enough about your customers. By using Interactive Videos in marketing, companies help move customers along the sales funnel to the checkout point in a way that is also beneficial and entertaining to the customers.
7 Types of Interactive Videos
Now, let's explore the different ways to make your videos interactive. After reading this section, you will get a clear idea of which type suits your strategy best.
1. Branching Video
In Branching Videos, viewers participate actively in the narrative by choosing between different storylines. This type of Interactive Video is great for increasing engagement because they require customers to build their own adventures by choosing what happens next. Deciding the direction of the video enables customers to stay active and interact with your content. Therefore, customers have a deeper emotional attachment to your brand and products.
2. Gamified Video
Everyone loves taking time to play. Gamified Videos are videos with embedded online games. They are wonderful for entertaining customers on your platform, while rewarding them at the same time. By offering discount codes or other incentives for winning the game, customers are more likely to watch the video to the end.
3. Shoppable Video
Take the online-shopping experience to the next level with Shoppable Videos. Here, customers can learn more about the products that interest them by clicking on pictures embedded in the video. Since 68% of consumers prefer to learn about a new product with a short video, this is a great way to generate more leads and revenue. Using a Shoppable Video allows you to create an engaging product tour. Viewers will be the ones to shape their experience by clicking on certain hotspots.
4. Sales Consultation
A Sales Consultation Video is a fantastic tool for creating a self-serve virtual conversation with your customers. The consultation is a pre-recorded video with several questions. As the user answers, the video modifies based on the responses. So, the Sales Consultation Video allows you to empower users to make informed decisions without involving a customer support representative!
Since you create one video that serves different people with different needs, you save lots of time while keeping customer experience on a high level.
5. Personalized Video
Do you want to reach your customers on a more personal level? If you use Interactive Content regularly in your marketing strategy, you collect user data. Then, you can leverage the information to create Personalized Videos. Show customers how much you appreciate them with a customized birthday or holiday greeting to generate loyalty to your brand.
6. Product Finder Video
Help customers find the perfect gift with a Product Finder Video. Here, the Interactive Video includes questions about the gift recipient's demographics, interests, etc. Thus, users will receive product suggestions based on the answers to the questions in the video. Generate more customer loyalty and an increase in sales by helping your customers find which of your products fill their needs.
7. Interactive Video Quiz
An Interactive Video Quiz is a highly engaging format that keeps viewers focused on the content. As the name suggests, the video contains one or more quizzes. For example, you can embed quizzes in an educational video to test the knowledge of those who watch it. Furthermore, this type is also great for promotional purposes. You can transform your product video into an exciting journey. Here, your customers will learn more about your offerings by answering questions instead of passively consuming the content.
You can create an Interactive Video Quiz for many purposes, such as educating your audience, training your employees, boosting engagement, and increasing brand awareness.
8. Video Quiz Contest
A Video Quiz Contest is a type of Interactive Video that asks the user a few questions and rewards them with a chance to win a prize if their answers are correct.
People will need to carefully watch your video to answer a question about it. This improves the retention of the message in the video and keeps audiences inside the video experience longer.
The contest element means people pay closer attention to the message delivered in the video. This a great opportunity to educate your viewers further about your company.
With the contest, it becomes even easier to turn your viewers into contacts for your email distribution lists with an opt-in form.
You can, of course, track every answer to understand your audience better. Afterwards, a good strategy is to start injecting a more personalized approach to your marketing in the future.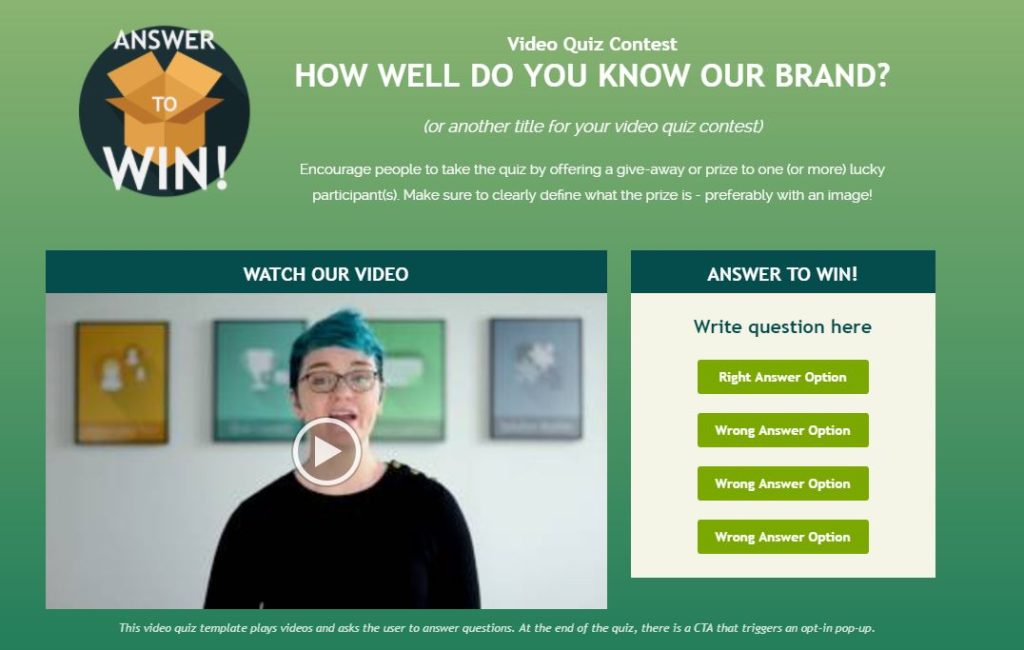 How to make an Interactive Video?
Here is a step-by-step guide to creating an Interactive Video.
1. Define
The very first step is to define your goals, KPIs, target audience, and general idea. So, think about what you want to achieve with your Interactive Video and who will interact with it.
2. Plan
Planning will help you stay on the right track. Plan the user journey of your Interactive Video, data collection points, and rewards (if any). For example, further in this blog post, you will see an Interactive Video with a scratch card game. If you decide to give rewards, you need to be prepared for more orders.
3. Wireframe
Before the design phase, you need to visualize your Interactive Video. Imagine you are viewing the experience with no expectations towards the storyline. What would make sense for your target audience? What interactions would engage them fully? Answering these questions will give you a better perspective of the perfect flow of your Interactive Video.
4. Design
Before putting your video elements together, you must prepare your design. For example, you need to select a style for the clickable hotspots. Remember to keep your brand recognizable in the experience.
5. Implement
The implementation stages vary according to which type of Interactive Video you are building. For instance, in a Shoppable Video, you will add the interaction touchpoints to a pre-recorded video. However, creating a Branching Video requires you to prepare several videos, where only some of them will appear depending on the viewer's choice.
An Interactive Video software, such as Dot.vu, can help you implement your Interactive Video in no time, with no coding necessary. Moreover, Dot.vu is known to offer excellent customer support and to be the most adaptive platform available. So, no matter how you imagine it, you can create it on Dot.vu.
6. Deploy
You can embed your Interactive Video on your website, native mobile app, or a dedicated landing page. Once you publish your campaign, test it multiple times on all devices to ensure that it has a responsive design.
7. Promotion
Remember to promote your Interactive Video to reach a larger audience. Depending on your purpose, you can use organic, paid, and non-digital channels to spread awareness.
8. Evaluation
After some time, you can analyze the results of your Interactive Video. By doing so, you will identify room for improvement in your future interactive projects.
Moreover, if you are using Dot.vu, you can also modify your Interactive Video on the spot, without any downtime while your campaign is live. This is particularly amazing if you need to correct a typo or make small adjustments.
Interactive Video examples
These examples are templates created by Dot.vu. You can find them in our marketplace. So, you can try any of them after you can create a free account!
Product Interactive Video
This video has several interactive touchpoints. Therefore, users are active and interact with your brand instead of passively consuming the content. The Product Interactive Video takes viewers on an exciting journey where they customize their own experience.
The interactive elements in the video are clickable hotspots that allow users to get additional information. Therefore, your clients will only spend time learning what they are interested in. This flexibility is impossible with a traditional video, where you can't allow for selective watching.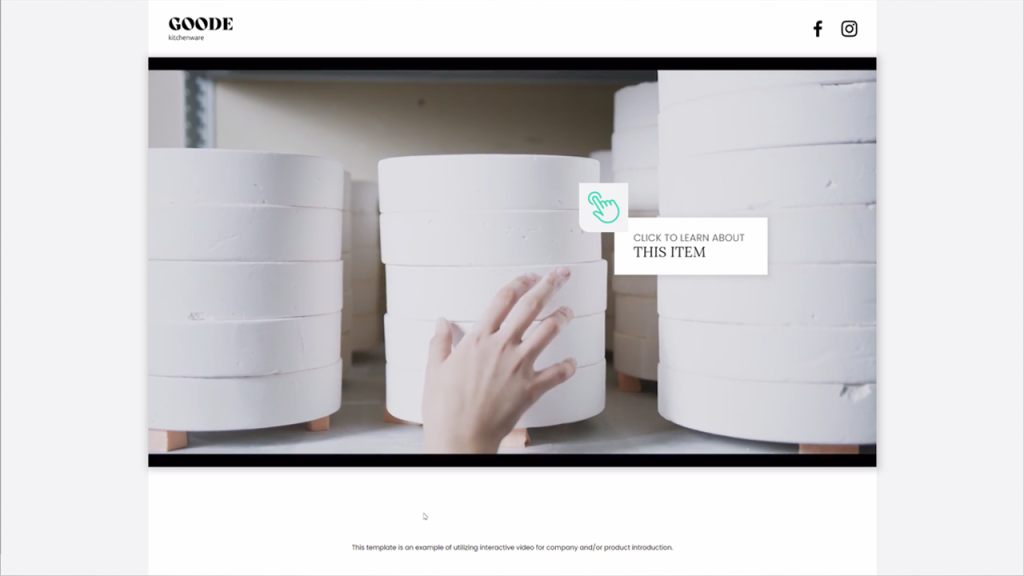 Personalized Birthday Video
This personalized video is an excellent way to make your customers' birthdays special. In addition to a tailored birthday message, you can include a scratch card as a small birthday gift. This small gesture can improve your brand image and incentivize purchases – it's win-win.
You can tie the experience with your email platform and automate the process of sending unique links.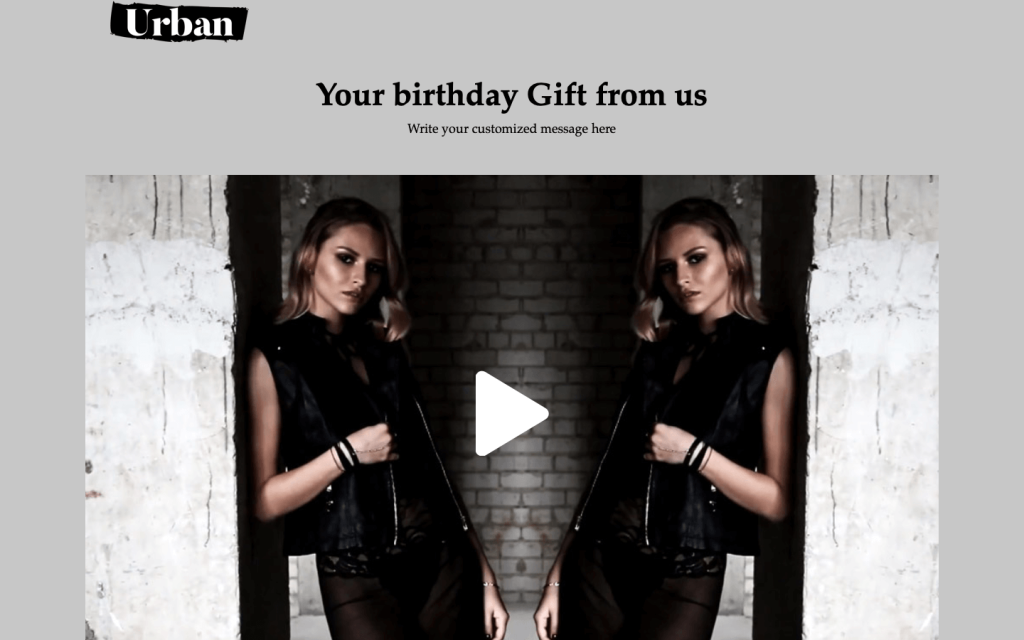 Black Friday Interactive Video
This video is a great addition to your seasonal marketing strategy. Moreover, it is an engaging way to display your Black Friday offerings. Replacing your static product catalogs with an Interactive Video will differentiate your company from the competitors.
Of course, you can customize this video and use it for other retail holidays, such as Singles' Day and Cyber Monday.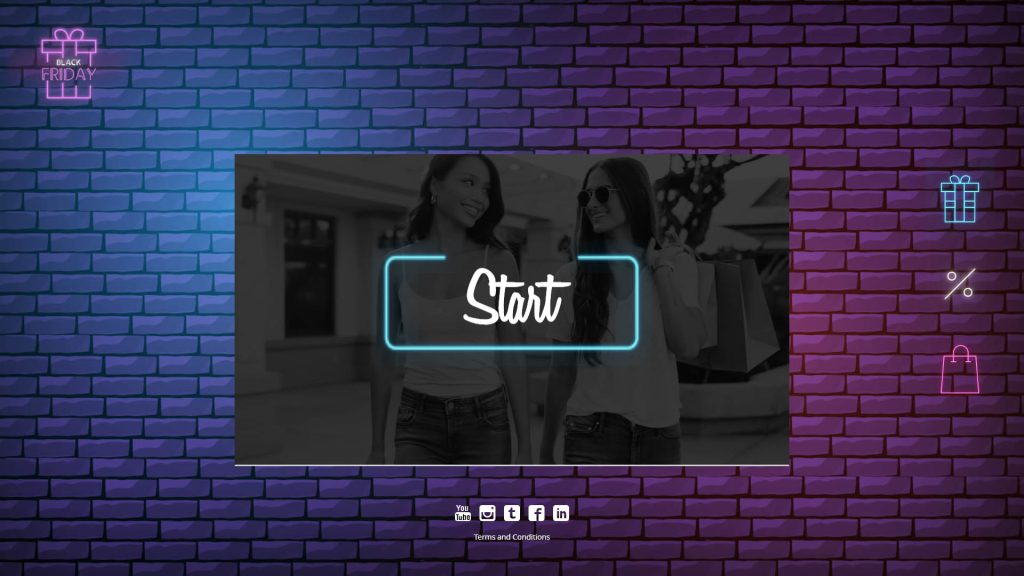 Turn your linear videos into engaging Interactive Videos with Dot.vu!
Dot.vu is an Interactive Content platform that enables companies to transform their marketing strategy by encouraging interactions. Our turnkey solution goes beyond Interactive Videos: we have a large variety of Interactive Experiences, such as Marketing Games, Quizzes, and Interactive Flipbooks. Therefore, we can help you transform your videos into an unparalleled gamified experience for your customers.
Learn more about the great video examples that Dot.vu has to offer for your next marketing campaign. See them all in the marketplace. If you would like to get a deeper look at a specific type of video, create a free account to start customizing!
---