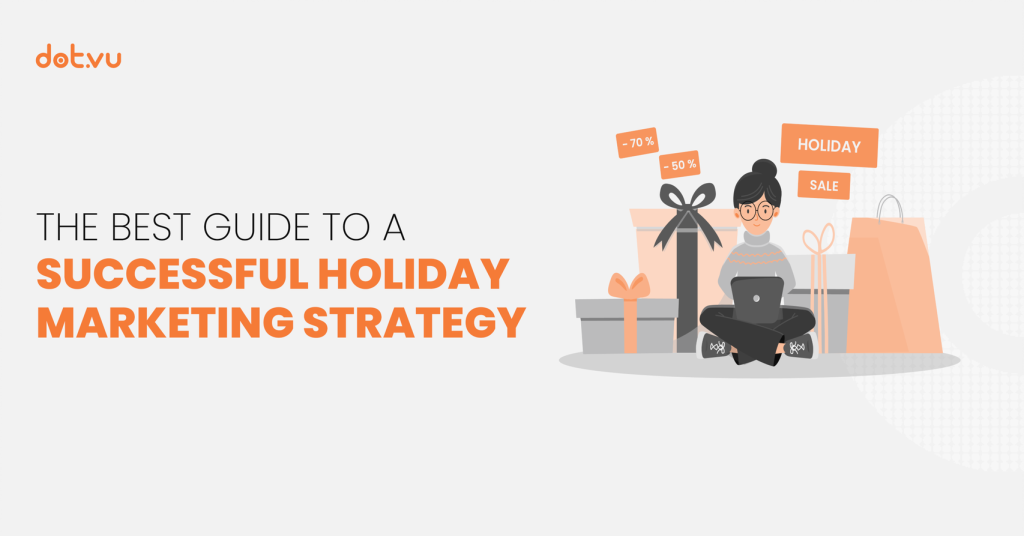 Are you looking for a holiday marketing strategy to increase your sales this holiday season? Do you want to differentiate your brand from your competitors? Do you want to improve your personal relationship with your customers?
Naturally, one of the main goals for your holiday marketing strategy can be sales. However, it should not be your only goal, because you could be losing out on a lot. Especially during the holiday season, thoughtful and personalized communication always wins.
Did you know that 8 in 10 holiday shoppers are influenced by the internet before making a purchase? This statistic highlights the significant impact of online channels in shaping consumer behavior during the holiday season.
Personalization has become one of the hottest trends in marketing. Today's shoppers not only seek products but also crave better experiences with brands.
Despite the misconception that personalization is costly and requires substantial investment, there's a better approach. But behold, marketers out there! This is where you could be wrong! Before you spend your entire budget on fireworks and dancing reindeers, consider fine-tuning your basic communication with thoughtfulness and simple Interactive Content.
This blog article offers valuable insights to help you infuse a personal and interactive touch into your holiday marketing strategy. Discover ideas, tips, and pitfalls to avoid this holiday season. Check it out!
Table of contents:

What makes a great holiday marketing campaign?
For years, global players, such as Google, Disney, and Amazon, have created holiday campaigns that evoke customers' emotions instead of adding to the holiday noise. What do these companies have in common when it comes to their campaigns during the holiday season?
They deliver the right content at the right time to the right target audience, and they create memorable customer experiences.
A good holiday marketing strategy should not simply mirror your competitors' content and strategies Thus, the key to creating a successful holiday marketing campaign lies in its uniqueness, individuality, and delivering the right message to the right target group. Here a few tips to follow to achieve this:
1. Use a content-driven approach
Content is king! By now, customers are by far much more familiar with the concept of e-commerce and online shopping, as it has been there for more than a quarter of a century. Also, special holiday campaigns, running in the last quarter of the year, have become a common practice for almost every business. Because of this, customers have become used to being bombarded with special offers and discounted prices from an almost unaccountable number of brands.
To stand out amidst this holiday "noise," adopting a unique "content-first" approach is essential in capturing the attention of potential customers. Personalized content proves to be particularly effective in creating efficient holiday campaigns. Customized shopping experiences like Guided Selling and shopping assistants can be invaluable in this regard. Guided Selling creates a more engaging experience by offering tailored recommendations, interactive elements, simplified decision-making, building trust, and fostering self-discovery, reducing abandonment rates, and ensuring continuous engagement. By embracing personalization, you can create a more engaging and memorable experience for your audience during the festive season.
2. Create INTERACTIVE holiday content marketing
Incorporating personalized and Interactive Content into your holiday campaign is a powerful yet underutilized approach employed by only a few innovative companies. Unlike traditional one-way communication, Interactive Content engages customers, encouraging them to actively participate in your marketing efforts. Depending on your goals and target audience, various types of Interactive Content can be utilized.
There are different types of Interactive Content, and depending on your goals and target audience, you should pick the one that fits best. For instance, an Online Advent Calendar is great to motivate your customers to return every day until Christmas to your website to unlock new surprises and games. By integrating Marketing Games into your calendar, your customers experience some fun, which they will positively relate to your brand.
By combining interactivity with incentives like discounts or prizes, you create a fun and rewarding experience, boosting customer engagement and driving direct purchases. The possibilities for leveraging Interactive Content in your holiday marketing strategy are limitless!
3. Simplicity is key!
It can be easy to get caught up in the hustle of all this holiday marketing strategy, campaign, and content planning. Essentially, the key to keeping calm is to do as the Scandinavians do: keep it simple. In other words, start on time and start small with your holiday marketing campaign planning. Additionally, to keep it also simple for your customers, pitch only one idea, one benefit, and one emotion at the same time in each message. The emotion will draft your customers in and will help them remember your brand and products/services. Show your customers what your products/ services can provide and how they can benefit from buying them.
16 Holiday Marketing ideas to boost sales
1. Help your customers with a Gift Finder
For the majority, finding the perfect gifts for the whole family and friends can turn out to be one of the toughest tasks of the year. Some might panic and buy products that have no value or purpose for the receiver. To avoid this, creating a simple Gift Finder as part of your holiday marketing strategy can be a great way to promote your products. Plus, it's a great way to improve the shopping experience of gift buyers. Moreover, it will draw people to your products and will guide them through their buying journey. For instance, your business is selling cosmetics, which are one of the most popular gifts during the holiday season. However, the offer of different types of cosmetics can be quite overwhelming for your customers. Thus, an Interactive Gift Finder can help you to break the barrier and lets your customers easily find the perfect gift for their loved ones.
Related: 12 outstanding Interactive Holiday Gift Guide examples
2. Offer gift cards
Building on the previous idea, it's essential to consider that some customers purchasing gifts for others might face indecision. In such instances, offering gift cards can be a perfect solution. Ensure your customers are aware of this option as they visit your shop, website, or Interactive Experience. A simple text, graphic, or link to a dedicated landing page can effectively convey this information. For an added touch of personalization, provide the option for customers to customize an Interactive Gift Card with a personal message, making their gift even more special.
3. Free gifts
Level up your holiday sales by offering free gifts with each purchase for a limited period. It shows your holiday spirit, and more importantly that you value your customers and want to reward their loyalty. In turn, they will feel more special, and it will motivate their buying decision. Offer something inexpensive along with every purchase of a certain amount. Even though the gift is free, you will be able to increase its value by making it this season's limited edition. Even better: as the free gift comes only with a certain purchase amount, it will increase your sales and boost your conversion. This can also be in the form of an Interactive Popup with a free sample.
4. Discounts
Another simple yet effective way to boost sales is to offer your customers a discount code to redeem in your shops and on your website. You can send these discounts to your newsletter email list. Discounts are ideal to reward your loyal customers and incentivize them to add more to their shopping carts. Moreover, this holiday marketing strategy leads to better brand perception, boosts sales, and increases conversion rates.  
5. Bundle items
"Get 2 for 1", ever heard of a commercial like this? Especially around the holiday season, businesses like to use this strategy to boost sales. Consider bundling some of your best-selling items together into a gift box. However, it is important that these items match together. A popular example of such a bundle item are perfumes, sold together with the matching body lotion, packed in a pretty gift box.
Customers tend to perceive the value of bundled items higher and in turn, look at it as a "bargain." If you want to multiply your chances to sell more, consider discounting the bundled items, as also the "bargain" perception increases. In turn, the average cart spending and your conversion rate will most definitely significantly increase.
6. Free shipping
One of the expectations customers have today is that retailers offer free shipping. No matter the size or value of the product, free shipping is an incentive the majority of customers expect, especially during the holiday season. However, free shipping can be expensive for your business. Therefore, one solution could be to simply adjust your pricing to absorb the increased costs. And no worries, a slight increase in pricing is often overlooked by customers when they notice the banner "free worldwide shipping."
Another advantage of this is the chance that sales increase, as shoppers tend to shop more when they are provided with free shipping.
7. Go for omnichannel
To place your products the right way, use an omnichannel approach, covering online (e.g. your website, social media, ads, email, etc.) and offline (e.g. billboards, appointment shopping, etc.). With an omnichannel approach, you can create more brand awareness. Considering that your customers might come across the same product on every channel they are on. Additionally, you can increase your chances of standing out from your competitors. Your competitors might not have the ability to promote their products through every platform that they are represented on.
Overall, use all your channels to place your holiday marketing promotions and manifest your sales offers clearly to attract and invite your visitors to make a conversion.
8. Find a spot to place stocking fillers and impulse buys
Most of your holiday season sales will be from someone who is buying a gift for another person. Probably not only one other person, but many others. Buying so many gifts can get expensive and thus, most people might have a budget for each gift. Thus, use this knowledge and consider placing some cheaper products strategically on your website.
For instance, place a "others also bought" or "you may also like" call-to-action element at the footer of your web pages or your Interactive Experiences. If you are selling T-shirts, you might want to suggest some jeans or jackets. That way, your customers can quickly and easily add the product to their shopping cart and increase their average cart spending.
9. Create holiday marketing campaigns for other holidays than Christmas
The holiday season does not only entail Christmas but also smaller, more niche holidays like Singles' Day or Hanukkah. By catering to various demographics, you can expand your audience reach, engage specific groups of followers, and foster loyalty among them.
Moreover, beyond the main holidays, there are numerous dates throughout October, November, and December that present opportunities to boost sales as the year comes to a close. E-commerce owners have a wide array of dates in the last quarter of the year to capitalize on for their marketing strategies
10. Make your brand identity reflect the holiday spirit
During the holiday season, your visual identity plays a crucial role as it is the primary aspect customers associate with your brand. Ensure that your visual identity reflects the holiday spirit and add festive details to your pages and social media profiles. Updating your imagery across all channels is essential to make visitors feel the holiday ambiance when they encounter your ads, visit your website, read newsletters, or participate in social media contests.
Utilize festive graphics, videos, or animations to infuse the essence of the holidays into your brand. Consider adapting your logo, creating special holiday icons, or introducing an AI character to assist customers in gift selection. Incorporating a catchy holiday slogan like "Carry on and keep Jingling" can effectively convey your current promotion. The key is to create an eye-catching, appealing, and engaging visual identity throughout your holiday marketing campaign.
11. Give a feeling of exclusiveness
Another one of these holiday marketing strategies is to create a feeling of exclusiveness to increase your sales this season. Rewarding your customers with early VIP access before the holiday rush helps you attract them to purchase before the holidays. In addition, your customers will feel extraordinarily special, because they can get good discount codes and exclusive access to your shop before everyone else.
Moreover, use this strategy to grow your email list via an invitation pop-up on your website. Send out the invitations for early access, discounts, and exclusive offers before the holiday season officially starts.
12. Create sense of urgency
It is common knowledge that people are led by emotions, often without realizing it. Especially, when seeing that an offer is not permanent and only limited, consumers tend to react more impulsively. Special sales days, such as Black Friday, Cyber Monday, or Christmas are the ideal times to leverage the effect of urgency. For instance, use countdowns for your campaigns by offering a limited-period offer, or discount. Use a countdown on your website as a popup or banner or create an Hourly Surprises Experience.
To see the impact of leveraging urgency in marketing campaigns, check out this client success story. It showcases how one company utilized an interactive scratch-and-win experience to drive engagement and boost sales.
Related: 10 FOMO marketing examples you need to try today
13. Collaborate with influencers
Social media platforms, especially Instagram and YouTube, have made it possible to find new ways to target customers through influencers. Partnering with influencers is one of the most common holiday marketing strategies for global brands. Particularly in December, influencers tend to post a lot about the holiday season and often organize their own contests, such as an Online Advent Calendar. How about collaborating with an influencer by sponsoring one of your products for the advent calendar giveaway.
This collaboration not only increases exposure but also reaches new audiences. Engaging with influencers, particularly leading up to and during the holiday season, can significantly boost website traffic, drive sales, and enhance your holiday marketing ROI.
Related: Achieve amazing results with an Online Advent Calendar template
14. Use User-Generated Content
Creating valuable content for your customers is extremely important because if they had a positive experience with your brand, they are more likely to share it with their family and friends. Statistics show that 85% of consumers find user-generated content more authentic than content promoted by a brand. Thus, using user-generated content as a holiday marketing strategy should be a no-brainer. For instance, create holiday-specific hashtags and encourage your customers to share their stories with your brand. To incentivize participation, reward your customers, and reach new audiences. You can also create Interactive Contests to incentivize participation to your user-generated content.
15. Leverage your PR-Skills
Next to its high spirits, the holiday season is also popular for businesses to launch new products. Part of launching a new product is obviously to get it out into the world. To do that, a traditional PR outreach can be key. Create a basic press release and send it to relevant online magazines. The reason for this approach is simple: The closer the Holidays, the closer these online magazines want to create content that is relevant for their customers. That content can, for instance, be a gift guide for your loved ones. Particularly gift guides can be the perfect place to promote your products!
16. Create a magical event for your best customers or employees
Another great holiday marketing strategy could be to create an event for your best customers or your employees. Employees are often forgotten when it comes to marketing campaigns, but they are often your best supporters and promoters. So, creating an event with gifts, music, drinks, and nice Christmas food might be an extra push for them to talk about your company, and encourage their friends and family to buy their gifts there!
Mistakes to avoid in your Holiday Marketing Strategy
1. Last minute planning
By the beginning of October, you should have your marketing strategy and plan in place. Plus, at the latest by the end of the month, you should start implementing it. Good things take time, and thus, do not wait until November for your holiday marketing campaign planning and its initiation. Tools like , Dot.vu, and SEMrush can help you plan, prepare, and schedule your content for the holiday season.
This might seem a little self-explanatory, but you can never start planning early enough!
2. Not doing any holiday marketing campaign
While not everyone may love the holidays, it's essential not to shy away from engaging in the festivities and sharing holiday-themed content. Being a Grinch won't win you new customers or maintain a positive relationship with existing ones. However, merely using holiday buzzwords or posting a generic "Happy Thanksgiving" won't suffice.
To genuinely boost sales during the holiday season, embrace the festive spirit and get into the groove, but avoid being overly artificial or phony. Striking the right balance in your holiday marketing is key for success in both life and business.
3. Focusing on one holiday only
The era of technology and eCommerce has given customers convenience and many new events to shop for the holidays. Shopping events, such as Black Friday, Small Business Saturday, Singles' Day, free shipping day, and Cyber Monday are great opportunities for every business to share special offers for their customers, increasing sales. For example, Consumers spend a total of $11.3 billion on Cyber Monday each year. That shows that the holiday season is an incredible time to take advantage of.
Having different offers throughout the holiday season is a great way to keep your customers engaged. Keep in mind that how you present your special offers to your customers is crucial to differentiate yourself from your competitors. Interactive Content, such as Interactive Flipbooks, Interactive Videos, or Marketing Games can help you get the attention of your customers.
Related: 5 Reasons you should publish an Interactive Magazine
4. Not addressing all of your customers – also your existing ones
To most of us, it might seem common sense. Still, during the hectic holiday season, when companies try to reach new customers with their holiday-themed campaigns, they often forget about their old and regular customers.
This is where a thoroughly planned strategy and plan comes in handy! Paid advertising is becoming increasingly more important for every business. Thus, if you do not normally pay for advertising, this is the perfect time to splurge. For instance, you could use different ad campaigns on Google Ads, Facebook Ads or LinkedIn Ads to target different audiences.
Adapt your strategy a few times and find the best way you can focus on gaining new customers without neglecting your current ones.
5. Having no email marketing strategy or sending too many emails
Have you ever noticed that in the last quarter of the year, you receive more emails than usual? Data shows that on Black Friday alone 116.5 million emails were sent, resulting in high open and click rates. Customers who make purchases through emails tend to spend 138% more than those without email offers, making email marketing crucial, contributing to about 20% of online holiday site visits.
However, be cautious not to overwhelm your audience with excessive emails. Focus on creative, concise content that adds value. Catchy subject lines and preview text can pique customers' interest, leading to higher open rates. Use links and interactivity to shorten content, allowing interested customers to click and learn more about gift guides, product descriptions, or discount codes, inspiring them and saving money.
In a nutshell: ramp up your email marketing around the holidays, but do not become a spammer. Rather focus on creating strong emails that focus on the most important values you want customers to know and send them out at the right moment.
6. Focusing on only one marketing tactic
While you are spending time focusing on one or two marketing tactics, use the holiday season to try new avenues. Using only one marketing tactic limits your potential customer reach, and also lacks the creativity and authenticity customers expect in today's digital reality.
For instance, leverage the power of social media. As a retailer, you can even benefit from social shops such as on Instagram or Facebook. In general, if you have not done so yet, increase your social media activity during the holidays. Create a content calendar with key holiday dates, publish holiday-themed posts, and use festive hashtags to share your promotions. Particularly, YouTube is visited by around 68% of shoppers before making a purchase.
7. Not using Interactive Content
When creating content for your holiday marketing campaign, consider making it interactive. Interactive Content offers you endless possibilities to generate more leads, boost sales and collect zero- and first-party data.
For instance, asking questions in the form of an Interactive Quiz, including visuals can be fun for your customers. Also, Holiday Gift Product Catalogs, which help your customers to find the perfect gift for their loved ones are a unique method to inform and educate them.
Overall, try to aim for at least three different channels to promote your holiday marketing campaign digitally. For example:
Your website in holiday-themed colors, pop-up windows and landing pages
Paid advertising via Google Ads, Facebook Ads and LinkedIn Ads
Emails, e.g., with discount codes
Blog articles that are holiday-themed and deliver value
Social media posts
4 ways to add a personal touch to your holiday marketing campaign
Rising above the noise in your customers' information overflooded days is particularly difficult during the widely commercially used holiday season. The solution to this issue could be in the form of hyper-personalization marketing combined with images, animated GIFs, and video. Generally, 65% of humans are visual learners. Moreover, we humans process images 60,000 times faster than plain text. This proves that personalization, but also visual content is trending and becoming more relevant in marketing.
Thus, utilize the data you collected with your previous marketing activities to personalize your visual content for the holiday season. For instance, a personalized Interactive Virtual Tour can help you reach your customers in a unique way, helping you stand out from the everyday information overload and marketing collateral they see regularly.
Related: Cookie-pocalypse: How to use first-party data in a cookieless world
Related: What is an Interactive Virtual Tour
1. Thank your customers with personal messages
Don't forget to send a year-end thank you message to your customers during the busy holiday season. A thoughtful card celebrating the season will be appreciated by all your leads and customers. Avoid turning it into a sales pitch or discount code; instead, take this opportunity to sincerely express gratitude for their trust and loyalty. By being more personal and less focused on metrics, you'll be seen as a human entity rather than just a corporation.
2. Engage your audience with a personal video
If a picture speaks 1000 words, a video speaks a million! Personalize your Interactive Video, based on historical data, such as name, birthday, interests, or real-time interactions, such as views or clicks.
Unlike traditional videos, Interactive Videos engage the audience through tags, hotspots, and interactive elements like questions. This personalized approach makes customers feel valued, encourages word-of-mouth referrals, and boosts repeat business when they're ready to buy again. Let your videos speak a million words and foster meaningful connections with your audience.
Related: How to create a killer shoppable video
3. Invite your customers to a holiday-themed webinar
The holiday season is the perfect time to truly connect, engage and strengthen the relationship between your brand and your customers. Particularly, a webinar event can drive brand affinity for your company and set you up for more customer retention in the next year.
How about setting up a holiday-themed webinar that is engaging and makes your customers want to spend time with you. Invite them to a fun, casual, and virtual happy hour or any other kind of event. This will allow your customers to get an inside perspective of the people behind your company – instead of simply the product or service. Most importantly, focus on building an event that offers value, and ensures a trusting and long relationship with your customers.
Related: How to make your webinars interactive
4. Work with a charity
Finally, the holidays are a time of emotions, love, and giving. Particularly, charities use this time to get some fundraising for themselves. For this season's holiday marketing strategy, consider teaming up with a charity for an event like Thanksgiving. For instance, you could donate a certain percentage of every sale to a specific charity. Another idea is to donate money for every product purchased. Also, you can give your customers the chance to do good through the checkout process, donating to the charity you are working with.
Despite which option you are choosing, working with a charity is a good way to increase your brand perception. Most importantly, you do something good for society!
3 VERY important things you should not forget when planning holiday marketing strategy
1. Audit your previous holiday campaigns
Particularly the past years have shown that the behavior of your customers is constantly changing – whether it is because of time or different occasions affecting our society. This change in customer behavior should give you reason enough to look back at the statistics and customer data of your previous years' holiday campaigns. With the insight, you can understand if your customer base has changed and what they now value. Moreover, you can learn where your holiday campaigns performed well, where you won and where there is room for improvement.
Overall, analyzing your previous campaigns will help you avoid making the same or similar mistakes again.
2. Define your goals & plan towards them
A goal is what keeps us learning, improving, and growing. Without a goal, your brand will not see much more sales around the busiest time of the year. Therefore, your holiday marketing strategy and the campaign could go to waste. Now you might think: "Well, is it not obvious? Our goal is to make more sales!" But how are you planning to achieve this goal?
The answer is S.M.A.R.T. goals! S.M.A.R.T. is an acronym that stands for specific, measurable, achievable, relevant, and time-based. To jog your memory real quick or to understand what S.M.A.R.T. goals are, briefly head over to Smart Insights.
3. Promote your holiday marketing campaign
What a dream! You have created your best holiday marketing campaign, yet, and you cannot wait to see how it helped boost your sales. But hold on with the euphoria, because first, it is time to figure out how you will share your holiday campaign with your target audiences.
For instance, you could implement some of the following promotion tactics per your channel:
Email Marketing
Target a specific group with well-crafted emails that prioritize relevance over mass messages, considering customers' limited shopping time. Create attention-grabbing content focused on solving their needs, keeping subject lines concise. Personalize the body copy for a stronger connection. Include call-to-action buttons to encourage immediate shopping and sharing of offers with their network.
Social Media
Instagram leads the trend of enabling business users to sell products directly on the platform, aligning with younger generations' shopping preferences. Utilize social media for your holiday campaign through traditional posts and shopping experiences on these platforms. Additionally, explore new social media platforms during the holiday season to tap into potential customers seeking inspiration and assistance both digitally and offline. However, remember to vary your messaging across platforms to avoid repetitive content.
Related: How to improve your social media content strategy
Blogging
Is blogging dead? Definitely not! Blog articles are an effective way to attract more customers to your offer and can be approached in different ways. For instance, you could create a simple promotional blog article, which heavily focuses on a quick introduction to the offer, advice on how to use it, and a compelling call to action to drive people to your shop. Another example of a type of blog article is one that aims to educate your audience rather than sell them anything.
Paid Advertising
63% of shopping opportunities begin online, in most cases on Google or Amazon for research purposes. Thus, including paid advertising in the promotion of the holiday marketing campaign is a must. Google Ads – both with text ads and Shopping ads – is essential to attract more clicks and drive sales this holiday season. But, don't forget that ads on Social Media platforms are also extremely valuable during the holidays.
Wrapping It Up (pun intended)
The key to a great holiday marketing strategy is to keep your customers in mind during every decision you make. That also means you should not forget to establish lifetime value with your brand. In other words, whatever you choose to do to create a strong holiday marketing strategy, your brand personality and values should always remain front and center. Moreover, your authenticity will always speak to your audience and create a natural connection, which will shine through all of your messaging and allow you to generate genuine and lasting customer relationships.
Discover the power of Dot.vu, a leading global Interactive Content platform with 350+ customizable templates available on the Dot.vu Marketplace. These templates offer personalized brand experiences for your customers. Get started with a free account and try any holiday marketing template for free! Start creating Interactive Content that converts, engages, and delivers results today!
---
This blog post was updated by Felicia Rozario on 1st August 2023
---
Other articles you might be interested in: