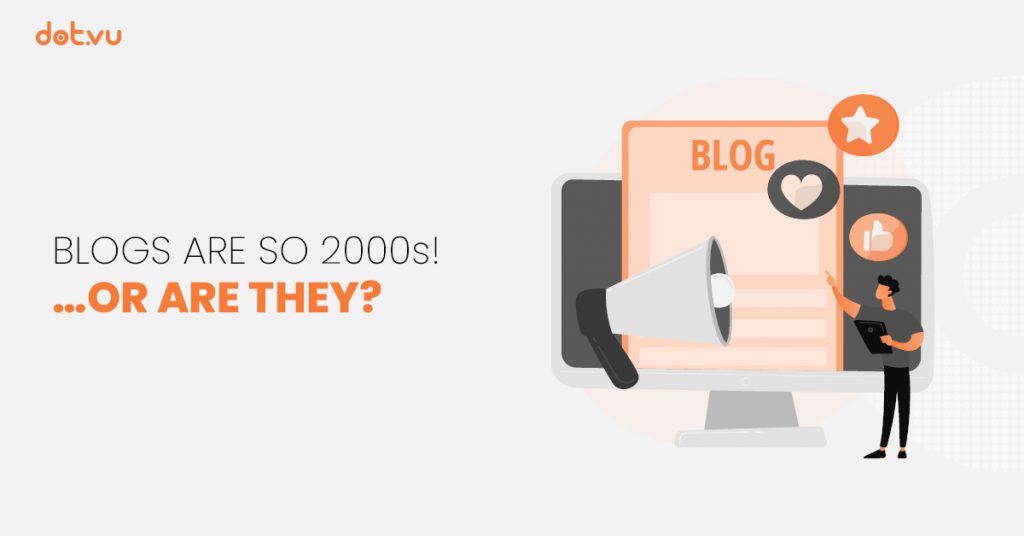 Back in the early 2000s, blogging was developing rapidly thanks to the invention of multiple blogging techniques for creators. Although the word "blog" was changing throughout the years, the idea behind it was similar to what we're familiar with today. People were writing to share their opinions on the Internet for external audiences.
You might therefore assume that blogging is dead. In this article, we're going to look back at the history of blogging. Then we'll answer the question: "Are blogs still relevant for accomplishing business goals? " You will also discover some tips on how to make your blog more popular.
The Evolution of Blogs
Blogging is a fundamental part of marketing strategies these days. However, the first blogs ever published were often written by a single person without monetizing their texts. Besides, the first blogs looked very different from the ones we find on the web today.
Let's plunge into the history of blogs together.
Blogging can be traced back to 1994 when Justin Hall created Links.net. It was called a "personal home page" back then and consisted of links to external websites he liked. The same year, Claudio Pinhanez shared his thoughts in a so-called "open diary." In 1997, Jorn Barger introduced the term "weblog," later shortened to "blog" by Peter Merholz in 1999.
Over time, new blogging platforms and resources were made available to people keen on writing.
Blogs were gaining vast popularity in the 2000s. Creators discovered the opportunity to make money out of blogging. People wrote about different topics, such as politics, current events, culture, and parenthood.
Blogs have been evolving since the moment they were first created. Blogging has been relevant for business purposes for a long time. However, is blogging still relevant in 2022?
The Answer: Is blogging dead?
Blogging is not dead!
On the contrary, blogging is still relevant for millions of companies all over the world. Statistics show that organizations with blogs on their websites record 126% more traffic than companies without any written content.
Despite its age, blogging continues to be an irreplaceable part of marketing strategies. Blogs are not only efficient because they create customer engagement. Generating written content can improve your ranking on the search engines and thus increase website traffic.
Although social media plays a vital role in marketing campaigns, customers rely on blog articles to gain meaningful information. To provide an optimal user experience, companies combine blogging with podcasts, social media posts, and videos.
Let us look at some examples. Big corporations, such as Walmart, Disney, and Whole Foods, invest in content creation for their blogs to attract visitors. 56% of marketers say that blogging is an effective marketing strategy. 10% even claim that it is the type of content that generates the highest Return on Investment. This proves that people continue to read online.
Let's not forget that content creation job positions are built on writing blogs. The demand for content writers increases as successful blogging grows companies' brand awareness.
Why is Blogging important for your business?
Publishing blog posts is an excellent way to increase brand awareness and build trust. Being consistent in uploading valuable and/or educational content attracts new visitors to your website. A recent study shows that 60% of people read blogs every week, and more than 50% purchase a product after reading a company blog post.
However, customers nowadays feel overwhelmed due to the growing number of brands that offer identical products or services. Therefore, it is crucial to provide trustworthy and reliable information to differentiate your company.
How to make your blog more popular with the right content
Different factors affect the popularity of your blog, such as choosing relevant topics, trustworthiness, mobile optimization, high engagement level, and successful promotion. As a starting point, you must be strategic with your content creation and make sure to follow a plan. Otherwise, your work process would be chaotic, and the results wouldn't match your expectations.
As the blog traffic depends on your visitors' engagement, make sure to provide a good user experience. The more appealing content you create, the more followers you would attract.
Writing long texts that simply provide readers with answers to their questions is now considered boring. Blogging might not be dead, but static content is. Embedding Interactive Content to your blog is one of the most effective ways to grab users' attention and keep them engaged. As the readers interact with your content, engagement rates will rise significantly. This will result in audience growth.
Apart from making your blog more popular, using Interactive Content has the following benefits:
Visitors stay longer on the page.
Your brand is humanized.
User experience is significantly improved.
Conversion rates grow.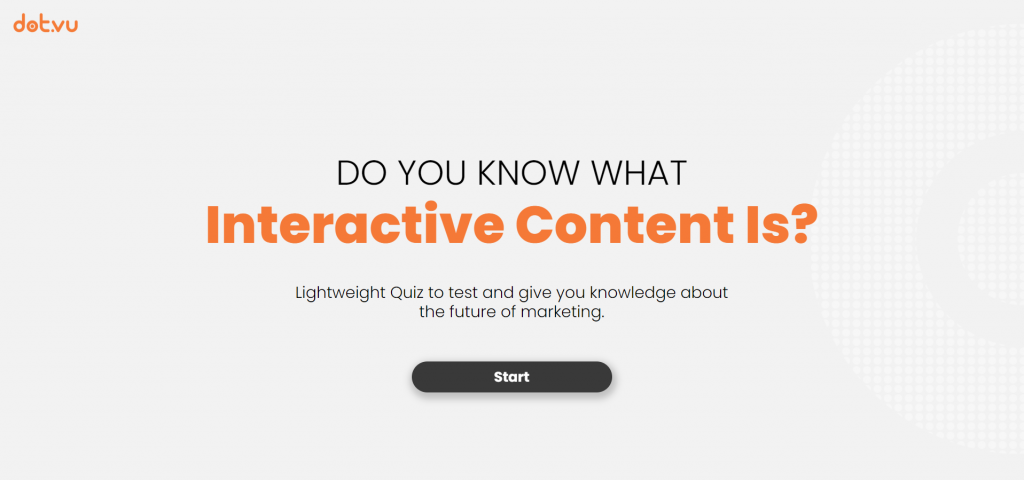 Blogging is not dead. You simply need to adapt
So, is blogging dead? No. The world is not done with blogs and probably will not be for the next years, because nothing can replace written content.
Apart from providing content, a blog serves better purposes in terms of SEO. You can use powerful SEO tools to write texts that the search engines will love. Also, it is much easier to edit the content of a blog than a video or picture. Video or photo editing takes a lot of effort, while editing text only takes a few minutes with any word processor. Besides, a blog gives you much more control because it is your website, unlike social media channels where you are limited to their functionalities.
Nonetheless, blogging continues to be one of the best ways to share opinions and valuable information without limitations in terms of the number of characters. The most effective way to acquire customers is to combine written content with social media presence.
Having a company blog is a powerful method for generating long-lasting content. It is though important to keep in mind new trends and customer preferences. The shrinking human attention span requires the incorporation of intriguing elements. Interactive Content can improve the quality of your blog tremendously.
Dot.vu is an Interactive Content platform with more than 19 types of Interactive Experiences that can shape your blog posts. Check out the Dot.vu marketplace. The wide range of templates you will find there can help you make your blog more appealing and popular. You can create a free account and try any of the templates – from surveys to Interactive Infographics, you can customize any type of Interactive Content.
---