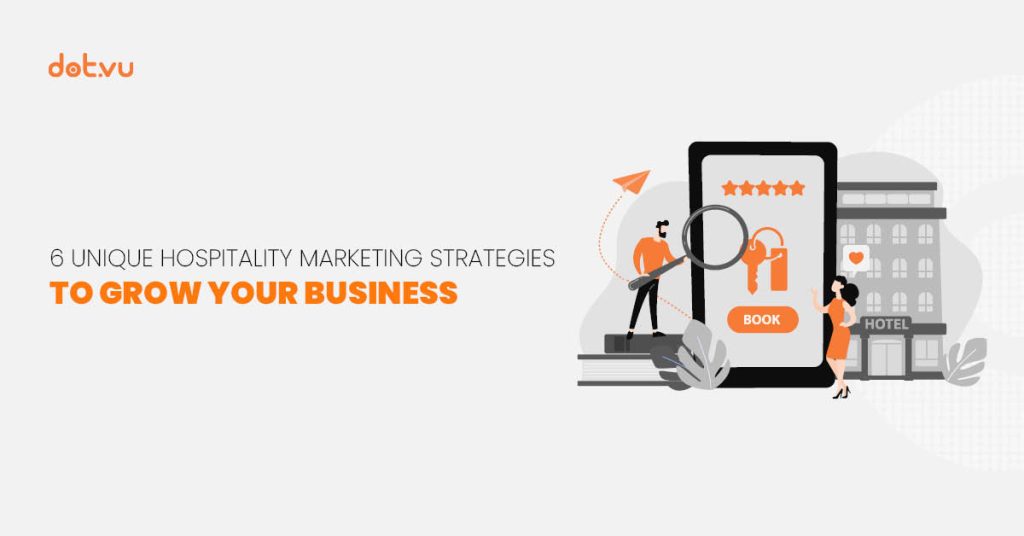 With many countries opening up their borders after the pandemic, there's a steady growth in travel spending, for both local and international tourism. In June 2022, travel spending hit $105 billion, proving that people are ready to travel again.
This statistic shows a great opportunity for the industry. But how do you reach out to this new pool of potential customers, especially the ones who are not aware of your offerings?
In this blog post, we'll explore unique strategies for marketing in the hospitality industry.
Importance of unique hospitality marketing
Marketing can be very broad. And it doesn't mean you'll see results when undertaking any marketing campaigns without proper planning and strategy.
Changing customer expectations and rising competition are among the top 6 biggest challenges faced in the hospitality sector. In order to capture the market, you'll need to stand out.
There are many ways to set yourself apart from your competitors. First, look internally. What are your strengths? From there, you can determine the unique value proposition you can offer to your customers.
Keep reading to explore the strategies for getting the message across to your target audience.

6 Strategies for marketing in the hospitality industry
1. Digitalized experiences
More than 60 % of hotel bookings take place online. Increase your digital presence to open up your target pool exponentially.
How do you do this? 87% of video marketers say that having video content has increased traffic to their websites. Customers tend to engage more with Interactive Videos, which in turn encourages them to stay on your platform longer. Interactive Videos add more excitement and promote higher engagement by inviting users to click on buttons, answer questions, or choose how the video will end.
Related: What is an Interactive Video?
One example of an Interactive Video is a Branching Video. They help improve customer engagement in the hospitality industry like never before! You can customize your video content for each viewer and let them choose their own adventure. It does so by asking the viewer a question while they watch a video, and then showing them the next video based on their answer. 
Branching Videos are a great way to engage your audience, suggest the right product or solution, and gather information about their behavior and interests.   
By digitalizing your brand, you can:
Improve customer engagement
Use templates to suggest products that match customers' need
Gather useful buyer information
2. Hyper-personalization
Customers expect extreme personalization and unique experiences. Hotel guests have grown to expect to be recognized and treated as individuals. One study revealed that 71% of buyers expect personalized interactions.
Adapt your brand to show your customers that your focus is on them. Your customers should feel that they matter and are cared for when they visit.
One way to do this is by letting customers customize their travel plans. Use a Product Recommender where they can answer a few questions and choose the option that best suits their needs. Include a Call-to-action (CTA) button to encourage them to purchase. A Product Recommender can assist customers in deciding on their package and help more customers feel secure in their purchase decision on your platform.
In summary, by personalizing your offerings, you can:
Make customers feel they matter
Help customers get exactly what they want
When customer's needs are met, they will most likely visit you again
3. Show customers you care
With the increasing expectations and competition, taking the time to set automated greetings can go a long way in boosting your sales.
Send out a Personalized Birthday Card that can capture the customer's name from your CRM hospitality platform. Add a discount to encourage the birthday person to celebrate their special day at your venue. It is an engaging way to increase customer satisfaction and build loyalty. 
By showing you care, you can:
Increase customer satisfaction
Build loyalty
Boost sales
4. Social media marketing
Having a social media page is not enough. Add fun and engaging elements like a Selfie Contest. Choose a suitable background to get the audience in a holiday mood.
Invite people already at your venue to snap photos of themselves or your location and share the images in their own stories and feeds. Make the experience more personalized by letting people choose a sticker to highlight their photo cards. Add an incentive to encourage more people to participate. For example, customers who participate can get a chance to win prizes!
This can also double up as a lead generator. Allow customers to share a link to their picture after they have filled out a lead form. Once friends open the link, they will get a chance to win a prize by scratching off the photo. The joy friends receive from the experience will make them want to book their own vacation to take pictures and share as well. This can extend the reach of your travel campaigns even more. As a result, you improve your customer experience.  
In short, this one single campaign can:
Boost existing customers' experience
Generate leads
Attract new customers
5. Add in more fun and games!
Like the results from the Selfie Contest? Mix up the types of contents and games to reach out to a wider group of audience.
Marketing Games are fun tools that can be used to boost engagement because of the value they give in exchange for time spent on your site. By standing a chance to win prizes, the user would be more eager to participate. This leads to an enhanced user experience, as compared to other sites which would have static content.
Consider giving another chance to participants who did not win by returning daily to your website until the end of your campaign. That way you can increase the number of website visits and improve your SEO ratings.
Related: 5 Creative ways to use Interactive Content for incentive marketing
Adding more fun and games can help you:
Boost engagement
Enhanced user experience
Improve SEO rating
Keen to see how the game is like? Play "Find the Items Game" here
6. Strategic storytelling
Strategic storytelling allows potential customers to form a personal connection with your brand, venue, and values. With the popularity of ecotourism, use storytelling to highlight any conservation efforts you have done.
Do you have staff members who go above and beyond to provide an excellent guest experience? Highlight their actions and achievements. Is your venue a historical place? Use the history of your location to your advantage through storytelling to attract potential customers' attention.
Add more flair to your storytelling by gamifying the whole experience. One way is by using a Guessing Game. Include 2 endings and let the audience choose their ultimate holiday. You can use information from their answers to further personalize their actual experience at your venue! All these games help create an unforgettable experience that will make your guests come back for more!
To recap, this idea can help you:
Build a personal connection with your brand
Attract potential customers' attention
Personalize customer experience
Start ramping up your hospitality marketing strategy!
Giving existing and potential customers Interactive Experiences will set you apart from your competitors. It creates a positive and fun experience for your audience. Connect more with your customers, gain their trust, and engage with them.
Bring your creative ideas to life and design unique experiences for your audience with Dot.vu's Interactive Content platform.
Sign up for a free account and start creating your first campaign. With us, you'll get the support you need to create quick and easy Interactive Contents to improve your customer's experience in the hospitality industry.
Our platform is very user-friendly. You can choose to customize the templates or adapt them to create your brand's own unique Interactive Content. Get inspired on the Dot.vu marketplace or request a demo today, and let us show what Dot.vu can do for you!
---